Looking to travel in style around the Subcontinent? There are few experiences more pampering and luxurious than staying in a private villa. At these five private villa hotels in India, you can enjoy everything from personal plunge pools and individual butler service to one-on-one yoga and meditation sessions and exquisitely appointed rooms. Privacy, tranquillity, and opulence: these venues have perfected the art of haute hospitality.
Carnoustie Ayurveda & Wellness Resort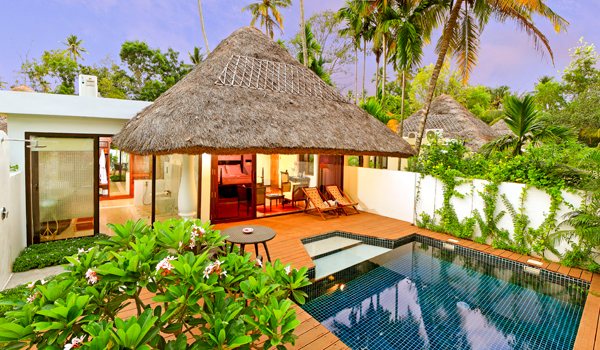 Carnoustie promises tranquility for wellness-seekers © Carnoustie Ayurveda & Wellness Resort
Ayurveda pairs beautifully with private villa hotels. Just look to Carnoustie Ayurveda & Wellness Resort in Kerala for evidence: by day, wellness-seekers are rewarded with a number of individually tailored treatment plans, from Panchakarma (a traditional five-part approach to healing) to a stress-management programme. By night, they slip away into their private villas. Carnoustie has five on-site, which feature an attractive blend of contemporary and traditional Keralan design, private plunge pools, and rain showers – all of which are designed to conjure the perfect aura of tranquillity.
Vivanta by Taj Bekal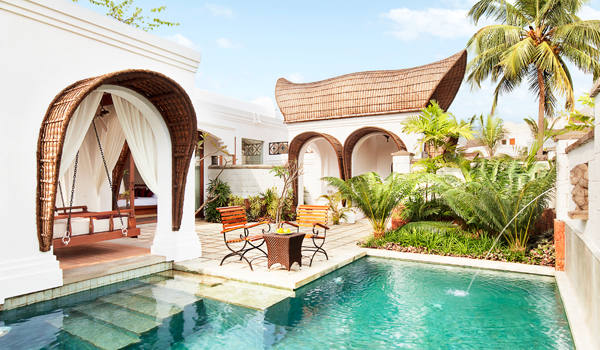 Vivanta by Taj in Bekal is among the most exquisite private villa hotels in India © Taj Hotels
Located along the Keralan backwaters – a region that's been dubbed "God's own country" for its incredible beauty – the five-star Vivanta by Taj in Bekal is a pleasure-seeker's paradise. One of the most exquisite private villa hotels in India, it's comprised of 66 different standalone villas. Individual courtyard spaces and private plunge pools cater to those after peace and quiet, as does the hotel's award-winning Jiva Grande Spa. The hotel also offers beach access, cruises in traditional Kettuvallam boats, and open-air dinners – all the better to soak up the paradisiacal ambiance.
Hilton Shillim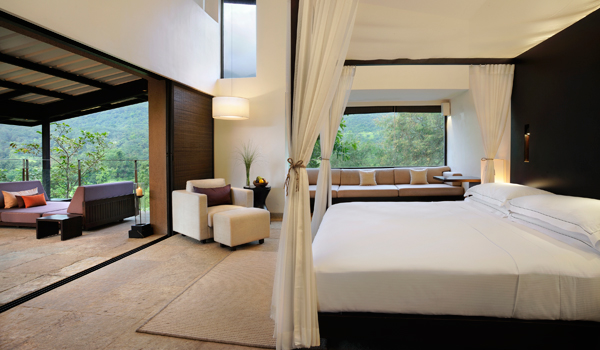 Drink in views of the Maharashtra scenery at the Hilton Shillim © Hilton Hotels and Resorts
Not all private villa hotels in India are found along the coast. Take the Hilton Shillim. The destination-worthy retreat is located in a beautifully rural tract of Maharashtra, framed by the rugged Western Ghats. Across 320 wooded acres, the hotel's 18 spa villas offer valley, hill, or forest views; depending on the villa you select, you can enjoy amenities ranging from open-air showers and in-villa spa treatments to private pools, sun decks, and complimentary yoga and meditation sessions. Savour your quiet time away – and head to one of seven on-site restaurants and bars when you crave some social interaction.
Ananda in the Himalayas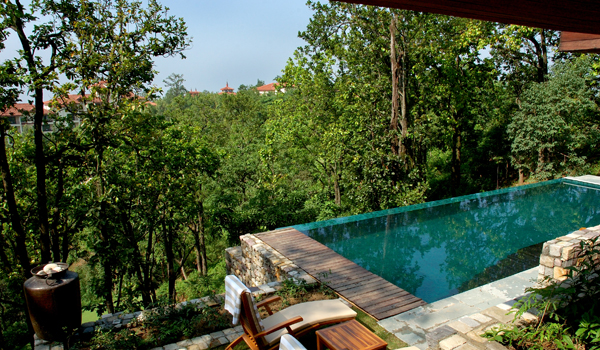 Ananda's luxurious villas are accompanied by private infinity pools © Ananda in the Himalayas
Located in the Himalayan foothills of Uttarakhand, Ananda is one of the best-rated luxury spas in India. Its attention to detail and focus on high-end amenities extend to is three sprawling, private villas. Each comes appointed with a personal living room, a dressing room, a bathroom with private sauna and, best of all, access to private infinity pools, which look out onto the tree-lined hills of the spa grounds. All three villas afford a relaxing complement to the intensive wellness programming for which Ananda is renowned.
Oberoi Rajvilas
The Oberoi Rajvilas is a luxury seeker's dream © Oberoi Hotels and Resorts
One of Rajasthan's true standout hotels, the Oberoi Rajvilas has much to recommend it. Built around an 18th century Shiva temple and located across 32 acres of elaborately landscaped gardens, the venue offers diverse pleasures, ranging from its opulent Oberoi Spa (hidden away in a historic, Rajasthani haveli) to its luxury restaurants. Guests also have their pick of private villas. The Kohinoor Villa looks onto a private enclosure and 20-meter pool, while the Luxury Villa also includes a personal pool, and is served by a private butler. The resort's Luxury Tents and Royal Tents promise additional comfort and privacy.