It was in Washington, DC that Chef Vikram Sunderam really found his purpose. Raised in Mumbai, Sunderam worked in the kitchen at the Taj Mahal Palace and at Bombay Brasserie in London before making his way to the stunning Rasika in Washington, DC. Opened more than a decade ago, today Rasika (whose name means "flavors" in Sanskrit) still ranks among the best restaurants in the city. Across two locations, the restaurant's warm hospitality, expansive wine programme, and vibrant brand of Indian fine dining have made it a winner.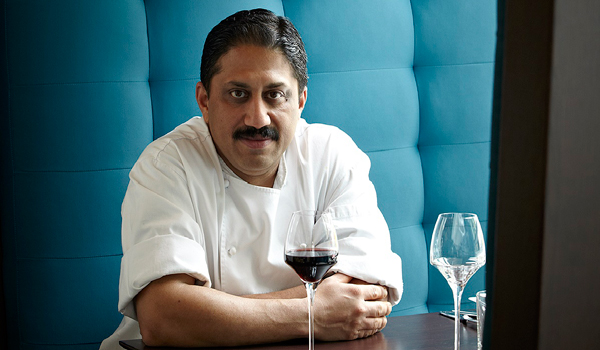 Chef Vikram Sunderam won a James Beard Award for his work at Rasika © Greg Powers
But Rasika isn't just a metaphorical winner. Chef Vikram Sunderam earned a coveted James Beard Award for Best Mid-Atlantic Chef in 2014; since then, he's done everything from cook for Indian Prime Minister Narendra Modi to work on the soon-to-be-released Rasika cookbook.
We caught up with Chef Sunderam to learn more about Rasika's behind-the-scenes creative flair. Read on for the inside scoop (and for details about Bindaas – Sunderam's brand new restaurant).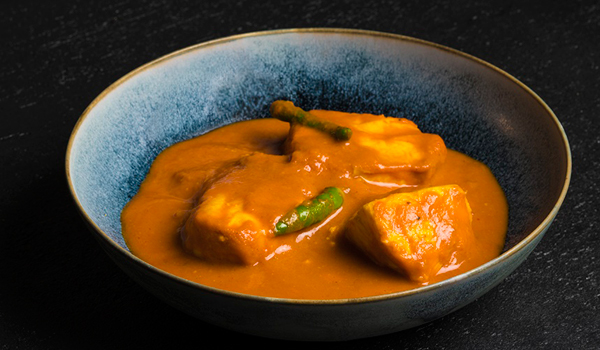 Chef Sunderam's take on Goan halibut curry © Shimmon Tamara Photography
Greaves: What drives you as a chef? What culinary secrets did you learn growing up in Mumbai?
Chef Vikram Sunderam: 'My philosophy is to work sincerely, honestly and to the best of my ability. The rest is up to God. It's the drive to excel and constantly improve that keeps me going. Complacency is a chef's downfall!
My culinary education began with my mother, who was a very good cook. I also learned a great deal during my days at the Taj Mahal Hotel in Mumbai. India is a huge country and every region has its own culinary specialties; I learned a lot about the regional cuisines of India at that time.'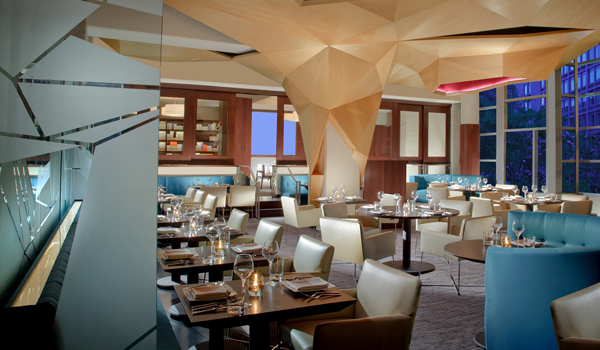 Rasika's colorful, modern West End location © Robert Miller
At Rasika, so-called 'modern Indian cuisine' is on the menu. How do you define that?
'For me, modern Indian cuisine means a simple fusion of traditional methods and contemporary techniques and ingredients. Food habits have evolved over the years, and continue to evolve – at Rasika, we work to achieve a delicate balance between retaining the essence of traditional dishes while presenting them in a modern way.'
You've worked in London and Washington, DC. What have been the challenges of working in both cities?
'Actually, both cities are pretty similar – both are cosmopolitan and have very diverse and well-informed clienteles. The greatest challenge in both is procuring obscure ingredients.'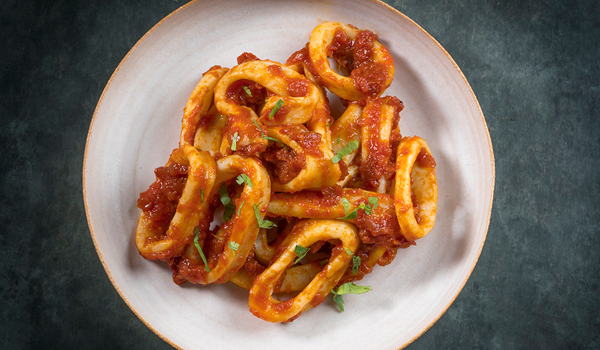 A pickle-like blend of ingredients called balchao is a staple in many Portuguese Goan dishes – like this calamari © Shimmon Tamara Photography
Is there a signature dish at Rasika that you're especially proud of?
'Yes! Our famous palak chaat (flash-fried spinach with yogurt and chutney) and our black cod with dill, honey, and star anise.'
Has the perception of Indian food changed globally, as chefs continue to innovate?
'As people have become global travelers, the awareness and acceptance of Indian food has improved tremendously. People no longer just associate Indian food with curries. Small plates and Indian street food are both getting popular; our latest restaurant Bindaas experiments with both trends.'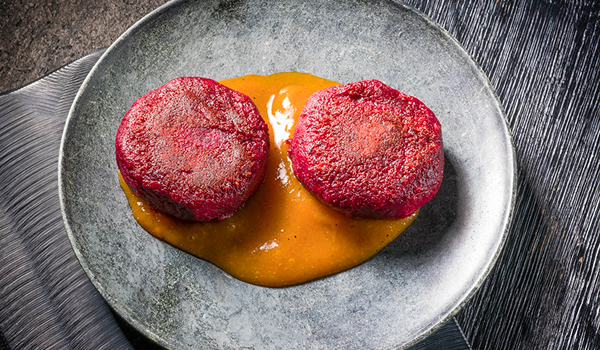 Dishes like this beetroot and goat cheese plate show Sunderam's ability to combine Eastern and Western ingredients © Shimmon Tamara Photography
Where are your favorite places to eat when you're back in Mumbai?
'On my last visit, I had some memorable meals at Bademiya (famous for its seekh kebabs), Golden Dragon at the Taj Mahal Palace, The Konkan Café at the Vivanta by Taj, Mahesh Lunch Home (a great spot for fresh seafood), and Khane Khas in Bandra.'
Do you have any tips for readers who'd like to cook Indian recipes?
'As with any cuisine, one has to follow the recipe and method – Indian cuisine is no different. But for those looking for extra inspiration, we're excited to release the Rasika cookbook next year, where we'll be sharing some of our secrets.'