Chef Floyd Cardoz knows how to make a hit restaurant. Right now, he's overseeing two of them, in fact — and they happen to be almost 8,000 miles apart.
Upon opening in 2015, The Bombay Canteen in Mumbai quickly shot to the top of city's-best lists, and today still lures in fashionable crowds with its modern Indian menu and creative cocktails — think dishes like red snapper ceviche and Kerala fried chicken, washed down with cups of punch.
And in New York, Cardoz launched Paowalla last summer, a playful restaurant that shines a spotlight on seasonal produce and on Goan culinary traditions. It's no accident that it earned a glowing two-star review from the New York Times within months of opening its doors.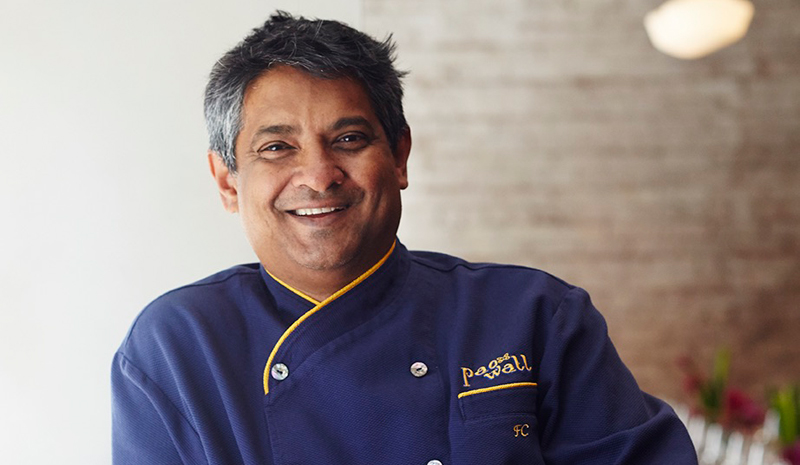 Floyd Cardoz is a leading modern Indian chef © Katie Foster
What's the secret to his restaurant world success? It helps that Cardoz logged 11 years working alongside legendary restaurateur Danny Meyer when the two collaborated on New York's now-shuttered Tabla. His Goan-Catholic background has also instilled in him diverse culinary influences.
To learn more about his globetrotting journey — and his incredible way around a kitchen — we sat down with Cardoz to talk all things food.
Cardoz's dishes mix Eastern and Western influences and ingredients © Katie Foster
Greaves: How would you describe your cooking at Paowalla?
Chef Floyd Cardoz: 'My philosophy is to take what's best from Indian food and showcase it through an eclectic culinary lens. For example, we serve makhani dal with burrata instead of butter. I also make stir-fried, spiced Brussels sprouts (that's the way they cook cabbage in South India). And our bacon naan and cheddar cheese kulchas are very popular.
Ultimately, though, we always stay true to Indian cooking techniques. Diners appreciate the freshness and spiciness of the food.'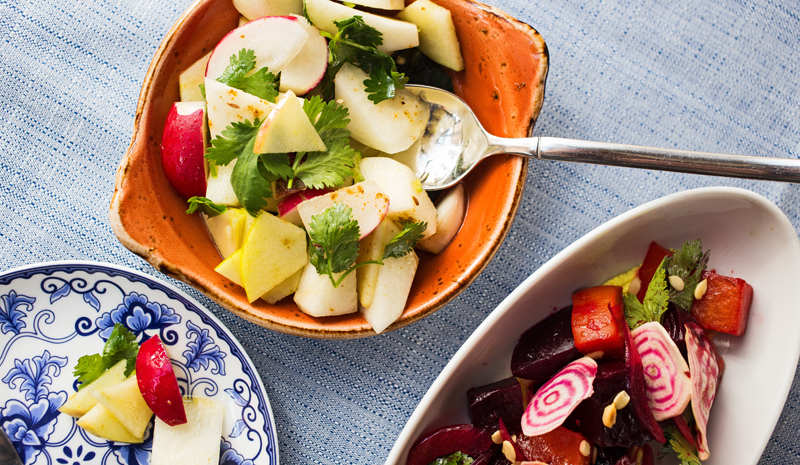 Chef Cardoz emphasises sourcing fresh and seasonal ingredients © Katie Foster
Your take on Indian food is that it should be 'approachable and fearless'. How do people react to your less traditional dishes?
'People who are looking for cheap Indian food will always have complaints — some people just want chicken tikka masala, which isn't even Indian. This is not a curry house.
Initially, I had some resistance from the staff about our menu, but eventually everyone got on board. For me, it's really about the flavor, freshness and lightness of the cuisine. The perception that Indian food is always heavy, over-spiced, greasy or that it will give you an upset stomach… restaurants just don't cook like Indians cook at home.
Our menu is small because that's the way to keep it fresh. That's why people are embracing what we are doing. My cooking has also gotten much bolder, and I feel like I can take risks. We've tried dishes like pig's head vindaloo and fish collar curry, and they've sold out.'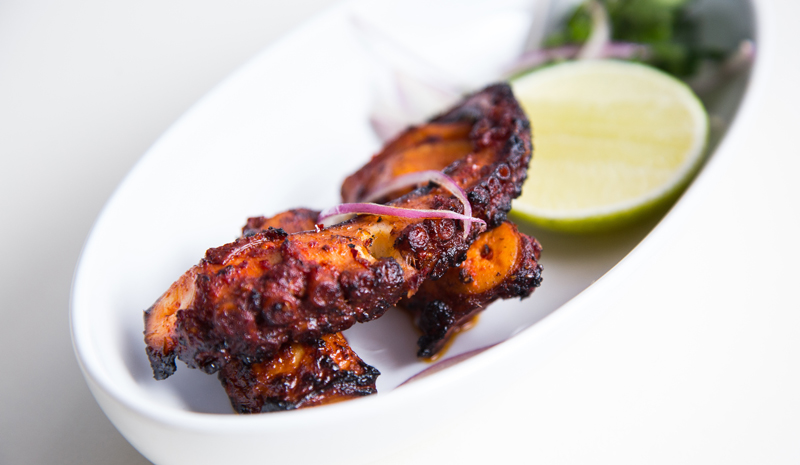 Tandoori octopus exemplifies Cardoz's bold style © Katie Foster
How has your Portuguese heritage influenced your menu?
'I'm Goan Catholic. Back in Goa, we were called paowallas ["pao" means bread in Portuguese]. We had pao for dinner every night — it's an important part of my culture, and that's why it's a focus at the restaurant. Here they use milk, butter and even eggs in bread. Traditional pao has yeast flour, water salt and sugar. We don't do chicken vindaloo – it's pork. That's how it's done in Goa.'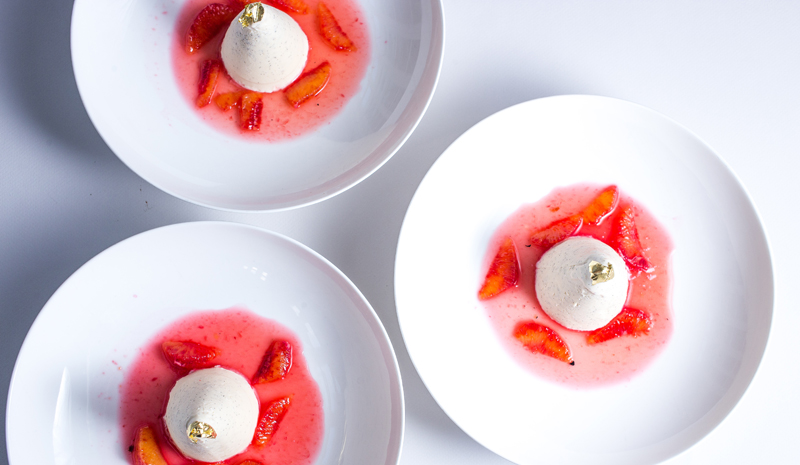 Kulfi, a traditional Indian dairy dessert, is served with a twist © Katie Foster
What trends do you foresee in the Indian food scene?
'The move is towards local and seasonal ingredients. In India, people love importing trendy ingredients like kale, but there's so much to work with at home, and I do a lot to educate people about regional food. At the restaurant, we use green jowar [sorghum], which is Gujarati, and we serve mandeli fry [a small, bony Goan fish].
Here in the U.S., I think more people are going to continue using Indian flavors and seasonings, as they can actually be very healthy. The trend is leaning towards vegetable-forward dishes, not so heavy on the protein. I think regional Indian food is going to get bigger, too.'
Any tips for our readers?
'Cook with passion and from your heart, and don't try to overcomplicate things. Use the right equipment and follow recipes entirely the first time — and then play around with the process the next time. Finally, don't bat outside your league. Stick to what you're good at.'