5
India has long been known for its rich heritage; opulent dynasties, thriving civilisations, renowned rulers and architectural marvels. Among these wonders are some of the most breathtaking heritage hotels in the world, offering a glimpse into the lifestyle of Indian royalty. Discover five of India's finest heritage hotels that will undoubtedly captivate you with their timeless charm.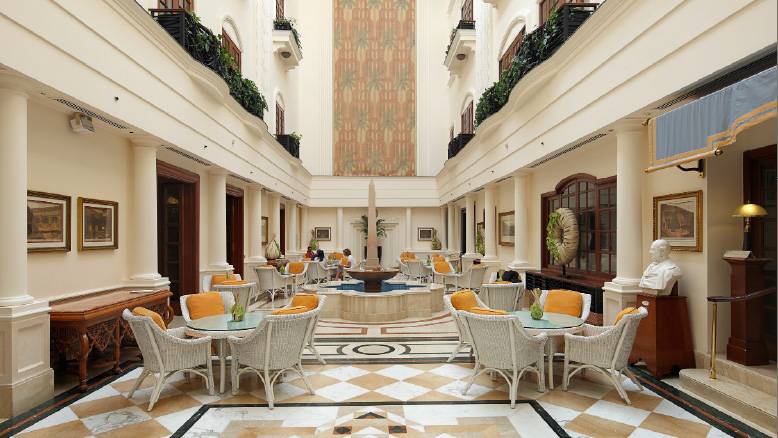 The Imperial Hotel, Delhi
Nestled within an expansive eight-acre estate, The Imperial Hotel, crafted in 1931 by Bromfield, stands as a testament to India's vibrant past. The entrance, adorned with 24 stately royal palms, echoes the very origins of New Delhi.
Centrally located on Janpath, the hotel provides easy access to the city's thriving cultural and entertainment hub, including the bustling Connaught Place, a haven for shopping and street food enthusiasts. Housing a remarkable collection of over 5, 000 artworks from the 17th and 18th centuries, the hotel has a nostalgic charm with its vintage rattan furniture and whirring fans, complemented by its inviting pool and well-manicured lawns, perfect for unwinding.
Indulge in a sensorial journey at the hotel's tranquil spa, offering both Ayurvedic and Western treatments, or rejuvenate at the well-equipped gym. Dining delights await at the four distinctive restaurants, with The Spice Route shining as a culinary gem, featuring an array of exquisite coconut-based seafood dishes from Kerala and the Malabar Coast.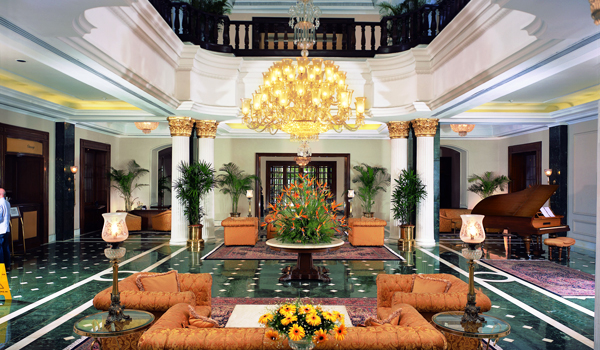 Oberoi Grand, Kolkata
Nestled in the vibrant heart of Kolkata, fondly known as 'The City of Joy,' The Oberoi Grand is a treasure trove of history. Originally, it occupied No. 13 Chowringhee Road, serving as a private residence for the Grand Colonel in the 19th century before Mrs. Annie Monk transformed it into a boarding house. Expanding to include nearby plots, including a theatre, the hotel soon became a favorite among British residents in Calcutta and a hub for soldiers during World War II, renowned for its extravagant New Year parties.
This charming piece of Indian heritage boasts Victorian architecture and lavish interiors that pay homage to its grand colonial past. Perfectly situated amidst Kolkata's bustling markets, The Oberoi Grand offers world-class dining, personal butlers, and private balconies overlooking lush gardens. Discover the city's rich history as the hotel provides an unrivalled location to explore treasures like the Victoria Memorial, Maiden park, Kalighat Temple, Raj Bhavan, and the magnificent Indian Museum—all just moments away.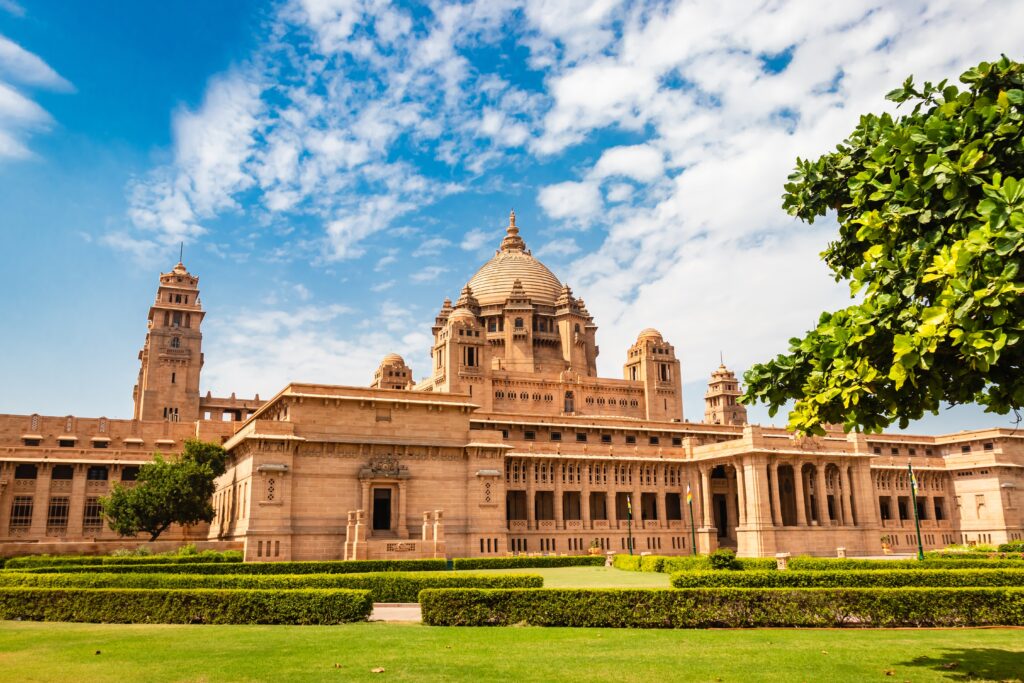 Umaid Bhawan Palace, Jodhpur
Umaid Bhawan Palace, one of the world's largest private residences, remains the cherished residence of the Jodhpur royal family. Named in tribute to Maharaja Umaid Singh, its golden yellow sandstone façade exemplifies the Art Deco style.
Nestled within 26 acres of verdant gardens, this 5-star heritage hotel offers a bespoke experience. Your arrival is marked by a royal welcome, complete with ceremonial drums, a red carpet, rose petals, and a glass of Champagne beneath the 105-foot cupola. Savor tantalizing dishes like smoked lamb kebabs and spicy green-lentil dal at Risala restaurant, or embark on a 20-minute drive to explore Jodhpur's lively old city. For tranquillity, indulge in the Zodiac Pool, acclaimed as one of the world's coolest swimming pools. Each guest room and suite exudes regal elegance, decorated with carefully curated artworks that narrate the rich history of the space and its royal inhabitants.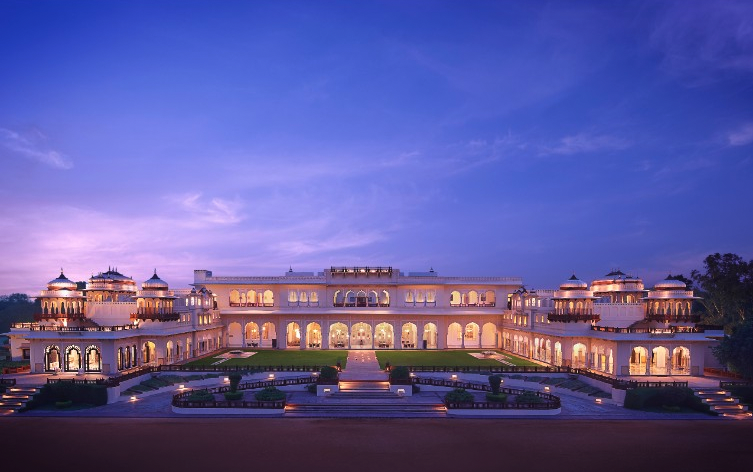 Taj Rambagh Palace, Jaipur
In the colorful city of Jaipur, the Taj Rambagh Palace reflects the city's majestic past. Built in 1835, the palace has seen many changes over the years – from being the home of the queen's favorite handmaiden to the residence of Maharaja Sawai Man Singh II and his queen. The palace boasts 78 grand luxury rooms and suites, high ceilings, rich mahogany and timeless antiques.
A treat for the senses, 'The Jewel of Jaipur' hosts a symphony of experiences and thoughtful touches. In the evenings, guests are invited to partake in the enchanting candle-lighting ceremony, followed by a night of cocktails in serene Mughal gardens, with traditional dance and music. Indulge in the rich flavors of India at the Suvarna Mahal, where refined Indian cuisine from four regions is served in a gilded setting, or rejuvenate at the J Wellness Circle with cleansing ancient Indian wellness therapies.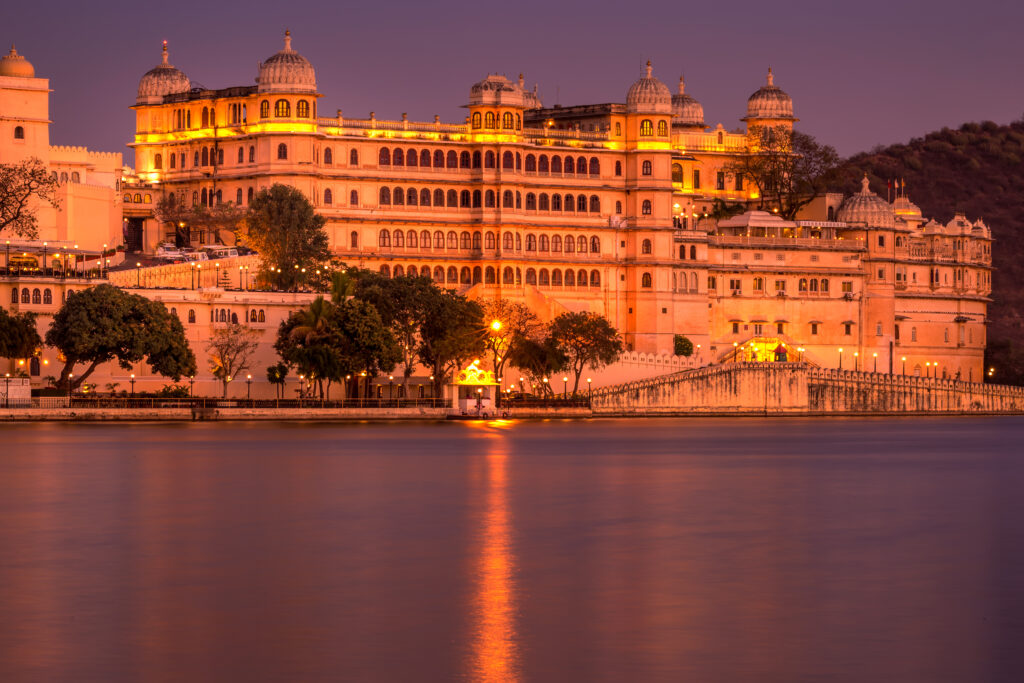 Taj Lake Palace, Udaipur
The Taj Lake Palace, one of the world's most iconic hotels, is a captivating journey into the past. Sitting on a secluded island in Lake Pichola, this former royal summer residence transports you to another era and different way of living. Originally named Jag Niwas, the Taj Lake Palace was built in the 18th century as a pleasure palace. As India underwent significant changes post-independence, the approach to preserving history evolved as well. In 1963, Jag Niwas made history by becoming the first palace to be transformed into a luxury hotel and was renamed the Taj Lake Palace.
With 65 opulent rooms and 18 grand suites, guests are invited to experience the epitome of luxury while delighting in mesmerising lake, city and rolling hill views. This unrivalled location provides the perfect backdrop for a blend of exquisite cuisine and pampering experiences, exclusively tailored for its guests. Indulge in royal treatment at the J Wellness Circle in Udaipur, sip on signature martinis and cocktails at the Amrit Sagar bar, take a refreshing dip in the swimming pool, and fully immerse yourself in India's illustrious royal heritage.

Discover the magic of India's vibrant history with a stay at these remarkable heritage hotels.
India's 5 Heritage Hotels image credits: Imperial_lawn by The Imperial New Delhi; Lake Pichola and Taj Lake Palace by RuslanKphoto; The Oberoi Grand, Esplanade, Kolkata, by suprabhat; Umaid Bhawan Palace Jodhpur Rajasthan India by explorewithinfo; Taj Rambagh Palace by Taj hotels