As an accomplished architect and designer, a classically trained dancer, and the owner of Svatma (one of Tamil Nadu's most buzzing new boutique hotels), Krithika Subrahmanian is quite the renaissance woman. We caught up with her to learn more about this gorgeous new property, her dance training – and why it's high time visitors discovered Thanjavur's ancient beauty.
Krithika Subrahmanian is a talented dancer, architect, and the owner of the new Svatma © Krithika Subrahmanian
Greaves: You're an architect by trade and now the owner of the beautiful new Svatma Hotel. What inspired you to open your own hotel?
Krithika Subrahmanian: "I am an architect and designer of many clubs, restaurants, hotels and resort projects…and I'm also a host of exacting standards! I'm very passionate about menu planning and the food prepared in my home and vacation properties. So here I am, running this ship!
I always wanted to open and run a chain of luxury boutique hotels in Tamil Nadu. I was inspired by the extraordinary boutique properties I encountered in Europe and Asia – Italy's in particular. Such warmth and individuality in the hospitality, combined with a proud showcasing of culture and heritage. And Thanjavur of course was the ultimate inspiration; the ancient capital of Tamil Nadu, my home state, is a gem waiting to be discovered."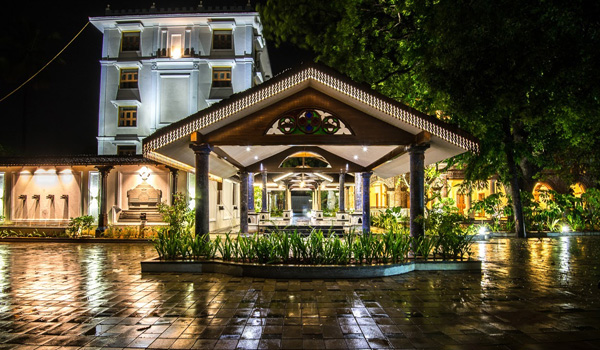 Svatma is one of Tamil Nadu's most buzzing new boutique hotels © Svatma
How has your architectural training informed the look and design of Svatma?
"The look of Svatma is a very deliberate set of moves on a design chessboard.
I like to think of it as designed by and for individuals with spirit, inspired by Tamil culture and art, and full of mystique and allure. The look is a combination of quirkiness and classicism."
Tell us more about the hotel: what was your mission in founding it? What makes the venue special?
"Svatma is, in essence, all about surrendering to the abundant charms of ancient Thanjavur: its arts, architecture, culinary heritage and culture. We care a great deal about this revival and preservation of local crafts, architecture, and antiques – adaptive reuse and restoration, in other words.
A reaction I get from most guests is that Svatma is an inspiring place. It's impossible not be affected by the energising space. We wanted to evoke a multi-sensory experience of Thanjavur: from the chants of Vedas to Chola Bronzes, from traditional chamber concerts to the aroma of local coffee. It's a beautiful heritage home environment."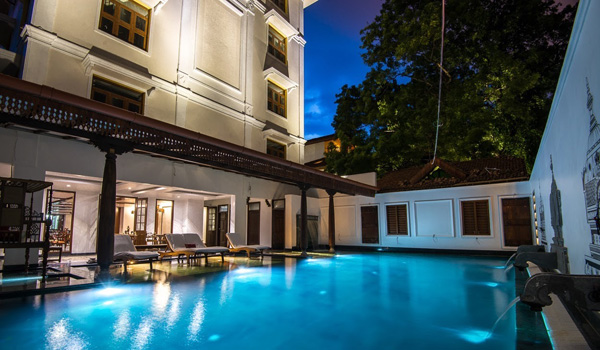 Svatma combines Tamil design and tradition with modern amenities © Svatma
Was it a challenge opening a stylish boutique hotel in a relatively rural location?
"Yes, it was a challenge, but what isn't in India? A country of abundant talent, craft, creative spirit and also extreme challenges, it was a most enjoyable roller coaster ride with a happy landing. I am pleased we managed to engage with local workers and employ a majority of our staff locally, source much of the decor and design from the area, and also manage a zero-waste green building. We are proud of our sustainable design!"
What can guests expect on their Svatma visits? What are some of the hotel's unique experiences?
"Svatma offers an element of discovery, and the possibility to uncover hidden corners of this extraordinary, ancient city. Guests can connect with local people for a number of experiences, from bronze casting demonstrations to performances by classic dancers and concerts by the inspired musicians of Thiruvaiyaru, all of which articulate Tamil Nadu's rich heritage. They can also attend intricate handloom demonstrations by neighbourhood weavers, see Thanjavur-style painting or handmade jewellery, or take culinary classes by local chefs. For those who really want to explore the local culture, experts lead tours of monumental Chola temples. Visitors can even enjoy astrology and palm-reading sessions.
Svatma takes immense pride in its contributions and support of the Marabu Foundation, a local organisation that promotes peace and harmony through traditional arts, literature, and education. Its activities are twofold – working with the underprivileged children of the area as well as reviving Thanjavur's 4,000 year-old arts and crafts traditions. The foundation helps the region continually reinvest in its local talent, community development and responsible tourism."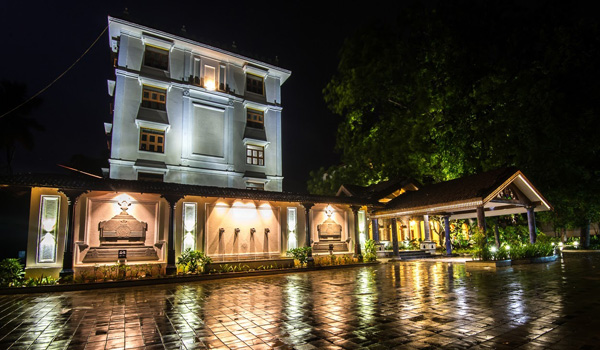 Svatma's beautiful exterior © Svatma
In addition to being an architect and hotel owner, you're also a classical dancer. How did you first get drawn to dance?
"I am essentially a Chennai Brahmin girl, born into a large, traditional Hindu family with strong theosophist leanings. My parents are wonderful people who allowed our spirits to grow within the performing arts while also keeping us disciplined. I started to dance at the age of seven, under the famous Guru Sudharani Raghupathi. I consider myself blessed to have found my guru early in life! Dance gives me calmness, poise, and has taught me much valuable knowledge – this parallel stream of active learning helped me grow as a person."
Tell us more about the style of classical dance that you do, and what makes it distinct.
"It is the Thanjavur style of Bharatanatyam in the Pandanallur tradition, distinctive for its grandeur and spirituality. There is a deep, simple geometry to the movements, and a focus on rhythm and lyrical content. The style is less prone to fashion and flourishes, and I think it will outlive more populist art forms because of its depth of tradition."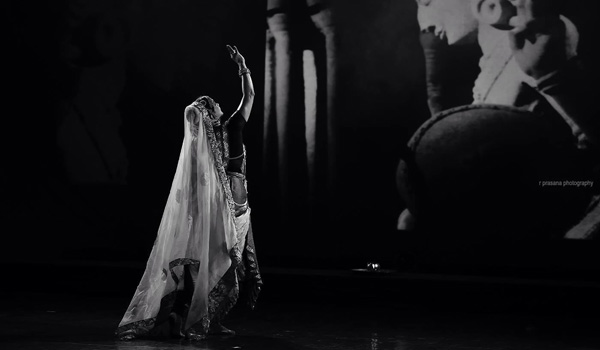 Krithika is schooled in Bharatanatyam classical dance © Krithika Subrahmanian
 Do you have any insider recommendations in or around Thanjavur to share?
"To begin, visitors shouldn't miss the Brihadeeswarar Temple, which is a UNESCO World Heritage Site and one of the finest examples of Chola architecture. The Thanjavur Royal Palace is also incredible: its collection of Chola Bronzes in the Gallery is not to be missed, as well as its highly ornamental Darbar Hall.
There are plenty of traditional crafts to discover, too: the veena [a traditional stringed instrument] makers, the bronze casters, a weavers' colony, painters, etc.
And for those using Thanjavur as a base, there's plenty to discover nearby. My list of personal favorites also includes: Thiruvaiyaru (a town famous for its music), Tiruvarur (once a capital of the Chola empire), Chittanavasal Cave (known for its murals), Thirueeyachur Temple (renowned for its divinity), and the town of Kumbakonam (full of colorful temples)…the list is endless."
Save