If you love Indian food – and you're at all familiar with the New York dining scene – then the name Hemant Mathur is sure to ring a bell. The much-acclaimed, Michelin-starred chef has overseen a number of the city's most noteworthy Indian openings of the past 12 years. Thanks to his prolific approach and instinctive understanding of hospitality, he's even been described as the Indian Danny Meyer.
Hemant Mathur has been described as the Indian Danny Meyer, thanks to his instincts for good cooking and hospitality © Hemant Mathur
First of Mathur's restaurants was the exquisite, now-shuttered Devi: opened in 2004 in the Flatiron District, it quickly earned rave reviews – and was the first Michelin-starred Indian restaurant in the US. Then along came the prestigious Tulsi, which made its debut in early 2011 and which earned a Michelin star before the year was out.
Today, Mathur oversees six different New York eateries, each of which focuses on a different Indian regional cuisine. There's Chote Nawab, which serves Awadhi and Hyderabadi food; Dhaba, which specializes in Punjabi fare; Kokum, which veers towards the Keralan coast; Malai Marke, whose culinary inspiration is drawn from across South India; Haldi, which takes its inspiration from the food of Kolkata; and Chola, which has the most wide-ranging menu of the six.
We sat down with Chef Hemant Mathur to learn the secrets of his phenomenal success, from his early days cooking in Jaipur to his starry, Big Apple triumphs.
Mathur got his start specialising in tandoori and meat dishes © Hemant Mathur
Greaves: Tell us about your journey from Jaipur to New York. How did you get your start in the restaurant industry, and what are your main culinary influences?
Chef Hemant Mathur: 'When I was first training to be a chef, I started off in bakery, and then I specialized in tandoor oven-prepared dishes. After that, I worked in Bukhara, a tandoori restaurant in New Delhi that's renowned for its meat dishes.
Beyond the meat, there are a lot of vegetarian influences in my cooking as well. I'm from Jaipur, where people eat a lot of spicy vegetarian dishes. Today, the plates we serve include everything from crispy okra to daal bhaati churma [spiced lentils served with ghee-fried bread].'
How have you seen the New York dining scene change since Devi first opened?
'The Indian food scene in New York is very different from what it was 10 or 15 years ago. Today, a lot of Americans travel to India, and know about Indian food. In previous years, they would only think of chicken tikka masala and rogan josh as Indian food. Now, they're interested in all kinds of regional cuisines.'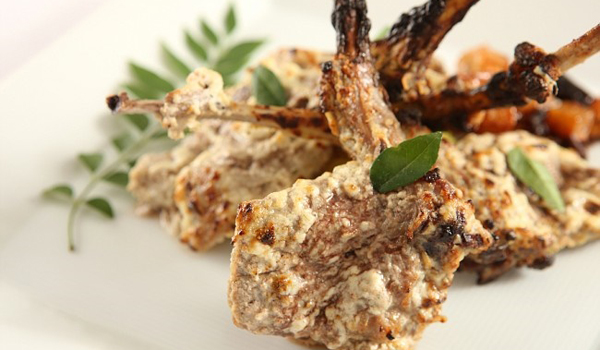 Mathur's lamb chops have been hailed by the New York Times © Hemant Mathur
You're famous for your tandoor-grilled lamb chops. What's the secret behind this signature dish?
'It's true that the lamb chops are very famous in New York – even New York Times critic Sam Sifton wrote that they "taste of gamy perfection." The secret is in the marinade: I use yoghurt, mace, cardamom powder and black pepper.'
Which aspects of your approach have contributed to your Michelin stars?
'Presentation and consistency. Devi had an interesting menu and the presentation of the dishes was visually appealing. The cooking was also very consistent. Tulsi got a Michelin star in the first year, and consistently for five years after that.
At some point, you get recognised, which is good from a business point-of-view. We're also happy that Haldi, Malai Marke and Kokum are listed as Michelin recommended.'
What has been your biggest challenge as a chef in New York?
'There is a lot of competition in New York – the city has more than 20,000 eating establishments! People who eat out every day are knowledgeable, so we always have to keep up our quality and consistency. If one dinner is bad, it's trouble.'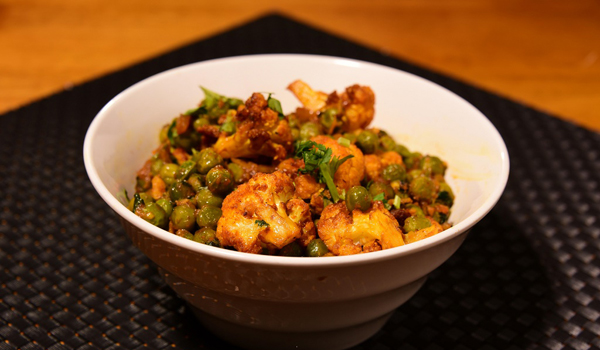 Now, Mathur's focus has turned to regional Indian cooking © Hemant Mathur
What do you think about the trend for modern Indian cooking?
'I think it's very good. We want Indian food to become popular! As long as the authenticity is still there, it's very good for Indian cuisine.'
How has the food scene changed in India and New York?
'I last went to India in January, and the scene there has changed a great deal. Restaurants are offering dishes with ingredients like quinoa, and modern Indian cooking has become a big focus. In New York, we recently got Indian Accent, Junoon and Tulsi, but change is slower here.'
Your wife is pastry chef Surbhi Sahni, and her desserts feature on your menus. Which dessert is your favorite?
'Surbhi's desserts are not traditional, but the Indian flavors are there. My favorite is the shahi tukda [crispy Indian bread pudding with cardamom cream and candied almonds] – it's one of the best and most popular desserts in our restaurants.'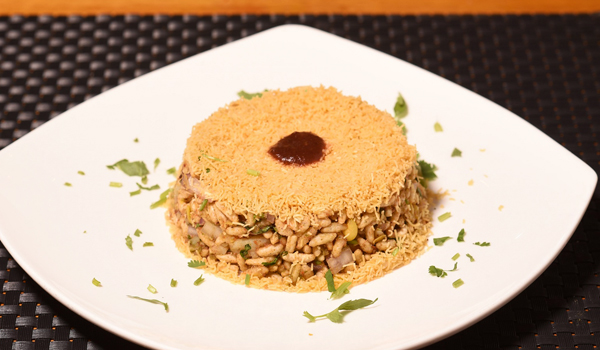 A dish of bhel puri © Hemant Mathur
Where do you like to eat out in New York and India?
'I love Balthazar in New York and Masala Library in Bombay. When I go back home, I eat at home, as I'm always in restaurants!'
Finally, do you have a cooking tip for our readers?
'Follow at least 80% of the recipe, and make food with love.'