Fiona Caulfield is an avid travel
er with a keen eye for what makes a destination truly special. Born in Australia and now a resident of India, she's the woman behind the gorgeous Love Travel Guides series, which take an intimate, personal approach to travel. These clothbound, incredibly detailed guidebooks provide a truly local perspective on a range of destinations, with recommendations that stray far from the tired tourist path. It's fair to say that they're essential reading for visitors planning a trip to India.
We sat down with Fiona to learn more about her guides and her travels: from her favorite tips and recommendations for travelers to India to what it means to be a luxury vagabond.
Fiona Caulfield is the founder of the gorgeous Love Travel Guides series © Clare Arni
For starters, what's a luxury vagabond? And why are you one?
A luxury vagabond effortlessly mixes the high and the low. They thrive on staying in grand palaces and yet are happy to take an early morning rickshaw to the best chaiwallah in town. They might shop for fine jewels in an atelier that traces its origins to Mughal times and then return to their simple homestay for a delicious home-cooked meal. Luxury vagabonds search for, and luxuriate, in the authentic. They loathe five star bubbles and fleapits with equal vigour. The most valuable asset to a luxury vagabond is their time, not their money.
I think that answer probably explains why I am one!
Tell us about the concept of 'conscious travel'? 
The Love Travel brand is committed to conscious travel. We aim to be conscious of the destination we are visiting and believe in contributing in a meaningful way. We promote socially and/or environmentally sustainable organisations in the guides and we also contribute ten per cent of the profits to assist these organisations. Recently we have supported a craft organization in Bangalore that has a livelihood program for underprivileged women, teaching block-printing skills, which also supports the craft.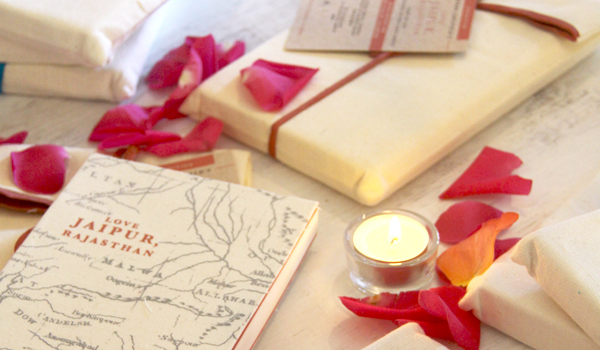 Love Travel Guides provide an intimate look at Indian destinations
You're a lover of 'slow' publishing and 'slow' travel – how does this come out in the Love Travel Guides?
I think of the work we do as curating a destination. The first edition of a guide will be years in development and even a new edition could take a year or more to research. The entries are 'love stories' personally sourced from in-the-know locals including chefs and chaiwallahs, artists and architects, photographers and princesses. These people reveal their favorite experiences over time as relationships are developed and trust achieved. We then personally visit every potential entry, checking that it really is the best experience in its category. Whether it's leopard spotting, assessing a fortune teller or finding the best suite in the haveli, all of the recommendations meet our exacting standard. Do they help you fall in love with the destination or not?
We don't deal in the currency of new; we are committed to the authentic and believe we have a discerning eye for the singular experiences that set a destination apart. We don't think you fall in love with Jodhpur for example in a mall or in a modern nightclub. We think you do fall in love with the medieval city of Jodhpur on an exclusive Champagne tour of the majestic Mehrangarh Fort at sunset, or while visiting the tiny glass bangle shop that has supplied every Maharani of Jodhpur. We present the enduring establishments of a destination and really get behind the veneer of the place.
So as well as slow research we also slowly handcraft the books. They are printed on paper hand-made in Sanganer, just outside of Jaipur, and the fabric covers are made from handloom khadi cotton, the fabric of India's independence, which is hand-woven in Andhra Pradesh.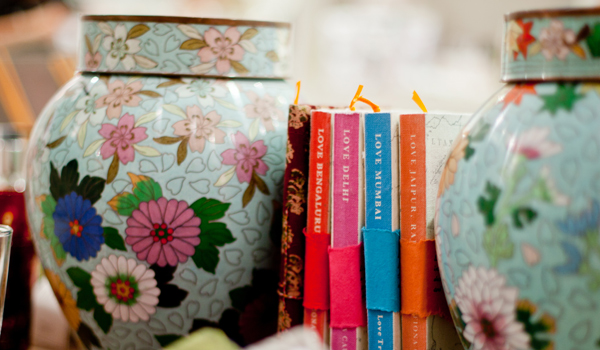 The guides are clothbound and made from locally sourced materials
What do you see as the next big travel trends within India? Which destinations have emerged? And where do you think will be next on everyone's wish list?
In my other career, I still work as an applied futurist, so this is when my careers converge! I believe the travel trends in India are aligned with global trends – discerning travelers will increasingly demand authenticity, exclusivity, customized experiences and privacy. Gone are the tightly packaged vacations and other tourist pap. For India, this means journeys to places that are considered to be the "real" India, not tourist India. I would expect Madhya Pradesh to get busier, in fact the whole of the Deccan Plateau. Also, a personal favorite is Calcutta and the east, I also think the far south of India, the Palani Hills and other hidden secrets outside of Madurai will become interesting as part of a southern itinerary. I would also expect experiential travel to boom, leopard safaris at Jawai in Rajasthan, Tibetan healing retreats in the Himalayan foothills, wellness cooking intensives in Kerala and mastering your headstand in Mysore, ashram chic style!
What's the one place in India everyone should visit? 
Ganga Ma. The mighty Ganges River, the soul of India. In fact, almost any river in India: the Cauvery in the South, the Narmada in central India, and the Chapora River in Goa.
I also think that the Jaipur Literature Festival is quite amazing, a literary Kumbh Mela. The exclusive and intimate World Sufi Spirit Festival in Nagaur makes one's spirit soar.
The World Sufi Spirit Festival is a sight to behold © World Sufi Spirit Festival
What's the one book you feel best encapsulates India?
Tough question, like asking to choose my favorite child…
1. The Ramayana, the more accessible of the Indian epics and the source of all the stories that Indian grandparents share with their grandchildren on their knee. I read it after having lived in India five years and wish I had read on arrival. I recommend the Ashok Banker set published by Penguin, don't be daunted by the size, it is a real page turner!
2. India: What Can it Teach Us? A course of lectures delivered before the University Of Cambridge in 1882 by the acclaimed Sanskrit Scholar, F. Max Müller. An excellent reversal of the colonial instinct to teach India, here is the passionately argued case of learning from India. A valuable lesson for all of us visiting the country.
3. Beyond the Beautiful Forevers, White Tiger, A Fine Balance, Suitable Boy, The Hungry Tide ….. and this list could go forever.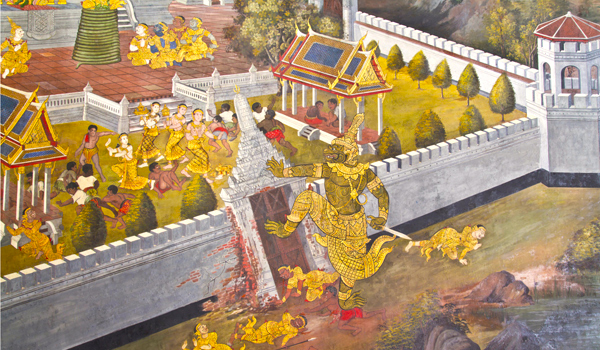 The Ramayana is a classic Indian epic © Atthapol Saita/iStock/Thinkstock
A wise woman once said about India…
Traveling to India is not an external journey, but an internal one. India demands that you go on a journey within.
Fiona Caulfield is the founder of Love Travel Guides, hand-books for luxury vagabonds. www.lovetravelguides.com 
Calcutta is featured on the itinerary Southern India.
Save