Kutch in Gujarat is one of India's most stunning regions. Home to the Great Rann – the world's largest salt desert – Kutch is famous for its unique landscape. But it isn't all salt, here: the palace-filled city of Bhuj and the area's rich artistic culture have long fed into the mythologies surrounding this lesser-known corner of the Subcontinent.
Now, would-be travelers to Kutch have even more to draw them: the newly opened Bhuj House, a tremendous asset to the region's hospitality offerings. A historic, 19th century property, the traditional courtyard house has been redeveloped into a wonderfully private boutique hotel. We spoke with Jehan Bhujwala, one of the owners of Bhuj House, about the hotel's unique history, the adventures guests have to look forward to, and why you should bring an extra suitcase for souvenirs alone.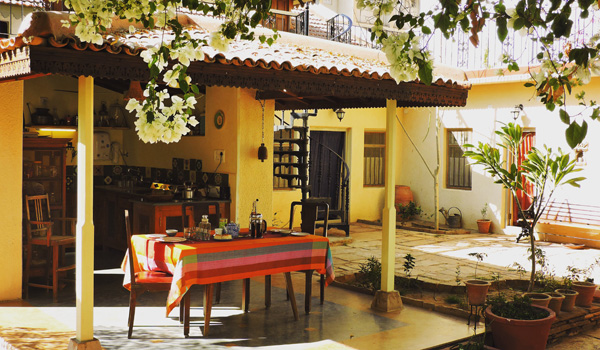 The Bhuj House's colorful pantry © The Bhuj House
You've just unveiled the newly restored Bhuj House. Tell us about the property's history, and about the renovation process.
'The Bhuj House is the ancestral home of the Bhujwala family, the only remaining Parsi family of Bhuj. It was built by my great-great grandfather in the 1860s. The property has housed six generations and withstood two devastating earthquakes! As a town, Bhuj has changed enormously, embracing India's new modern era as it has rebuilt itself following the 2001 earthquake. We couldn't let the house disappear.
Care has been taken to restore the original architecture and character of the building, using traditional materials where possible while adding modern conveniences (like ensuite bathrooms and air-conditioning). The Bhuj House remains a very homely and social space, with four guest rooms and common dining in an open-air pantry. The courtyard – once a functional workspace – is being transformed into an inner garden.'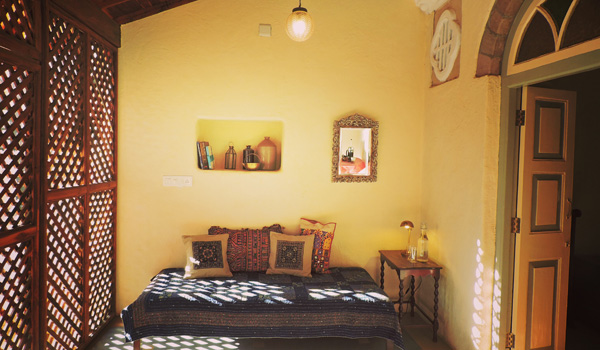 The Bhuj House combines its unique Parsi heritage with modern amenities © The Bhuj House
What amenities can guests enjoy at the Bhuj House? What makes it unique?
'The Bhuj House offers a peaceful and homely retreat at the end of a long day of exploring the town. It's very intimate, with its four guestrooms, all of which feature restored furniture and Kutchi fabrics. All rooms open out onto the courtyard, a social space where breakfast is served. We can also provide lunches and dinners, serving traditional home-cooked Parsi cuisine (a rarity in India, not just Bhuj). We have some wonderful books and photographs of Bhuj, new and old, and can recommend special places to visit, including local artisans' workshops.'
How does the Bhuj House reflect the history and culture of Kutch?
'The Bhuj House reflects a very specific era in Kutch's history, a time when the Parsi community was prominent here – historically, they were close aides to the Rao court, and entertained the British garrisons of Kutch. European styles have always appealed to the Parsi community, so the house retains a colonial air. For a long time, Bhuj was a sleepy, dusty little desert town, far-flung in western India, flanked by uninhabitable salt deserts and ocean, so there is a rustic, countrified air to the house too. '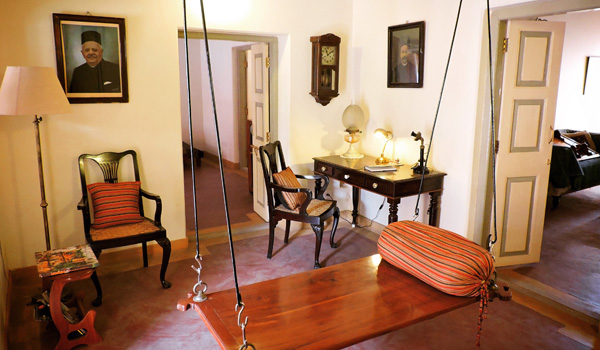 The Bhuj House is filled with traditional decor © The Bhuj House
Tell us about Bhuj House's excursions. Does the guesthouse provide tours of the region?
'We help our guests organize itineraries based on their specific interests, and put them in touch with the right guides and artisans. Kutch is a fascinating region with unusual beauty, spellbindingly stark and rugged. Due to its geographic location between the vast salt deserts to the north and east and ocean to the south and west, it was largely cut-off from the rest of India, which gave it its own unique culture and identity. Visitors are often drawn to the extraordinary textiles and crafts of the region, which can be experienced first-hand within indigenous villages. Wildlife enthusiasts come to view desert species in rich, undisturbed habitats, and to witness flamingos, pelicans and cranes stop and rest during their migrations across Asia.
Few people know that Kutch is also home to one of the 5,000 year-old Indus Valley (Harappan) civilisation sites, which is about four hours from Bhuj. This archaeological treasure is located on a small island that rises out of the Great Rann of Kutch, and is accessed from the mainland via a narrow causeway.'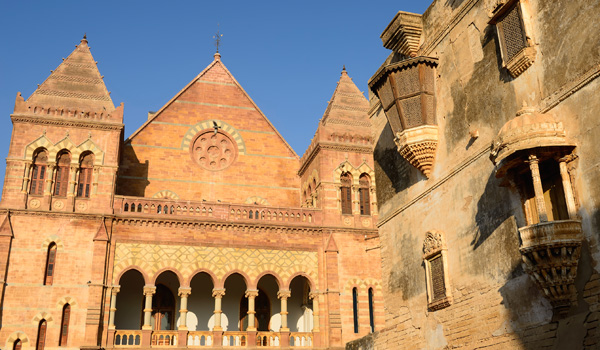 Bhuj's pretty Aina Mahal palace © Rafal Cichawa/iStock
For first-time travelers to Bhuj, what are some of the best things to do in the city?
'A heritage walk through the walled city (past two palaces – the Prag Mahal and the Aina Mahal – followed by a stroll along the tightly-packed bazaar) will immediately introduce visitors to Bhuj's old-world charm. People are friendly here, so you're made to feel welcome. Shops sell local wares, but you'll also find vintage textiles, pretty embroidered shawls and small treasures amongst the endless drawers of the silver merchants. Bhuj is a hub of ethnic diversity, with various tribal communities represented at the cloth and jewellery markets. It's a photographer's dream, though we try to encourage visitors to enjoy the moment.'
Do you have any recommendations for traditional Kutchi handicrafts or artworks that guests can bring home as souvenirs?
'It's simply impossible to leave Kutch empty-handed! The ideal place to buy fabric is directly from the artisans in their villages, and these are easy to access. Kutch is famous for Ajrakh, or block printing with vegetable dyes, of which indigo is iconic. Intricate embroidery techniques are practiced by various communities, each of which have distinct styles and patterns by which they identify themselves. Patchwork, applique and quilt making are all practiced here and in one industrious village, Nirona, you will find leather crafts, a copper-bell maker, lacquer workers and a family of artists making traditional Rogan paintings.
A number of outlets stock contemporary pieces such as bedspreads, embroidered handbags, cushion covers and scarves, and there is a fabulous art collector who stocks vintage textiles of museum quality in Bhuj itself.'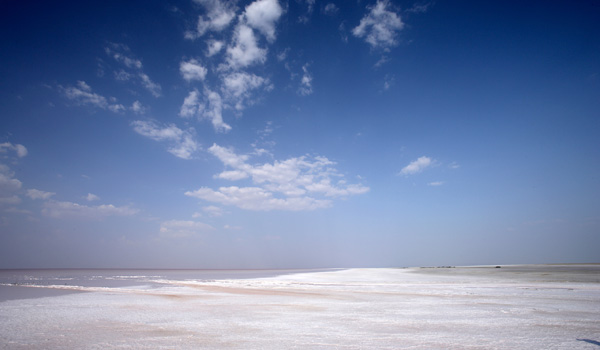 The Great Rann of Kutch © SOUMITRA PENDSE/iStock
Kutch is home to some incredible landscapes and wildlife. Where should visitors go to get in touch with nature?
'The Great Rann of Kutch is an endless expanse of white salt flats, which appear particularly dramatic at sunrise, sunset and during full moons. This landscape is inhospitable to virtually all species, except the thousands of flamingos who visit annually to nest. The Little Rann is more navigable and home to the endemic wild ass of Kutch. Salt farms exist here, and visitors are able to witness the farming process.
The Banni, India's largest native grassland, is a vast plain where ponds develop during the monsoon. It's visited by thousands of migratory water birds, including pelicans, ducks, geese, and storks in the months that follow.
Mudflats and mangroves along the Gulf of Kutch also attract rare birds, such as oystercatchers and crab-plovers, and you can enjoy a stretch of private beach at Mandvi Palace, stopping in to see traditional wooden boat construction in the town's harbor.'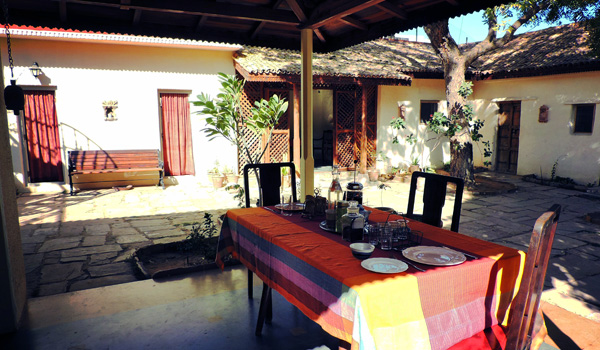 The Bhuj House's pretty courtyard area © The Bhuj House
Is the Kutch region known for any famous dishes? What is the local cuisine like, and what should visitors be sure to sample?
'Kichidi-Cudi is the staple diet, a rice-dal preparation with a yogurt-based gravy, enjoyed with a glass of chaas (cumin-spiked buttermilk) which is very hydrating. Gujarati food is slightly sweetened, and a traditional thali is the best way to experience the full complexity of flavors. Most of the food is vegetarian, but some communities eat meat; the Muslim 'mutton khavo' – a delicately fragranced rice meal with succulent roast potatoes – is a must! Kutch is also famous for its dry salty snacks, found in old bakeries.'
Save