When musing on Indian food in London, you might once have thought of ubiquitous, high street curry shops. But these days, Indian food in the capital is a far more diverse, complex, and often high-end proposition – and we have the Mumbai-born Chef Vineet Bhatia to thank in part for that.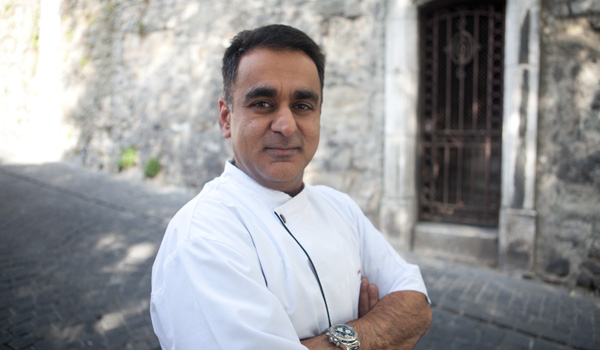 Chef Vineet Bhatia has helped revolutionise Indian cuisine in London © Christopher Papan
With the Michelin-starred Rasoi – his flagship Chelsea restaurant – he proved that Indian food didn't have to overwhelm the palate, but that its infusion of flavors could be delicately balanced, even artful. Now Chef Vineet Bhatia has 12 restaurants around the world, including outposts in Geneva, Doha and Dubai. Clearly, his culinary approach has won its admirers.
Chef Bhatia notes that Rasoi's modernist sensibility distinguishes it from less thoughtful approaches to Indian cooking: "We buy the finest quality ingredients. We understand how to enhance the taste: often, people add too many things to fish or a lobster and it camouflages the flavor of the ingredients. Our food is cooked traditionally; it has to be gimmick-free and authentic. But it's progressive in the way we dress up the food."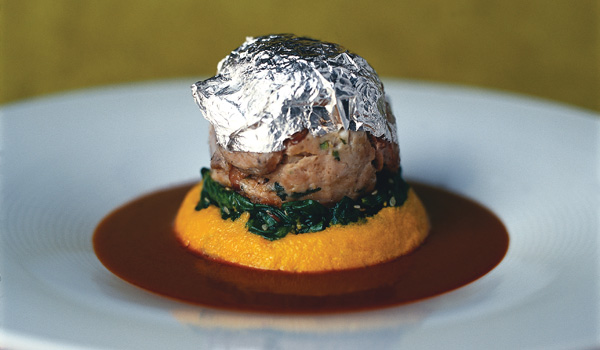 Quail is dressed up and given a unique twist in Bhatia's recipe © Lisa Barber
Originally from Mumbai, the chef chose London in 1993 "for the cold weather." When he began working here, he was shocked to discover that he was the only Indian in an Indian restaurant. "I refused to cook the Bangladeshi curry house stuff. A lot of the guests would get up and walk out."
So he made the classics more accessible, and dishes like rogan josh were reborn as "a slow cooked leg or shank of lamb with spices." He recalls, "We persisted, garnered some great reviews which eventually made a big difference." Following various ventures, he opened Zaika in 1999 and five years later, Rasoi was born. He says, "Rasoi was the turning point in my career. It was our first independent venture and it defined me as a chef and an entrepreneur."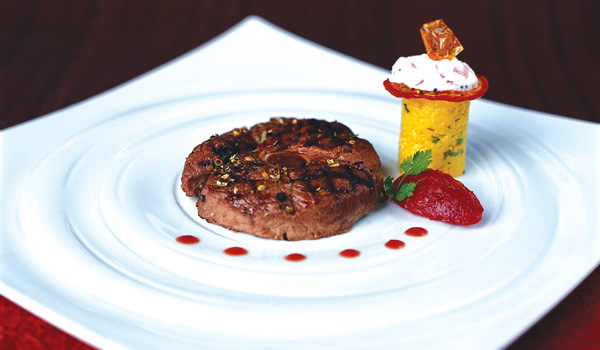 Lamb with goat's cheese khichdi © Lisa Barber
At Rasoi, the recipes are modified to suit local palates (and spice tolerances). "Not everyone can take strong flavors, so we tone it down slightly in Chelsea; I wouldn't do that in Southall. But there are some things you can't touch, like the tandoori smoked salmon. We just put hot red chilli paste with oil on the side instead."
When it comes to crafting his menus, the Mumbai-born chef says that he craves the flavors he grew up with. "Mumbai is a melting pot. You have incredible street food like pav bhaji (curry with a soft bread roll), bhel puri (a puffed rice and tamarind snack) chikkis (a nut and jaggery dessert) laddoos (round sweets), fish, paneer – even Indo-Chinese." But as he evolved as a chef, Bhatia began to dig deeper into these traditional staples of Mumbai cuisine.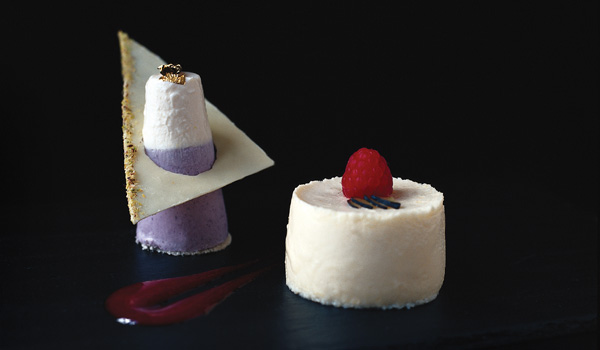 Rasoi's creative kulfi dessert © Lisa Barber
"You understand subtleties, like kulfi (ice cream) is made with black cardamom and not green. Chikkis are made from peanuts – we use pistachios, almonds and pine nuts to make it more luxurious. You have to be open to changes to innovate and create." The signature chocolate samosa is one of his favorite modifications, a change that would make a purist blanch.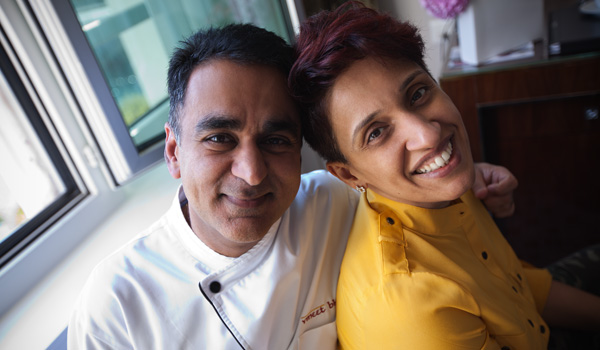 Chef Bhatia with his wife Rashima, Rasoi's Managing Director © Christopher Papan
It's no surprise, given Bhatia's culinary inspirations, that he predicts that Indian street food will continue to grow in popularity, both locally and abroad.  He says, "You can glamorise it, it can be shared with family and friends and it offers a more affordable price point." And besides – it couldn't be more delicious.
Save