Few figures are as revered within India's tiger community as Amit Sankhala. Part of a long line of celebrated conservationists – his grandfather Kailash Sankhala was known as the 'The Tiger Man of India' for his work promoting tiger preservation, while his father Pradeep Sankhala pioneered local eco-tourism – Sankhala is today a principle trustee in the Tiger Trust and also oversees three luxurious wildlife lodges in the lush jungles of Madhya Pradesh.
We spoke with Amit Sankhala to learn more about what it's like to work alongside these majestic big cats, how conservation is continuing to make a difference in India – and what first-time tiger spotters can hope to see on their jungle explorations.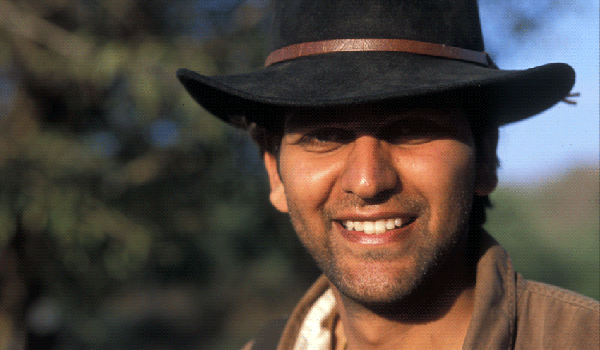 Amit Sankhala is a revered tiger conservationist © Amit Sankhala

Greaves: Working towards tiger conservation goes back three generations in your family. What kind of progress have you seen since your grandfather's work in the 1970s?
Amit Sankhala: 'My grandfather's time was a different era altogether: even establishing a safe habitat for tigers was a challenge. We are very fortunate, 30 years later, to have many national parks that provide safe havens for tigers. But there's still work to be done: we are destroying the corridors between these very national parks at a much faster pace, with pressures from the mining industry and highway growth cutting through our pristine forests.'
Recent reports point to a rise in tiger populations in India. What can this be attributed to? And what can be done to ensure that those numbers continue to grow?
'I think that, over the past five to six years, public awareness has definitely helped. Government intervention towards saving the last remaining tigers has played a major role, as has the latest generation of conservationists. Even travelers and budding photographers make a difference – they want their children to be as lucky as they are, having witnessed tigers in the wild, and the publicity they create helps influence public policy.
Given a safe habitat, it doesn't take much to double the number of tigers in a particular area: a tiger can reproduce every two years and raise at least two successful cubs on average. I am a strong believer of the 'If you see them, they will exist' model: all the tourism professionals, conservationists, and above all, the young generations, will raise concern when our tigers disappear.'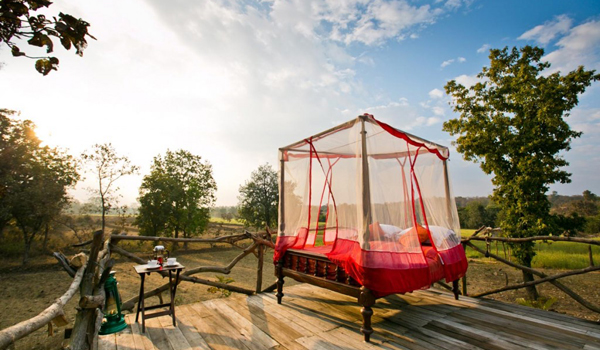 The star bed at the Jamtara Wilderness Camp brings guests closer to nature than ever © Jamtara Wilderness Camp

What do guests at your three wilderness camps have to look forward to, when it comes to tiger spotting?
'I try to go out with each new visitor or group on drives myself – the excitement is contagious, and I get to provide a look into the everyday life of these jungles to those discovering them for the first time. Guests can choose to go into the parks or remain in the 'buffer zone;' in either case, they can look forward to a great wilderness experience. When it comes to accommodation, we've also recently introduced our 'star beds,' which allow visitors to experience the jungle at night – it really comes alive after dark (this might not be for the weak hearted!).'
What steps do you take to ensure that the tiger habitats that guests explore are preserved and not damaged by tourism?
'The lodges as a collective support our NGO, Tiger Trust. When we build our camps, we look to have a minimal impact on the land and to practice as many sustainable policies as we can enforce, while still offering luxuries to the modern traveler.
All that can be seen in our newest camp, Jamtara Wilderness. No other tourism projects have yet been introduced in this area; hence we have to be very sensitive to our local community. We use African-style tents with refurbished wooden flooring, all of which is taken down every summer when we shut for the season. Materials are sourced locally and have often been recycled: the wooden flooring in the rooms was once used on shipping docks, the writing desks come from the Supreme Court of India, the chairs are sourced from various embassies in Delhi, etc.'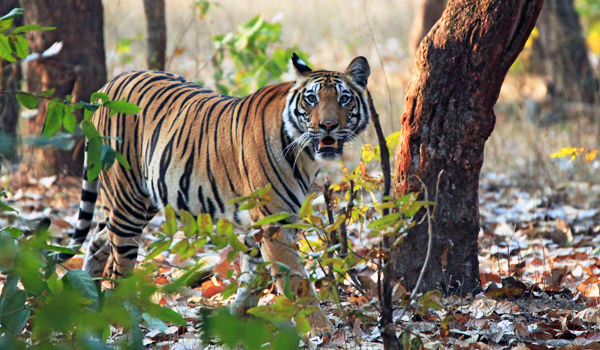 India's tiger population is growing steadily, making it more likely than ever for guests to witness tigers in the wild © AndamanSE/iStock/Thinkstock

What are some of the most incredible tiger experiences that you've had personally? How have your grandfather and your father inspired you to do the work that you do today?
'Every time I go back to my camp, I am nostalgic for my wilderness experiences in the '80s and '90s. As a boy, I remember the times when the mahouts (elephant keepers) used to bring their elephants to the lodge, and yell out my name so that we could leave for the jungle. Already half asleep, we'd finish napping on the backs of the swaying elephants as they charged ahead into the jungle. And tigers were everywhere; it was a matter of which one we wanted to see in that hour.
Both my father and grandfather gave me very special experiences during my childhood. Whether it was sitting for hours by a waterhole while my grandfather took notes for his next book, or discovering a whole new wilderness area with my father, it ensured I developed that same passion for wilderness.'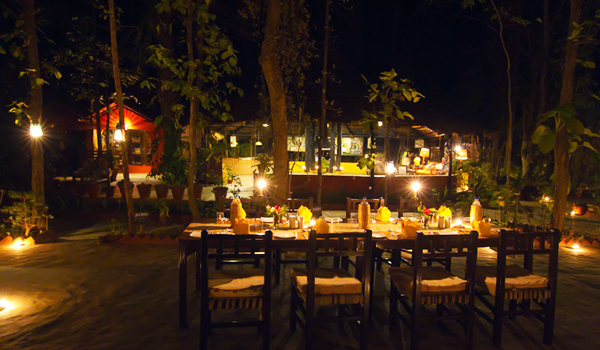 The Kanha Jungle Lodge profits from its beautiful location © Kanha Jungle Lodge

What are some of your favorite sights within Madhya Pradesh, where your camps are based?
'The Kanha-Pench corridor is definitely one of my favorite sights – in fact, it's where Rudyard Kipling got his inspiration for The Jungle Book! Even today, it's still beautiful, if at risk of commercial development – and there's incredible wildlife to see. At Jamtara, as long as you observe with the least disturbance possible, you will see the rarest of species. We've been fortunate enough to see elusive leopards twice. Just yesterday, a tiger has made a kill in the local riverbed.'
For guests who've never before gone tiger spotting in India, are they any tips or pointers to keep in mind?
'Be open-minded when you visit India's national parks. Tigers may be the star attraction, but our great jungles have more to offer, too. Look for leopards, sloth bears, wild dogs, flying squirrels, civet cats, jungle cats, and more. And as for tigers, appreciate every moment you share with these majestic beasts. Finally, a few practical tips: avoid brightly colored clothing and always be on the lookout. A good pair of binoculars is highly recommended and an optimistic attitude is always a bonus.'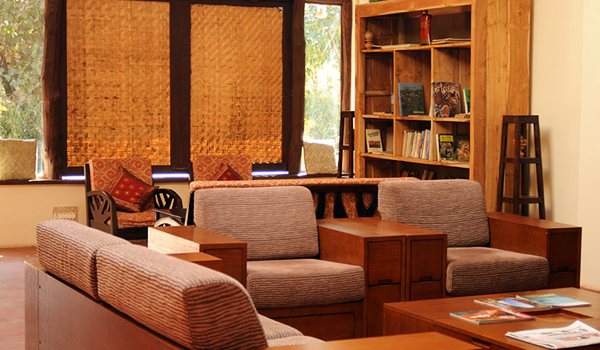 The Bandhavgarh Jungle Lodge is comfortably rustic © Bandhavgarh Jungle Lodge

How do your lodges meld luxury with real wilderness experiences? What kind of pampering can guests look forward to?
'Our first two lodges – the Kanha Jungle Lodge and the Bandhavgarh Jungle Lodge – are rustic and designed to feel like a home away from home. Think great home-cooked meals, welcoming staff, and hands-on naturalists with vast knowledge of the local wildlife.
At Jamtara Wilderness, we wanted to create a chic, tented camp experience that combines the excitement of being in nature with the luxury of space and privacy. We believe everyone deserves to experience the jungle nature while also enjoying some glamping-style comfort. So, guests can look forward to spacious bedrooms and bathrooms within their tents, an infinity pool, nighttime bonfires under the age-old banyan tree, and of course the star bed, which is probably the biggest luxury in the camp. While planning Jamtara, we wanted to evoke the charm of bygone days of British Raj rest houses, complete with antique pieces and a laidback environment.'
Tell us about eco-tourism as it stands now in India. How has the sector evolved over time?
'There was a time when we had to explain what eco-tourism meant, as sustainable practices and camps were limited and usually associated with budget accommodation. Over time, eco-luxury emerged, and suddenly it became 'cool' to be eco. It is brilliant that this has become a core component in designing new hotels today. And, as a bonus, it often means local villages get support, and gives rise to organisations like TOFT, who certify various camps and lodges based on their eco sustainability – the latter of which has been a game changer in the wildlife tourism industry.
Above all, it is important to realize that eco-tourism is one of the key tools in conservation. We can talk about sustainable practices inside the camp, but it's equally important to monitor our footprint in the community and in the jungles we visit. Our safaris inside the national parks serve as an on-going patrol against poachers, and give local guides and employees a much bigger incentive not to become poachers as well. As we grow, it's important to continually check in and ensure that we develop corridors for wildlife and not become a concrete block in the middle of these very corridors.'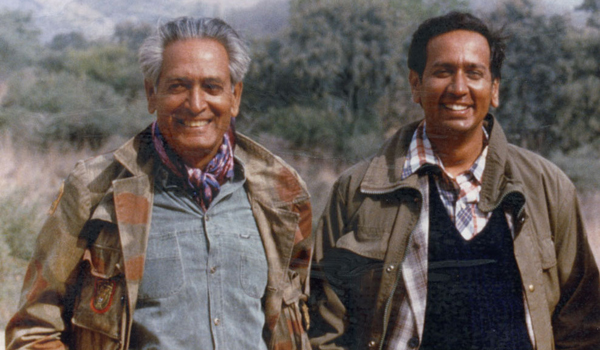 Sankhala's grandfather Kailash Sankhala (l) and his father Pradeep Sankhala (r) were also noted conservationists © Amit Sankhala

Your grandfather was called "The Tiger Man of India." Is that a name that you see yourself inheriting?
'My grandfather left me an extraordinary legacy. The passion, dedication, and commitment he had was unmatched. I believe that wildlife tourism can play a crucial role in conservation efforts of the future: the day will come when we are able to establish safe havens for wildlife outside of just national parks. Africa has been a pioneer in such models, and I hope to see it happen here during my lifetime. I live by my grandfather's principles, and the inspiration his work gives me is what keeps me dedicated to the cause.'
Save