Adam Bannister has led a far from traditional life. At the age of six, he discovered his passion for wildlife, conservation, and nature work thanks to a serendipitous lion encounter. Since then, he's chased adventure around the globe, from tracking big cats in Africa to exploring rainforests in South America.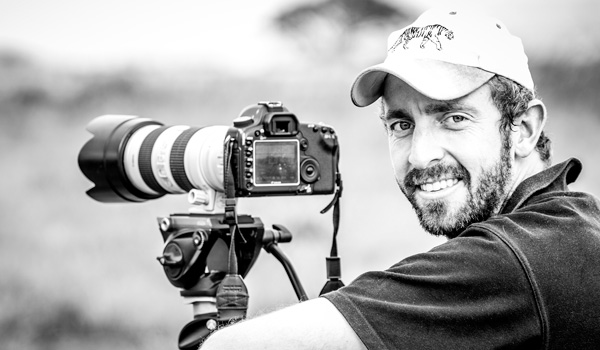 Adam Bannister has spent most of his life working alongside wildlife © Adam Bannister
We caught up with Adam Bannister to learn more about his incredible life story, his travel experiences – and to hear more about the time that he was very nearly jaguar prey.
Greaves: You've been interacting with exotic wildlife since you were a very young child. Tell us about how you first got started – and when you knew that this was what you wanted to do for a living.
Adam Bannister: "My interest in wildlife started at a very young age. I was six years old when I was cast in Disney reality television series, Bush School. For three years I was educated out in the wilds of Kruger National Park in South Africa with five other kids. It was a unique upbringing and shaped every decision I made from then on.
I will never forget one night during the first season of filming. Loud thunderclaps left me stirring in my bed, unable to sleep. I heard an unfamiliar sound coming from outside. Curiosity got the better of me and I went over to the window to look. I drew back the thick curtain and was met by the most remarkable sight: an entire pride of lions was resting outside the window, literally leaning against the pane of glass, using the slight overhang of the roof to shelter from the rain. The gap created when I opened the curtains allowed for a shard of light to leave the room, landing directly on the face of a big male.
His eyes opened… and he stared directly at me. At six years old, I was standing two feet away from the largest lion I had ever seen, separated by only 6mm of glass. But instead of being scared I was entranced. I wanted more!"
You've spent a great deal of time working alongside big cats. Are they the animals that fascinate you the most?
"My greatest attachment is to the big cats, and in particular to lions. I am fascinated by how each species has evolved to cope in differing landscapes and conditions. There's nothing as magical as watching a big cat hunt – whether it be a cheetah sprinting behind a gazelle, a jaguar swimming after a caiman, a tiger charging towards a chital or a lion riding on the back of a buffalo. It all amazes me!"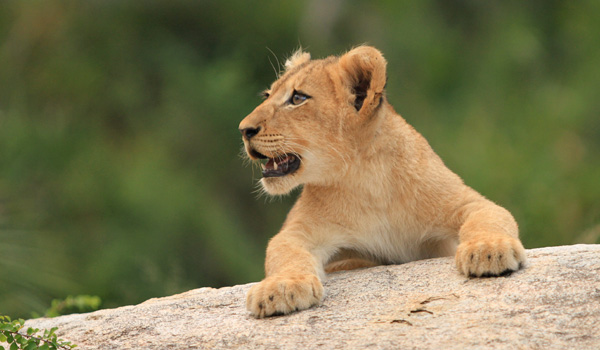 Adam has been fascinated by big cats since a chance encouter as a young child © Adam Bannister
Tell us about the most thrilling – and perhaps terrifying – experiences you've had while out in nature.
"The single greatest accomplishment in my work with big cats was also the most terrifying.
I was working on a project in the southern Pantanal in Brazil on the habituation of jaguars, which are notoriously elusive cats. One morning, I was following the tracks of a female jaguar. I had been walking for well over two hours, but the tracks were very fresh and I managed to follow them through the ankle-deep water and mud. I had to use my machete to cut away at the sharp plants that kept embedding into my shins. High humidity, soaring temperatures, horrific insects, leeches and now prickly plants were making it hard work, but the thrill of the chase made it all worthwhile.
The tracks I was following were perfect, and no more than five hours old, but I realized that I couldn't carry on, as the vegetation was near impenetrable. I decided I needed to go back and loop around and try to find where the tracks left the small thicket.
After circumnavigating the area, it became clear that the female jaguar had not left the thicket. She was just nearby, no more than 20 meters away! I crouched down and, using a trick I had learned many years ago when tracking cats in Africa, put my hands behind my ears and closed my eyes.
Dead quiet.
And then I heard a noise that still sticks with me, even three years later. A tiny series of squeaks and moans. It was a baby cat – a newborn jaguar. I had just found a wild jaguar den-site! My colleague had seen this female jaguar 10 hours previously, and she had been heavily pregnant. These jaguar cubs were less than 10 hours old! I was delighted, but I was terrified. I also realized that I was in the most dangerous place you can be when working with animals – that mother jaguar would have been fully entitled to kill me.
I managed to sneak away, and two days later got a tiny camera trap into the area without disturbing the mother. We managed to get footage of three tiny, still blind, jaguar cubs – the first time this had been done in the wild! The footage was later used in a documentary about our work there."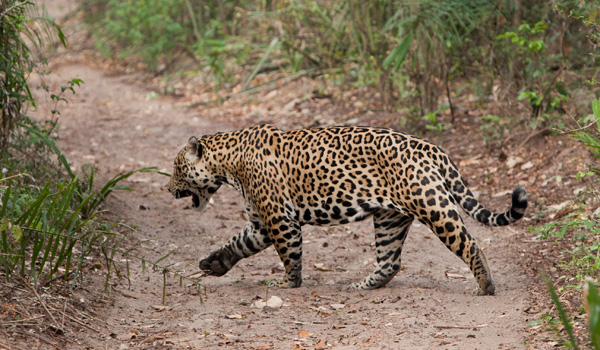 An elusive jaguar © Adam Bannister
What was it like working for SUJAN JAWAI? What kinds of skills are needed to track down these elusive animals? 
"After Brazil, I moved to India to work for SUJAN JAWAI in southern Rajasthan. It was a completely different experience, and involved lots of time visiting local villages and having tea with the elders. The camp is a phenomenal concept, in that it combines wildlife, culture and history in a wonderfully organic way. Guests are able to experience rural, agricultural India with the possibility of seeing a leopard at the same time…all whilst staying in a very luxurious tented camp.
Although the leopards here look the same as their African counterparts, it took me a long time to learn how they behave, when they move, what they hunt and how they operate. At JAWAI, we were also working on granite boulders, which meant tracking the leopards using traditional methods was impossible. I loved this, as it tested my big cat skills and took my knowledge to a new level."
What are your favorite wild corners of India to explore?
"India is so large and diverse, it's impossible to name a favorite. After two and a half years there, I felt like I had barely scratched the surface. I am, however, really drawn to the subcontinent's wild northeast."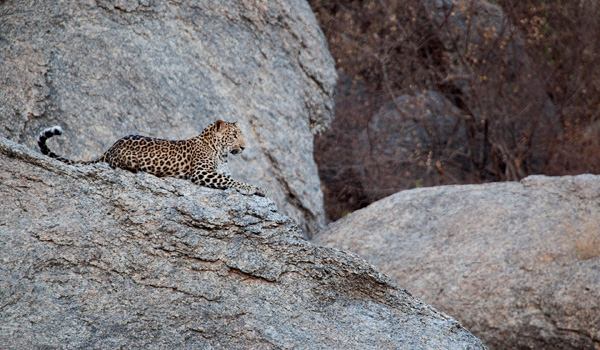 In India, Adam worked for SUJAN JAWAI © SUJAN & Adam Bannister
You've lived and travelled all over the world. Outside of India, what are some of the most memorable places you've been to?
"I have lived in Kenya, the U.S., Brazil, India and South Africa, and been fortunate to experience many different countries, continents and cultures. Recently, I spent 28 days in Rwanda as part of a small team documenting the first release of lions in the country since the 1994 Genocide. The project's conservation importance is crucial to the long-term health of the ecosystem, and I was really proud to have been chosen to be a part of the team.
I have also been lucky to spend a couple of months doing volunteer work in the Ecuadorian Amazon, to hitchhike through Madagascar and paddle along the length of Lake Malawi – over 750 km in 42 days!"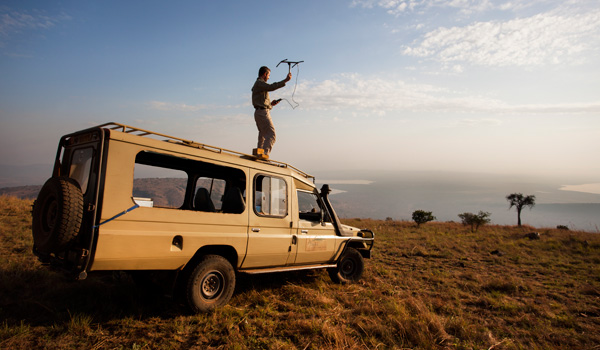 Wildlife work has taken Adam to exotic locales around the world © Adam Bannister
Any tips for budding photographers looking to get that perfect snap?
"Don't always think that bigger lenses are better. The reality, for example, is that there are a million pictures of a leopard's face. But when you zoom out, you capture the leopard in its environment, and you tell the viewer the whole story. It provides a setting and gives context, often making for a more effective photograph."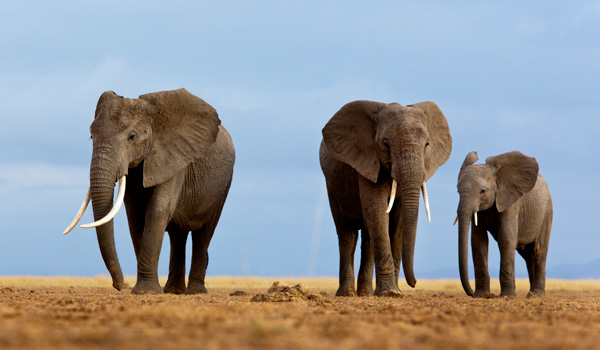 Conservation is a hugely important issue in 2015 © Adam Bannister
What are some of the most pressing conservation concerns for you right now?
"For me, one of the more pressing issues right now is rhino poaching: no matter what South Africa seems to do, the poachers keep coming. We need to change the rules of engagement and take a harder stance. The trophy hunting issue has also been going on for many years. The problem is that hunting is so open to corruption. We need to see greater regulations in place, and the world working together on this issue. Then there's elephant and lion poaching in Africa, which are often overlooked because of the rhino saga. The future for lions in Africa is very bleak.
We need to see governments being more creative in their conservation approaches. With a global population of seven billion people, we can no longer afford to just fence off millions of hectares for wildlife. We need to spend a lot of resources in examining where and how people and animals can be managed together."
Tell us about what's coming up next for you, now that you've just relocated to the UK.
"I've begun offering personalised, nature-focused trips to many of the destinations where I've previously worked or visited. I will help plan trips, and accompany travelers as a private guide. Travel, when twinned with wildlife and good interpretation, allows for enjoyment and personal growth. We have so much to learn from taking the patience to watch! I will also continue to grow my photography, filming, and story-telling sides of wildlife work, and I am looking to make inroads into television as well."
Save