Something that first-time travelers to India quickly learn: there's simply no such thing as "Indian food." Instead, the country's size and diversity ensure that each region has a deliciously idiosyncratic cuisine all its own.
Thanks to its tropical climate and proximity to the sea, Keralan cuisine distinguishes itself with ingredients ranging from coconut, rice, and shellfish, to mango, tamarind, and curry leaves; freshness and tropicality are both at the fore. To help guide you during your next culinary adventure around South India, we've picked 10 traditional Keralan dishes to seek out. From masala dosas as large as your table to fragrant fish curries, these delectable plates capture the heart and soul of 'God's own country.'
1. Appam with Stew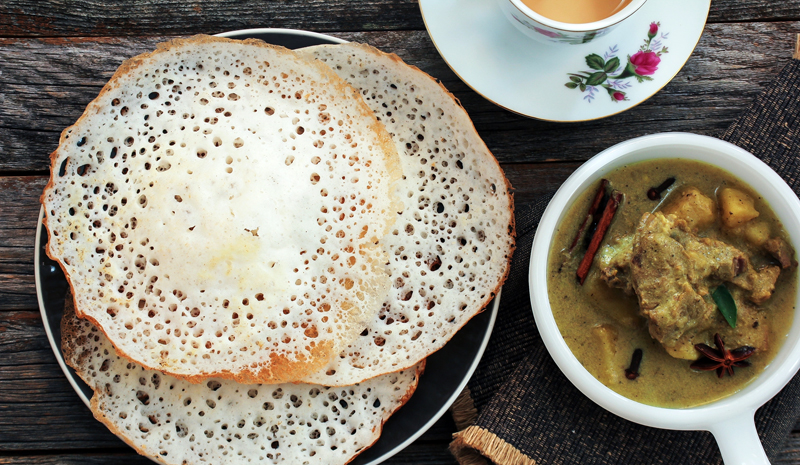 A Kerala breakfast staple, appams are similar to dosas, but are slightly thicker in the center (and are sometimes made with coconut milk). With a meat or vegetable stew alongside, the dish makes for a pleasingly hearty start to the day.
2. Meen Moilee
Seaside Kerala is famous for its brimming backwaters and beautiful coastlines, so it's hardly a surprise that the southern state has a way with seafood. Be sure to sample meen moilee, a spice-rich fish curry made with coconut milk, flavored with mustard seeds and golden turmeric, and served with rice.
3. Dosas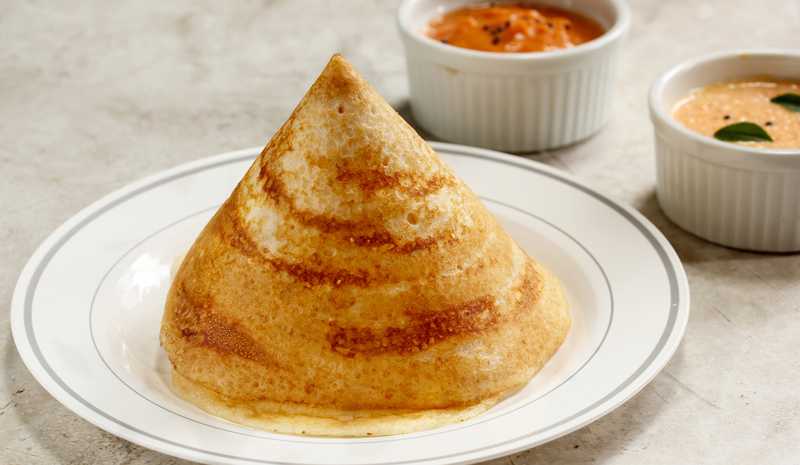 Few traditional Keralan dishes are as revered as masala dosas. The dish consists of a thin, crepe-like pancake—made with fermented rice and lentil batter—stuffed with a spiced potato mixture. Ghee roast dosas, which sees the pancakes cooked in clarified butter until crisp, is another popular option. 
4. Keralan Prawn Curry
Hailing from Malabar, Keralan prawn curry—or chemmeen curry—is another coastal dish that evokes pleasant afternoons by the sea. Coconut, tamarind, jaggery, and a flavorful spice paste all contribute to this local favorite.
5. Pacha Manga Curry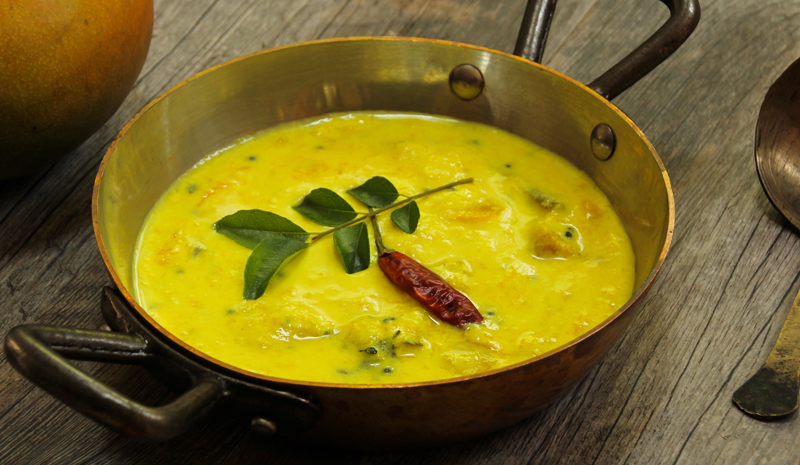 In Kerala, mango isn't just reserved as a sweet treat. It's also used in all manner of curries and savoury dishes, including pacha manga curry. In this dish, raw, green mango is accompanied by coconut milk, fenugreek, mustard seeds and chilli.
6. Thalassery Biryani
Though biryani is most frequently associated with places like Hyderabad and Lucknow, Kerala has its own take on the beloved rice dish. Thalassery biryani uses short-grained kaima or jeerakasala rice in lieu of long-grained basmati rice, plus a litany of delectable spices (and optional add-ins like coconut oil and rosewater).
7. Puttu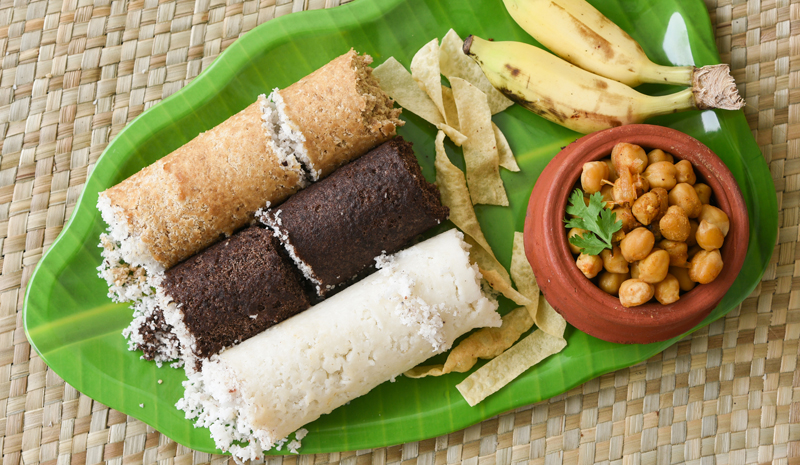 It isn't a culinary tour of Kerala without a plate of puttu. Little cigar-shaped, steamed rice and coconut cakes, they're often used as an accompaniment for savoury dishes, such as kadala curry, as well as fruits like bananas and jackfruit.
8. Rasam
Warming, slightly sour, and thrumming with chilli heat, rasam is a must-try traditional Keralan dish. A brothy, comforting soup, it's prepared with tamarind extract, tomatoes, curry leaves, and plenty of spice.
9. Sadhya
Kerala's answer to the thali, a sadhya is the perfect way to sample a wide range of dishes in a single meal. Typically, a banana leaf is used as a platter for a number of vegetarian offerings, including rasam, sambar, sour yogurt curry, spicy mango pickles, poppadoms, and more. 
10. Idli Sambar
Pillowy little idli—small, steamed discs made from lentil and rice flour—are a popular breakfast staple across South India. Serve with sambar (a tamarind and lentil stew) and coconut chutney for a real feast.