From historic palaces to mobile tents, tea plantations perched upon Himalayan peaks to languorous houseboats, each of the best luxury hotels in India promises a memorable—and truly distinct—stay. Spread across the Subcontinent, from the mountains of the north to the tropical south, these venues are as adept at pampering as they are at immersing guests into beguiling local environments. For a holiday spent in style, begin with these 50 best luxury hotels in India.
Urban Hotels in India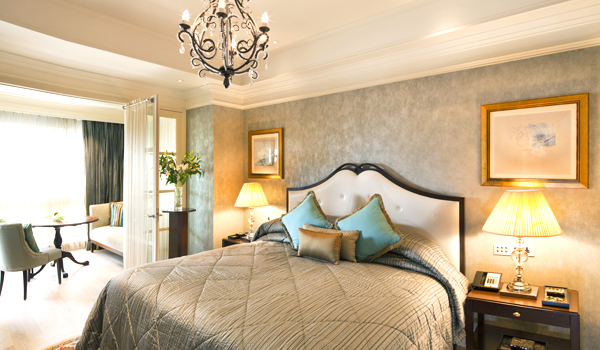 There's more than one Taj Mahal in India. Glamorous Mumbai is home to The Taj Mahal Palace, one of the best luxury hotels in India, whose opulence challenges that of Mumtaz's original. Having hosted kings, presidents and rock stars for over a century, it predates even the Gateway of India as a historic local landmark.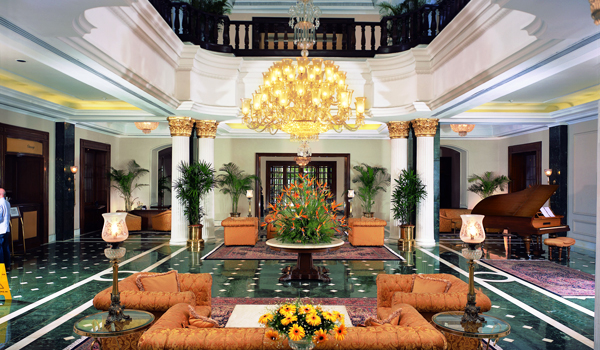 Ideally positioned in Kolkata and known colloquially as the Grand Dame of Chowringhee, The Oberoi Grand is a treasure trove of Indian heritage. Dating to 1880, it's host to a soaring ballroom, expansive spa, and a clutch of delightful high-end eateries.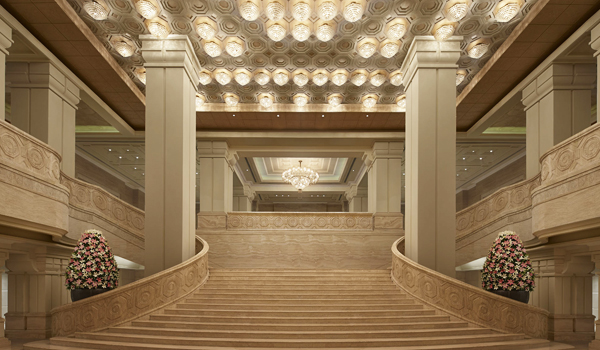 The third largest hotel in all of India, the sprawling ITC Chola in Chennai makes a majestic impression (it's also LEED-certified, making it impressively eco-friendly). Taking inspiration from southern India's ancient ruling Chola dynasty, its architectural splendour is matched by plush guest accommodations.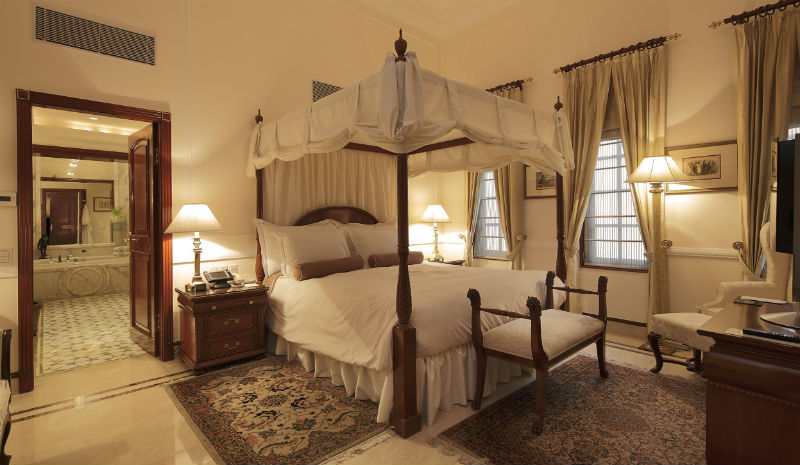 When it comes to luxury accommodation in the heart of the Subcontinent's capital, few rival The Imperial. A stately hotel that's a cool step above the hustle of Connaught Place, this elegant enclave is replete with restaurants, bars and tea rooms, as well as a sophisticated patisserie, meaning there's very little reason to leave.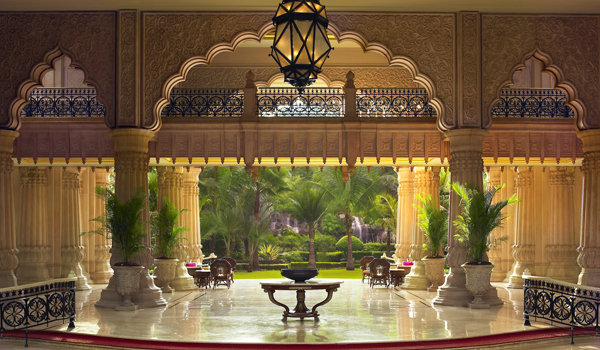 The Leela Palace in Bangalore marries tropical aesthetics with modern luxury. Though certainly favoured by the legions of business travellers who pour into the city, the hotel's luxury outlook lends it a universal appeal—its Maharaja Suite, catered to by 24-hour service, is quite the treat.
Beach Hotels in India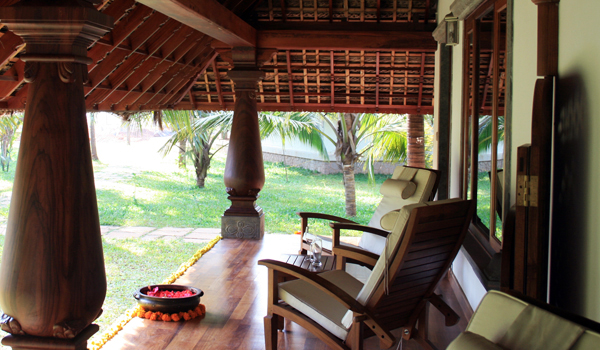 Profiting from Kerala's abundance of coastal scenery, the secluded  Neeleshwar Hermitage hotel looks out on 23 miles of unspoiled beaches. Amenities are on hand to assist in the aim of absolute relaxation, with infinity pools and Ayurvedic treatments aplenty.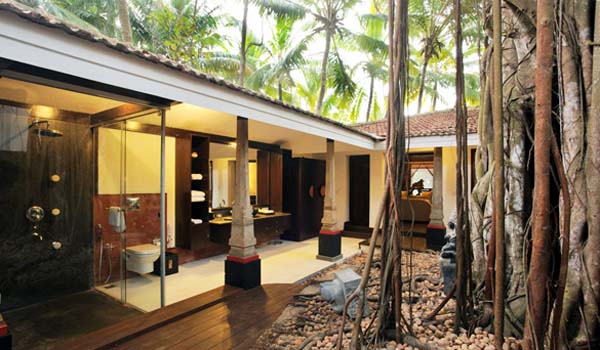 As eco-friendly as it is tranquil, Surya Samudra, a Niraamaya Retreats property, is dedicated to the preservation of Kerala's natural beauty. That beauty in question, best viewed from the retreat's cliff-top location, is mere steps from the hotel's 31 spacious heritage cottages.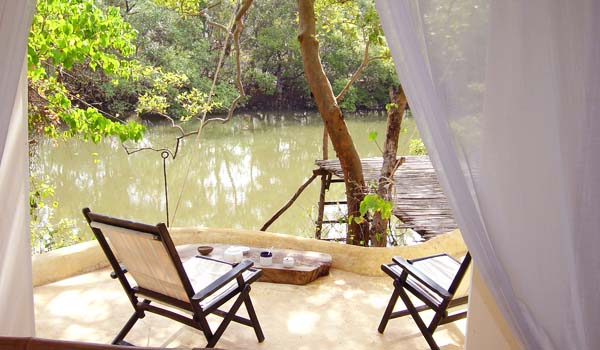 Away from the tourist-clogged heart of Goa, the aptly named Elsewhere is a secluded resort whose exact location is revealed only to guests. Refreshingly minimalist beach houses and tents treat visitors to an undisturbed escape from the rest of the world.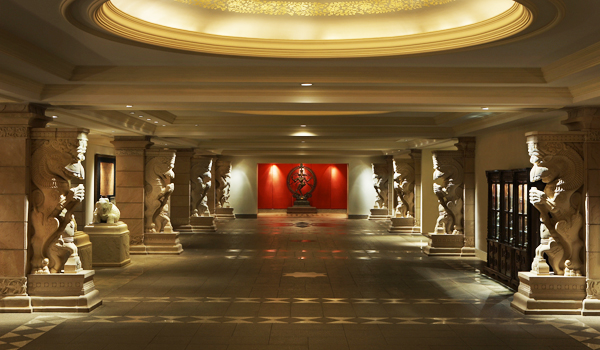 With personal butlers, a 12-hole golf course and ocean-views, The Leela in Goa spares no expense when curating its atmosphere of beachside luxury. After time spent outdoors, guests can retreat to The Leela's spa, where an Ayurvedic doctor is on-hand.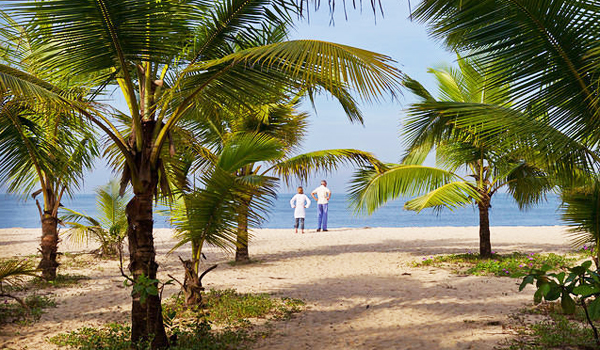 It's right there in the name: CGH Earth's Marari Beach is perfectly suited to sand-and-surf lovers. Here, there are no televisions, and outside distractions are kept to a minimum—what better excuse to spend your days taking in the sea and exploring its 55 lush acres of land?
Tented Camps in India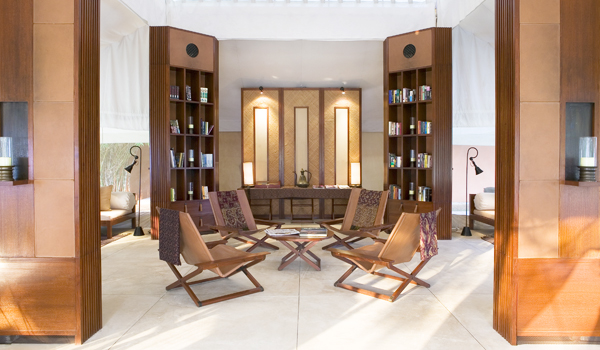 Open from October through May, the Aman-i-Khas wilderness camp gives guests the opportunity to get close to tigers, leopards, and crocodiles on safari-style expeditions. After a full day of exploring, Mughal-inspired tents equipped with the luxuries of a five-star hotel await.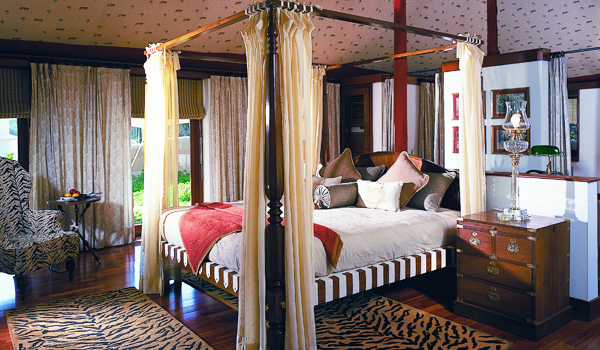 Bordering the enchanting Ranthambore National Park, The Oberoi Vanyavilas Wildlife Resort is ideal for would-be tiger-spotters, as stays in its luxury tents are complemented by Jeep expeditions through the forest. Two notable and respected guests are the affable elephants that live on the grounds.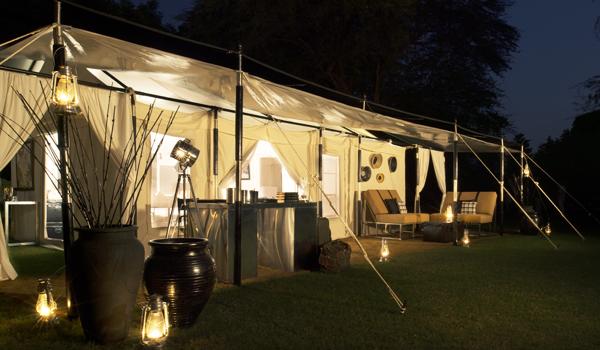 In the wilds of Rajasthan, the blissfully remote Jawai Leopard Camp sees guests nestle in luxurious, desert-situated tents. This is the turf of the shy big cats, and accompanying explorations and experiences, from game drives to starlit dinners, profit from the stunning scenery.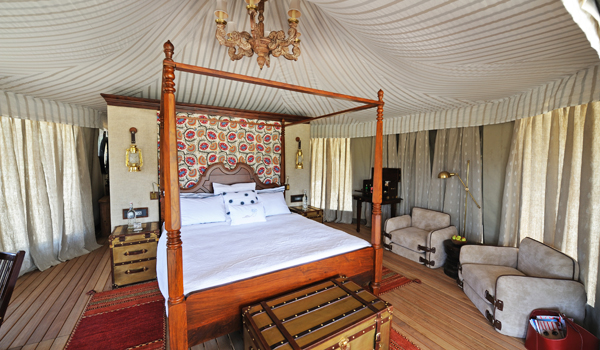 The Ultimate Travelling Camp does exactly what it says on the tin: the mobile hotel that pairs nomadic wanderings with enviable luxury. A location in India's wild, tribal Nagaland situates visitors beautifully close to Himalayan nature and a wealth of local culture.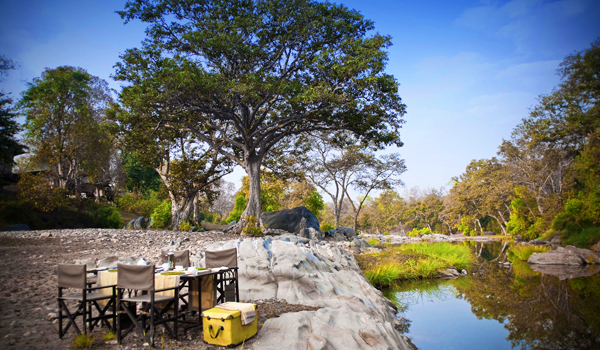 Taj Safaris comprises a portfolio of four opulent yet eco-friendly lodges that number among the best luxury hotels in India. Situated in the most impressive national parks of Madhya Pradesh—Pench, Panna, Kanha, and Bandhavgarh—each offers unparalleled opportunities to spot local flora and fauna.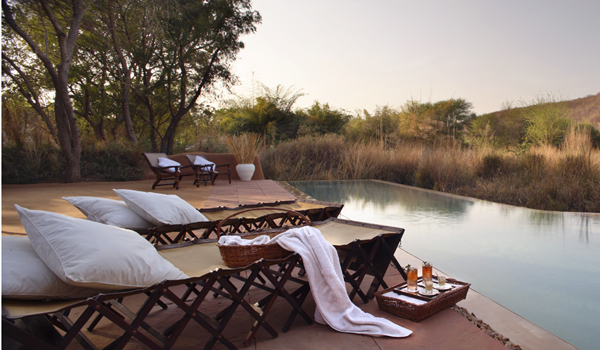 After a romantic retreat in the wildnerness? It'd be hard to do better than Sher Bagh, which has lately debuted its new honeymoon suites. Even if you're not a newlywed, though, the luxurious, safari-style accommodation is destined to please—particularly if you value all things eco-friendly. Comprised of 12 tents poised on the edge of stunning Ranthambhore, Sher Bagh has assisted in local conservation efforts for over 40 years.
Romantic Hotels in India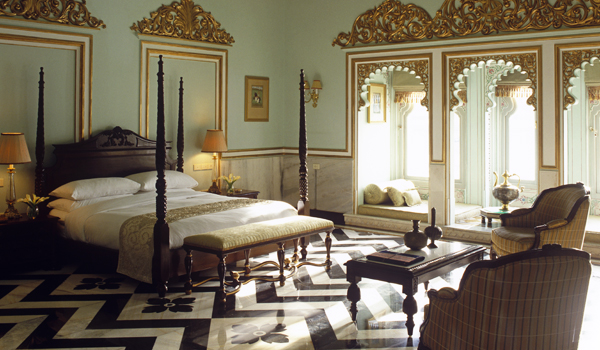 Located in 'the Venice of the East,' the Taj Lake Palace is steeped in the romantic history of princes and mistresses. Accessible via boat, the floating palace's cinematic qualities are undeniable, so much so that it was used as Octopussy's lair in the 1983 James Bond film.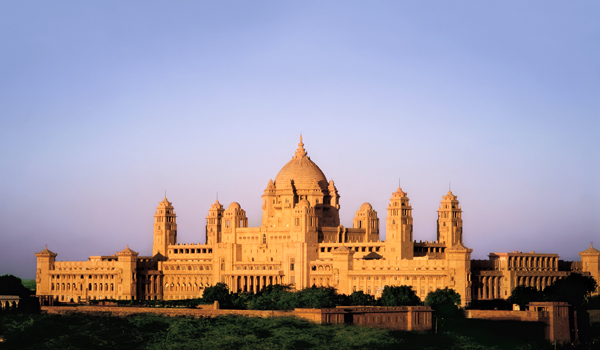 A hotel fit for kings, quite literally: the resplendent Taj Umaid Bhawan Palace was once the domain of the local Maharaja. One of the world's largest private residences, the hotel has plenty to see and do on-site… as well as a collection of vintage cars available for chauffeured tours of Jodhpur.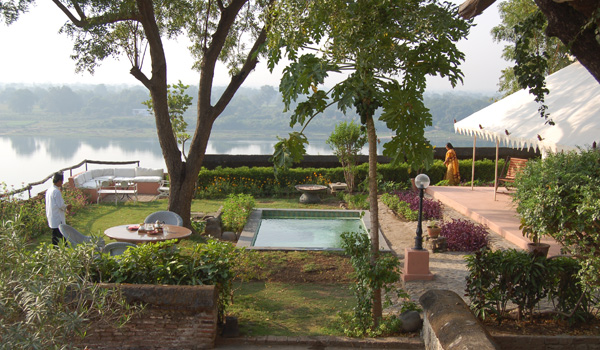 Rustic and traditional, Ahilya Fort was made for romantic getaways. Whether sprawled on pillows, overlooking the sunset-lit Narmada River, or sampling cuisine once favoured by the residence's Maharajas, guests will soon settle into the languorous pace of life in rural Madhya Pradesh.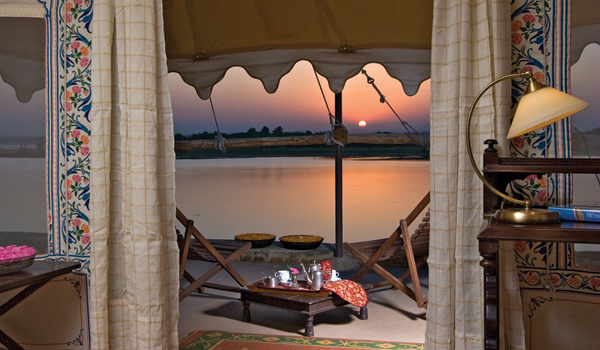 This shy little retreat rests on the edge of a historic dam in rural Rajasthan. Comprising 13 private tents, decorated with colourful local textiles and overlooking the water, Chhatra Sagaris a draw for couples celebrating special occasions.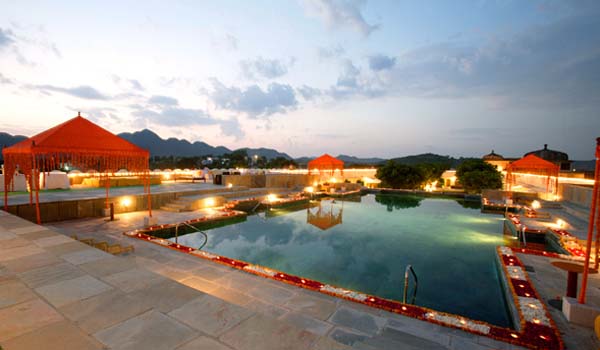 Housed in an 18thcentury fort palace just overlooking the splendours of Udaipur, Raas Devigarh is as impressive from the inside as it is from the outside. The sleek, even minimalistic design of its guestrooms contrasts with the arcades and carvings of the exterior; guests can appreciate both during an evening spent on the terrace, or when dining in the property's open-air alcoves.
Wellness Hotels in Indi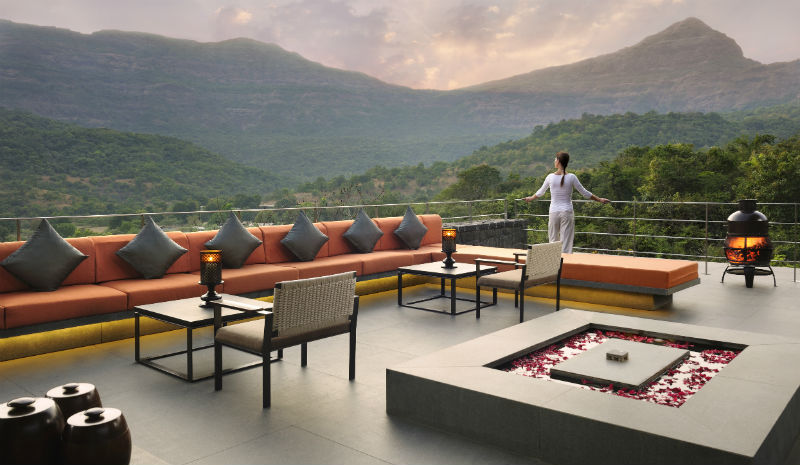 With a luxurious menu of spa treatments helmed by an Ayurvedic doctor and a secluded location on the slopes of Western Ghats, Hillton Shillim Estate Retreat & Spa is undoubtedly among India's best luxury wellness hotels. The views from its strategically placed yoga pavilion make these some of the most scenic sun salutations you'll ever do.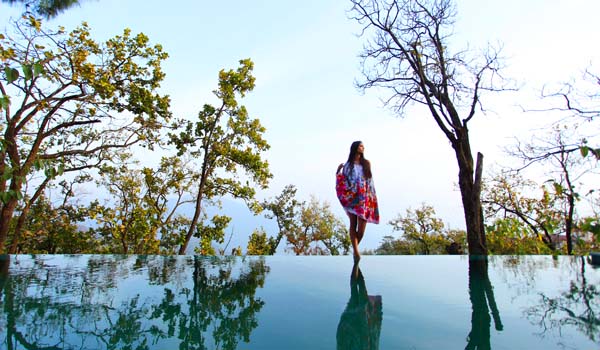 Nestled in the foothills of Uttarakhand is Ananda in the Himalayas, a retreat designed to counteract the frenetic pace of 21stcentury life. Wellness services extend to treatments for detoxing and weight management, while yoga and meditation courses and Ayurvedic experiences treat and pamper simultaneously.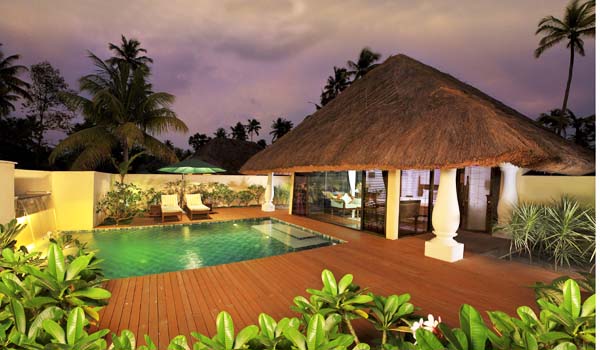 At once a wellness retreat and one of the best luxury hotels in India, Carnoustie is a yogi's paradise, situated on the waters of the Arabian Sea in Kerala. After a full day of treatments and classes, guests can kick back in a private pool villa. An on-site green team is also dedicated to maintaining the health of the resort's surroundings.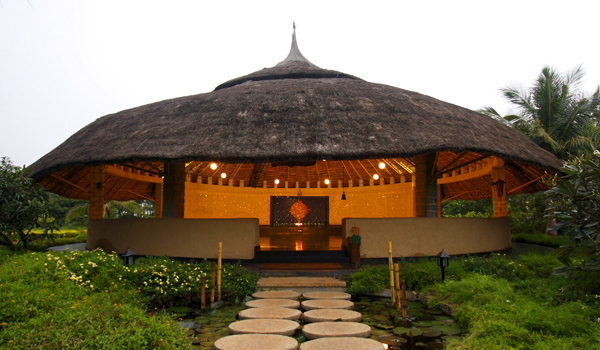 Dr. Mathai's Soukya Ayurveda resort draws in guests from around the world with its healing treatments. Oil-based massages are tailored to each patient, while ancient homeopathic remedies, yoga and more are all part of the restorative programme.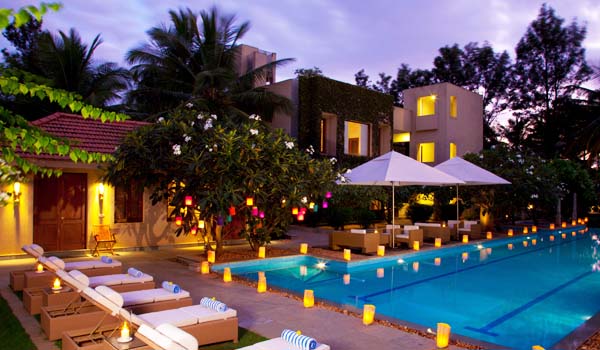 Part boutique-hotel, part yoga-retreat, Shreyas in Bangalore welcomes a maximum of just 20 guests at a time. Guaranteed peace and privacy, then, visitors are welcome to relax in the Rejuvenation Spa, take Hatha and Ashtanga yoga courses, and explore the resort's verdant gardens.
Mountain Hotels in India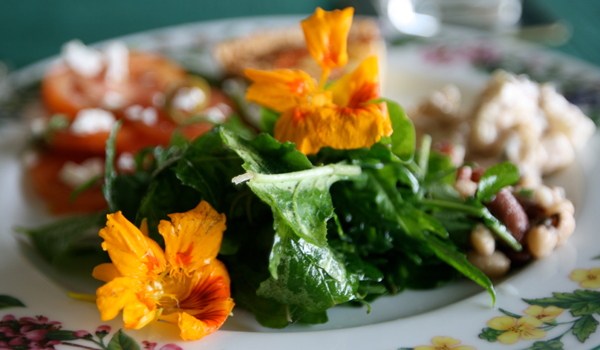 It's not every hotel that offers roseate views of the world's third tallest mountain. But then again, Glenburn Tea Estate, a soaring property located on a fragrant Himalayan tea plantation, isn't every hotel—and its views of Kanchenjunga are only one of many coveted features.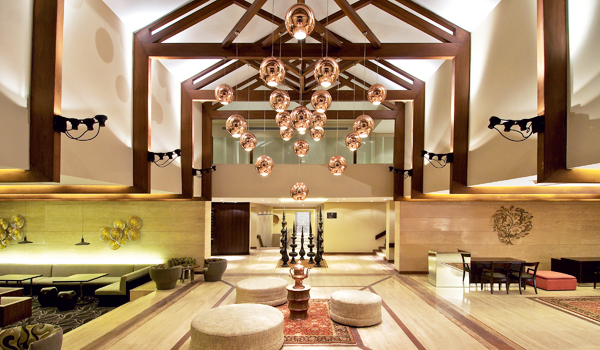 Reputed by some to have been the original location of the Garden of Eden, stunning, mountainous Kashmir is also home to the Vivanta Dal View in Srinagar, one of the best luxury hotels in India. Though you're far above sea level here, it's easy to forget given the hotel's location along the impressive Dal Lake.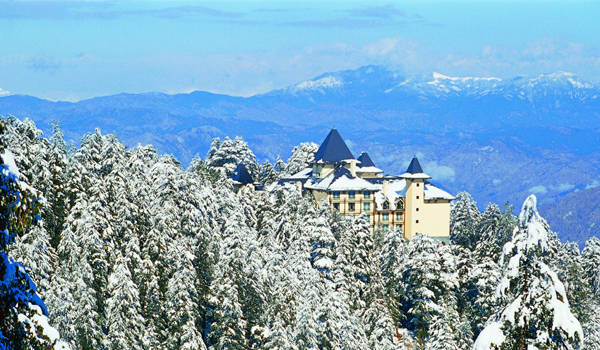 Despite its name, the Oberoi's Wildflower Hall is arguably at its most stunning in the winter, when the slopes and evergreens around it are covered with a thick layer of snow. The luxury enclave's fireplaces and plush beds beckon, while its open-air Jacuzzi offers incredible Himalayan views.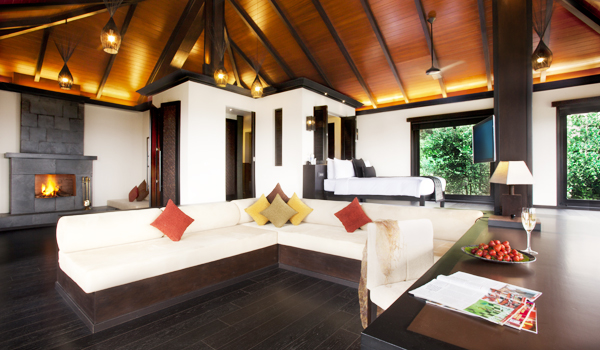 The green and lovely mountains of Coorg in South India may not be Himalayan in scope, but the Taj Madikeri takes full advantage of its more than photogenic rainforest backdrop, with minimalistic décor and buildings that open to the surrounding scenery (which comprises a strawberry farm, outdoor pool, natural spring, and Buddha garden, to start).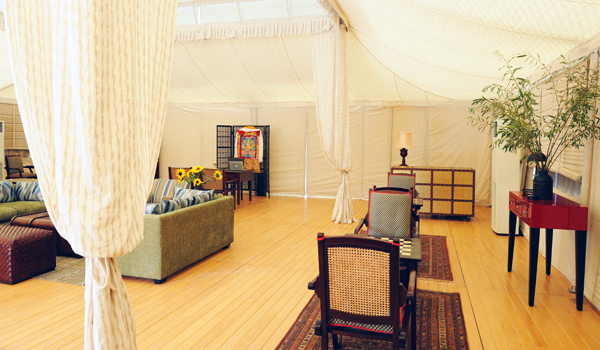 It doesn't get much more remote—or more visually impressive—than the wilds of Ladakh, a windswept province in India's far north. Guests are situated directly in nature at The Ultimate Travelling Camp's Chamba Camp Thiksey, which offers tents as luxurious as they are mobile.
Desert Hotels in India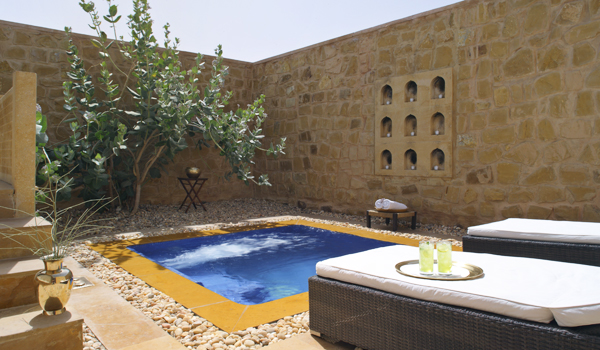 Just outside of historic Jaisalmer, The Serai is an oasis amidst the golden sands of Rajasthan's Thar Desert. Comprising luxurious tented suites, it's open to nature but still offers plenty of comforts, including a temperature-controlled dip pool (ideal for night-time stargazing sessions).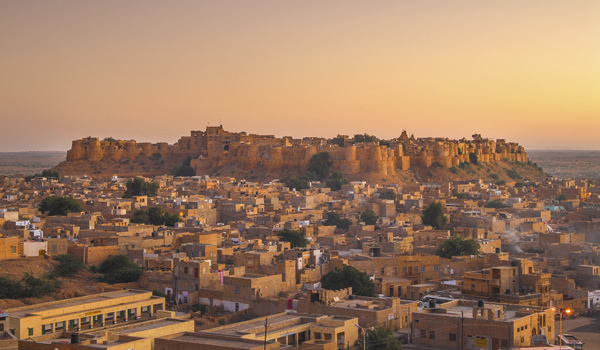 Suryagarh's golden fortress blends beautifully with the muted plains of the Thar Desert. Step inside, and it's all about the color: Opulently appointed interiors; vivid Rajasthani fabrics; lapis lazuli-colored swimming pools and a flock of resident peacocks; with raag musicians providing the evening's entertainment.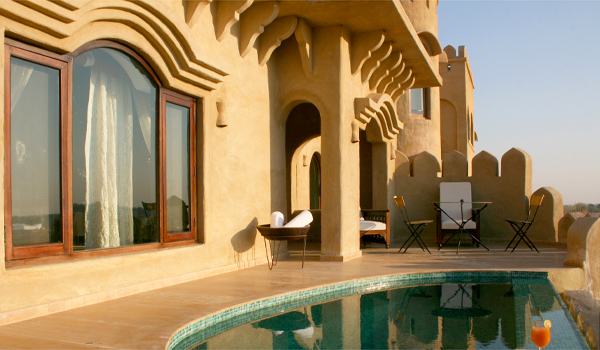 Hotel or fortress of palatial scope? Mihir Garh was only built in 2009, but wouldn't have looked out of place in Rajasthan hundreds of years ago. With only nine suites, the property, undoubtedly one of the best luxury hotels India, guarantees guests sumptuous privacy.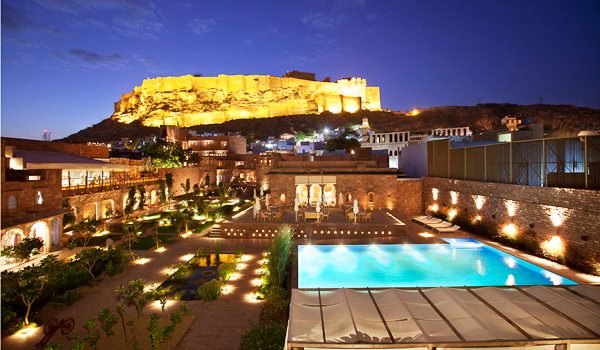 Housed within a restored haveli that originally dates to the 1700s, Raas Jodhpur mixes historic aesthetics with swanky modernity. Inside, the look is hip, minimalistic, and thoroughly contemporary, while views from the outdoor restaurant and rooftop bar give onto Mehrangarh Fort, golden-hued come sunset.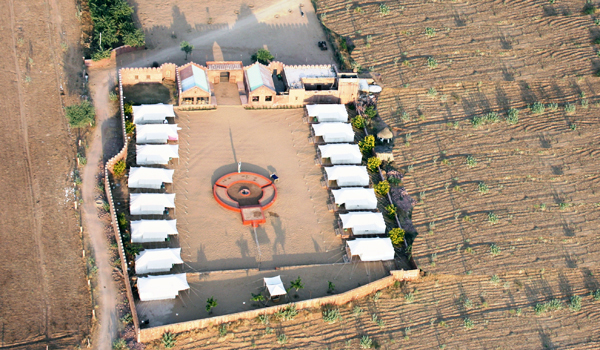 Located deep in the Thar Desert, at what was once a Silk Road stop dating to the 8thcentury, the Osian Sand Dunes retreat is inextricable from the history and beauty of its surroundings. Accessibly located from the region's many temples, the hotel consists of a resort as well as a small number of private tents made for glampers.
Palace Hotels in India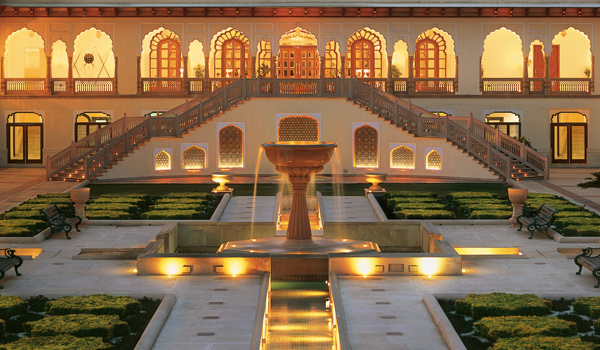 For a suitably indulgent getaway, guests can follow in the footsteps of the Maharaja at the Taj Rambagh Palace. Originally a royal residence built in the mid- 19thcentury, the palace today stands as a glorious testament to historic Indian hospitality.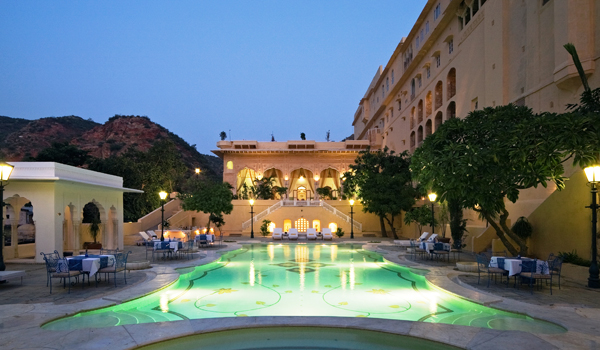 Visitors to the Samode Palace in Rajasthan could find themselves rubbing shoulders with celebrities and royalty; such is the prestige of the place. Elephant polo takes place on the grounds, the swimming pool is made from gleaming marble, and the rooms are just as sumptuous as you'd expect.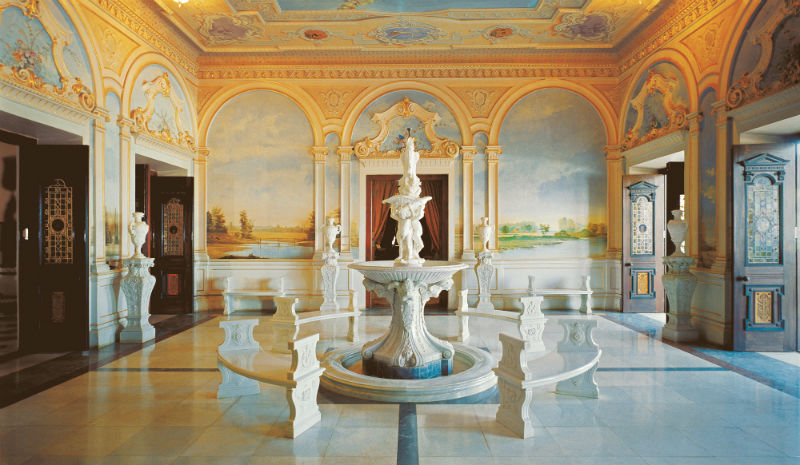 At 2,000 feet above Hyderabad and constructed in the shape of a scorpion, the Taj Falaknuma Palace certainly isn't subtle. Within the hotel's 32-acre grounds, guests will find rarefied art pieces, a library built to replicate Windsor Castle's, and 60 rooms that are the very picture of grandeur.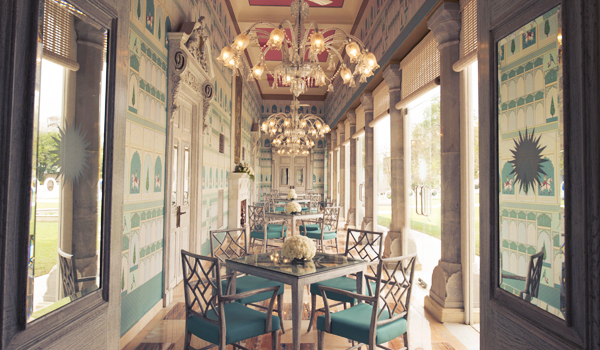 Guests after pomp won't have to look much further than the utterly opulent Rajmahal Palace. The sumptuous property is a firm favorite amongst Rajasthani travellers after a royal touch, given its lovely gardens, marble staircase, and small clutch of luxurious suites.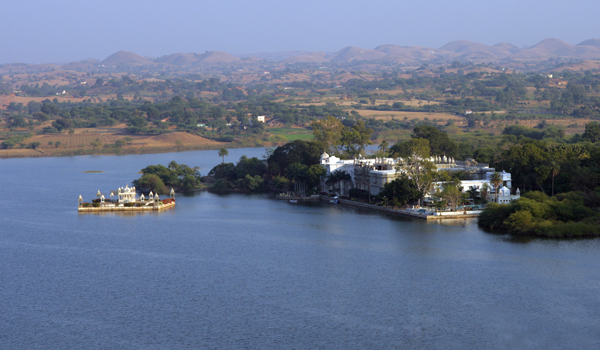 Sandwiched between the blue waters of the Gaibsagar Lake and a private forest reserve, theUdai Bilas Palaceis as pretty as a film set. From within the palace, guests will find carved marble, pattern-rich rooms and other touches evocative of 19thcentury Rajasthan.
Eco Hotels in India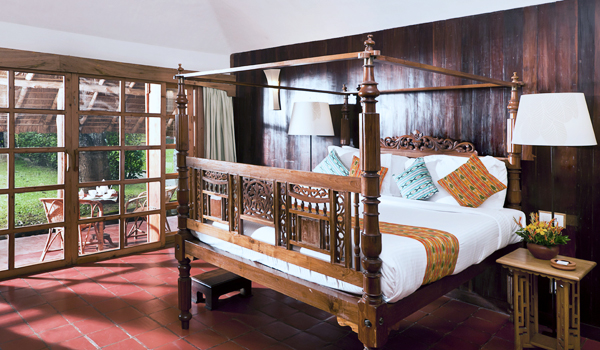 CGH Earth's Spice Village, set in mist-shrouded mountains of Kerala, is billed as the modern reimagining of a tribal village. With that in mind, guests will uncover a mix of rusticity and luxury in its traditional-style huts, sound-tracked by the birds, monkeys, and other species that call the area home.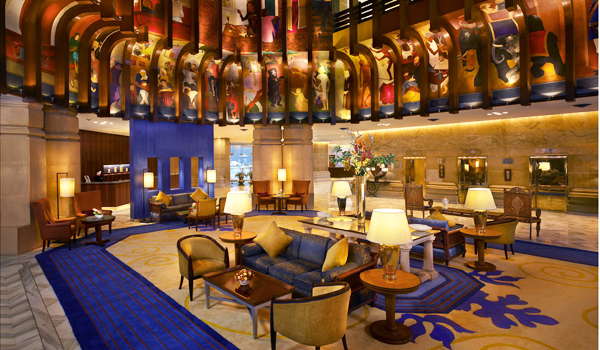 Care about your carbon footprint? Delhi's high-end ITC Maurya has the distinction of being the first LEED Platinum certified hotel in an existing building, meaning that alongside five-star touches like butler service and a luxurious spa are environmentally friendly add-ons.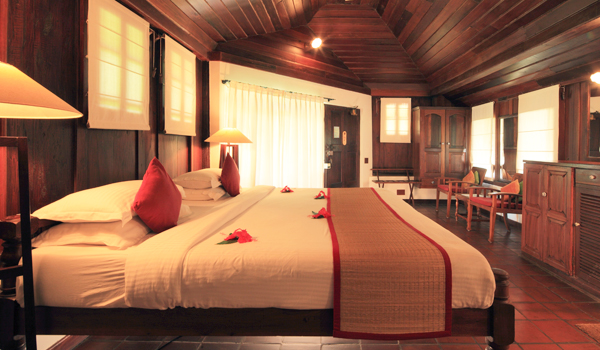 Housed in traditional, 150 year-old mansions restored by specialised local craftsmen, Kerala's Coconut Lagoon devotes a quarter of its land to rice cultivation, while local forests are protected in "sacred groves" and waterways are made for meditative canoeing expeditions.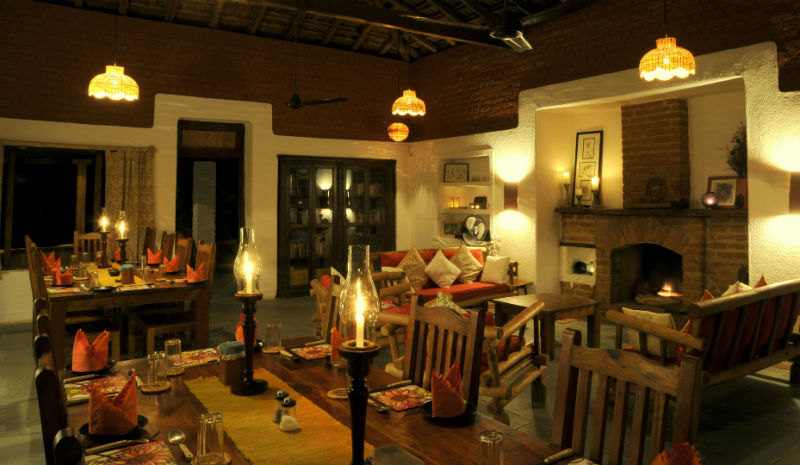 On the edge of Central India's Kanha Game Reserve, Shergarh Tented Camp consists of just six individual tents, ensuring a highly personalised experience of the nature—and the big cat population—of the region. Each tent is spacious and furnished with plush beds, while the on-site chefs serve beautifully spiced local fare.
Located on 35 private acres abutting the picturesque beach near romantic Puducherry, the Dune Eco Village & Spawelcomes surf seekers with its location, creative types with its Artists in Residence programme, and spa lovers with its Ayurvedic treatments. And for the private? One of 55 personal bungalows.
Family Friendly Hotels in India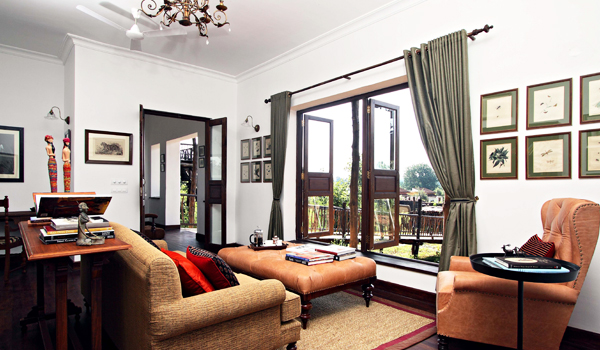 In the heart of tiger country, Samode Safari Lodge is perfect for kids looking to spot local wildlife: from leopards and sloth bears to lizards and jungle cats, it offers a wealth of natural sights to discover. For adults, spa treatments, a heated swimming pool, and cooking classes are only some of the temptations.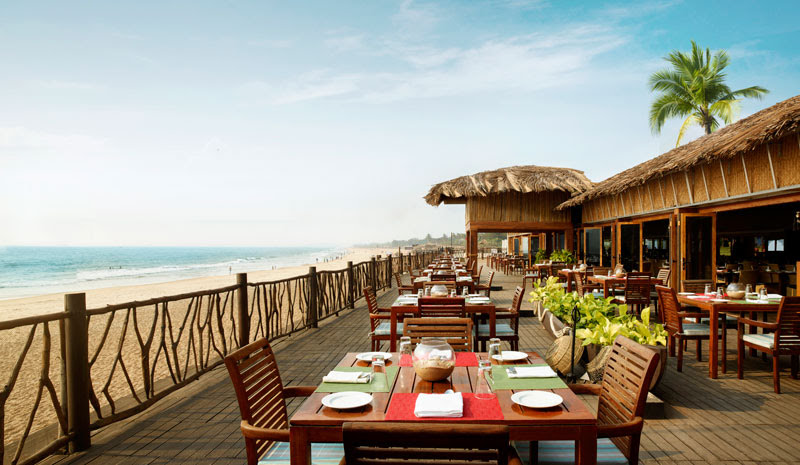 Referencing both Goa's beachy culture as well as its rich Portuguese heritage, the Taj Holiday Village Resort in Goa is ideal for sun seekers. The hotel caters to children with adventure trails, a kid's cookhouse, air hockey, and other fun pursuits, while menus for young ones ensure the hotel's high-end restaurants are suitable for all.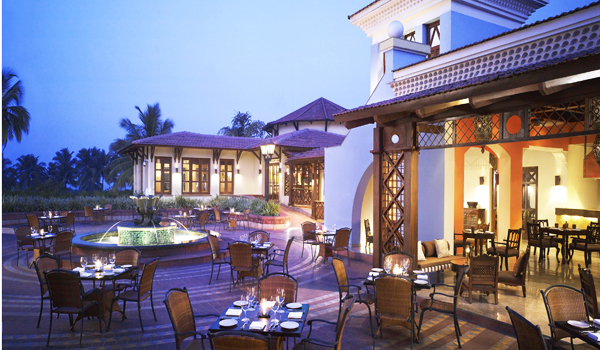 Set on an expansive stretch of photogenic coastline, the ITC Grand Goa Resort and Spa is home to India's largest swimming pool, complete with waterslides. After a family day out, children can be looked after by the hotel's babysitting services, while parents can enjoy the seven restaurants and bars on-site, as well as Ayurvedic treatments at the Sereno Spa.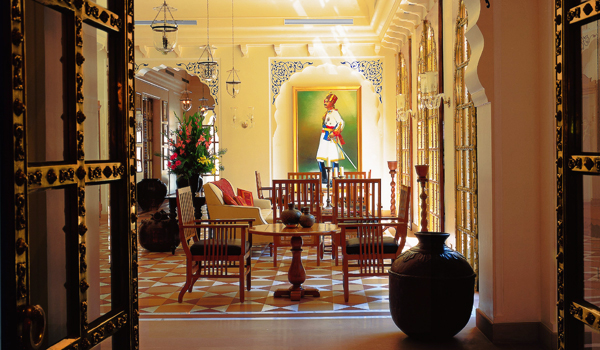 Set on 32 acres, The Oberoi Rajvilas retreat is a luxurious haven in the midst of Rajasthan, where visitors can travel via elephant safari and begin mornings with yoga and meditation sessions. Clustered rooms cater to families, while flower-filled private courtyards offer a beautifully tranquil place to take a breather.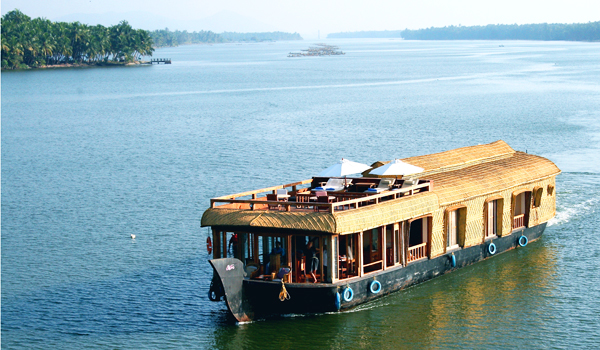 Trawling up the backwaters of Kerala, the Lotus House Boatis modelled on traditional Keralan rice barges. Consisting of just two suites, it offers a tranquil, slow-paced holiday, and soporific amblings that are certain to relax.
Feature images © Taj Hotels; Oberoi Hotels; ITC Hotels; The Imperial; The Leela Group; Neeleshwar Hermitage; Niraamaya Retreats; Elsewhere; CGH Earth; Aman-i-Khas; Sujan Luxury; The Ultimate Travelling Camp; Chhatra Sagar; Raas; Hilton; Ananda; Carnoustie; Soukya; Shreyas; Glenburn Tea Estate; The Serai; Suryagarh; Mihir Garh;Osian Sand Dunes; Udai Bilas Palace; Shergarh; Dune Eco Group; Lotus House Boat
Save