Forts and palaces, temples and tombs, the ruins of ancient cities and the thriving cityscapes that still beguile and charm visitors today: India's landmarks betray so much beauty and diversity that picking just a few dozen felt like an impossible task. But after plenty of reflection, we've managed to narrow down our list to these 50 exceptional sites. Use this article as your guide when next setting off to explore the Subcontinent—but don't forget that, when it comes to the most incredible landmarks in India, these really are just the beginning. Here is a list of 50 famous landmarks in India:
1. The Red Fort Delhi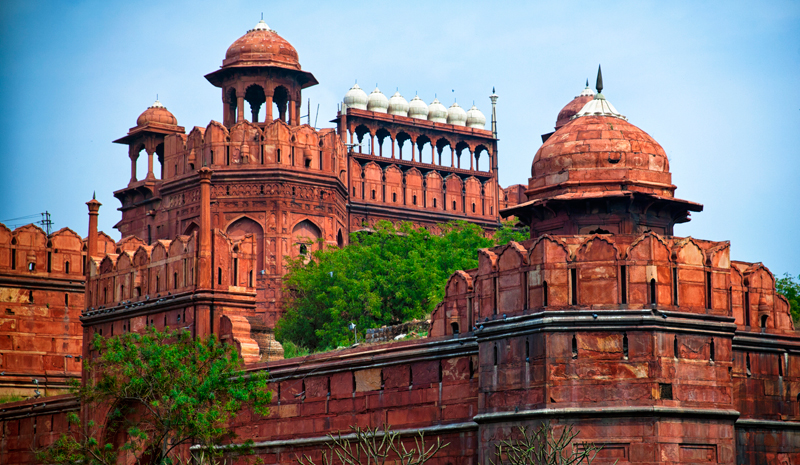 Nestled in Delhi's clamorous heart, the Red Fort's tremendous scale and soaring sandstone walls imbue it with visual splendour. Built under Shah Jahan and considered the apex of Mughal architecture and design, this UNESCO World Heritage Site now contains a museum, and is one of the city's top tourist destinations. 
2. The Mehrangarh Fort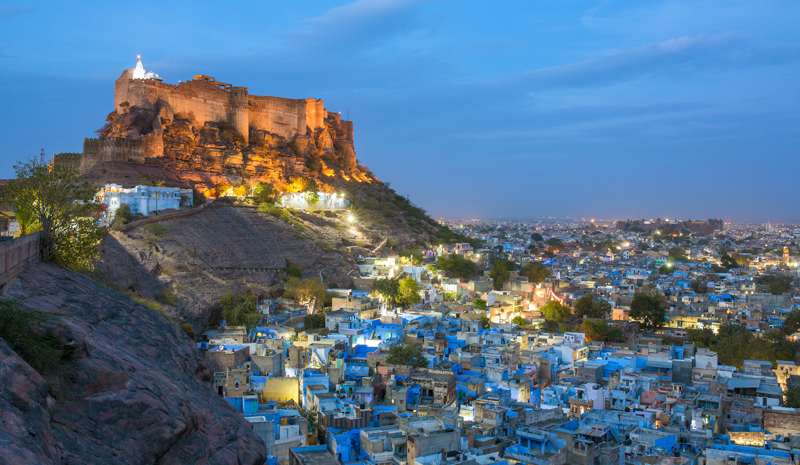 Rajasthan's royal legacy is apparent in its wealth of colossal palaces and desert forts. Competition is steep, but few of its landmarks are more impressive to behold than the Mehrangarh Fort in Jodhpur. Among the largest such fortifications in India, its clifftop location more than 100 meters above the Blue City makes it impossible to miss. 
3. Humayun's Tomb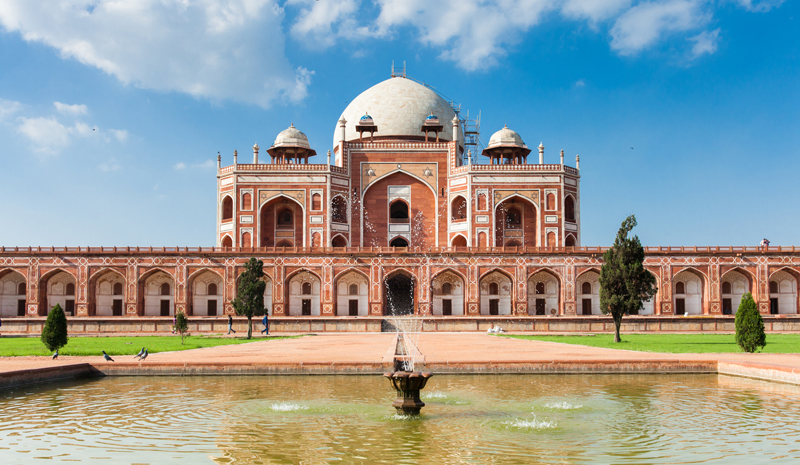 Though it's the final resting place of the Mughal Emperor Humayun, this tomb has the scope and splendour of a palace. Among the first 'garden-tombs' in India, the Delhi-based landmark is a beautiful example of Persian architecture, and is surrounded by a lovely garden and water features. Come for the history and stay for the oasis-like setting.
4. The Taj Mahal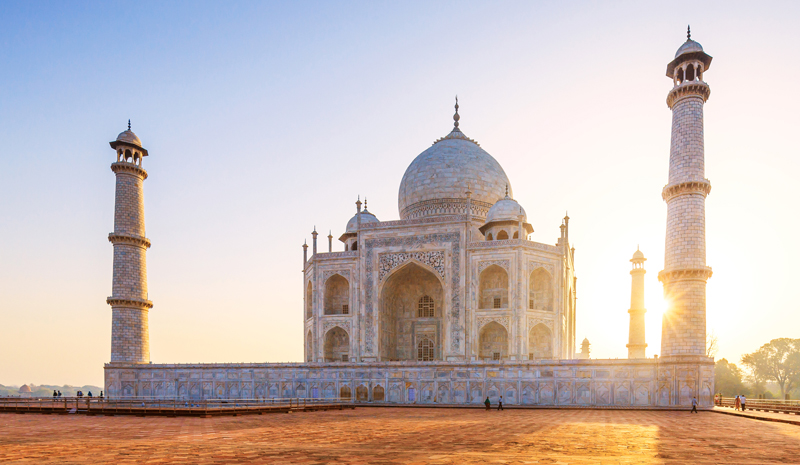 The Taj Mahal isn't just one of the most incredible landmarks in India—it's a bona fide Wonder of the World, and a bucket-list destination for millions. In person, this white marble mausoleum (built to commemorate Shah Jahan's beloved wife, Mumtaz Mahal) is every bit as beautiful as you'd expect.
5. Fatehpur Sikri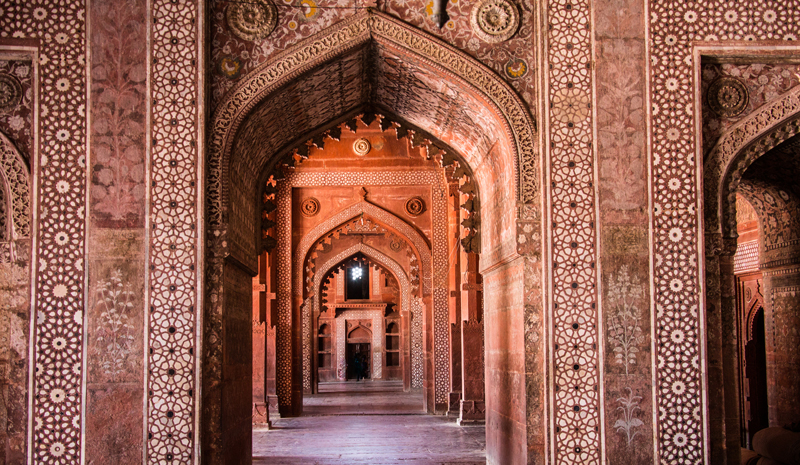 Fatehpur Sikri's name is a touch ironic. Though it's called the 'City of Victory,' it was in fact the capital of the Mughal Empire for just 10 short years before being abandoned. Nevertheless, the 16th-century complex remains in excellent condition today, from the Jama Masjid mosque to its extensive living areas and public buildings.
6. The Jaisalmer Fort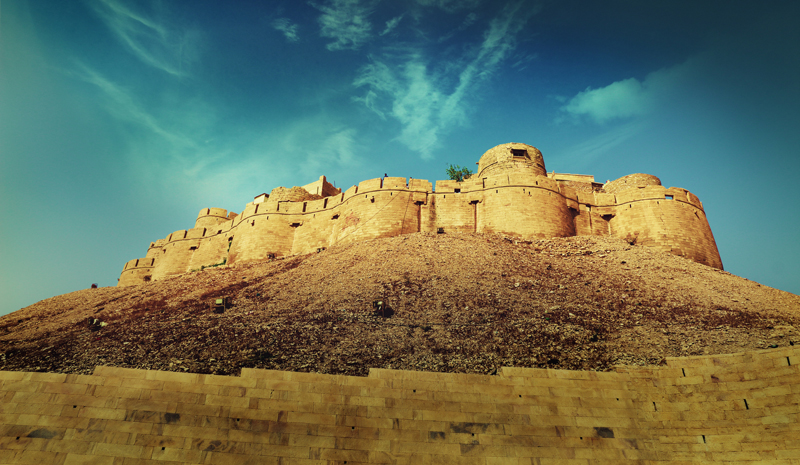 Located as it is on the edge of the Thar Desert, the 'Golden City' of Jaisalmer appears, at a distance, to be hewn directly from the desert dunes. That's certainly true of its fort, whose enormous sandstone edifice rises like a mirage above the city. 
7. The Varanasi Ghats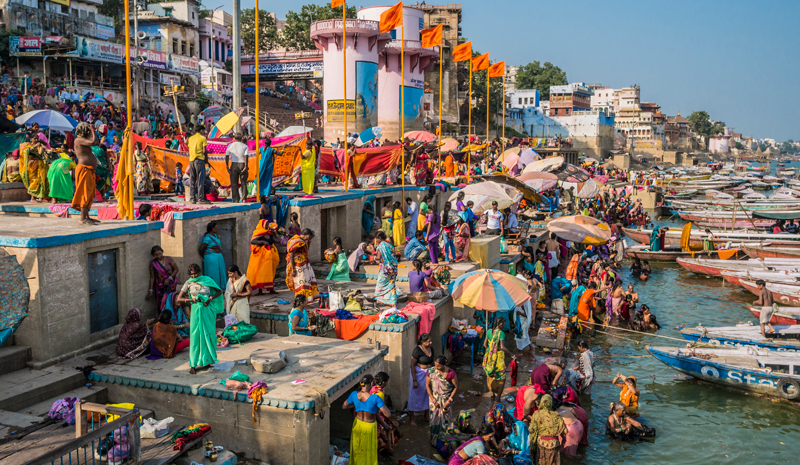 The full spectrum of humanity is on display at Varanasi's freewheeling, vibrant, and chaotic ghats. The sets of carved stairs that lead directly down to the waters of the holy Ganges River, the ghats are the site of numerous sacred rituals, including the Ganga Aarti: a flame-lit evening prayer performed each evening. 
8. The Golden Temple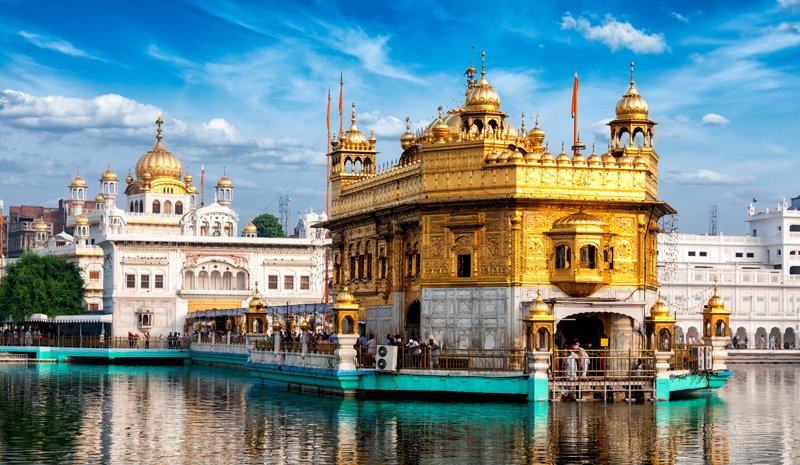 Amritsar's most famous landmark is formally known as the Sri Harmandir Sahib, but it isn't hard to see why it's colloquially called the Golden Temple. Covered in brilliant layers of gold leaf, the Sikh temple is one of the most photogenic landmarks in India.
9. The Amber Fort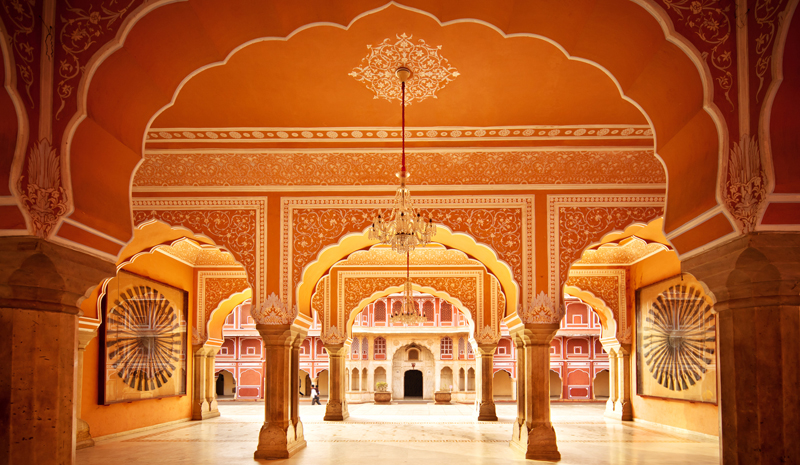 Even in a city with as many world-class landmarks as Jaipur, the Amber Fort is still a stand-out. Also known as the Amer Fort, the extraordinary site is divided into four main sections. Don't expect a quick tour: within its walls you'll find a palace complex, temples, courtyards, and much more. 
10. The Jantar Mantar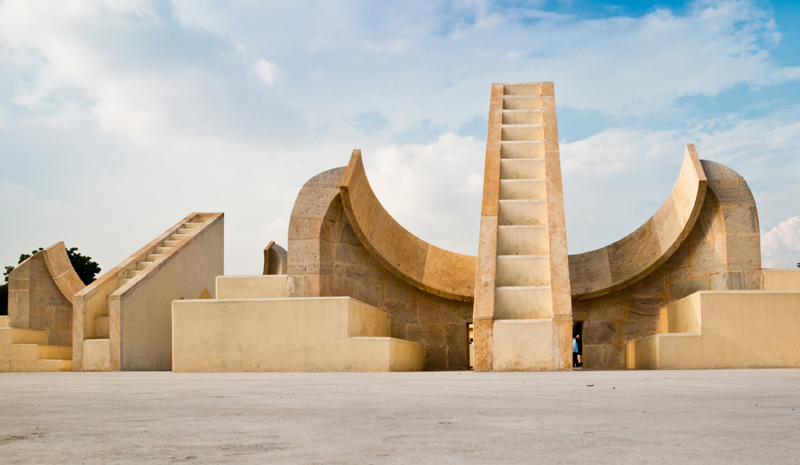 Rajasthan's emperors weren't only concerned with building impressive palaces and forts, however—they also left behind a legacy of scientific inquiry. The extraordinary Jantar Mantar, a UNESCO World Heritage Site that dates to the 16th century, contains 19 different instruments for astronomical observation (including the world's largest stone sundial).
11. Lutyens' Delhi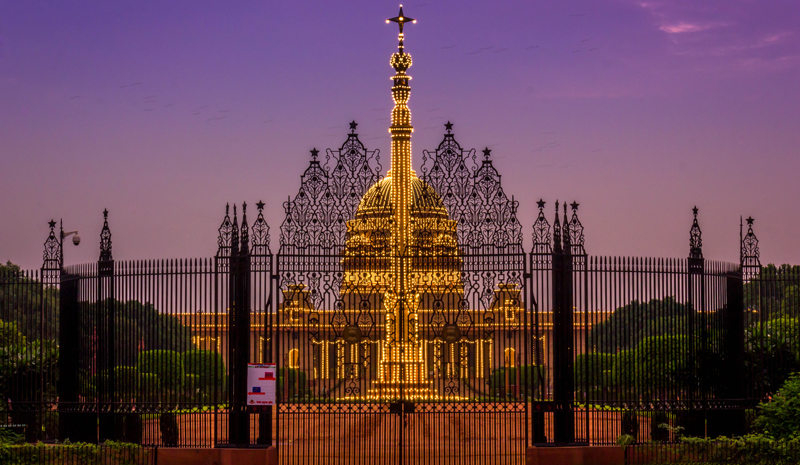 Designed by British architect Edward Lutyens, this central district of Delhi is host to beautiful neoclassical buildings and many top government functionaries. One highlight of the district is the Rashtrapati Bhawan—formerly known as the Viceroy's House—which is now home to India's President.
12. Chandigarh Capitol Complex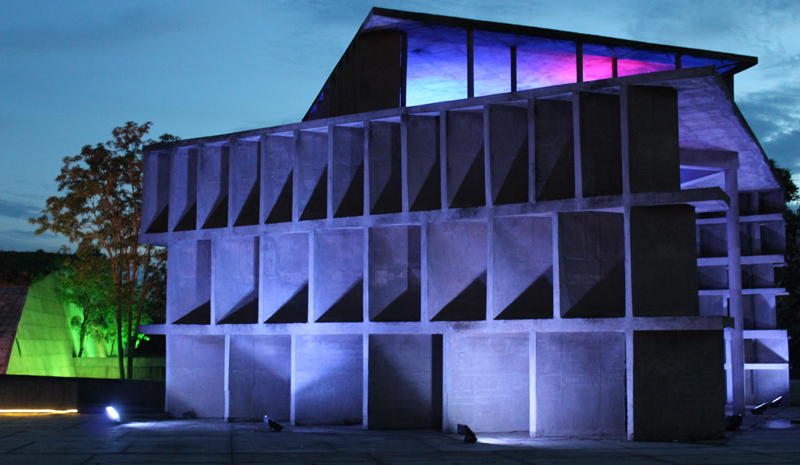 © Shanmugamp7/Wikimedia Commons
The Chandigarh Capitol Complex looks unlike most other high-profile landmarks in India. Designed by renowned architect Le Corbusier in the 1950s, the sprawling 100-acre site includes government buildings, monuments, and a lake, and was granted UNESCO World Heritage status just last year.
13. Mall Road, Shimla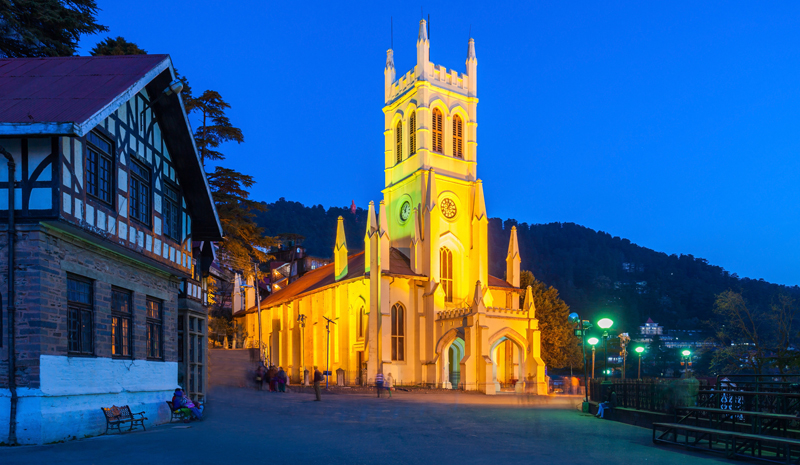 During the British Raj, lofty Shimla—located in Himachal Pradesh, within view of Himalayan peaks—was used as a summer capital. One of the most visible signs of this legacy is the city's Mall Road, which was built by the British and remains Shimla's liveliest, most colorful, and landmark-packed thoroughfare.
14. The Kalka-Shimla Railway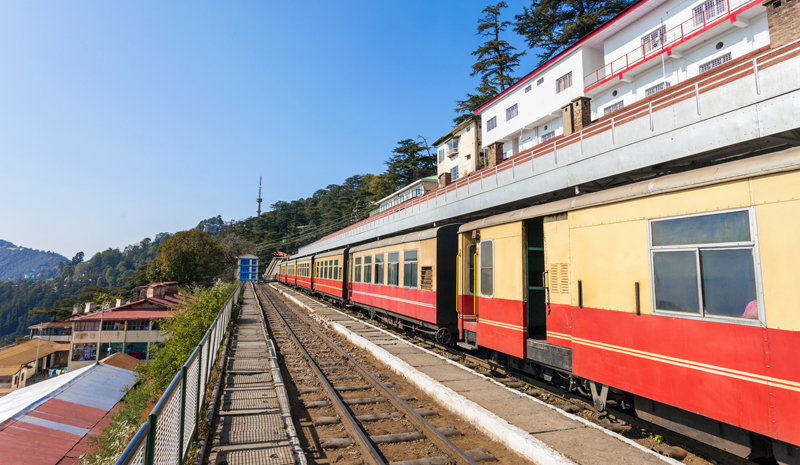 Built at the end of the 19th century to connect Shimla with the rest of the Indian train system, this heritage railway gives riders the experience of traveling on a piece of living history. Hop aboard and get ready to discover: it's famous for its spectacular views of the Himalayan foothills.
15. Chittorgarh Fort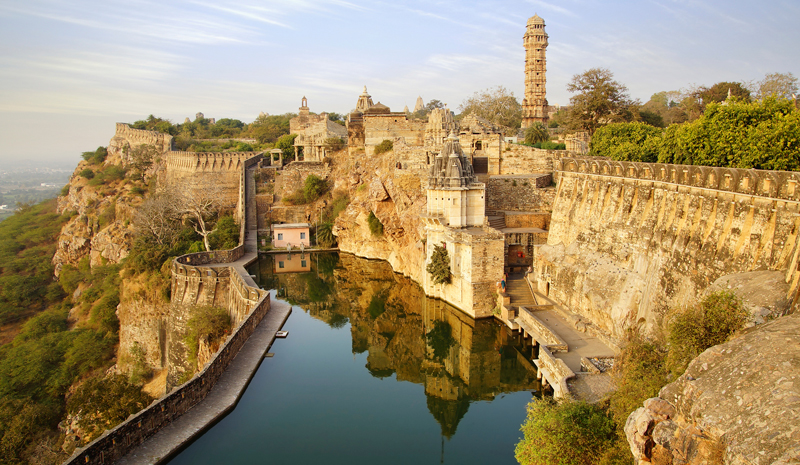 Amongst Rajasthan's many royal forts, Chittorgarh is an obvious standout. The largest fort in all of Asia, it spans more than 700 acres atop a 180-meter high promontory. With history dating to the 7th century, the fort has withstood battles, sieges, and more through its tumultuous past—and is still standing proudly today.
16. Bundi Stepwells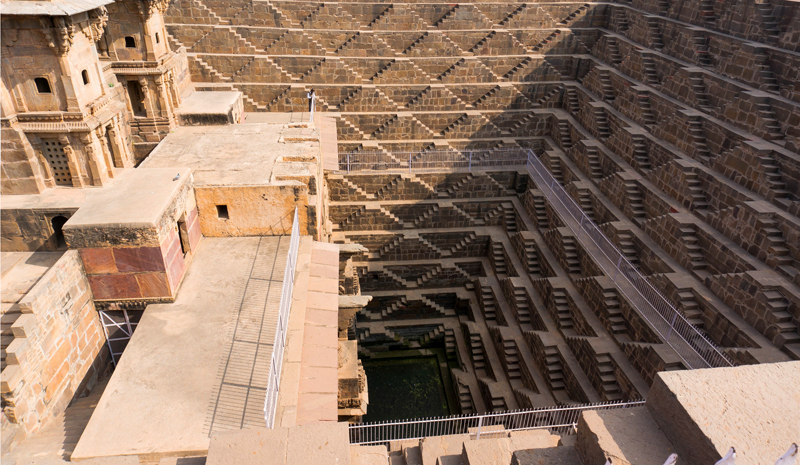 Bundi is sometimes called "the City of Stepwells," thanks to the 50 or so that are found within its borders. These incredible structures—subterranean, stepped wells which are intricately carved and embellished—were once Bundi's only source of irrigation, and provide a fascinating glimpse of the city's past.
17. Kumbhalgarh Fort
Another of Rajasthan's evocative hill forts, the Kumbhalgarh Fort is situated amidst 13 peaks in the Aravalli Mountains, and is just a short jaunt from Udaipur. Dating to the 15th century, the Mewari Dynasty-era fort contains palaces, gardens, and many other beautiful structures within its extensive complex.
18. Chowmahalla Palace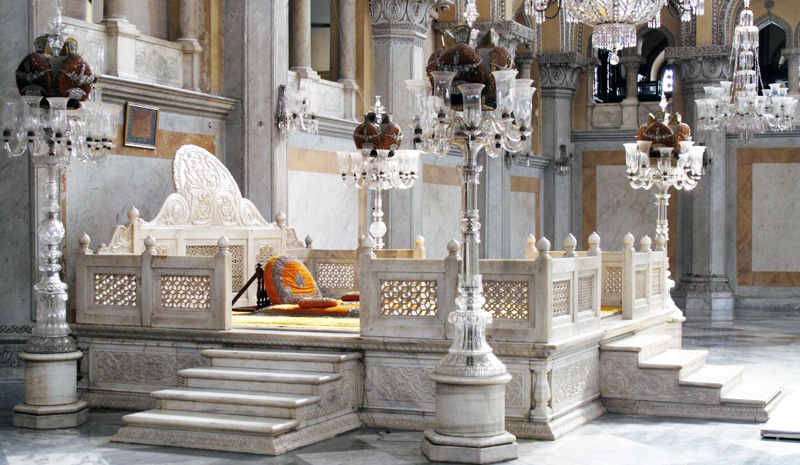 © Curt Smith from Bellevue, WA, USA/Wikimedia Commons
From its pretty courtyards to its opulent, chandelier-bedecked halls, Hyderabad's Chowmahalla Palace begs to be discovered—luckily, it's been accessible to the public since 2005. One of the city's most renowned landmarks, the palace is a living testament to the region's ruling Nizam Dynasty, whose descendants still own the property today.
19. Falaknuma Palace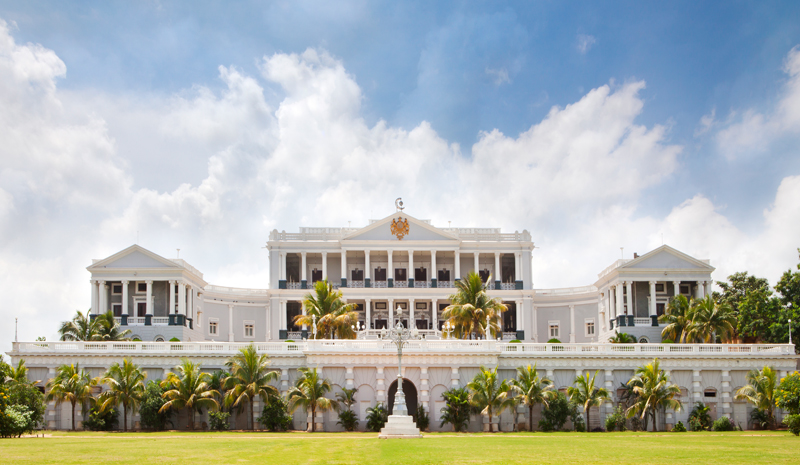 © Taj Hotels
Another spectacular Hyderabadi royal residence, the Falaknuma Palace is as gorgeous today as it was when first constructed in the late 19th century (its name, which translates to "Mirror of the Sky," is an apt description of its Italian marble façade). For visitors looking to linger, enjoy the royal treatment at the resident Taj Hotel.
20. Lake Palace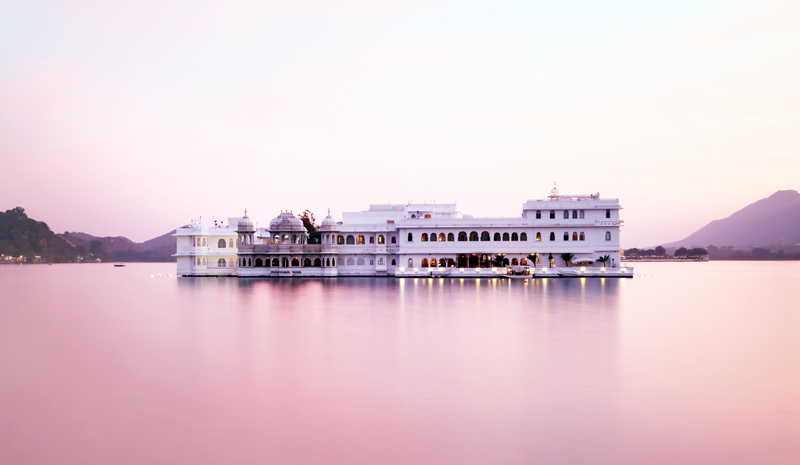 Located in the very heart of Udaipur's Lake Pichola, the Lake Palace is far and away one of the most evocative landmarks in India. First built at a pleasure palace for a local Maharajah, it's now also host to a Taj Hotel. Step aboard a private boat to the hotel, and get lost in the stunning setting.
21. Hampi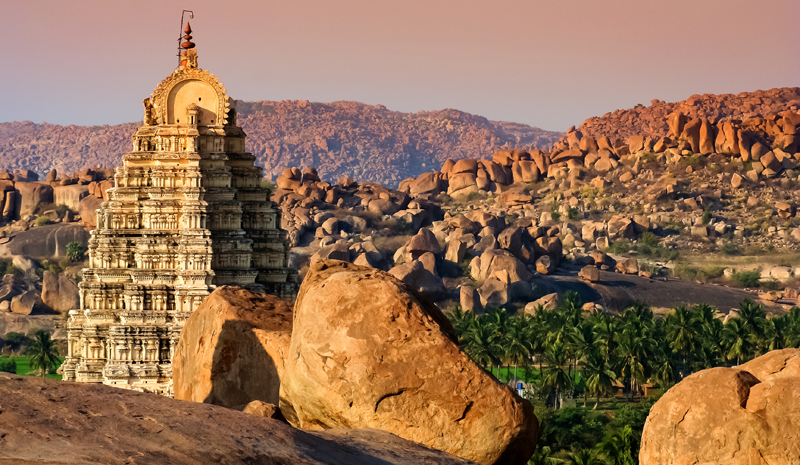 The ruins of an ancient city, Hampi is one of the most famous—and magnificent—landmarks in India. Follow the trail of backpackers and glampers to this popular destination, and save ample time to see as much as you can: the huge UNESCO World Heritage Site includes multiple temples and monuments.
22. Bijapur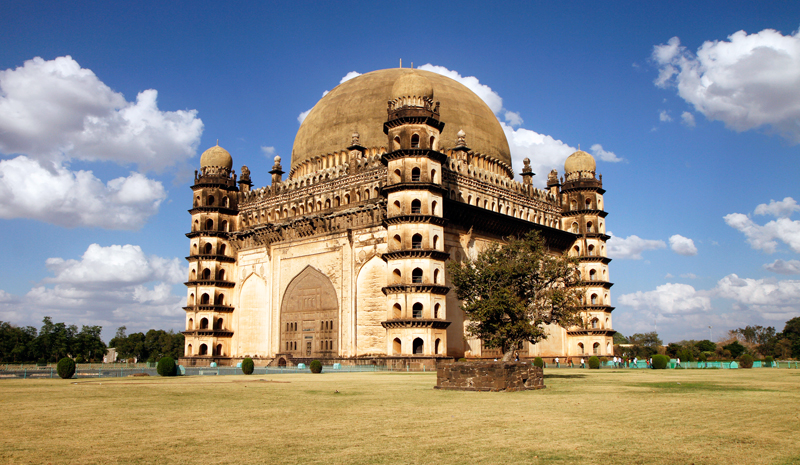 Bijapur—recently renamed Vijayapura—is an ancient city bursting with fascinating landmarks. Once home to Adil Shahi kings, the Karnatakan city's regal legacy can be glimpsed in its numerous mosques, mausoleums, and temples.
23. Bara Imambara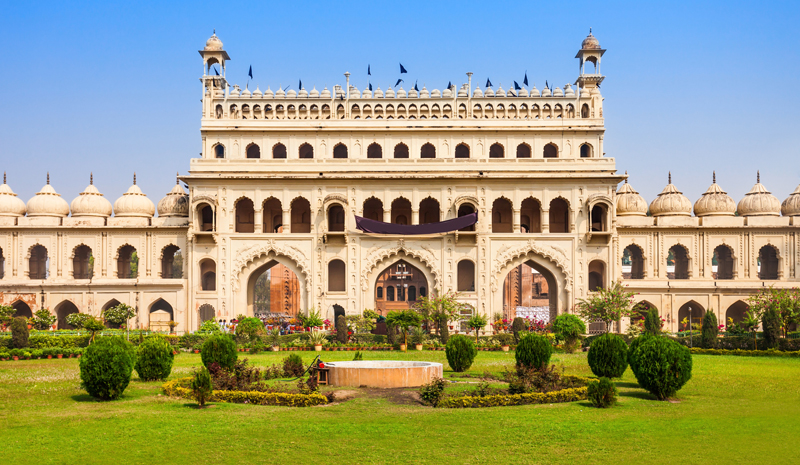 You can't plan a trip to Lucknow in Uttar Pradesh without seeing the Bara Imambara. Among the city's most recognised landmarks (thanks in part to its lofty spires), the holy shrine dates to the end of the 18th century, and is considered the height of ornamental Mughal architecture.
24. Gwalior Fort
Located in Madhya Pradesh, the Gwalior Fort has quite the impressive backstory. Namely, it was here that the very first written character for "zero" was inscribed on a temple wall some 1,500 years ago. But you don't have to be a maths geek to appreciate its sandstone splendour.
25. Datia Palace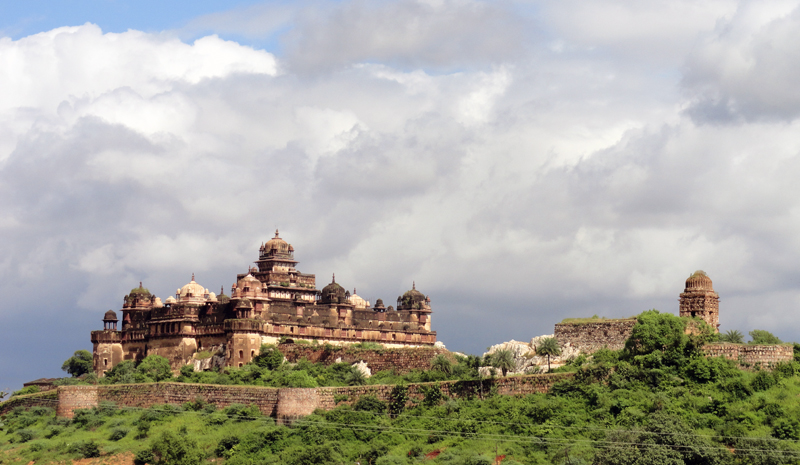 © Navay.Gulati/Wikimedia Commons
Architecture lovers shouldn't miss their chance to explore the Datia Palace, just a day trip away from Gwalior. A beautiful example of Indo-Islamic architecture, the 17th-century structure was constructed solely from bricks and stones, without iron or cement supports—a fact which makes its well-kept condition all the more impressive.
26. Khajuraho Temples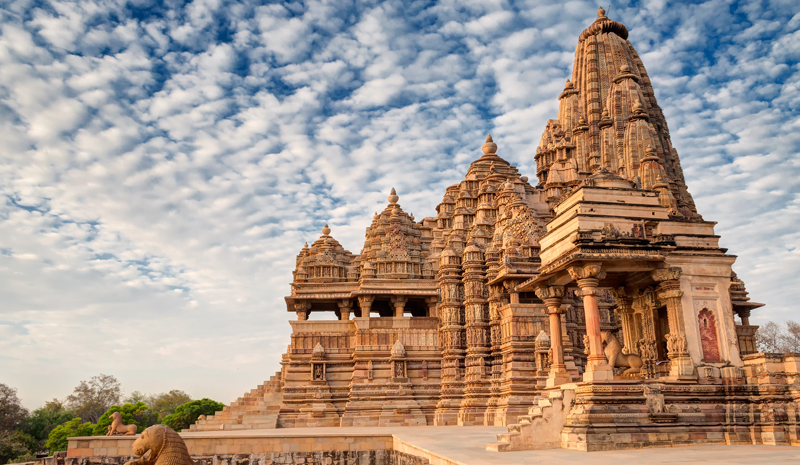 A group of 25 or so medieval-era temples in Madhya Pradesh, the Khajuraho Temples are a popular tourist destination for a few reasons. A collective UNESCO World Heritage Site, the landmarks offer up beautifully preserved examples of Nagara architecture. They're also famous for their intricately carved erotic sculptures. 
27. Ajanta and Ellora Caves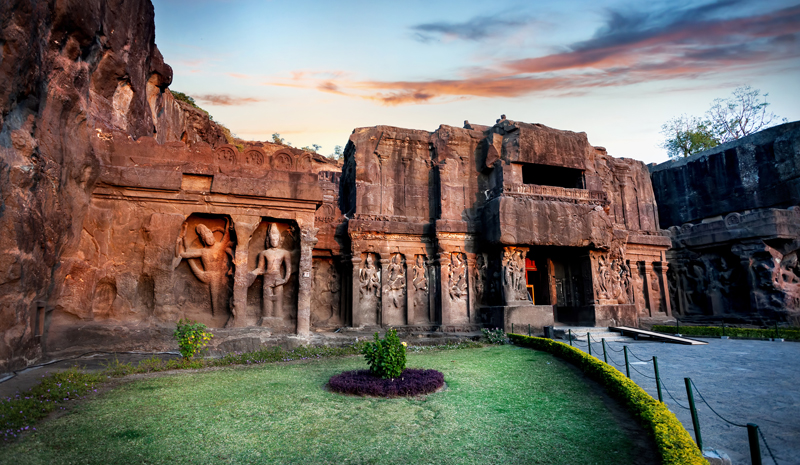 Maharashtra's Ajanta and Ellora Caves are some of the finest examples of ancient Indian art in existence. The former comprises a series of Buddhist rock-cut memorials, the earliest of which date to the second century BCE; the latter includes Hindu, Jain, and Buddhist temple complexes, constructed between 600-1,000 CE. Both are breathtaking to behold.
28. Jai Vilas Mahal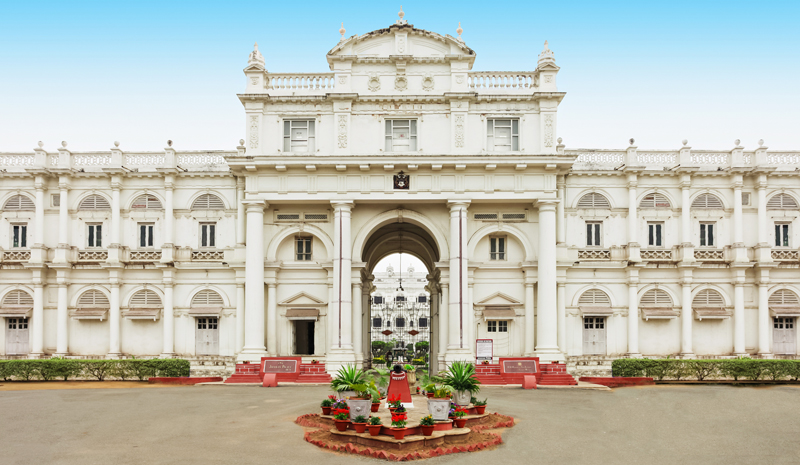 Commissioned in the 19th century, the Jai Vilas Mahal in Gwalior is a marvel of European-inspired architecture, with Italian colonnades and flourishes throughout. It's also home to two colossal crystal chandeliers and, nowadays, a fascinating museum which stretches across 35 opulent rooms. 
29. Sun Temple, Modhera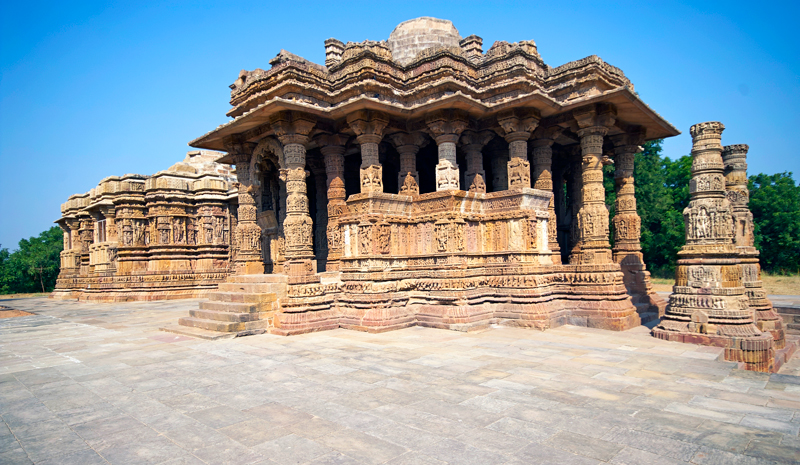 One of India's few temples devoted to Surya, the Sun God, Gujarat's Sun Temple is constructed from golden sandstone and is famous for its intricately carved exteriors. The temple complex includes a number of fascinating sights, including several shrines and a beautiful stepwell.
30. Laxmi Vilas Palace, Vadodara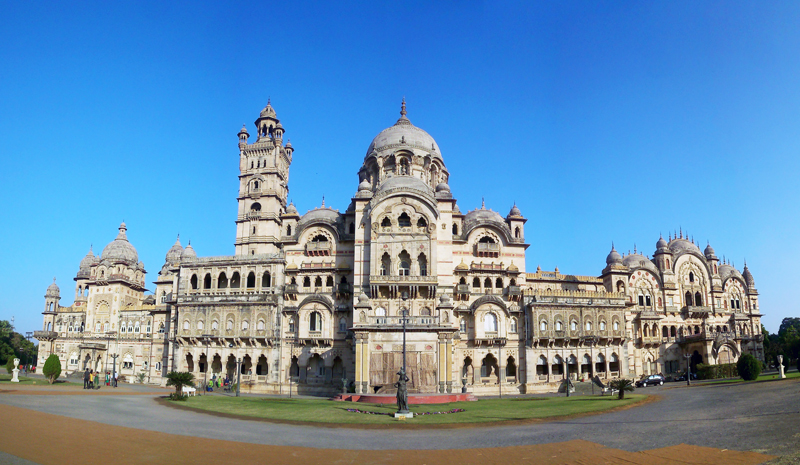 Constructed during the time of the British Raj, the sprawling Laxmi Vilas Palace in Vadodara, Gujarat is still home to the local royal family. A famous example of Indo-Saracenic Revival architecture, its opulent design is best appreciated up close.
31. Hawa Mahal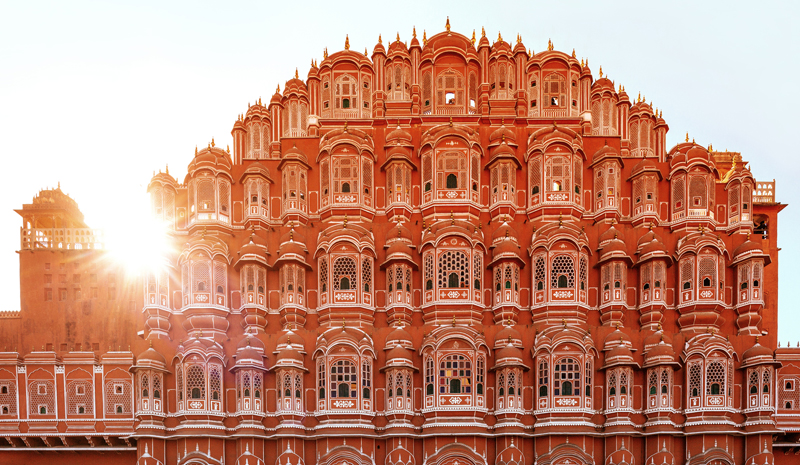 This terra cotta-hued Jaipur palace has a soaring edifice comprised of elaborately carved screens (designed so that the women of the royal household could observe the goings-on outside without being admired themselves). The "Palace of the Winds" remains one of Rajasthan's most beloved sights.
32. Thiksey Monastery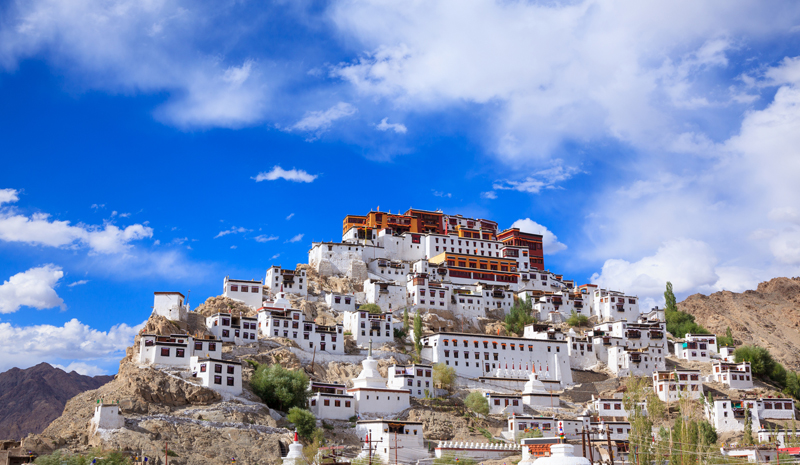 Located high in the Himalayan foothills of Jammu and Kashmir, the atmospheric Thiksey Monastery is among the most important Buddhist landmarks in the region. Home to stupas, wall paintings, and other examples of traditional artworks, it's beautiful inside and out.
33. Santa Cruz Basilica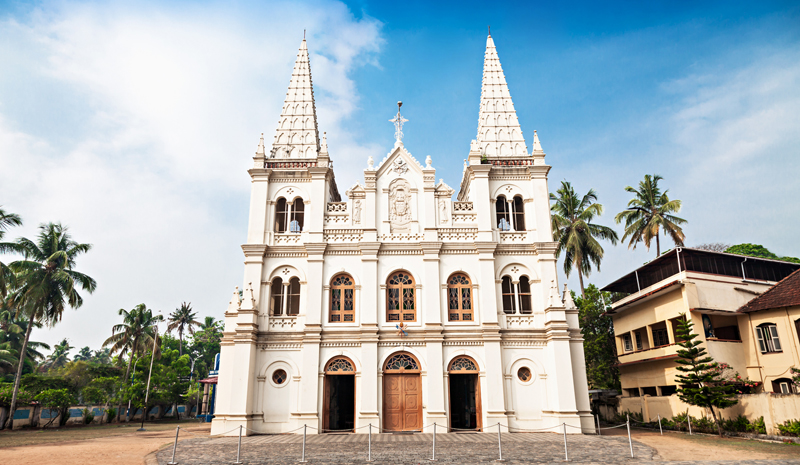 Within the Fort Cochin district of Cochin, the Santa Cruz Basilica remains one of the city's most distinctive landmarks (and is, in fact, among the most impressive churches in all of India). Built by the Portuguese in the 16th century, it's a South Indian standout.
34. Paradesi Synagogue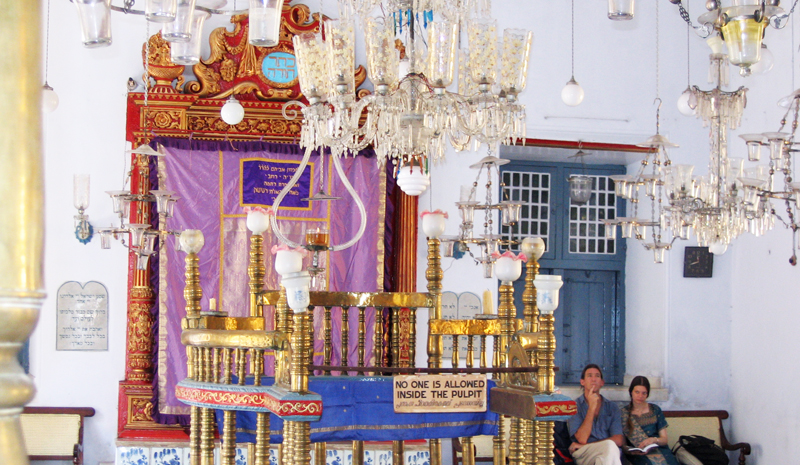 Jewish landmarks are few and far between in India, which makes Cochin's Paradesi Synagogue all the more special. Though the local Jewish community has shrunk significantly since the 16th century, when the synagogue was constructed, this 450-year-old landmark hints at the area's rich and diverse history.
35. Meenakshi Amman Temple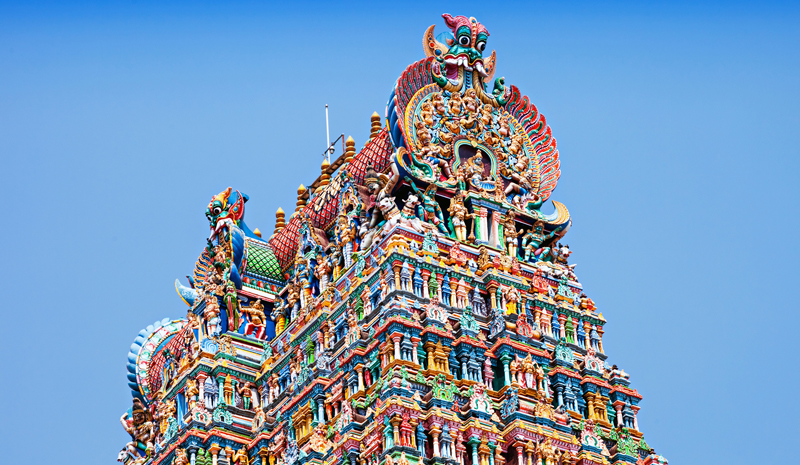 Tamil Nadu is famous for its many temples, and while there's plenty of competition, the Meenakshi Amman Temple in Madurai may be the most breathtaking of all. With its soaring towers, thousands of sculptures, and vibrant colors, it's as photogenic as they come.
36. Pondicherry's French Quarter
Within the coastal city of Pondicherry, the historic French Quarter is like a little slice of Paris in India. The best way to explore is to simply go for an amble, taking in the pastel-hued buildings, restored colonial landmarks, and the shade-dappled streets as you wander.
37. Auroville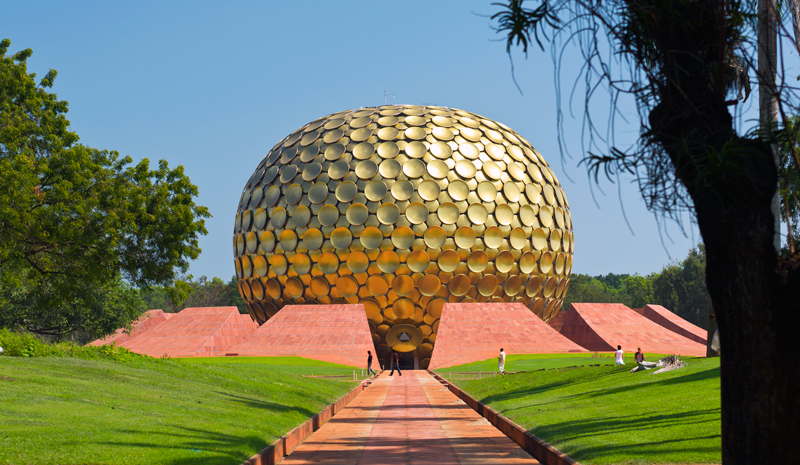 Among India's famous landmarks, Auroville is resolutely one of a kind. The experimental, utopian community is welcoming to visitors, so drop by and take in the sights (especially its golden Matrimandir).
38. Mahabodhi Temple Complex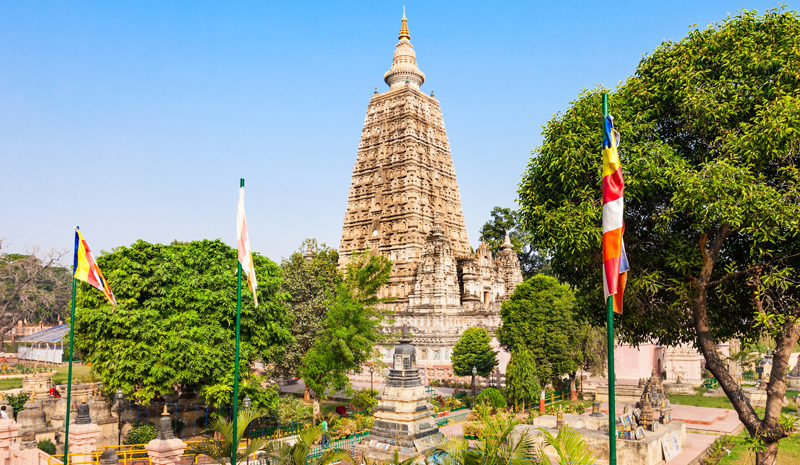 Even amongst its fellow UNESCO World Heritage Sites, the Mahabodhi Temple Complex in Bodh Gaya is special. Not only is the complex supremely beautiful—from the soaring temple itself to the colossal Buddha statue—but it has a rather extraordinary history. It was here, under a Bodhi tree, that Buddha was said to gain enlightenment in the sixth century BCE. 
39. Nalanda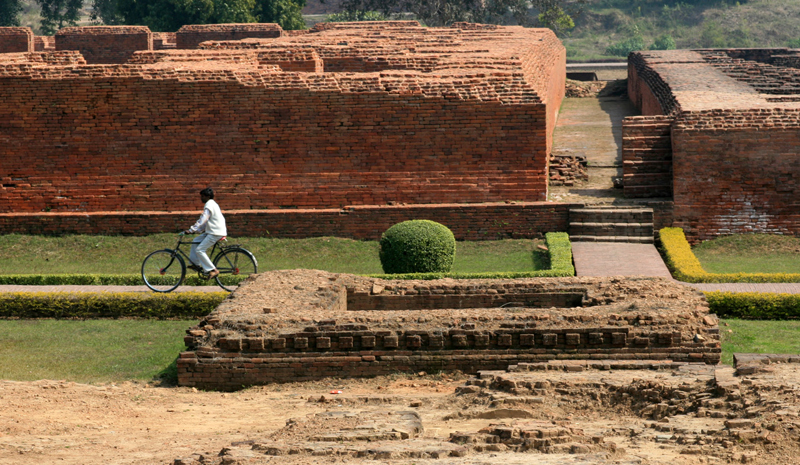 An important Buddhist spiritual center and hub of learning for many centuries, Nalanda in Bihar has a truly remarkable heritage. Visitors today can still uncover well-kept ruins of the complex, including numerous individual monasteries and temples.
40. Dakshineswar Kali Temple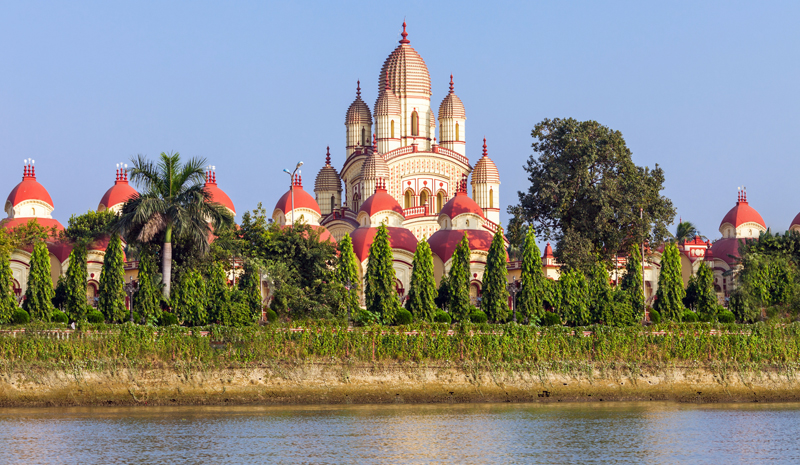 Set overlooking the Hooghly River, the Dakshineswar Kali Temple remains one of Kolkata's most sacred sites. It's also a landmark of indescribable beauty, thanks to its distinctive spires and colossal size.
41. The Victoria Memorial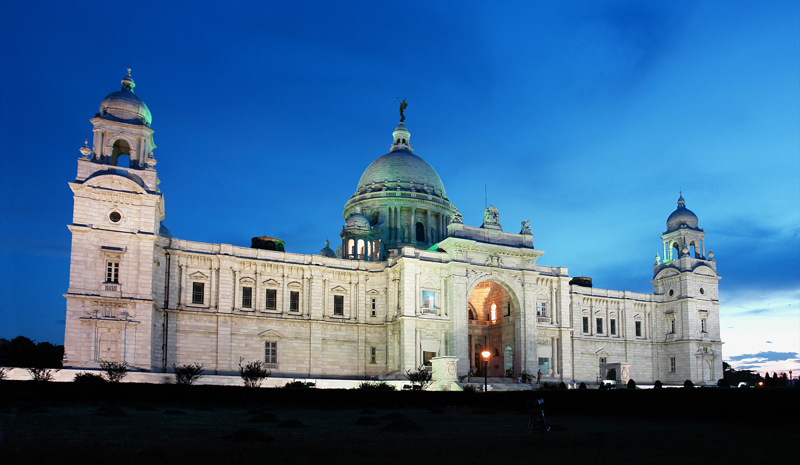 Looking a little like a cross between the Taj Mahal and the Basilica of Sacré Coeur in Paris, Kolkata's Victoria Memorial is a spectacle in white marble. Debuted in 1921, the British Raj-era landmark remains an evocative tribute to Queen Victoria. 
42. Konark Sun Temple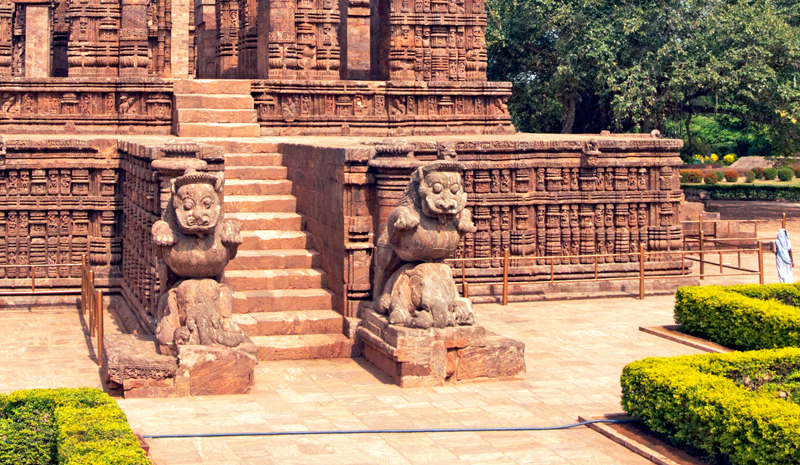 The 13th-century Sun Temple in Konark isn't just one of Orissa's most-visited landmarks: it's also one of India's finest examples of temple architecture. Dedicated to Surya, the Sun God, the structure was designed to resemble his chariot (complete with 24 wheels).
43. Qutub Minar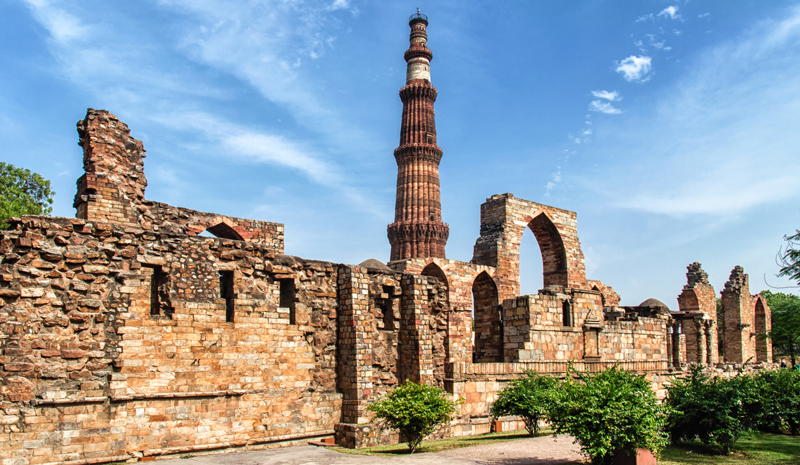 The highlight of Delhi's UNESCO-designated Qutub complex, the Qutub Minar is a towering, 73-meter-tall minaret (the second-largest of its kind in the country). Though its 379-step staircase is no longer accessible to visitors, the 12th-century landmark is arguably best appreciated from a distance. 
44. The Basilica of Bom Jesus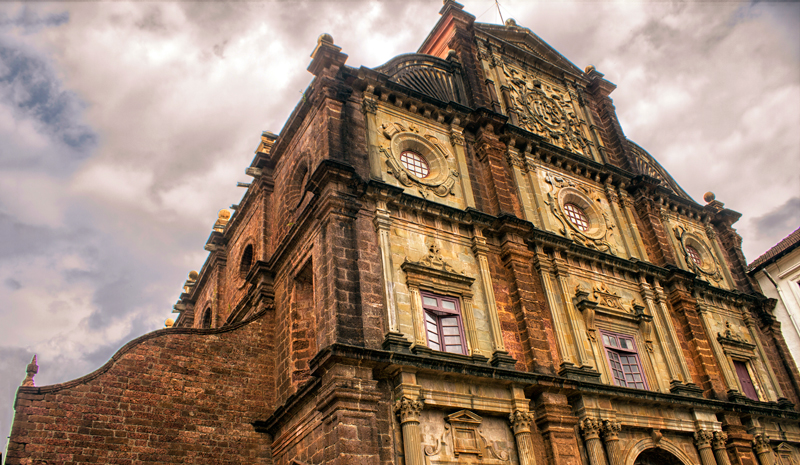 © Omkarsawant1996/Wikimedia Commons
A glorious visual representation of Goa's past as a Portuguese colony, the Basilica of Bom Jesus is a holy site famous for housing the mortal remains of St. Francis Xavier. It's also a uniquely beautiful building, with a heavily ornamented exterior and a Baroque-style gilded altar. 
45. Gateway of India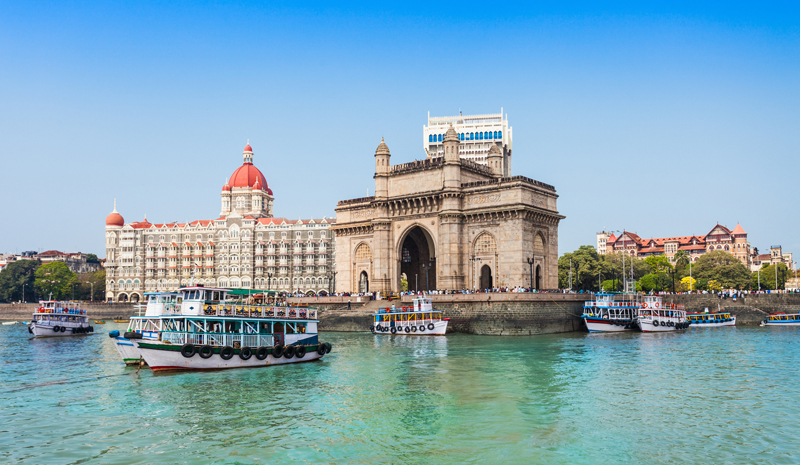 Few landmarks in India are as recognisable as Mumbai's Gateway of India. Located right on the water, the 20th-century structure is often taken as a symbol of the country as a whole—and is a must-visit for any traveler to the Subcontinent.
46. Chhatrapati Shivaji Terminus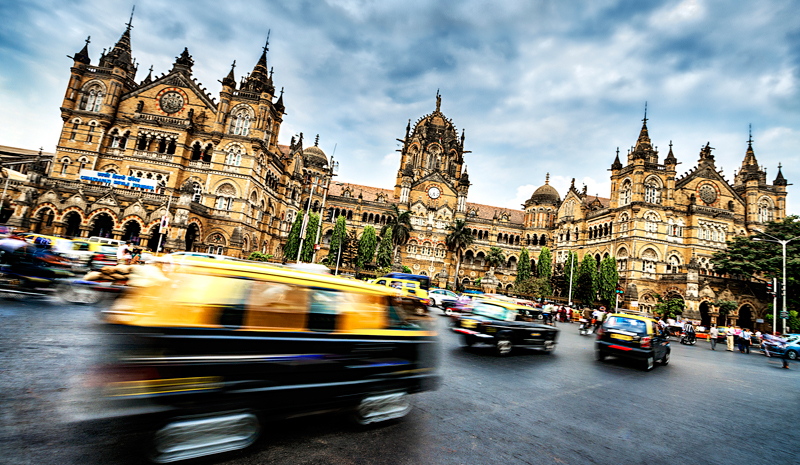 Once known as the Victoria Terminus, these days Mumbai's train station has adopted a different moniker—though its UNESCO World Heritage status remains unchanged. An icon of Victorian Gothic Revival architecture, it's a strikingly beautiful, characterful building.
47. Lotus Temple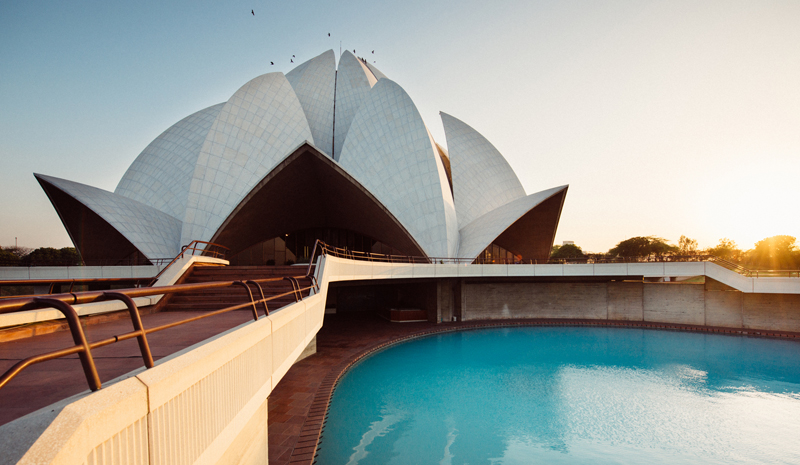 One of just seven prominent Baha'i temples around the world, New Delhi's Lotus Temple is a rarity. But that's not the only reason it draws visitors. Designed to resemble a giant lotus flower, it's a beautiful example of modern temple architecture. 
48. Brihadeeswarar Temple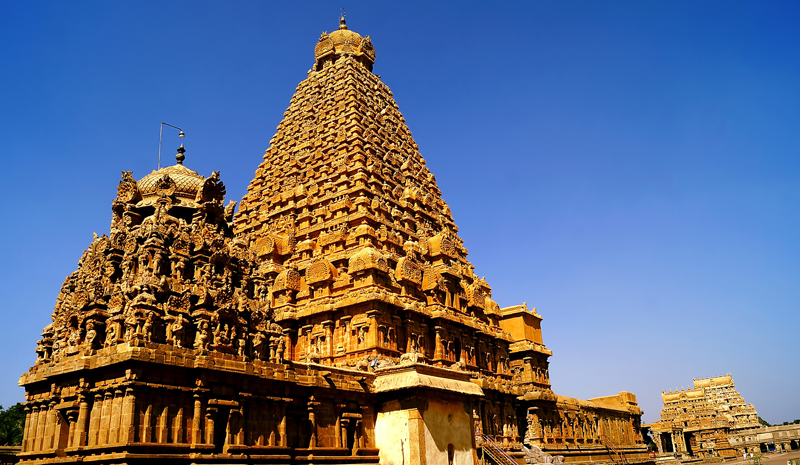 Tamil Nadu's Brihadeeswarar Temple is an extraordinary landmark for many reasons: It's among India's largest temple complexes; is revered for its exemplary Dravidian architecture; it turned 1,000 years old in 2010; and is a UNESCO World Heritage Site.
49. Charminar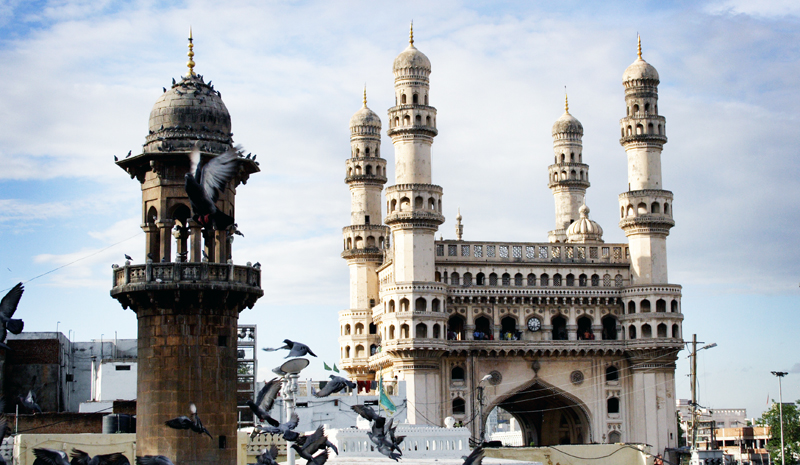 The symbol of Hyderabad, the distinctive Charminar is easily recognisable for its four intricately carved minarets. Both a mosque and a monument, the 16th-century structure has lost none of its grandeur in the intervening centuries.
50. Mysore Palace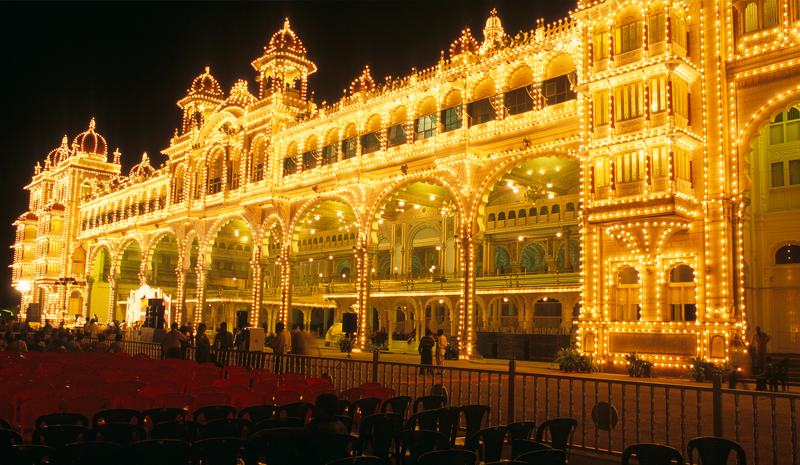 By day, the Mysore Palace in Karnataka is a strikingly elaborate landmark. But by night — especially during Sundays and public vacations — it really comes alive, thanks to the 100,000 beautiful light bulbs that decorate its edifice.