Palm-fringed beaches, serene waterways and rolling tea plantations characterize the southern Indian state of Kerala. Stretching 590km along the Malabar coast, the region's laidback charm is a welcome contrast to the bustling streets of the northern cities. The best time to visit is between November and March when it's dry but not too hot, though true sun seekers may prefer the warmth of April and May. First time visitors tend to focus on the south, while Kannur's weaving industry, markets and Payyambalam beach make the north well worth visiting, alongside Kozhikode's canals, waterfalls and bird sanctuary and Wayanad's misty hills. From exploring an ancient port city to taking on an adventurous hike, your family guide to Kerala includes an array of memorable experiences.
Explore historic Fort Kochi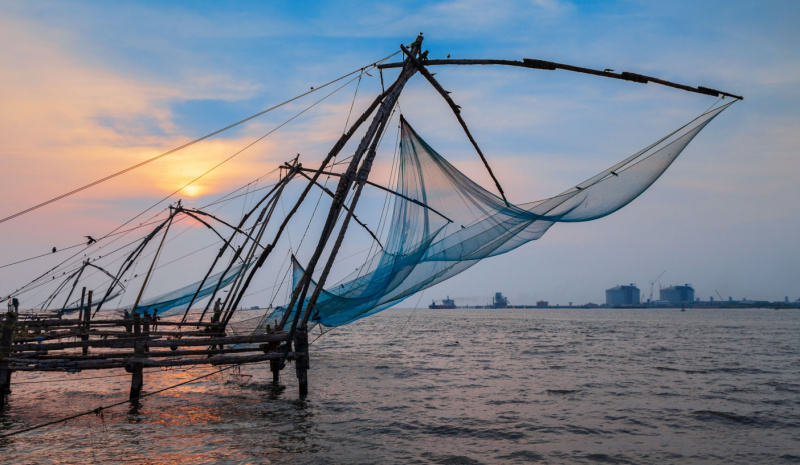 Nestled in the heart of Kerala, this port city is scattered across several islands, but most visitors concentrate on the historic Fort Kochi neighborhood. Colonial architecture and churches stand next to mosques and synagogues in the old Jewish quarter, revealing Kochi's checkered past; the Portuguese arrived in 1498, followed by the Dutch in 1663 and the British in 1814. Despite being Kerala's largest city, it retains an unhurried pace of life. As a result, you may find yourself chatting to locals beneath jacaranda trees while your children join a local cricket match. Explore by bike or tuk tuk, or take a sunset cruise to admire the Chinese fishing nets on Mahatma Gandhi beach.
Visit Munnar's tea plantations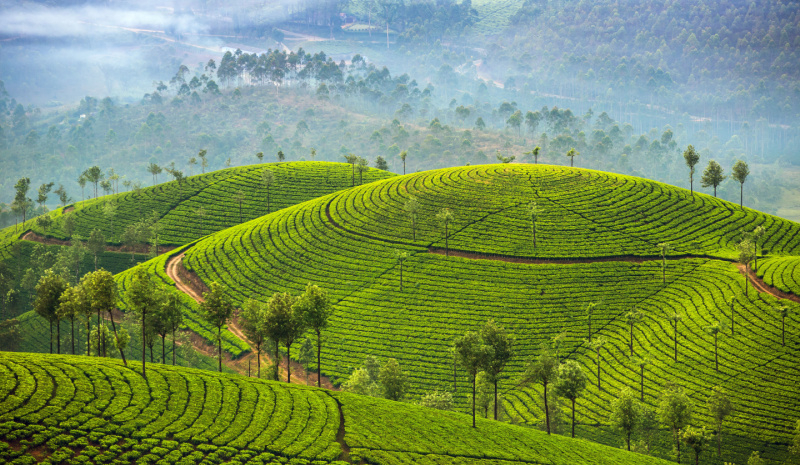 Drive inland from Kochi and you'll weave through tea plantations, spice gardens and coffee and cardamom farms. Your final destination? Munnar, a former British hill station in the Western Ghats, a three and a half hour drive from the city. Cool and refreshing, the mountain air is a welcome respite. Visit an estate to discover how tea is made, meander through a rose garden or watch classical Indian dance and mime in Thekkady. Kathakali originated in Kerala in the 16th century. Actors dressed in costumes, handmade masks or face paint tell sagas from Hindu mythology through elaborate movements and facial expressions.
Discover Alappuzha's backwaters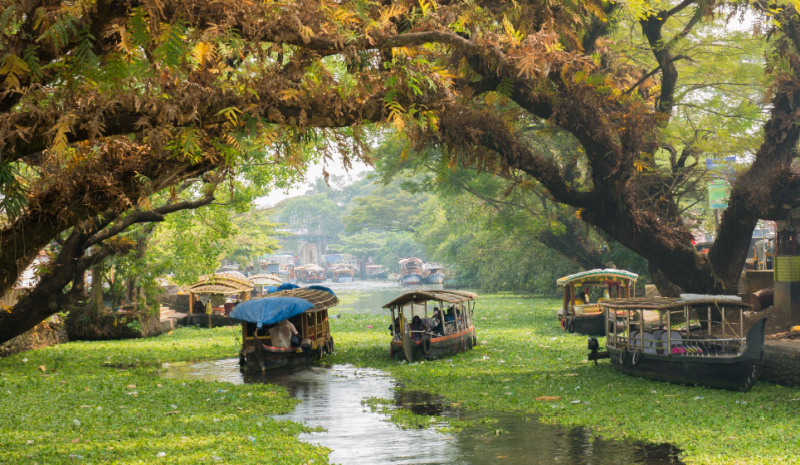 Just an hour and 15 minutes' drive south of Kochi lies the stunning coastal city of Alappuzha. Once used to transport rice, the city's sleek, teak-wood narrowboats have become a symbol of Alappuzha's charming waterways, ferrying travellers back and forth all day long. Spending a night aboard a thatched-roof houseboat is a truly memorable experience, drifting off to sleep to nature's soothing sounds. Adventurous families can also explore by kayak or dugout canoe. As you weave through forests, spice plantations and paddy fields, you'll get a true sense of local life, waving to farmers and kids splashing about as you pass by.
Hike in Periyar National Park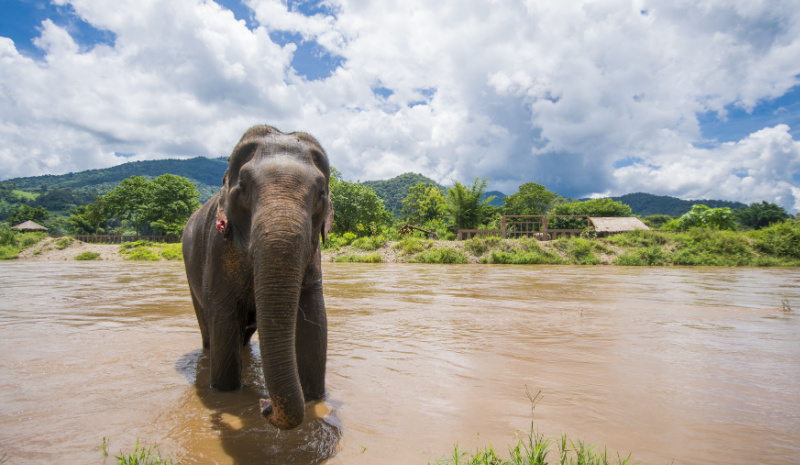 Take a scenic three-hour, 40-minute drive inland from Alappuzha to discover a wildlife haven at Periyar National Park. Though rich in birdlife and home to giant squirrels, Nilgiri langur primates, sloth bears and gaur (Indian bison), most visitors are here to admire the elephants and tigers. Hike through forest or drift across a lake on a bamboo raft, keeping watch for sambar deer drinking at the water's edge. As night falls, you can enjoy a vibrant performance of traditional dances brought to life by Mannan and Paliyan tribes, who live on the edge of the sanctuary.
Sun, sea and surf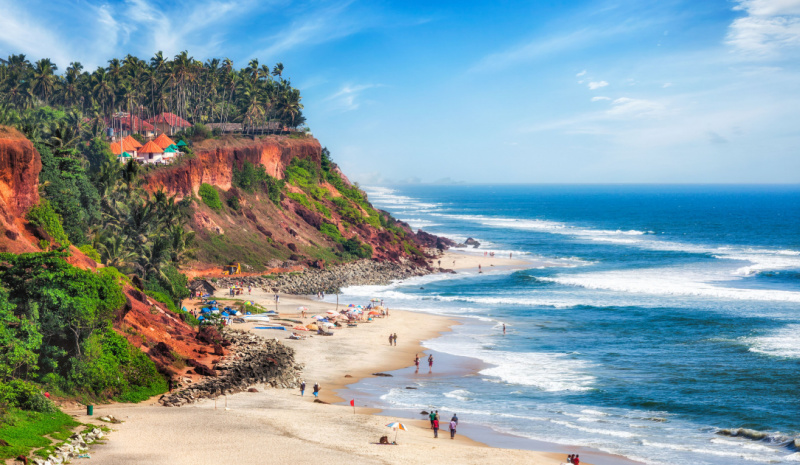 Turmeric-coloured sands as soft as ground cinnamon streak through the striking Malabar coast, creating an array of spectacular beaches in the southwest. Marari and Mararikulam are well placed between Kochi and Alappuzha, while Varkala is home to a popular surf scene and pretty clifftop village. Just a 30-minute drive from Thiruvananthapuram International Airport, Kovalam is also easily accessible. Perched on a hill, a red and white striped lighthouse overlooks the beach, lined with cafes and surf schools – the swell here is best for intermediate surfers. Poovar beach, further south, feels more tranquil.
Now you've read our family guide to Kerala, start planning your trip by browsing our beautiful collection of resorts and heritage hotels across the state.
Featured images © Family guide to Kerala Saurav022/Shutterstock; Kochi fishing nets Saiko3p/Shutterstock; Munnar tea Mazur Travel/Shutterstock; Alappuzha boats Christian Ouellet/Shutterstock; Periyar National Park Edgar Querol/Shutterstock; Varkala Beach Dmitry Rukhlenko/Shutterstock