How long have you been operating walks in Srinagar? 
We spent a long time field-testing our walks in 2010 and early 2011 before we began offering them professionally at the end of 2011. By early 2012, we were speaking with friends in the tourism industry and started receiving a steady flow of guests.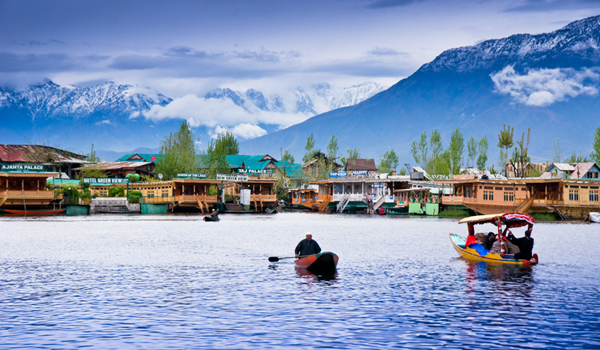 Dal Lake, Kashmir © Tappasan Phurismarit – Shutterstock.com
What sort of walking tours in Kashmir can clients sign up to – are they just around Srinagar or are they all over the region?
Most of our walks or craft itineraries are within the city of Srinagar, though we have taken guests in special situations to villages out of town, such as Kanihama (a hamlet dedicated tokanishawl weaving) on the way to Gulmarg.
Our walks are all set in the old town of Srinagar, and the craft tour ventures into some of the relatively newer parts of town. Currently there are four walks to choose from. The craft tours can be custom designed on the basis of interest in the different material and textile crafts.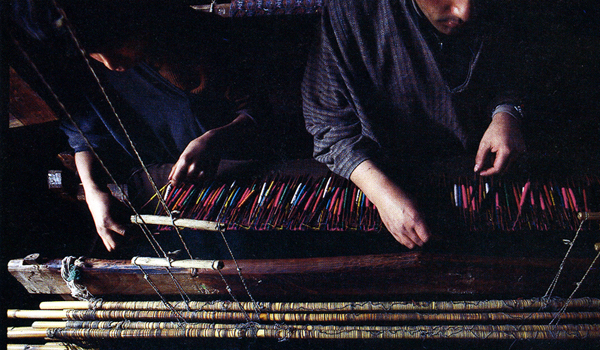 Kanihama Shawl Weaving © Knoxville Museum of Art – Flickr.com
How long do walking tours typically take?
Ideally we like to wrap up the walk (from the time we reach the starting point and start walking to end of walking) in about two hours. There is another half an hour spent before and after in picking up the guests and dropping them off to a convenient location.
Where would a typical walk in Srinagar take you? What would you see?
We like the walks to be an introduction & orientation to both the historical as well as the popular cultures of Srinagar. The architecture and plan of the Old City (around the river, Jhelum) becomes the reference point to narrate stories about past empires, philosophical traditions and geo-politics. The bazaars and the crafts are the source of stories about the development of Kashmir's rich mutli-cultural aesthetic. The way the raw materials would connect neighbouring regions and how influences from Central Asia, the Indian sub-continent and even Europe shaped the nature and form of its various craft traditions.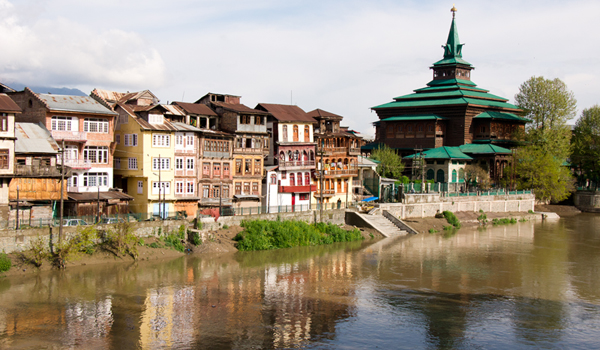 Shah Hamadan Mosque, Srinagar © Tappasan Phurisamrit – Shutterstock.com
What makes a walking tour so different from other types of tours?
The old town of Srinagar, much like other historical market towns of the Indian sub-continent, is best explored on foot. The architecture is on a human scale and the cities and towns have been designed with that in mind. We merely try and provide moments to engage with the space, speak to the locals, hear their stories, taste their tea. Apart from the tales that are provided the walks help the guests connect history, design, architecture with practices around trade, religion and social customs.
How have you seen Kashmir open up over the last couple of years? Is there anything that tourists should be wary of?
As tourism is making a heady come back quite a few enterprises enthused with making a quick fortune are sacrificing ethics. There is nothing to be wary of as long as guests speak to experienced agents and tour operators, and explore itineraries well in advance. There remains a chance of disruption of plans due to some political issues, but guests must check with organizers ahead of their trip to avoid inconvenience.
We also suggest guests should be sensitive to the fact that Kashmir is largely an Islamic area and that they should dress accordingly – especially while visiting parts of the Old City, shrines or people's homes. On the lake or the touristy spots things are more informal.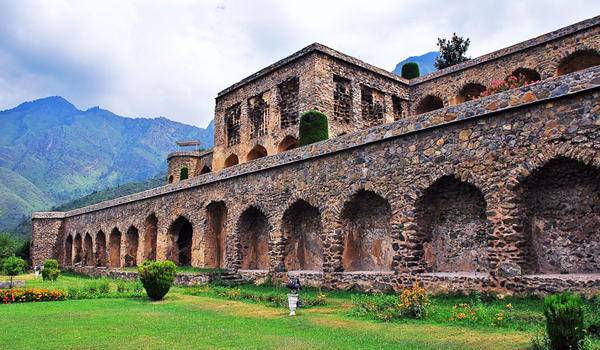 Pari Mahal, Srinagar © Shahbasharat – Flickr.com
What are the essential things for any visitor to Kashmir to see?
Among the gardens – the black marble pavilion in Shalimar Bagh, Pari Mahal over looking the Dal, Daksum a small hamlet on the way up to the Sinthan pass which crossed over to the Kishtwar valley is a quiet and clean getaway specially for fishing.
For those staying in Kashmir for a little longer the Gurez Valley is wonderful and slowly opening up, so it is still not very busy and the drive up there is lovely as you go past the Wular Lake and cross the Razdhan Pass.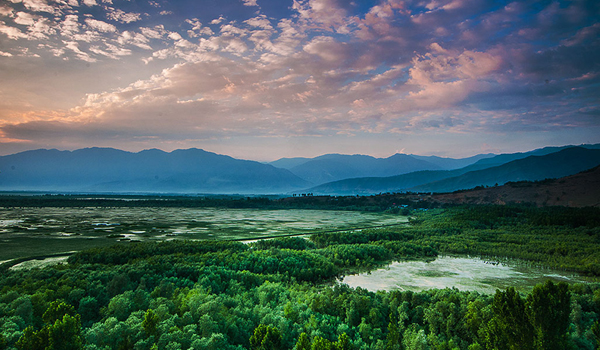 Wular Lake © Eye Ess Oh – Flickr.com
And what are the real secrets that visitors tend not to know about?
The ruins of the Martand Sun temple, near Anantnag; the Ziyarat Aishmaqam en route to Pahalgam, there is a short trek up from Harwan where one can still see the plinth of the erstwhile Buddhistviharas; a trek to the Gangbal glacier and lakes from Kangan/Naranag (two days); Badshahi Baag – the Mughal garden of Dara Shikoh built by the Jhelum in Bijbehara.
There are other hidden gems such homes of famous traders or small shrines within Srinagar city, which guests interested in architecture or design usually enjoy.
I personally recommend the Mahattas Camera shop on the Bund for photography enthusiasts – it's a living museum of photography in India.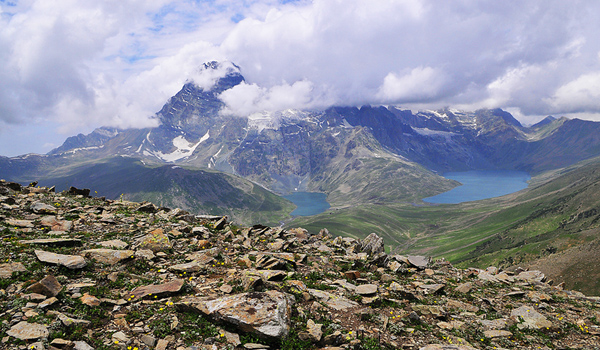 Gangbal, Kashmir © Cajie – Flickr.com
There have been some wonderful new hotels opening up in Kashmir which are your particular favourites?
Dar-es-salam on the Nigeen Lake and Almond Villa on the Boulevard
What are some typical Kashmiri dishes to eat? Where would you recommend trying them?
Most hotels serve a decentwaazwan(a multi-course Kashmiri feast) these days, but it still worth dropping by at Ahdoos, because apart for the ambience the chicken patties and kahvaare a local favorite, and worth following up with a walk on the Bund. One should sample some of the items from their bakery as well – a range of macaroons, almond and walnut cakes and biscuits are available. In winter there is a rare dish calledharissa(slow-cooked mutton) that is worth trying and available in parts of downtown very early in the morning. We also try to give the guests a taste of the everyday home-cooked meals (as part of our craft visits) at the homes of our master craftsmen. These are a variety of meat and cottage cheese dishes cooked with local greens known ashaak  (spicy greens) orkaram(spinach)
If travelers to Kashmir should be buying something typical of the region to take home, that isn't too touristy, what should they purchase?
Pashmina – there is a range of contemporary work along with the classical stuff, which can be explored.
Walnut wood / papier mache – Suffering Moses is a visual treat
Beaten / engraved copperware – as part of our walks in Sheh-e-khas we visit the street where copperware is produced.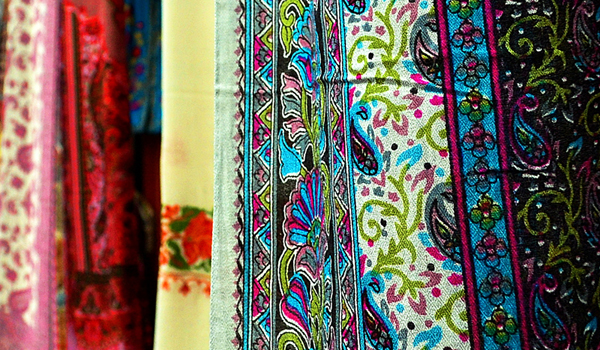 Pashminas in Kashmir © Soumyadeep Paul – Flickr.com
Abeer and Renuka can be contacted on:
Abeer Gupta – abeer.gupta@gmail.com
Renuka Savasere – renukasavasere@gmail.com
If you would like to read further about the beautiful region of Kashmir you can find information on our itinerary; Kashmir, Heaven on Earth.
Save
Save