There's never been a better time to plan a trip to the Subcontinent — especially if you're looking to indulge in some pampering. We've handpicked 50 of the most essential Indian wellness experiences to help you find health, tranquillity and rejuvenation. From yoga retreats and Ayurveda therapies to farm-fresh cooking and lodges in the jungle, these one-of-a-kind experiences are your ticket to long-lasting, blissful relaxation.
1. Experience Ashram Life at Shreyas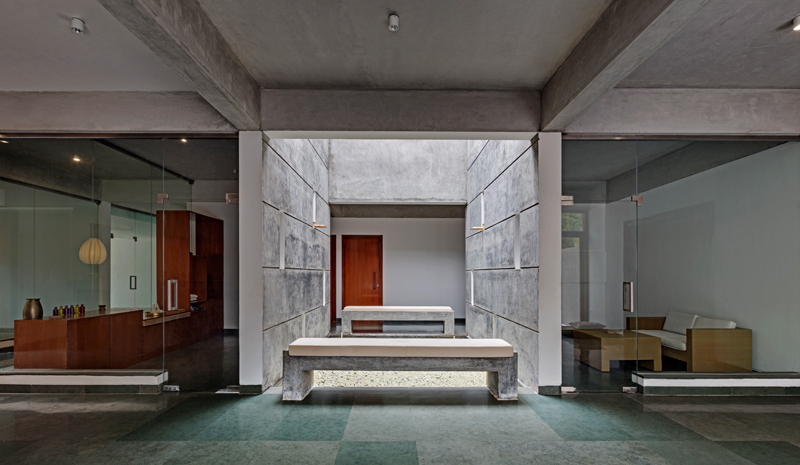 © Shreyas
Billed as "a boutique resort and luxury ashram," Shreyas, located outside of Bengaluru, is the perfect Indian wellness retreat for first-timers. In between treatments in its spectacular new Anaha Spa, you can also lend a hand in the retreat's organic gardens.
2. Stay in a Private Pool Villa at Ananda in the Himalayas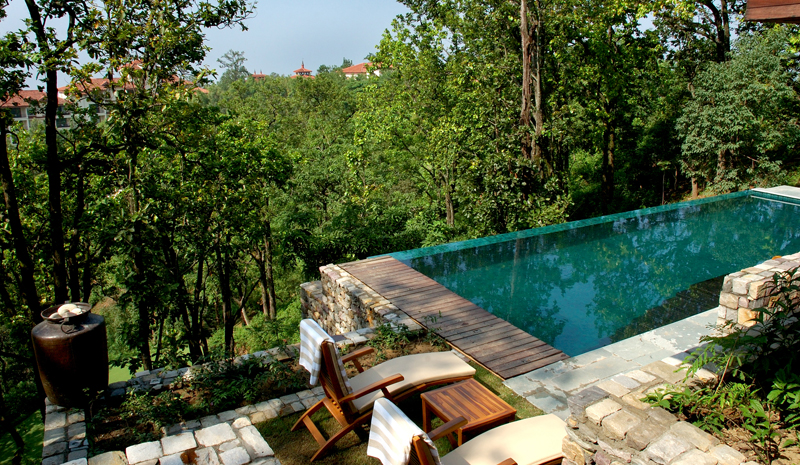 © Ananda in the Himalayas
Thanks in part to its gorgeous location overlooking Rishikesh and the Ganges, Ananda in the Himalayas is among the most in-demand Ayurveda retreats in India. No matter which of its nine wellness programmes you choose, make your stay especially memorable by booking one of the resort's private pool villas.
3. Study Transcendental Meditation at Neeleshwar Hermitage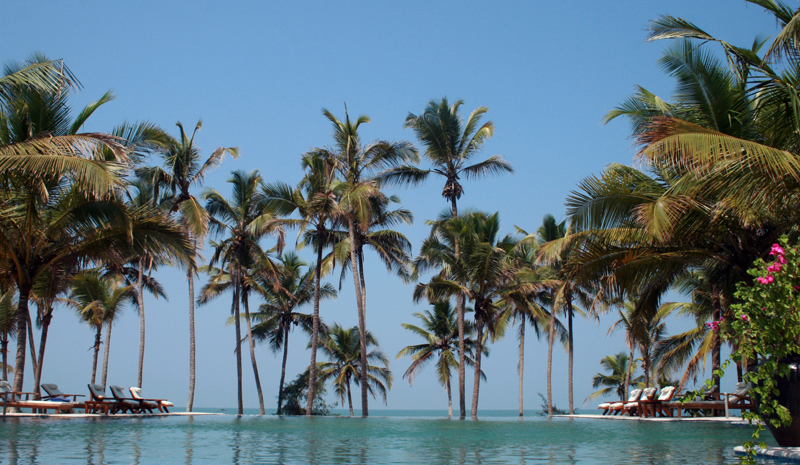 © Neeleshwar Hermitage
Kerala's Neeleshwar Hermitage is, with its beachside location and palm-roofed villas, a phenomenally popular Ayurveda retreat. Enjoy extra peace and relaxation during your stay with the venue's four-day Transcendental Meditation course, taught by cultural director Alistair Shearer. 
4. Attend the Incredible Kumbh Mela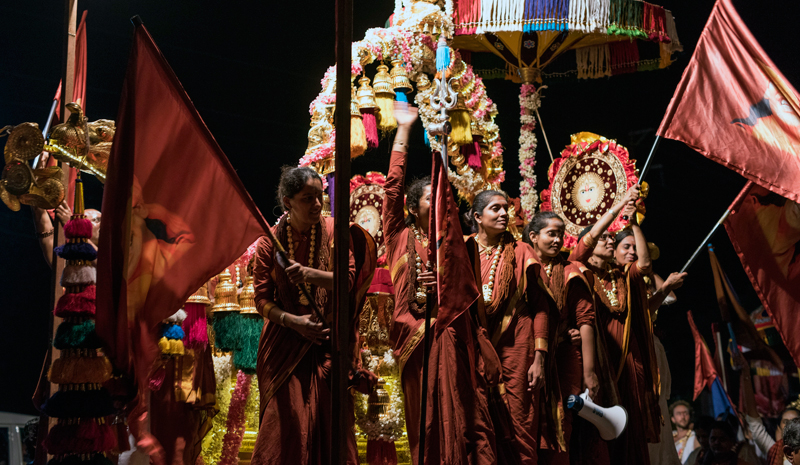 © www.davidbaxendale.com/Flickr
The extraordinary Kumbh Mela pilgrimage is one of the largest religious festivals on Earth. Held varyingly at four rotating locations, each of which hosts the event once every 12 years, Kumbh Mela sees hundreds of millions of devotees gather to bathe in sacred river waters.
5. Try Carnoustie's Anti-Ageing Programme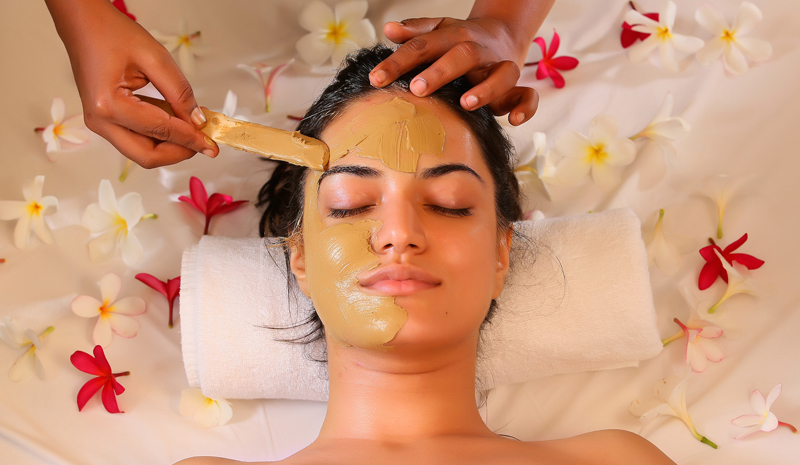 © Carnoustie Ayurveda & Wellness Resort
Worried about how stress is manifesting in your life — both inside and out? Venture to Carnoustie Ayurveda & Wellness Resort, where the Anti-Ageing Programme is one of the most in-demand at the retreat. Discuss your aims with Carnoustie's expert staff, and enjoy a totally bespoke treatment plan in accordance with your personal goals.
6. Explore the Rainforest at the Vivanta by Taj, Madikeri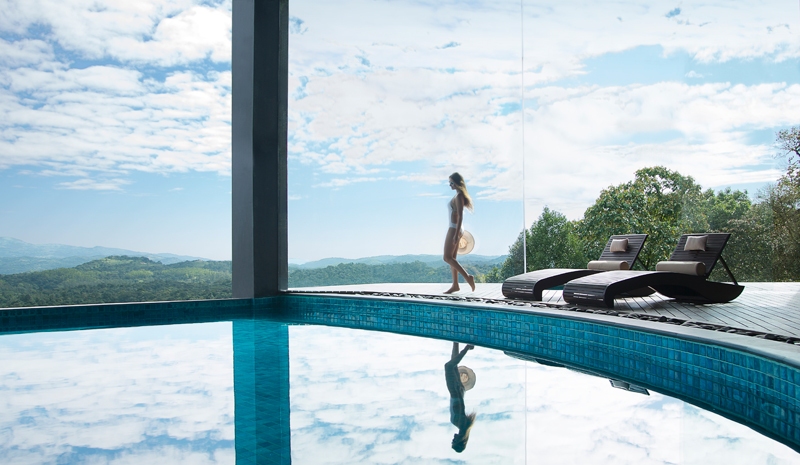 © Taj Hotels
Located in the mist-shrouded hills of the Western Ghats, the Vivanta by Taj, Madikeri is surrounded by captivating scenery. Get to know the region better during the hotel's Backpacker Diaries outing, co-hosted by Muddy Boots. Go off-terrain biking, learn survival skills, and otherwise immerse yourself in the lush rainforest.
7. Visit Spiritual Rishikesh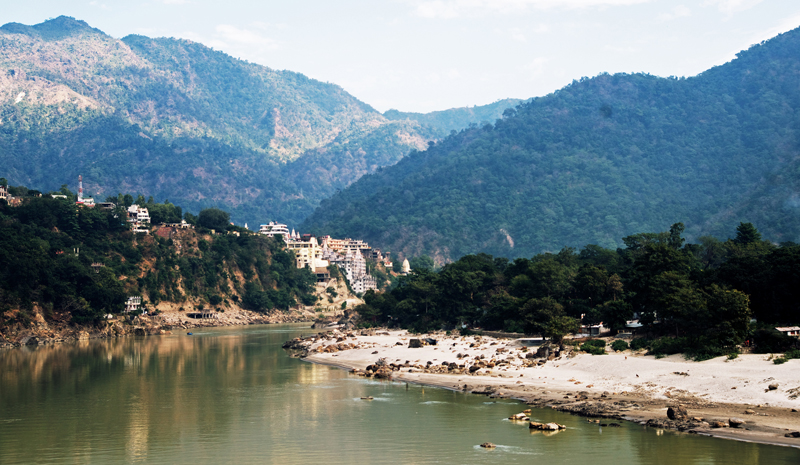 Famous for hosting the Beatles while they learned Transcendental Meditation in the 1960s, the northern city of Rishikesh still has a reputation for being one of India's most spiritual places. Enjoy a quintessential Rishikesh experience: sit along the banks of the Ganges River and take in the fire-lit Aarti ceremony at sunrise and sunset.
8. Practice Ayurveda at Kalari Kovilakom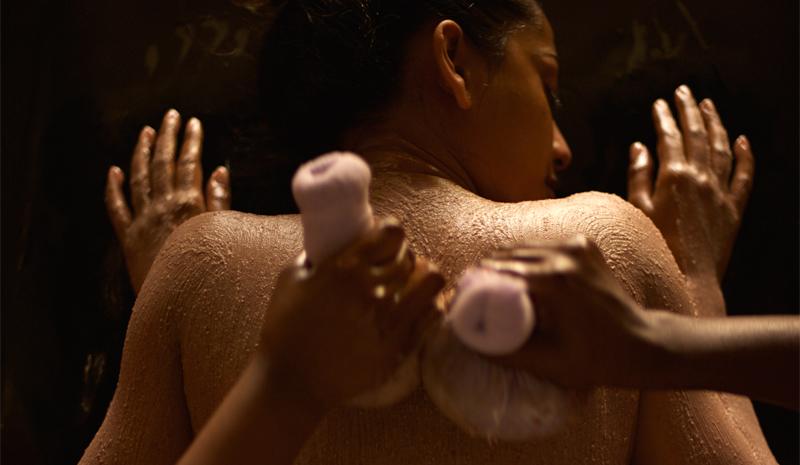 © Kalari Kovilakom
For those seeking a traditional and intensive experience of Ayurveda, venture to Kalari Kovilakom in northern Kerala. Housed in a 200-year-old palace, the intimate retreat aims to create a warm, disciplined, and healing environment.
9. Meet a Famous Ayurvedic Doctor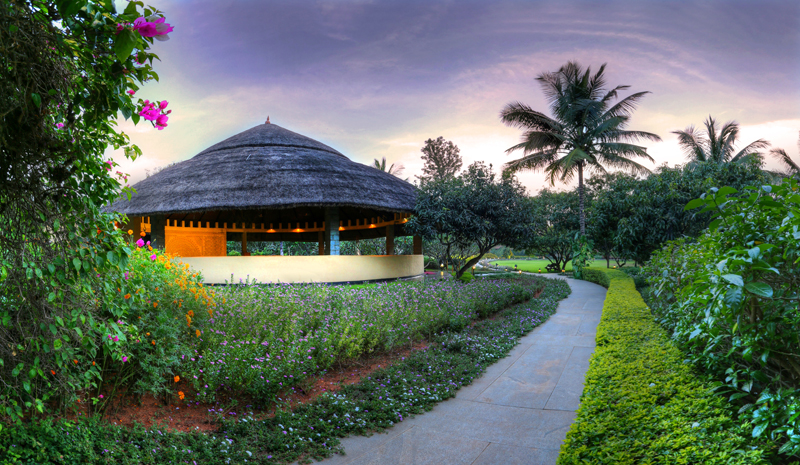 © Soukya
Soukya isn't just renowned for its Ayurveda and Panchakarma offerings. It's also host to Dr. Isaac Mathai, among the world's most esteemed Ayurvedic doctors. Having treated celebrities, members of the Royal Family, and other VIPs, he has decades of experience in holistic medicine.
10. Relax in the Kaya Kalp Royal Spa at the ITC Grand Bharat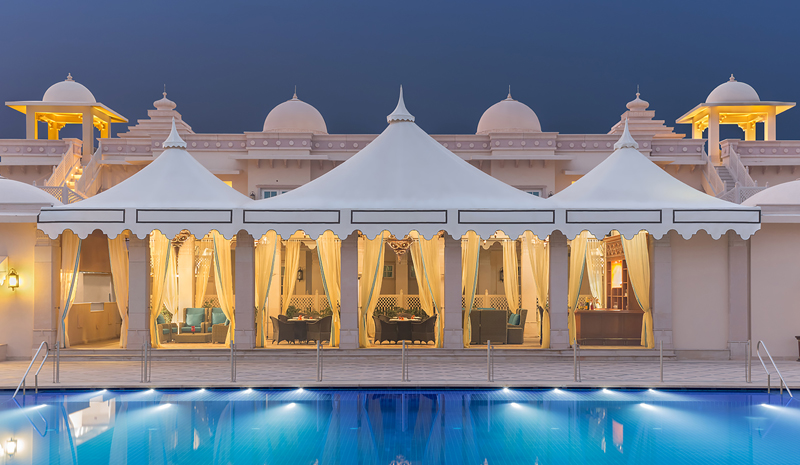 © ITC Hotels
Though it's located just an hour outside of Delhi, the ITC Grand Bharat feels like it's a world away from the frenetic city. Adding to the sprawling hotel's oasis vibe is its flagship Kaya Kalp Royal Spa. Encompassing nine private rooms, a hammam, and a wide-ranging list of treatments, this is pampering at its finest.
11. Enjoy Some Pampering in the Niraamaya Spa
© Niraamaya Retreats
Planning to travel to the Subcontinent with your partner or friends? Make Niraamaya Retreats in Kovalam, Kerala your destination. Not only is the retreat's Niraamaya Spa perfect for pampering, but it's a flexible option, too. Guests can opt in to whichever treatments they prefer, so everyone has the chance to enjoy a bespoke experience. 
12. Experience the Spa at Raas Devigarh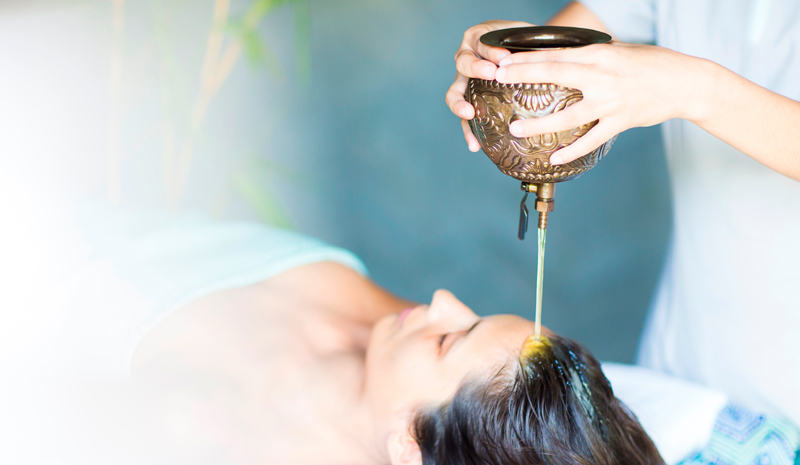 © Raas Devigarh
Raas Devigarh isn't just one of India's most atmospheric retreats — it occupies an 18th century palace in the Aravalli Hills — but a partnership with British spa brand Ila means it's now home to one of the country's most acclaimed spas, too. Think: products made using naturally harvested Indian ingredients, a Himalayan salt cave, and Devi Blessings, a programme of nine two-hour treatments that's unique to the hotel.
13. Travel During the Monsoon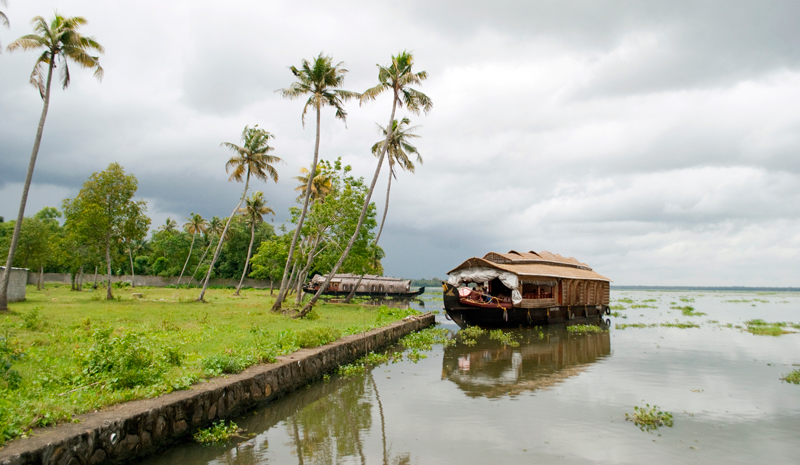 The annual arrival of the monsoon in India is one of the Subcontinent's most impressive natural displays. Though some might be daunted by the heavy rainfall, this evocative time of year is considered among the best times to undergo Ayurvedic healing. The humidity and tranquillity are conducive to traditional treatments…and the low-season prices are appealing, too.
14. Discover the Very First Ayurvedic Resort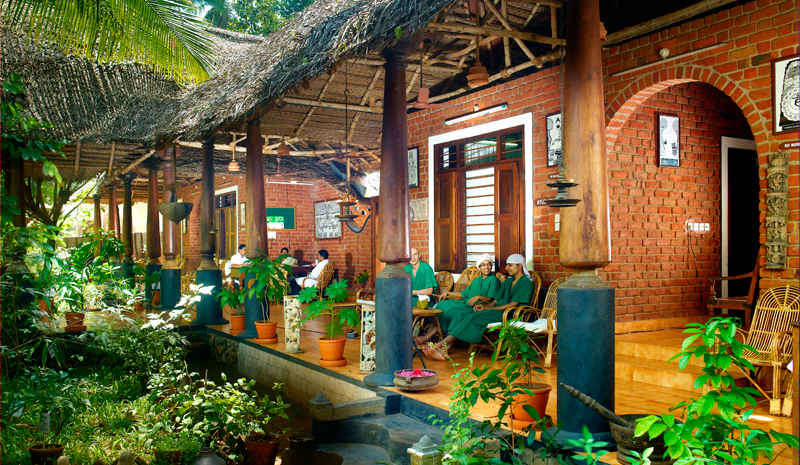 © Somatheeram
Established in 1985, Somatheeram has the distinction of being the world's first Ayurvedic resort (though Ayurveda has been practiced for thousands of years, it wasn't previously offered as a high-end experience targeted at international visitors). Today, Somatheeram's staff of 20 Ayurvedic doctors and 90 Ayurvedic therapists mean you'll be well looked after indeed. 
15. Sign Up for a Yoga Training Course in Rishikesh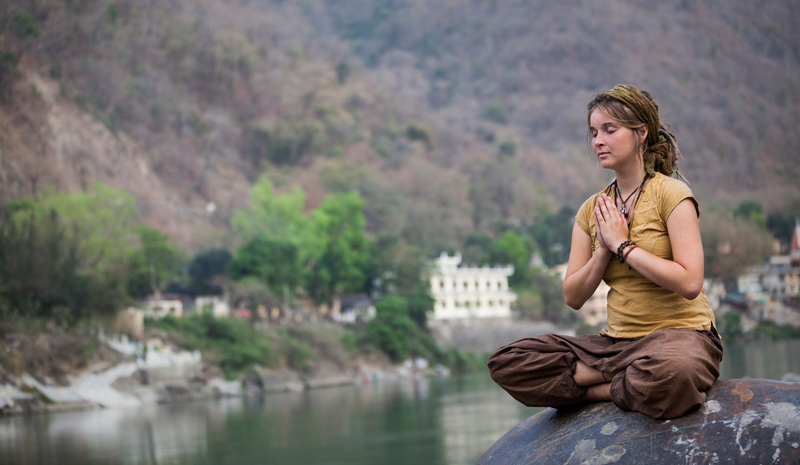 Known as 'the yoga capital of the world,' Rishikesh is the ideal destination for prospective yoga teachers. There are dozens of different schools and programmes here, which provide internally recognised certifications (and the once-in-a-lifetime chance to immerse yourself in the beautiful Himalayan scenery).
16. White Water Rafting on the Ganges
Looking for a Rishikesh experience that's a little bit more fast-paced? Enjoy an excellent workout — and a thrilling day out — with a white-water rafting excursion on the Ganges River. The Rishikesh section of the river is known for its frothing rapids, so keep your paddle at the ready. 
17. Detox at Amanbagh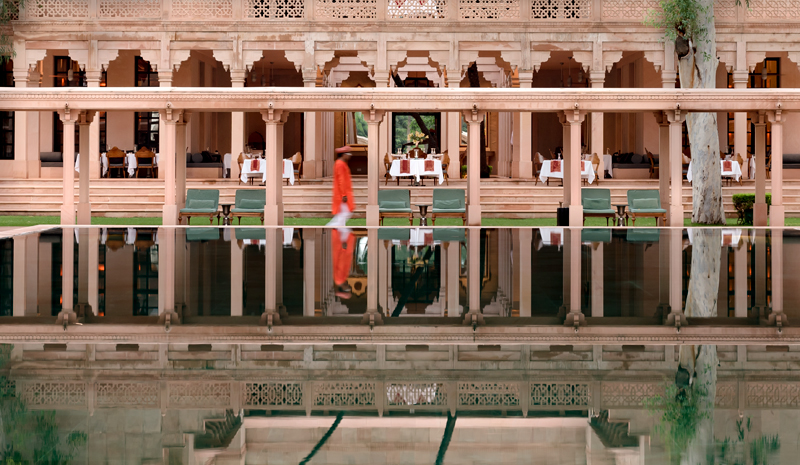 © Aman Resorts
If you're after an Indian wellness experience that's both physical and spiritual, head to Amanbagh. Located in a beautifully remote part of Rajasthan, it offers a range of personalised detox experiences that aim to restore the balance in your life. It's also among the finest garden retreats in India; be sure to linger outdoors and find tranquillity in the scenery.
18. See the Buddhist Sights at Dharamsala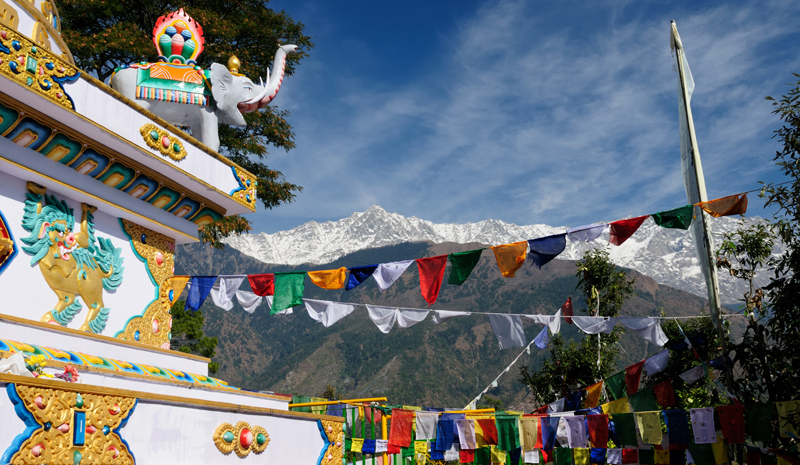 Located in the Himalayan foothills of Himachal Pradesh, and surrounded by fragrant cedar forests, Dharamsala is best known as the home of the Dalai Lama. Visit the Tsuglagkhang temple complex, and pay tribute to the region's rich Buddhist heritage.
19. Stay at the Ultimate Travelling Camp in Ladakh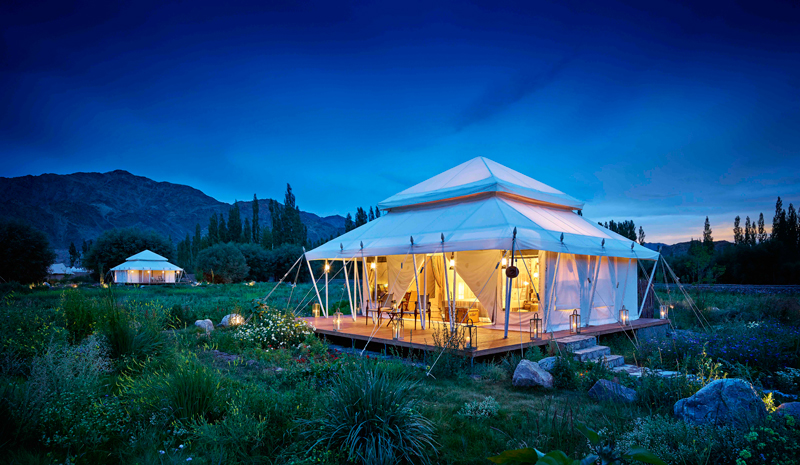 © The Ultimate Travelling Camp
By day, explore the mountains and monasteries that make Ladakh famous. By night, stay in the beautifully luxurious tented accommodation of the Ultimate Travelling Camp, a fully mobile hotel that provides guests with access to lavish amenities, air-conditioning, heated showers, and other creature comforts.
 20. Sunbathe on the Om Beach in Gokarna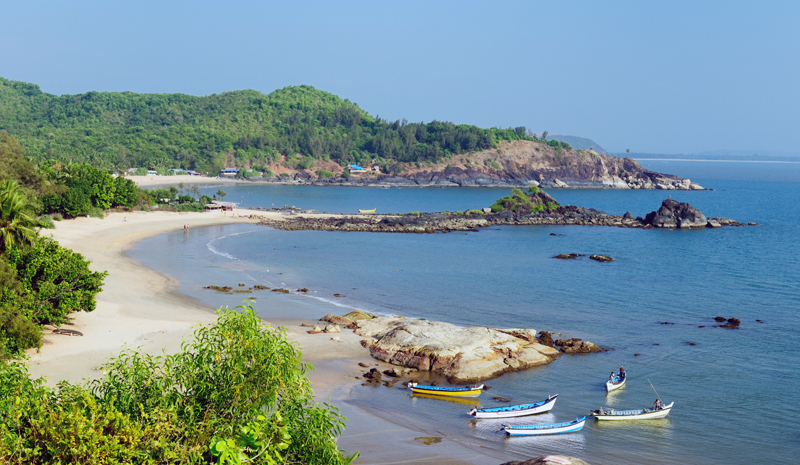 Gokarna, poised on the edge of the Arabian Sea, is one of India's top destinations for sun-seekers. If you're only going to visit one of the area's beaches, make it Om Beach. Named because its shape resembles the sacred Om symbol, it's also the perfect spot for sunbathing
21. Try Naturopathy at the Nimba Nature Cure Village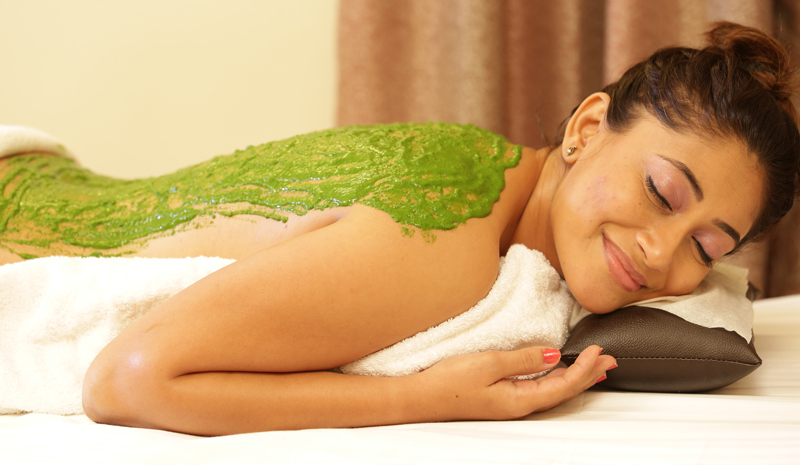 © Nimba Nature Cure Village
One of India's leading naturopathy centers, Gujarat's Nimba Nature Cure Village helps visitors cultivate wellness with a range of alternative treatments, including everything from ion detoxes and mud therapy to massages and naturopathy diets. The center's additional range of Ayurvedic, yoga, and physiotherapy offerings will ensure you leave feeling perfectly refreshed.
22. Visit the Spa by Clarins at the W Goa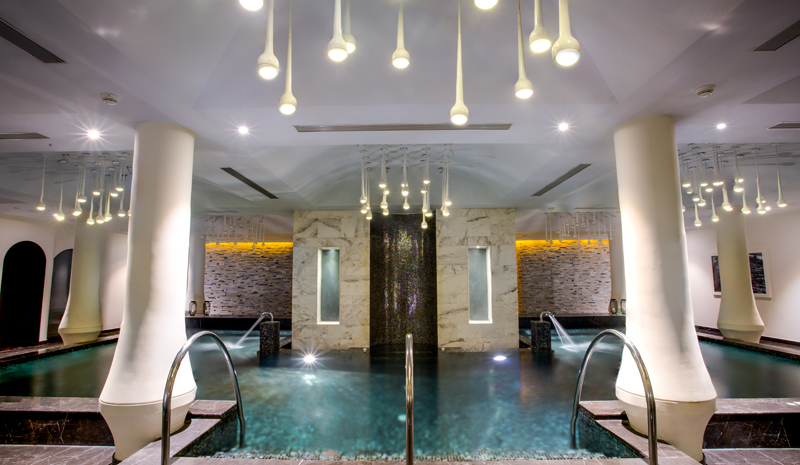 © W Goa
The W Goa has only been open for a few months, but its Spa by Clarins (the spa brand's first location in the Subcontinent) is already attracting attention. It's quite the splashy debut: spread across 14,000 square feet and comprising eight treatment rooms, couples' rooms, a heated vitality pool and a full range of Clarins products, it's the definition of destination-worthy.
23. Learn Ashtanga Yoga in Mysore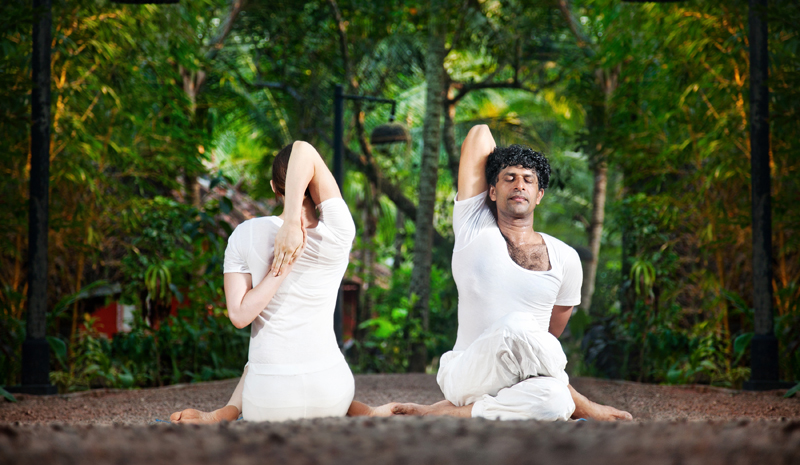 Though yoga has ancient origins, Ashtanga yoga — which involves a sequential series of poses, synchronised with the breath — was developed by K. Pattabhi Jois in Mysore as recently as the 20th century. Head to this South Indian city, then, for an Ashtanga experience that's straight from the source.
24. Stay at Vana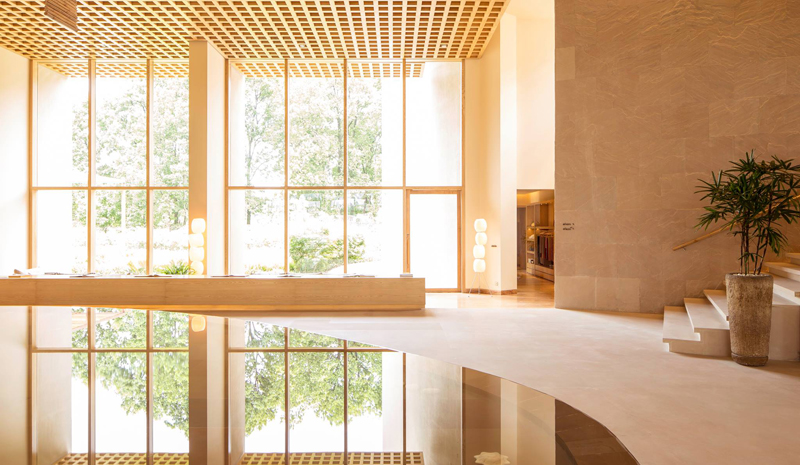 © Vana Retreats
Located in the lofty climes of Himalayan Dehradun, Vana addresses Indian wellness from four different perspectives: the physical, mental, emotional, and spiritual. Retreats are individually tailored to each guest, and incorporate a vast range of treatments, well-being activities, and consultations. Visitors can also supplement their stays by going on hikes through the region's lush forests, attending seasonal retreats, and observing religious ceremonies in nearby Rishikesh. 
25. Take a Spiritual Trek to the Source of the Ganges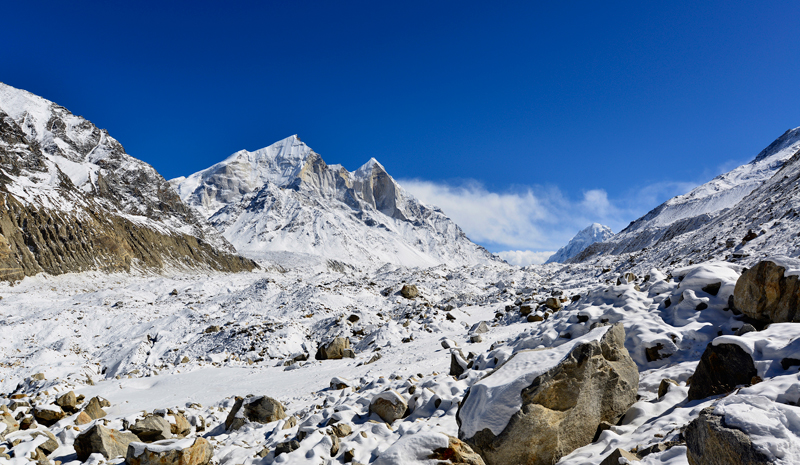 The Ganges River, revered by Hindus as a goddess, is sacred to millions of Indians. If you're up for a challenging and epic trek, follow the devoted up to the Ganges's very source — the Gangotri Glacier — in the Himalayas.
26. Visit the Varanasi Ghats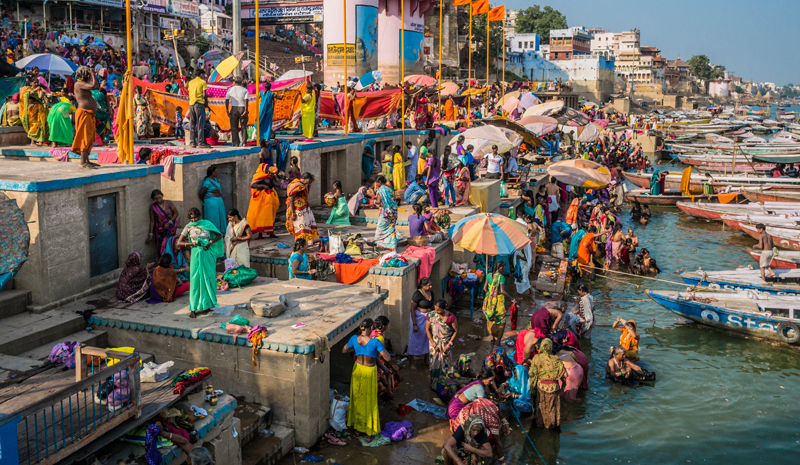 Speaking of the Ganges: few places commune with the sacred river in quite so spectacular a fashion as Varanasi, one of India's oldest and most spiritual cities. The river is the city's heart, and its teeming ghats — the steps that lead down to the river's edge — are the site of religious rituals and stunning spectacles.
27. Follow in the Buddha's Footsteps at Bodh Gaya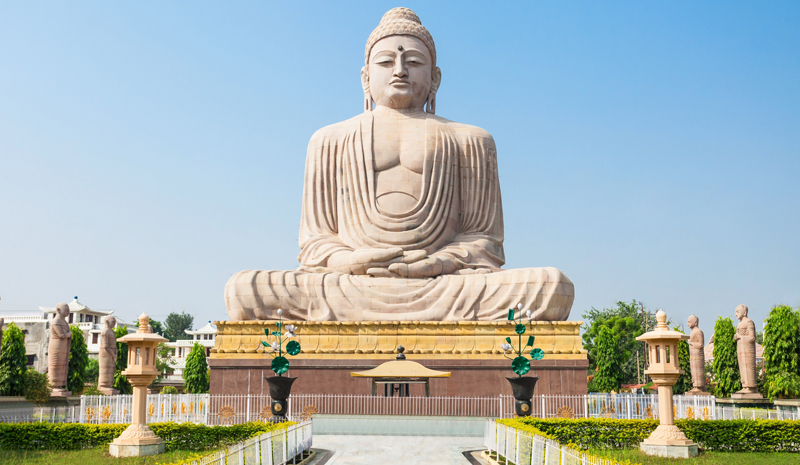 Part of the Mahabodhi Temple Complex in Bihar, Bodh Gaya is said to be where the Gautama Buddha gained enlightenment under a bodhi tree several thousand years ago. Follow the pilgrims and pay your respects — and see if you gain some enlightenment of your own.
28. Explore the Temple Towns of Tamil Nadu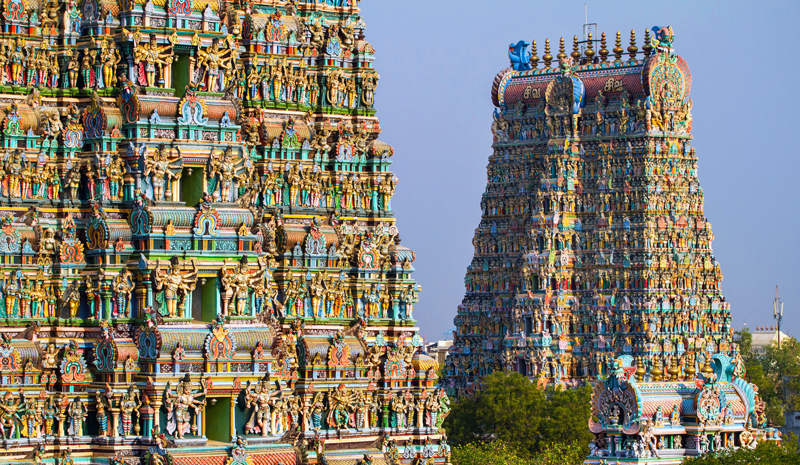 Tamil Nadu is renowned for its many spectacular temple complexes: think colorful edifices, elaborate carvings, and soaring towers. From the stunningly beautiful Meenakshi Amman Temple in Madurai to the UNESCO World Heritage-classed Brihadeeswarar Temple in Thanjavur, these sites are worth a special pilgrimage.
29. Enjoy Views of the Himalayas from Wildflower Hall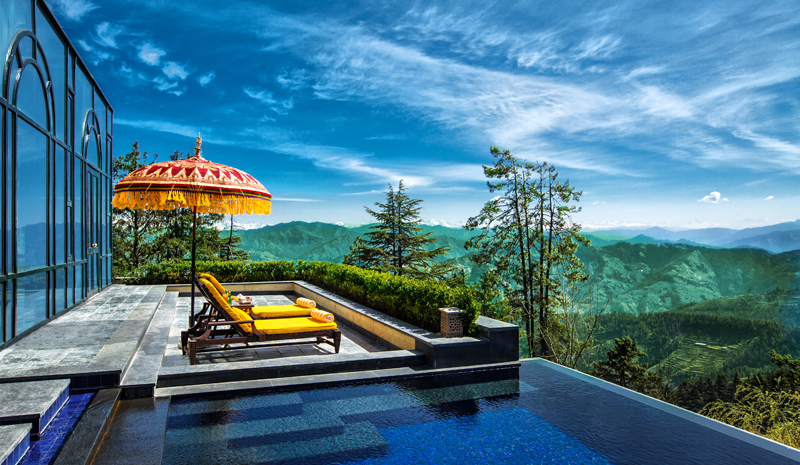 © Oberoi Hotels and Resorts
Once the summertime capital of British India, Shimla in Himachal Pradesh is still a charming hill resort. Book a stay at Wildflower Hall, where you can luxuriate in the Oberoi Spa, admire Himalayan views from the outdoor Jacuzzi, and go on refreshing nature walks, rafting trips, cycling excursions, and other adventures.
30. Stay at the New Oberoi Sukhvilas Resort & Spa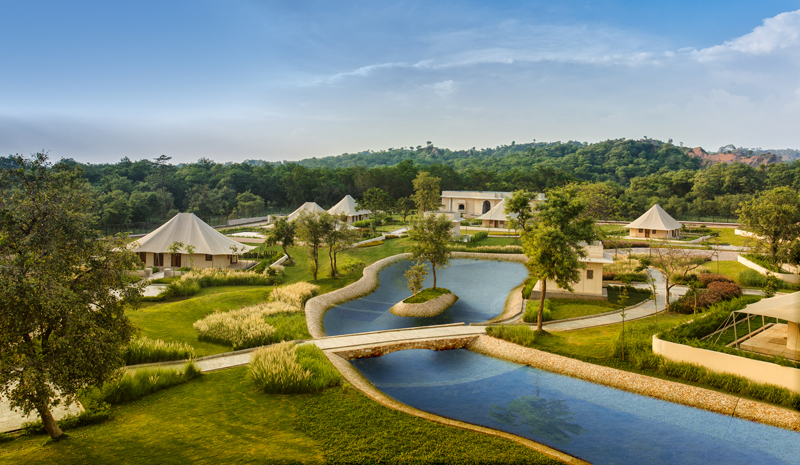 © Oberoi Hotels and Resorts
Opening in March 2017, the Oberoi Sukhvilas brings the luxury hotel brand to Chandigarh. Surrounded by 8,000 acres of protected forest, the hotel offers guests an entry point into this wildly beautiful part of the country. But its Oberoi Spa is perhaps the biggest draw. Occupying a 12,000 square-foot space, its treatments are drawn from a range of wellness traditions — and its facilities include everything from a Roman tepidarium to a steam and infrared sauna.
31. Embark on a Bicycle Tour of Kerala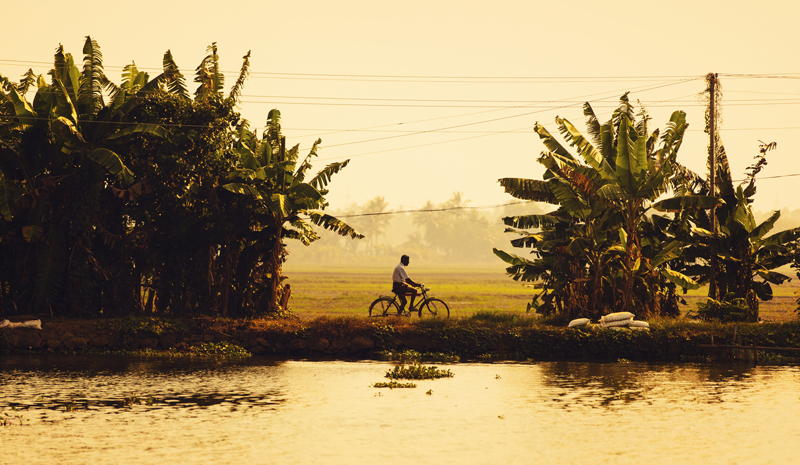 How best to discover 'God's own country?' While houseboat tours of the backwaters are one popular way of exploring Kerala's most beautiful corners, nothing offers the flexibility — and the chance to break a healthy sweat — like a bicycle excursion around the region. A number of operators run tours (even multi-day adventures) around Kerala.
32. Soak up Nature at Wayanad Wild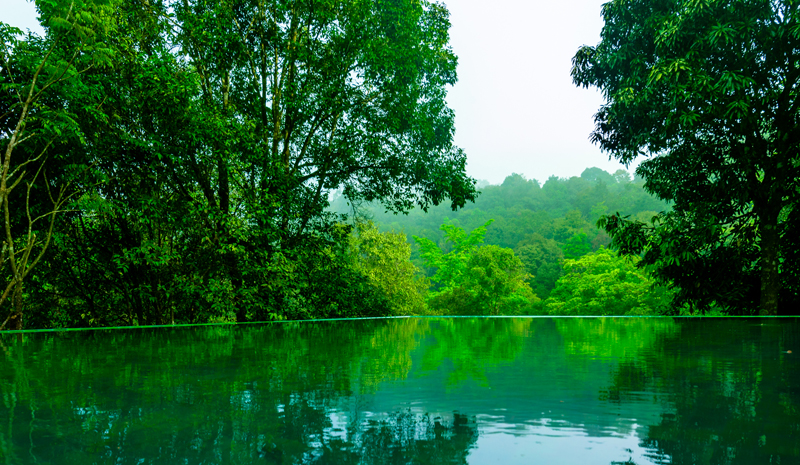 © CGH Earth
CGH Earth is a foremost name in Indian wellness and eco-tourism. One of the newest venues in its portfolio of retreats is Wayanad Wild: a family-friendly retreat in north-eastern Kerala that's perfectly suited to outdoorsy types. Go for a thrilling ride on its zip line, pick up a paddle on a bamboo rafting excursion, go on a tea trail cycling trip.
33. Consult an Astrologer at the Umaid Bhawan Palace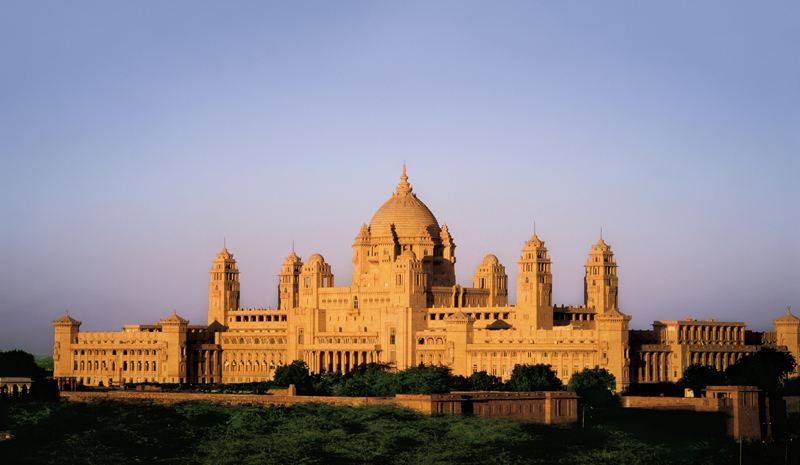 © Taj Hotels
Named 'The Best Hotel in the World' at the 2016 TripAdvisor Travellers' Choice Awards, the Umaid Bhawan Palace in Jodhpur captures the best of regal, opulent India. The luxury hotel also hosts a range of memorable guest experiences, including sessions with an in-house palmist and astrologer. Sit back as he consults your palms — and predicts what your future has in store.
34. Sign Up for a Cookery Vacation at Philipkutty's Farm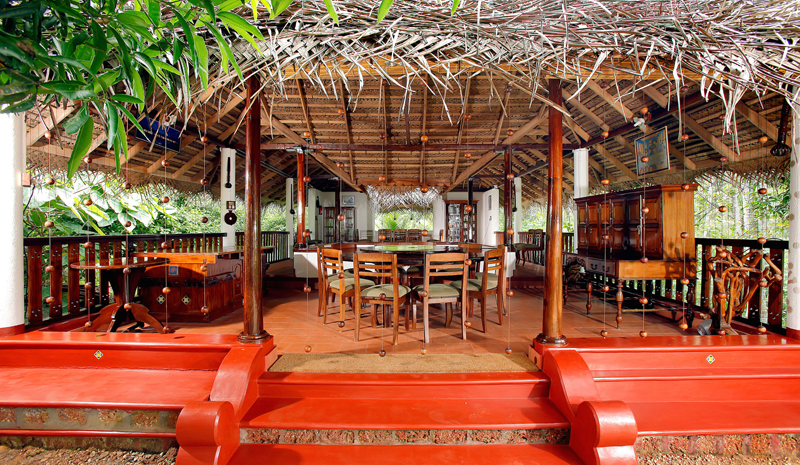 © Philipkutty's Farm
One of the highlights of Philipkutty's Farm — an evocative farmhouse retreat in Kerala — is its food: cooked primarily by the owner's mother-in-law, the generous spreads are enjoyed communally and include delectable local dishes. Philipkutty's even offers a special Cookery Vacation, which includes classes, a recipe booklet, access to enjoy farm-fresh ingredients, and an introduction to Keralan cooking, from fish molee to string hoppers.
35. Visit Utopian Auroville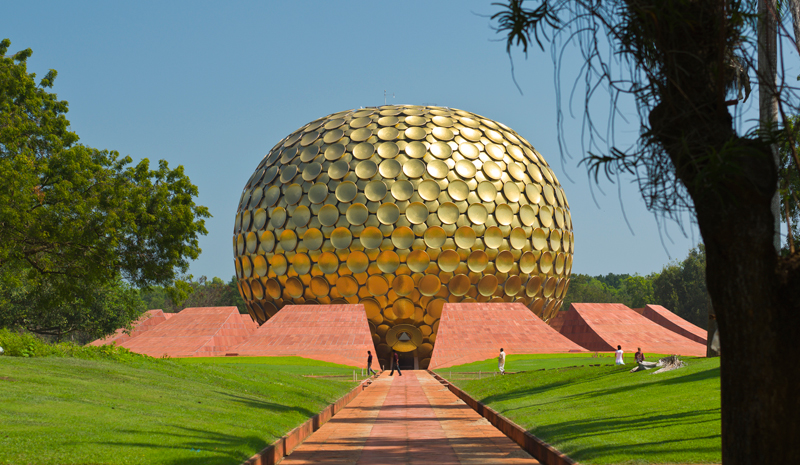 Auroville isn't like anywhere else on Earth. This utopian, South Indian community (also known as the City of Dawn) is designed to foster love and unity among people from all backgrounds and creeds. Visitors can enjoy the positive energy of this one-of-a-kind settlement — and see sights like the Matrimandir, a metallic sphere and meditation space located in its very heart. 
36. Enjoy a Complete Indian Wellness Experience at the Ayurveda Yoga Villa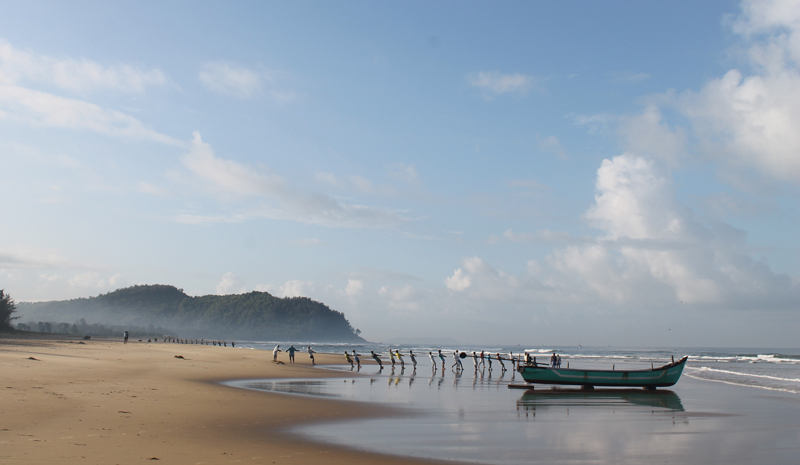 © Ayurveda Yoga Village
Immersed within a beautiful forest setting, the Ayurveda Yoga Villa in Wayanad, Kerala offers a holistic wellness experience. From Ayurvedic programmes (including Panchakarma detoxification and Rasayana rejuvenation) to yoga and meditation classes, this eco-retreat in Kerala is a treat for visitors — and its eco-friendly ethos makes it good for Mother Nature, too.
37. See the Gardens at the AyurvedaGram Heritage Wellness Center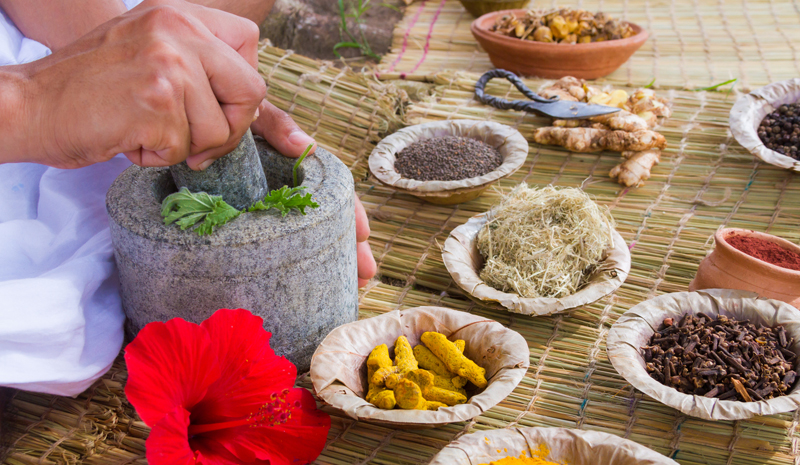 The AyurvedaGram Heritage Wellness Center has plenty to recommend it, both inside and out. Located across seven pretty acres outside of Bengaluru, the retreat's gardens include more than 200 species of rare, medicinal herbs. Be sure to enjoy some time in the fresh air before your treatments, which incorporate those very same garden-grown ingredients.
38. Experience the Spa by ESPA at the Leela Udaipur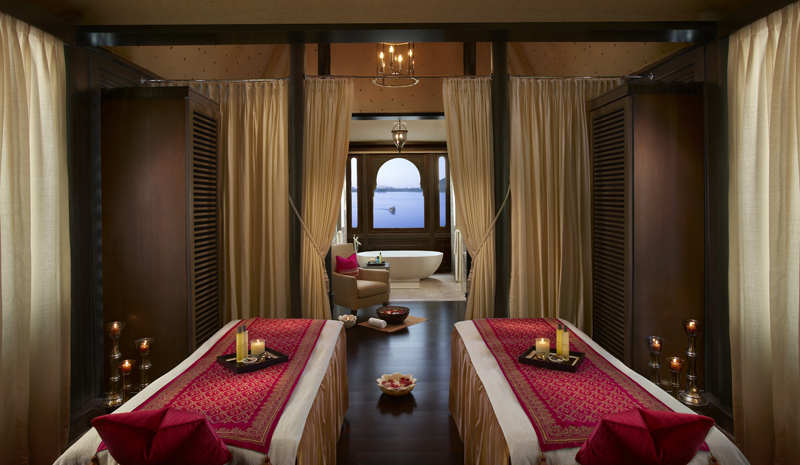 © The Leela
The Leela Udaipur, already one of Udaipur's most extraordinary hotels, is further recommended by its lavish Spa by ESPA. Divided into two main portions — the Haveli Spa and the Lake Spa — the venue is unique for its beautiful tented facilities, treatments like ESPA Essential Body Massages, a rooftop terrace café, and its Royal Palace Spa Suites, which are accompanied by private pools and walled gardens.
39. Enjoy a Romantic Spa Break at the ITC Mughal Agra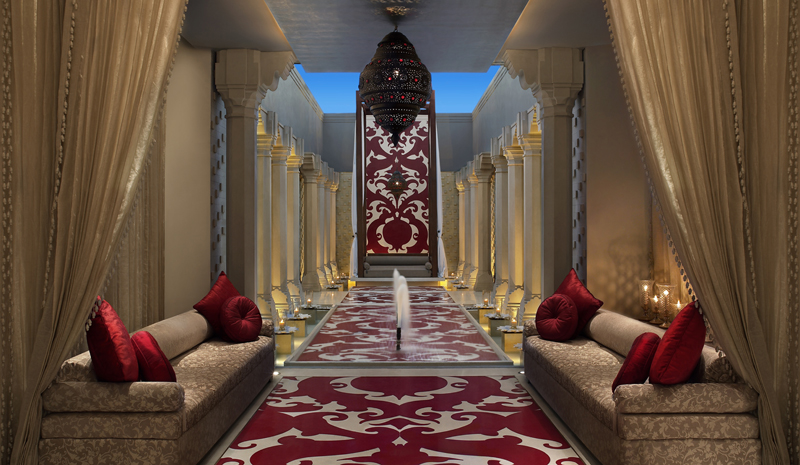 © ITC Hotels
The Taj Mahal is often described as the world's most famous monument to love. After you've seen this Agra landmark for yourself, keep the ardour flowing with the Taj Mahal Romance package at the ITC Mughal's Kaya Kalp Spa. This pampering retreat for two comprises everything from gemstone massages to pearl illuminating facials.
40. Visit One of India's Largest Spas at the Vivanta by Taj, Bekal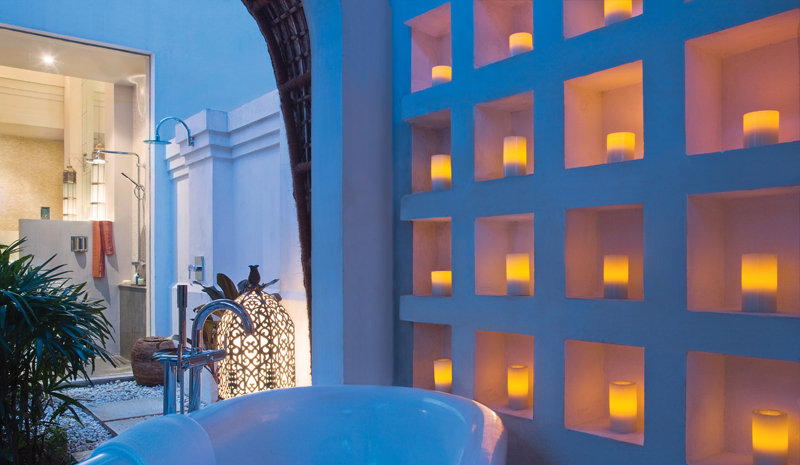 © Taj Hotels
Spanning across 165,000 square feet, the Jiva Spa at the Vivanta by Taj, Bekal isn't just one of India's largest spas — it's also one of the most lavish. Treatment suites are accompanied by private courtyards (all the better for relaxing after your treatments); facilities include a mud room, hammam, and yoga pavilion; and purifying bathing ceremonies are amongst the unique experiences offered. 
41. Travel the Goa-Hampi Circuit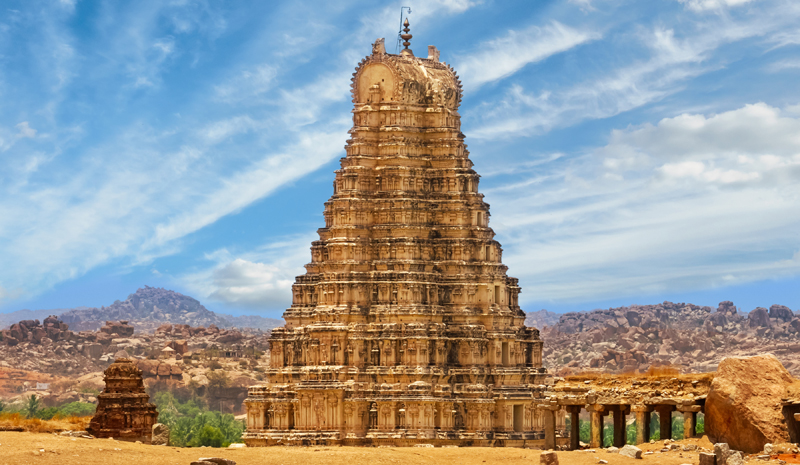 Beloved of free spirits, Goa (with its laidback beach scene) and Hampi (an ancient UNESCO World Heritage Site) together form one of India's most popular backpacking trails. You can certainly discover the region this way, though the range of new, upscale guesthouses and hotels in both destinations means you have the choice of comfort, too.
42. Experience the Best of India's Golfing Scene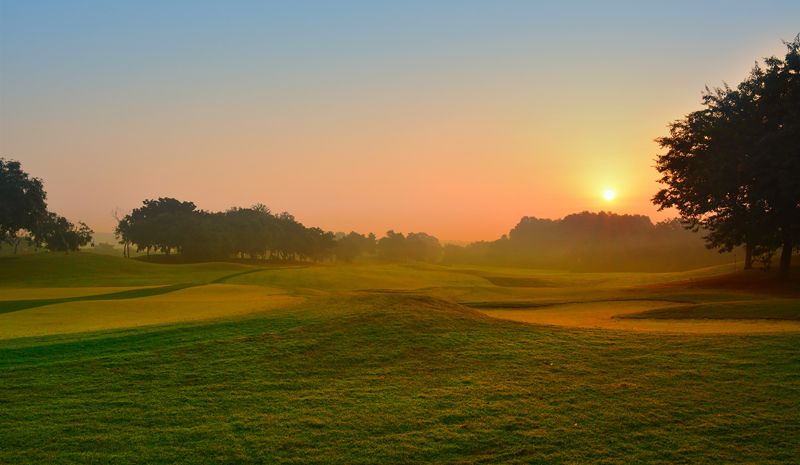 © ITC Hotels
Golf has been played in India since the time of the British Raj, and today the Subcontinent offers several exceptional PGA-calibre courses and clubs. From the ITC Grand Bharat's course — designed by golfing legend Jack Nicklaus — to the exclusive Delhi Golf Club, you'll have the chance to practice your swing amidst beautiful scenery (just mind the peacocks).
43. Explore India's Top Jungle Lodges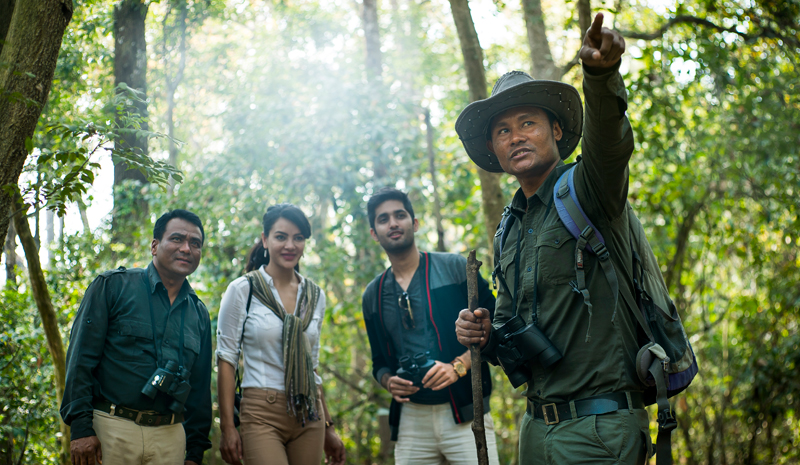 © Taj Hotels
When you book a stay at India's top jungle lodges, you won't just have the chance to go on thrilling safari tours (and, if you're lucky, spot tigers, leopards, and other wildlife that's straight out of The Jungle Book). You can also take open-air yoga classes, enjoy home-cooked food, and enjoy the comfort of private, tented suites. 
44. Try Laughter Yoga at Chowpatty Beach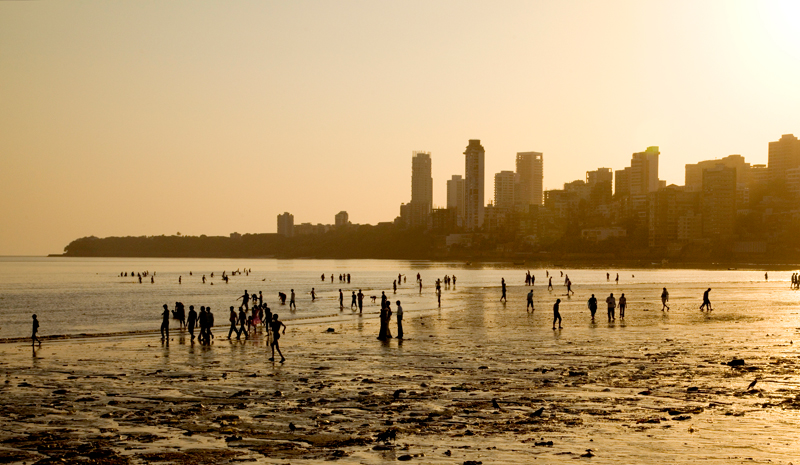 Mumbai's Chowpatty Beach is a true microcosm of the city: it attracts locals and visitors from all walks of life. The best time to visit is early in the morning, when you're likely to stumble upon laughter yoga groups — and even join in the joyful practice.
45. Spend the Night on the Lotus Houseboat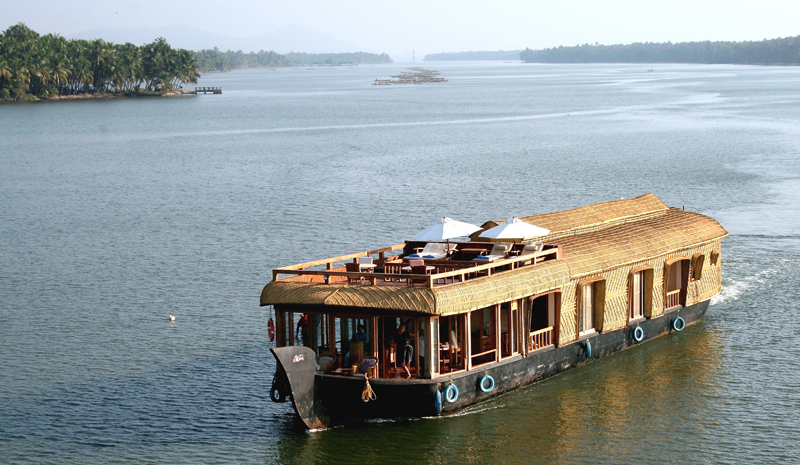 © Neeleshwar Hermitage
Enjoy a languid trip along the Keralan backwaters aboard the Lotus: a houseboat with traditional looks but fully modern amenities, including teak floors, two spacious suites, rain showers and air conditioning. While you can lounge for hours indoors or on the sun deck, be sure to go for a dip off the back of the boat, too.
46. Practice with a Private Yoga Instructor at Ahilya by the Sea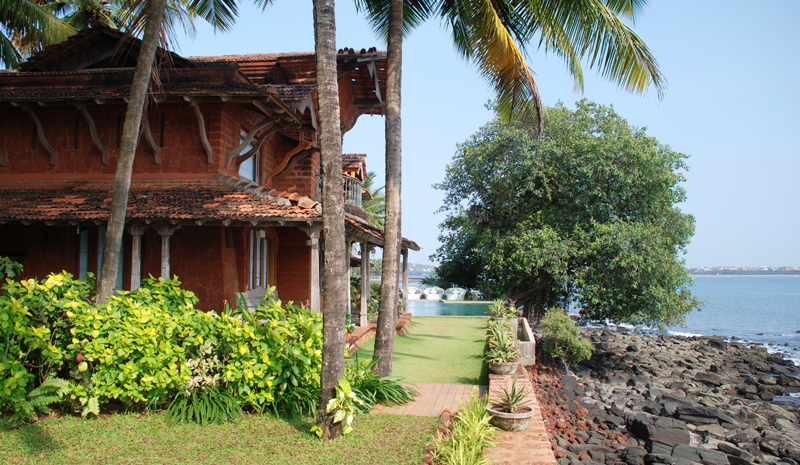 © Ahilya by the Sea
Amongst a new generation of luxurious guesthouses in Goa — set well away from its most hectic, crowded beaches — is Ahilya by the Sea: a true haven of tranquillity. While its infinity pool (with ocean views) is one way to relax, daily sessions with a private yoga instructor are also sure to soothe and refresh.
47. Banish Jetlag at The Oberoi, Mumbai's Spa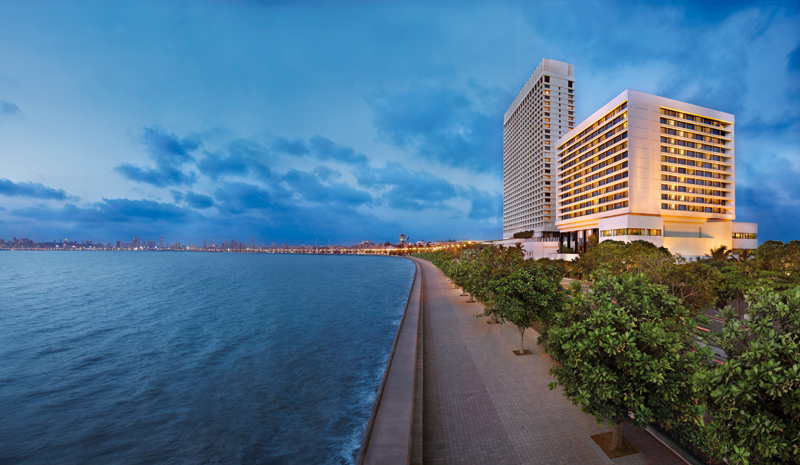 © Oberoi Hotels and Resorts
Seasoned travelers recommend different approaches for curing jetlag, from melatonin supplements to long walks in the fresh air. But surely one of the most luxurious ways to overcome your fatigue is to linger in The Oberoi, Mumbai's lavish spa. Open 24 hours a day to ensure that guests flying in at all hours are catered to, it offers an outdoor pool, six therapy rooms, a salon, and a wide-ranging menu of international treatments.
48. Sign Up for a Gem Therapy Session in Jaipur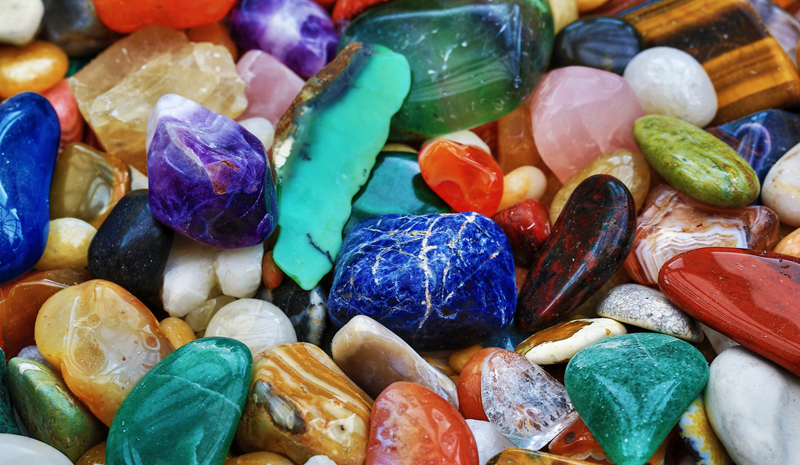 Never tried gem healing? Given that Jaipur is one of India's gemstone and jewellery capitals, there are few better places to sign up for a therapeutic session. Dr. MS Chauhan uses precious gemstones in this ancient practice, which seeks to address imbalances in patients' chakras.
49. Enjoy the Ila Spa at Raas Jodhpur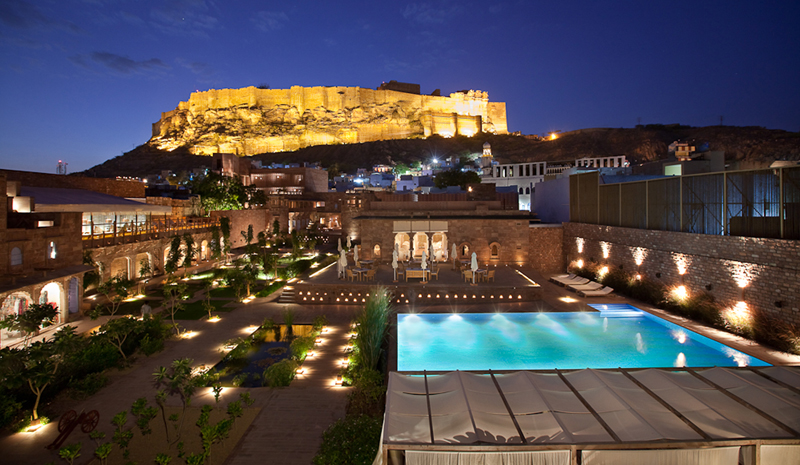 © Raas Jodhpur
Located in a restored, 18th century haveli, Raas Jodhpur offers up beautiful heritage and incomparable views of the nearby Mehrangarh Fort. When you're not drinking in the scenery from the rooftop pool, head indoors to the phenomenal Ila Spa, where you'll experience the best of Indian wellness: from Marma massage techniques to 'chakra cleansing' and herbal poultices.
50. Explore the Great Rann of Kutch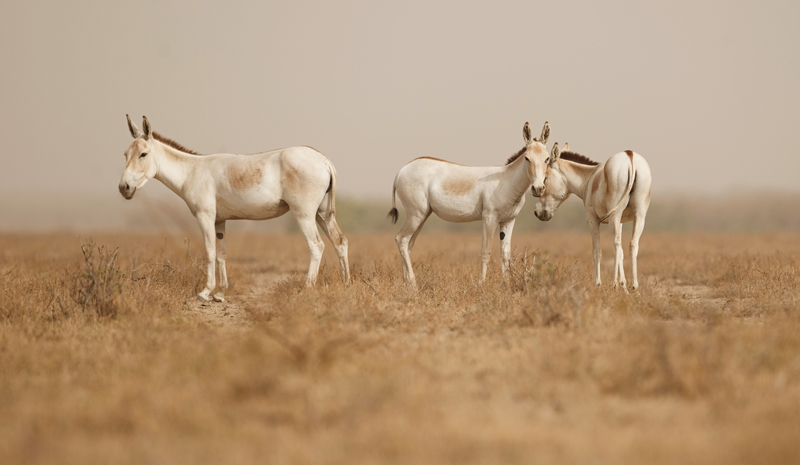 One of India's most surprising and spellbinding destinations is the Great Rann of Kutch: an almost lunar-looking salt marsh located in the Thar Desert region of Gujarat. Explore this evocative landscape before venturing to the neighbouring Little Rann of Kutch, which is famously home to the Indian Wild Ass Sanctuary.