When you're staying in a place with gemstone-clear seas and beaches as soft as cotton sheets, you'll want to be as close to the water as possible. Luckily, if you're visiting the Maldives, you won't just be near the beach – when staying in the best water villas in the Maldives, you'll literally be at the water's lapping edge.
Home to many dozens of high-end hotels, the 26 atolls – and 1,000 plus islands – of the Maldives are a swimmer's (and a sun bather's) dream. If you want to fall asleep to the sound of the tides – and rise to brilliant lagoon views – the 10 best water villas in the Maldives await.
1. Anantara Veli Resort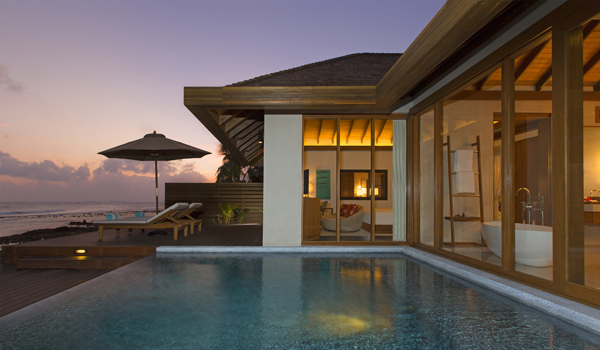 Anantara Veli Resort offers four different high-end villa options © Anantara Veli Resort
Located in the South Malé Atoll (and just 35 minutes from the Maldives' main airport), Anantara Veli Resort hosts four different kinds of coconut thatched-roof villas. Even the most accessibly priced come complete with hardwood floors, lagoon access, a sun terrace, and a king-sized bed. The most high-end villas, the Deluxe Over Water Pool Bungalows, meanwhile, are located directly above the adjacent lagoon. There's even a private plunge pool for those seeking additional aquatic thrills.
2. Taj Exotica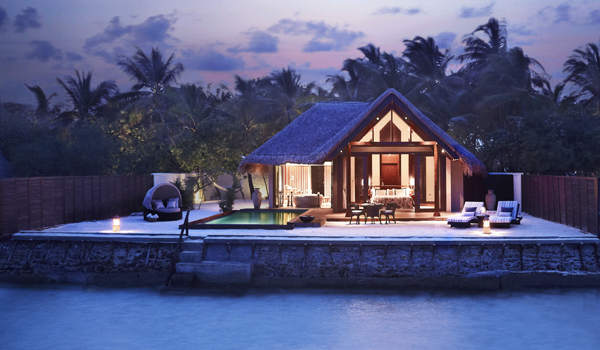 The Taj Exotica is located amidst the stunning ambiance of the South Malé Atoll © Taj Hotels
Panoramic Indian Ocean views, rain showers, and direct lagoon access – each of the 64 luxury water villas available at the Taj Exotica offers high-end amenities designed to help guests immerse themselves in the stunning ambiance of the South Malé Atoll. If you're celebrating a truly special occasion, spring for the 500 square meter Rehendi Presidential Suite, a full-sized villa that comes complete with a suspended deck and a hammock that hangs over the lagoon waters.
3. Baros Maldives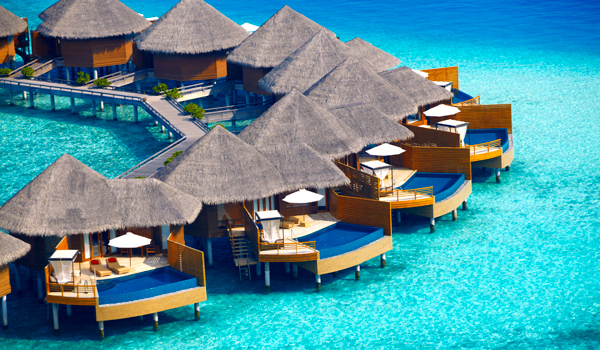 Baros Maldives is ringed by its own coral reef © Baros Maldives
Occupying a tiny, coral-formed island – and surrounded by its very own miniature coral reef – Baros Maldives was one of the very first resorts to open in the Maldives, and has since then cultivated a reputation as a romantic stay. Though it originally hosted cabanas, these days the resort offers some of the best overwater bungalows in the Maldives: 45 beachside villas and 30 over-water villas, which stand on stilts above the aquamarine waters.
4. Huvafen Fushi
Huvafen Fushi hosts a stunning, underwater spa © Huvafen Fushi
Hydrophilic types can immerse themselves – quite literally – in the turquoise waters that surround Huvafen Fushi in the pretty Kaafu Atoll. For starters, the resort offers up glass-bottomed ocean bungalows, which should acquaint guests intimately with the local marine life that populates the colorful coral. Then there's the private beach, personal cruises, and the underwater LIME Spa. Where else can you spy on clownfish whilst getting a massage?
5. Shangri-La Villingili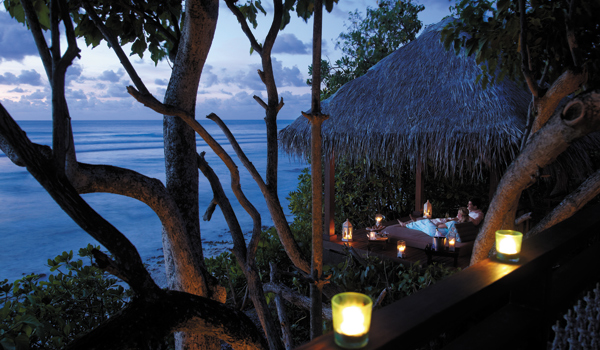 Shangri-La Villingili occupies its own tiny, uninhabited island © Shangri-La Hotels
In the heart-shaped Addu Atoll, the southernmost of the Maldives' atolls and technically in the southern hemisphere, Shangri-La Villingili occupies a teeny, uninhabited island. For guests, there are nine different varieties of villa to choose from – from Deluxe Pool Villas, which include their very own infinity pools, to the expansive Two-Bedroom Beach Villa and the aptly named Tree House Villa, on stilts high enough to immerse guests in the treetops – and proffer some of the resort's best views.
6. Cocoa Island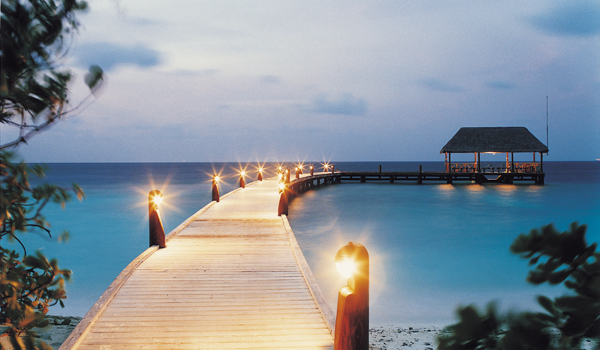 Intimate Cocoa Island hosts just 33 villas © Cocoa Island
The intimately scaled Cocoa Island – the high-end retreat hosts only 33 villas – will make it hard for you to leave your room. Among the best water villas in the Maldives, each residence leads directly onto the snorkel-friendly waters off the miniscule island of Makunufushi, with private terraces made for all-day admiring, and outdoor showers for al fresco scrubbing. But you should venture farther: with a wellness focus, the resort offers complimentary yoga and meditation classes, provides scuba gear (note that these are some of the best diving waters on Earth), as well as privately chartered yacht tours around the South Malé Atoll. Paradise.
7. Four Seasons Resort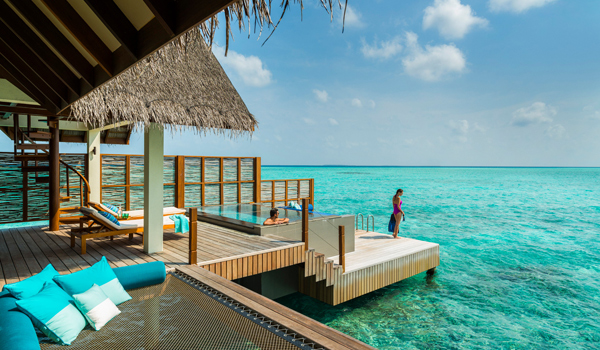 Four Seasons hosts two stunning Maldives resorts © Four Seasons
It can be hard to select from amongst the Maldives' superb accommodations – and for those looking to book with the Four Seasons, an even harder decision is selecting between the Kuda Huraa Resort and the Landaa Giraavaru Resort. The former is prized for its accessibility – located just a half-hour from the airport in the North Malé Atoll, the resort's lagoon bungalows are constructed by local craftsmen, though touches like private pools and sundecks add a modern appeal. The Landaa Giraavaru Resort, meanwhile, is situated slightly farther afield in the Baa Atoll – a UNESCO World Biosphere Reserve, this natural retreat offers a lush array of local flora and fauna – as well as indulgences like Ayurvedic treatments.
8. One & Only Reethi Rah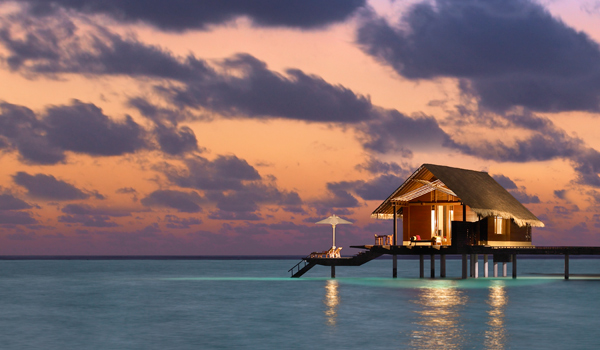 One & Only Reethi Rah does luxury with aplomb © One & Only Reethi Rah
One & Only Reethi Rah does luxury with absolute aplomb – its large-scale villas are vast and well-appointed, many offering personal beaches, individual hammocks, private decks, and other excuses to lounge all day long. So, why leave? For one, the resort hosts three different pools and 12 different beaches, with recreation offerings ranging from spas and tennis courts to a climbing wall. For another, it also stocks the largest Champagne cellar in the Maldives. Toast the sunset with a shared bottle before retreating to your villa – and its water views.
9. Six Senses Laamu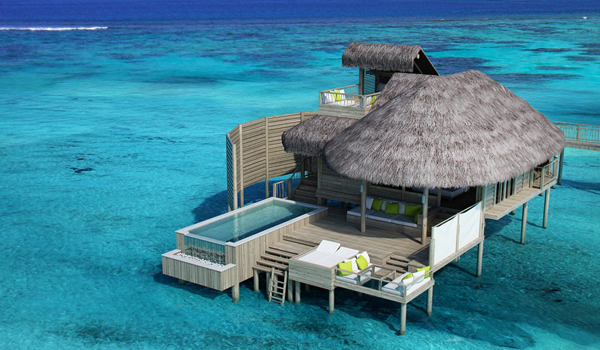 Six Senses is the only resort in the Laamu Atoll © Six Senses
Looking for remote? Note that the Six Senses resort is the only one in the otherwise undisturbed Laamu Atoll. Over-water villas come equipped with upper and lower decks for plenty of lagoon-watching (a boon, as dolphins are known to frolic along the shoreline), as well as private water gardens and outdoor showers. Perhaps best of all: bathtubs are sunken and glass-bottomed, which means you can feel like an ocean explorer – even when having a relaxing afternoon soak.
10. Ayada Maldives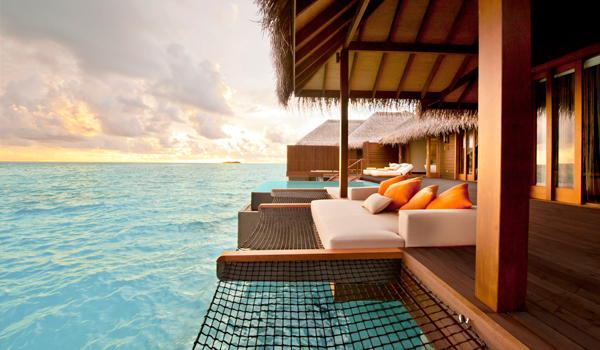 Ayada Maldives is one of the newest entries in the Maldives hospitality scene © Ayada Maldives
One of the newest additions to the Maldives resort landscape, Ayada Maldives is hidden away amidst the tranquil, remote Gaafu Dhaalu Atoll. The area is known to attract surfers, divers, and other watersports lovers for its quiet waters and ample sea life. When not hitting the waves, guests can hide away in their luxurious villas, which are served by 24-hour butlers and offer plunge pools and adjacent, in-ocean hammocks. With these views, focusing on the book you brought along may prove difficult.
Save