The resplendent Dev Shree may look like an ancestral home, but what if we told you that this stunning guest house was actually brand new? Opened just last year by owners Bhavna Kumari and Shatrunjai Singh, the hotel is at once an architectural homage to traditional Rajasthan and a high-end stay full of modern comforts.
To learn more about what it takes to construct a destination guest house from scratch – and what makes Dev Shree special, from its airy courtyard and Mewari cooking to its sponsored village walks and evening Jeep excursions – we got the inside scoop from Bhavna Kumari herself.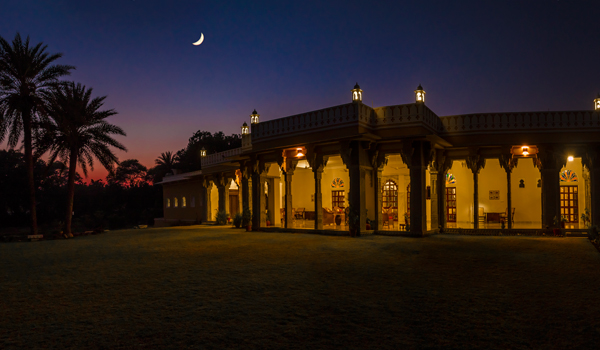 Dev Shree looks like a heritage property, though it's actually a contemporary construction © Dev Shree
Greaves: Tell us about Dev Shree. What was the process like of creating the new guest house?
Bhavna Kumari: 'Shatrunjai and I had planned to build a home for ourselves, which we envisioned as an extension of our personalities. We wanted to create the venue ourselves, without a designer. We drew up our plans and went to an architect for help with the structural design and construction details. Since we love meeting people and entertaining, our home had to be a place for friends and family to enjoy, and that's how the guest house came to be.'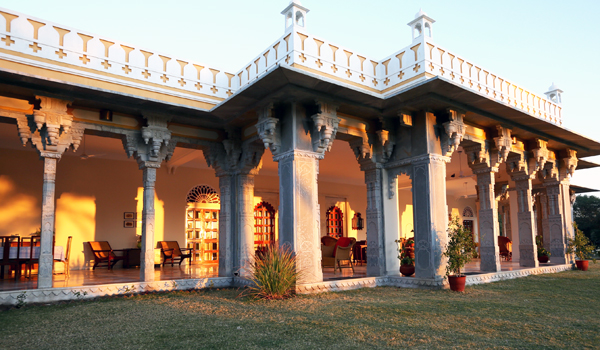 Dev Shree's carved stone columns are one of its many stunning architectural features © Dev Shree
What are some of Dev Shree's interesting architectural features? What makes it a classical Rajasthani guest house in looks?
'The house has been constructed in a traditional haveli style, characterised by deep verandas, pretty courtyards, and other Rajput architectural influences. The interiors are airy and spacious, and the décor has a contemporary twist. In the words of one of our guests, "gone is the musty, dusty feel so often associated with traditional rural properties."
The pillars, carved from a local stone from Nimbahera in Chittorgarh district, are probably the most interesting architectural feature of the property. They're meant to allude to the havelis and palaces of Udaipur – the style had to be true to the area. Also, all the bedrooms open out onto a central courtyard, which is a very typical Indian style – it's a lovely way of keeping the whole house cool in the summer and warm and cosy in the winter.'
What makes Deogarh such a special corner of Rajasthan to visit? Which local sights should guests be sure to see?
'Deogarh is at a height of 2,300 feet above sea level, which makes it cooler than most of Rajasthan. When cities like Jodhpur and Jaipur start to get warm in March and April, we can still have guests living comfortably. It's also a very scenic area, with mountains, lakes, and rock formations that make it greener, cooler and very different from other parts of Rajasthan. And, being almost in the center of the state, we're within easy access of Jodhpur, Udaipur, and Jaipur, for guests who want to explore more of the region.'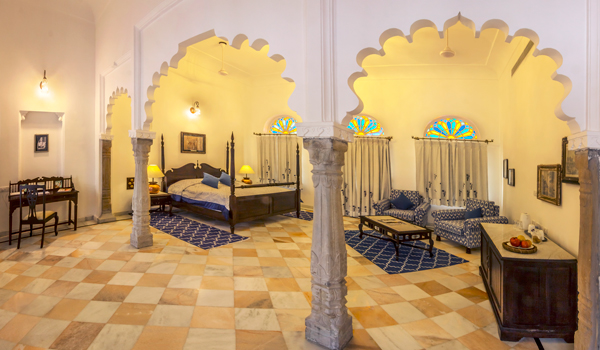 A stylish guest room © Dev Shree
Tell us about the unique activities that Dev Shree offers to its guests.
'One of the unique activities is a special local train, which traverses down the Aravalli Hills and through the Kumbhalgarh Wildlife Sanctuary. It's a wonderful opportunity for guests to meet and travel with locals, and we send a guide from the hotel along as part of the complimentary trip. It makes for a morning well spent, as guests leave after breakfast and are back in time for lunch.
We also have an interactive session at a local tea stall, which Shatrunjai hosts. He invites local people as well as guests to interact and exchange views on the differences between Eastern and Western cultures. It's a brilliant exchange – we call it Chaibucks!
Additionally, we offer a guided village walk along Deogarh's artisan trail, where one can see the local potters, flag makers, tailors and carpenters at work. At the end, guests finish on Deogarh's high street, where bargains can be had on antiques, silver jewellery, textiles, or even spices.'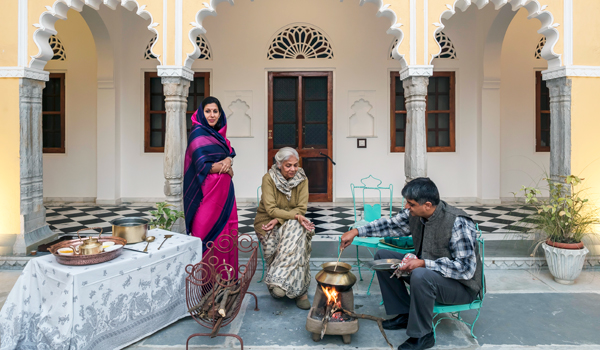 Dev Shree's cookery programme focusses on celebrating local traditions © Dev Shree
Can you tell us more about the culinary programme at Dev Shree? What are some of your specialty dishes?
'The food at Dev Shree is the product of our personal kitchen, and it is true Indian home-cooked food, with local specialities and even a few continental dishes as part of the menu. It is not "hotel" food. We source many of our vegetables, fruit, and herbs from our own garden, and our grains and garlic come from our own farms. My mother-in-law's dairy supplies us our dairy products. We are working on preserving the region's traditional Mewari dishes, and they form part of our daily menu.'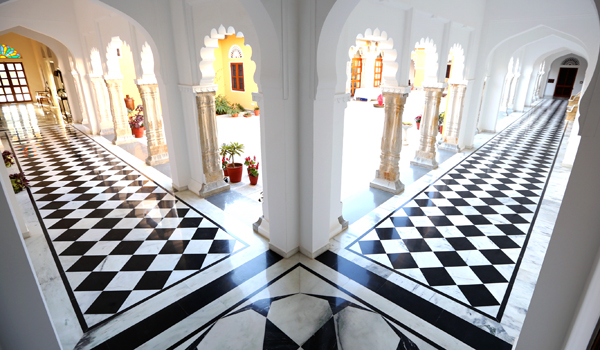 An interior courtyard view © Dev Shree
What other luxurious, unique amenities does the hotel offer?
'It's a simple luxury, but our hot, high-pressure showers are the best way to unwind in the evenings. We use Kama Ayurveda products, which is a high-end herbal toiletry brand. At the same time, we have a water harvesting system in place for environmental reasons.
We've also just constructed a swimming pool, which is set amidst palm trees. It has a salt-water filter, and is chlorine-free.'
Do you have any other exciting, future plans to share with us?
'There are plans in the works to expand our spa facilities, and we're currently working to offer Ayurvedic meals, massages, and yoga classes for our guests.
We are also planning to open a small boutique, which will stock uniquely local, high-end products. That should be ready for the coming season.'
Save