If you didn't know Nepal was Buddha's birthplace, you will soon after you arrive. It's a flag that the tiny country, perched on the Himalayan ridge between India and Tibet, flies very proudly. The sacred is a priority here, and places of worship are correspondingly abundant. Take your pick from stupas, shrines and holy sites scattered liberally in and around Nepal's capital, and allow us to point out the loveliest temples in Kathmandu.
Budhanilkantha Temple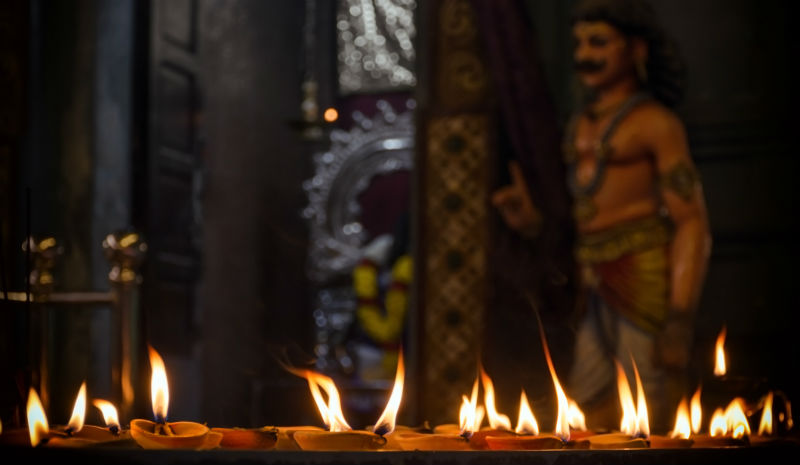 In Hindu mythology, the great god Vishnu dreams the universe into being as he sleeps upon the protective coils of a serpent, which in turn floats upon the ocean of bliss. It's this iconography that informs Budhanilkantha Temple, 15 minutes from Kathmandu's centre. Dominating the complex's sacred pool is a 5m-tall basalt carving of the god reclining on a snake. It's festooned with marigolds offered by worshippers, and the complex itself surrounded by holy rudraksha trees.
Swayambhunath Temple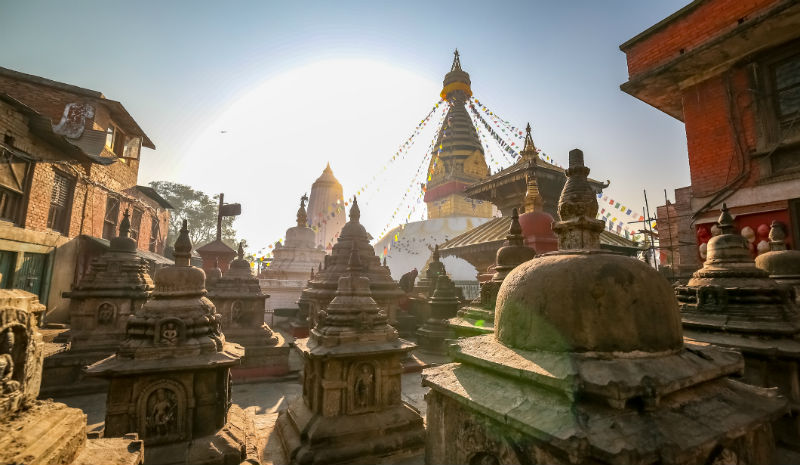 Crowning the crest of a hill in the Kathmandu Valley, Swayambhunath Temple is among the most sacred Buddhist pilgrimage sites in Nepal. Although its name means 'self-created' in Tibetan, the great white dome is more popularly known as Monkey Temple, after the notoriously cheeky vervets that live there. They are said to be manifestations of the lice that clung to bodhisattva of wisdom, Manjushri's long hair. Keep your wits about you, though, these holy primates have an eye for precious things such as purses and sunglasses!
Boudhanath Stupa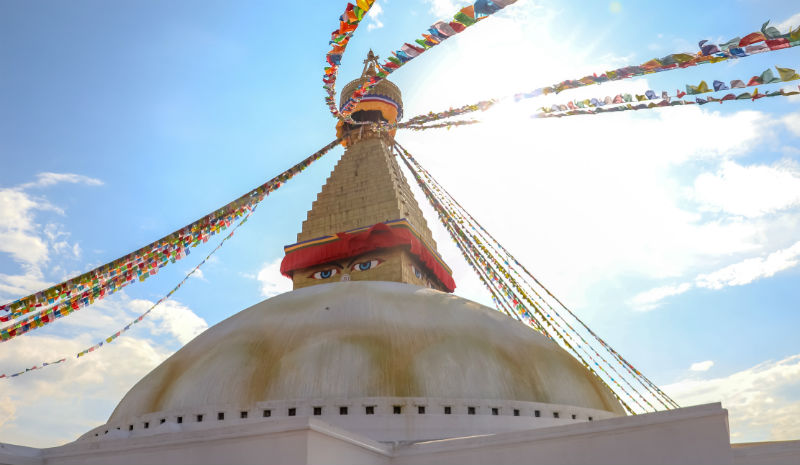 On the north-eastern fringes of the capital is a great white dome, capped with a gold spire that thrusts dramatically into Nepal's vivid skies. It's the largest stupa in Nepal, and a UNESCO World Heritage Site, hence the large numbers of pilgrims and onlookers that constantly throng around it. If getting away from it all is a priority, Boudhanath is not the place to seek solace—however, despite the crowds, the site is steeped in a rare, palpable peace.
Pashupatinath Temple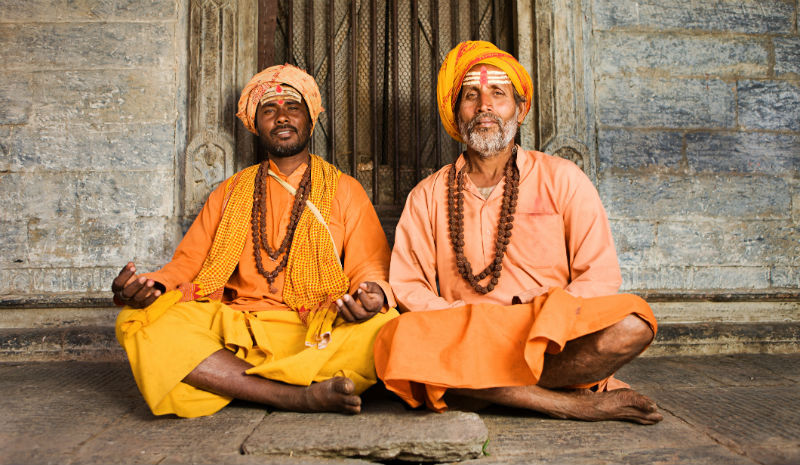 Where Boudhanath beckons Buddhist pilgrims, nearby Pashupatinath Temple, also a World Heritage Site, draws Hindus. The main gold-roofed temple is flanked by ghats, where Brahmins are cremated along the banks of Bagmati River. The Antyesti 'last sacrifice' ritual of preparing the dead for cremation is one of the most arresting sights you'll witness in Kathmandu.
Changu Narayan Temple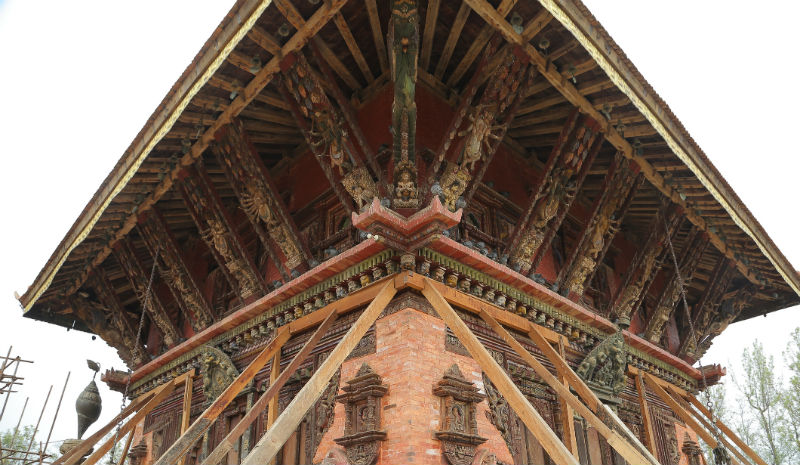 This Hindu temple in Bhaktapur, east of Kathmandu, is considered the oldest in Nepal, with its foundations dating back to the fourth century. It's a photogenic huddle of weathered red-brick architecture, jewel-box shrines and beautifully carved statues, all thankfully, relatively undamaged by 2015's catastrophic earthquake. The few cracks inflicted on Changu Narayan are currently under loving restoration, funded by the cursory entry fee.
Dakshinkali Temple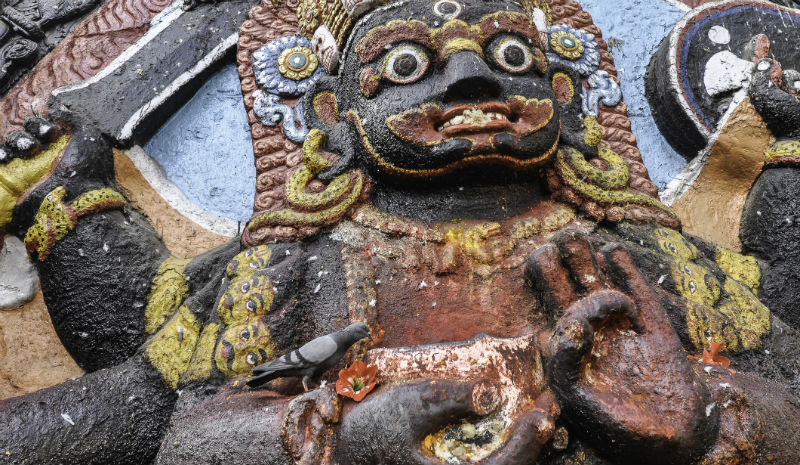 Kathmandu's temple to the dark goddess, Kali, is not for the feint-hearted—it's famous for its bi-weekly livestock sacrifices (which are later cooked and eaten). If you'd rather not witness one, avoid visiting on a Tuesday or Saturday. Elsewhere in the temple complex, enjoy the color and bustle of worshippers offering flower garlands, praying to the ferocious deity, and dabbing bright vermillion powder to their forehead for blessings.
Feature images © Lina Moiselenko/iStock; IVANIEITO/iStock; sihasakprachum/iStock; siraj Ahmad/iStock; Bartosz Hadyniak/iStock; shayes17/iStock