The lush landscapes and rich cultural heritage of Kerala in the south west of India make it a dream destination for solo travelers. While exploring independently is rewarding, group activities in Kerala offer the chance to forge new connections, learn from others, and immerse yourself in authentic local experiences.
SPICE PLANTATION TOUR: UNRAVEL THE FRAGRANCE OF KERALA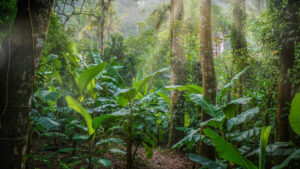 On a guided tour of a local spice plantation, you'll learn about the cultivation and processing of various spices such as pepper, cardamom, and cinnamon. Engage in group activities like spice harvesting or processing, interacting with the plantation workers, and learning about Kerala's spice trade and its impact on world history.
COOKERY WORKSHOP: MASTER THE ART OF KERALAN CUISINE

The class might begin with a visit to a local market, where you'll source fresh ingredients and gain insights into Kerala's food culture. From there, you'll work together to transform the fresh produce into local dishes such as appam, puttu, or fish curry. Sharing a meal with your new friends makes the experience even more memorable.
COIR CRAFTING: DISCOVER KERALA'S AGE-OLD ARTISTRY
Participate in a coir-making workshop in Alappuzha or Kollam, where you can learn about the process of making coir (coconut fiber) products. Collaborate with fellow travelers and locals to create beautiful and eco-friendly crafts while gaining insights into the lives of artisans in the region.
River activities: aquatic Keralan adventures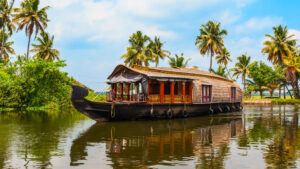 Embark on a group bamboo rafting adventure in the Periyar Tiger Reserve, where you'll explore the reserve's wildlife while working together to navigate the river. Rent a traditional kettuvallam (houseboat) and explore the serene backwaters of Kerala with a group, interacting with locals, enjoying traditional cuisine, and participating in activities like fishing and bird-watching. During the Onam festival season, attend or participate in a traditional snake boat race (Vallam Kali). Join a team, learn about the history of the race, and compete against other boats, fostering a sense of camaraderie and friendly competition.
KATHAKALI WORKSHOP: UNVEIL THE MAGIC OF KARALAN DANCE-DRAMA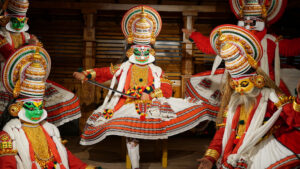 Kathakali is a captivating dance that combines intricate movements, facial expressions, and gestures to narrate ancient Indian epics and stories. The dance is characterized by its elaborate makeup, colorful costumes, and expressive performances, often accompanied by live music featuring percussion instruments like the chenda and maddalam. During the workshop, the instructor will introduce you to the dance's history, cultural significance, and the stories it tells. You'll learn the basics of Kathakali's unique language of gestures (mudras) and expressions (rasa), which convey emotions and help narrate the story. As you master the art form and synchronize your movements with the music, you'll find yourself immersed in Keralan culture, forging deep connections with your fellow dancers.
VILLAGE LIFE: UNCOVER THE AUTHENTIC CHARM OF RURAL KERALA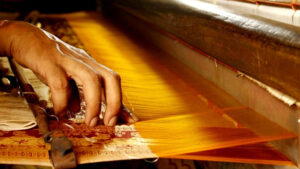 Embark on a guided village tour that offers a glimpse into the traditional lifestyle of Kerala. Your journey may begin with a warm welcome from local families, who will share stories about their customs and daily routines. As you wander through the village, you'll gain insights into time-honored agricultural practices and witness the true essence of rural Kerala. Engage in hands-on experiences, such as pottery or weaving, while collaborating with fellow travelers and local artisans. The tour culminates in a communal meal featuring farm-fresh ingredients, creating a memorable moment to cherish with your newfound friends.
Greaves India can organize your entire solo Indian adventure, and include group activities in Kerala to make your trip even more special.
Group activities in Kerala image credits: Kerala riyas.net/Shutterstock; Spice plantation Cheryl Ramalho/Shutterstock; Keralan market yurakrasil/Shutterstock; Coir workshop somratana/Shutterstock; Kerala boat saiko3p/Shutterstock; kathakali SN040288/Shutterstock; Weaving silent_admirer/Shutterstock