Lace-like etchings, silk saris inspired by railways and pretty-as-a-peacock rugs. These are just some of the handicrafts you can invest in when exploring southern India. Here are five of our favorite traditional crafts in Karnataka, Kerala's northern neighbour.
Ilkal saris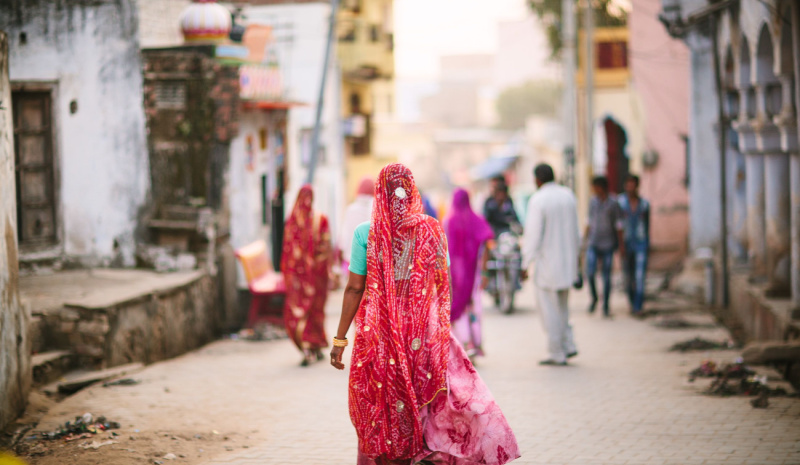 Artisans have been producing Ilkal saris since the eighth century, when the Chalukya dynasty ruled southern and central India. The name derives from the word Illekallu (slope down the hill), as they originate from the hilly city of Ilkal. Artisans weave the saris from cotton and silk on handlooms, then color the body with eco-friendly dyes in pomegranate red or lime green. You can also identify Ilkal saris from other styles because the loose pallu has a broad red border. It also features white or ochre stripes inspired by Karnataka's railway lines – making them a unique souvenir. Makers embellish the fabric with intricate embroidery featuring rustic motifs such as elephants, lotuses and the locally grown crop jowar.
Channapatna toys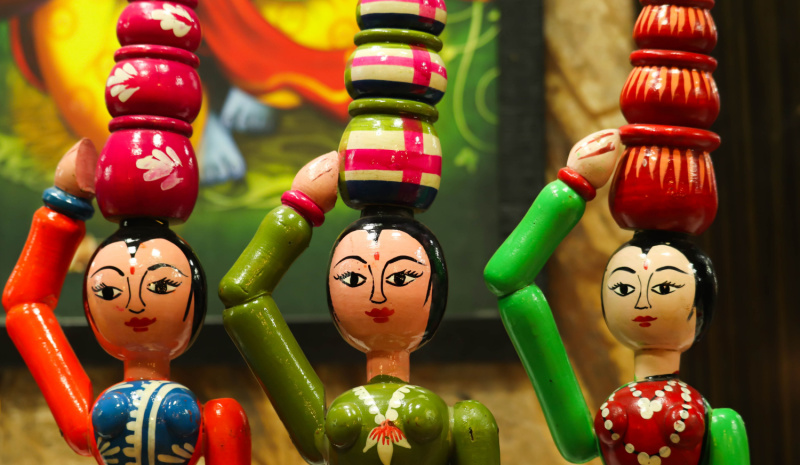 Artisans in Channapatna, north of Mysore, have been carving toys for centuries. As a result, the city has earned itself the nickname gombegala ooru, or toy town. According to local legend, in the late 1700s, Persia gave Mysore's ruler, Tipu Sultan, some wooden toys. The leader was so impressed he invited Persians to teach Channapatna residents the art of woodworking. The residents learnt to cut the pala indigo plant and sandalwood or rosewood trees without damaging their roots. Artisans then carved the wood by hand, although today they use lathe machines for a more accurate cut.
Once the design is complete, makers paint the toys with vegetable dyes then polish them – making them a great sustainable gift. The World Trade Organization has protected the toys with Geographical Indication (GI) certificates, guaranteeing their authenticity, quality and geographical origin.
Dhurries
Dhurries – thin rugs, carpets, prayer mats or bedding – are made throughout India. However, designs vary between states. The town of Navalgund in particular has been associated with them since the 16th century. Like Channapatna toys, Navalgund dhurries are GI protected, and known as jamkhana in the local Kannada language.
As Muslim women were confined to their homes in 16th century Navalgund, they developed a cottage industry, producing dhurries on vertical looms. Mothers passed their skills to their daughter-in-laws rather than their own daughters to keep their techniques within the family. No one wrote down the designs, so each one is unique. However, a red base with symmetrical stripes and geometric patterns at each end are popular. Green peacocks and yellow and white flower and animal motifs in the centre are also common. Cramped living quarters, lockdowns and the art's time consuming nature has put the craft at risk, so you may wish to support artisans by investing in a piece to take home.
Bidriware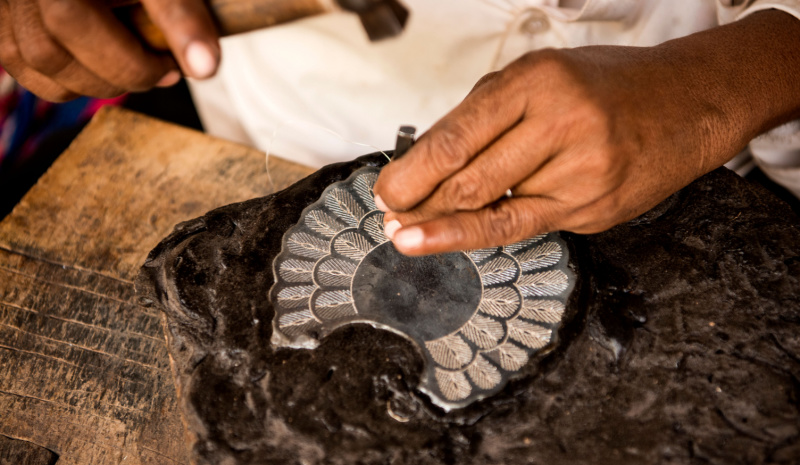 Gleaming Bidriware originated in Bidar in the 1300s, after members of the Bahmani dynasty invited Persian artisans to decorate their palaces. Their work inspired local craftsmen, who have been producing it ever since. Another GI craft, it's valued because of its complex process and distinct nature.
First, the artisans mold zinc and copper into tea pots, hookah pipes and vases, then buffer them till they shine. Next, they use a chisel and hammer to etch intricate, lace-like patterns onto the surface by hand. Flowers, peacocks, swans and elephants are most popular. After that, they inlay fine silver or gold wire into the grooves. They then dip the whole product in a solution made with soil sourced only around Bidar fort. The soil turns the zinc black, while the silver remains sparkling. The finishing touch is adding coconut oil to enhance the color and make the final product gleam.
Banana fiber crafts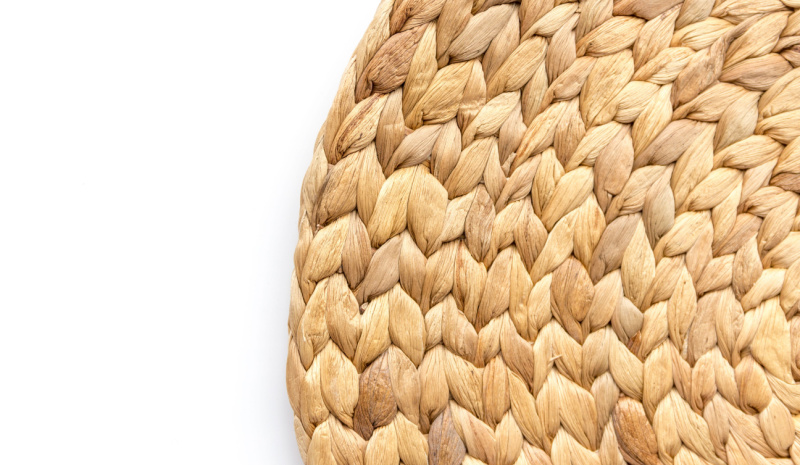 Women have been producing crafts with banana fibers for centuries. As you might expect, the art has its roots in Karnataka's rural areas, particularly in villages such as Anegundi, where the banana plant grows in abundance. Residents begin the process by extracting fibers from unwanted banana plant stems. Artisans then spin it into strong thread or rope before weaving it into bags, baskets, mats, coasters and plates. As the fiber is a biodegradable byproduct, it makes for an eco-friendly and lightweight souvenir.
If you've enjoyed reading about crafts in Karnataka, you may wish to read about crafts in the neighbouring states of Telangana and Andhra Pradesh, or learn more about Rajasthan's handicraft scene in northern India.
 Crafts in Karnataka images © Bidriware Akella Srinivas Ramalingaswami/Shutterstock; red sari Joe Chapman/Shutterstock; Channapatna toys Rangeecha/Shutterstock; Dhurri rug Orxan Rzayev/Shutterstock; Bidriware Akella Srinivas Ramalingaswami/Shutterstock; Banana Fiber Priew_wr/Shutterstock