The otherworldly natural wonder Rann of Kutch is one of the largest salt marshes on Earth, nestled in the north western Indian state of Gujarat on the Indian and Pakistani border.
The birth of Rann of Kutch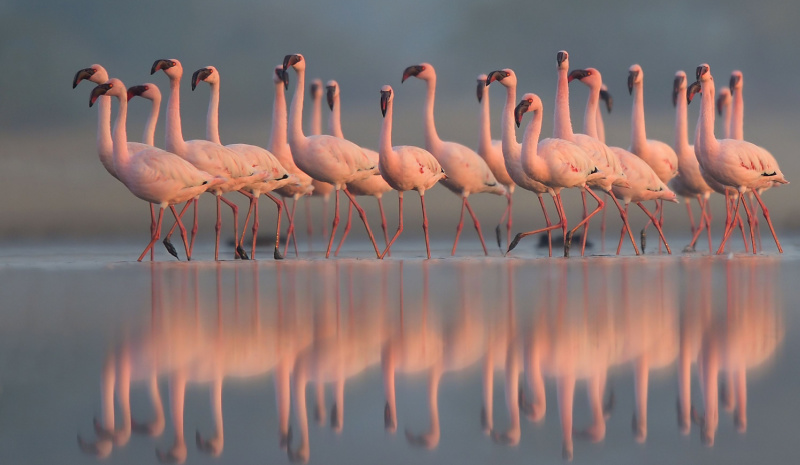 Stretching between India and Pakistan's rugged borders, the vast salt marsh known as Rann of Kutch is the result of a geological shift. The movement blocked off access to the Arabian Sea, leaving behind an unusual expanse of crystallized salt in the midst of the Thar Desert.
At 2,896 square miles, the area is larger than the US state of Delaware. Despite its isolated location, it's easily accessible by car – just an hour and 20 minutes' drive north of Bhuj city.
The salt pan is named after the Hindi word for desert, rann, and the district of Kutch. The latter is derived from the Sanskrit word for tortoise – owing to the region's shape.
In the monsoon season, between June and September, the area transforms into a marshy oasis. During this time, it brims with pastel-pink flamingos and colorful birds.
However, most visitors prefer to explore the area in autumn and winter. In these seasons, the ground dries to form barren land stretching as far as the eye can see. Covered in shimmering salt crystals, the cracked earth appears like a celestial carpet – a striking contrast to the surrounding landscape.
The best time to visit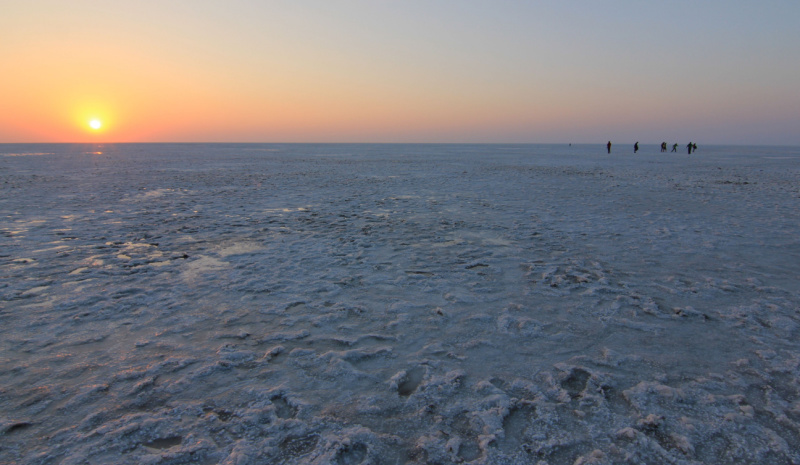 The ethereal light of the full moon attracts admirers, who flock to see the salt plain glistening in the moonlight. As a result, this is often the busiest time to visit.
On new moon nights, the dark sky is dappled with stars – and if you're lucky, you may spot a shooting star. Watching the salt pans turn rose pink at sunrise or sunset is equally majestic.
The salt plain is at its most sparkling in November, before crowds of visitors flock to the area. However, if you're sensitive to the heat, you may prefer to visit during the cooler months in January or February.
Many travelers choose to visit Rann of Kutch during Rann Utsav, an annual festival running between November and February. During the fiesta, a tented city pops up around Dhordo village, decorated with fluttering flags.
Rann Utsav festival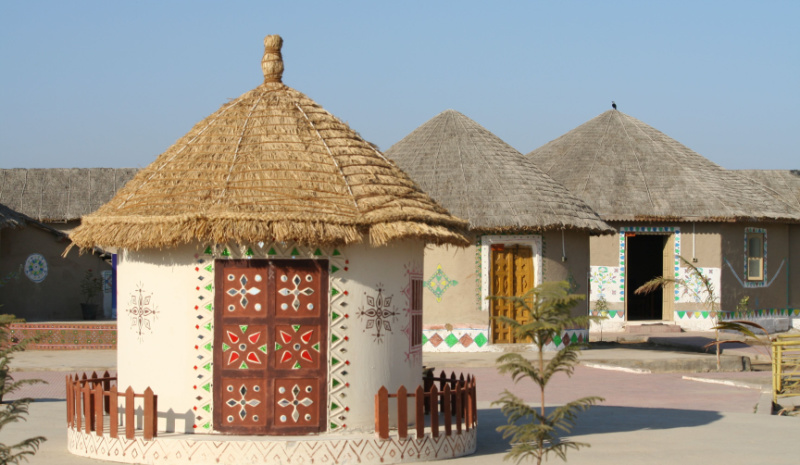 In the day time, you can watch craft demonstrations and dress in local attire. You can also ride camels and horses or take off on quad bikes. Visitors use the area for simple pleasures, too, from kite flying to cricket.
Adventurous folk can take to the skies in a hot air balloon or try paramotoring – motor-powered paragliding – as well as ziplining, zorbing and rappelling.
Foodies will enjoy browsing the many street food stalls. Scents of cloves and cardamom steam out of piping hot teapots and frying pans bubbling with fried potato bhajias. You can also order fresh tandoori rotis to dip into dal alongside biryani, sev tomato curry, baingan bharta (grilled eggplant stew) and lasaniya bataka (spicy, garlic potatoes).
Much of Rann of Kutch's appeal lies in its natural beauty, which you can marvel at from a viewing tower. As night falls, singers perform Bollywood tunes and musicians beat dhol drums and strum pear-shaped string instruments.
You can also watch troupes perform garba, a traditional Gujarati folk dance that celebrates fertility. Women dressed in heavily sequined, brocaded gold dresses spin in circles around a clay lantern, which represents new life.
Finally, if you want to return home with a handicraft, look out for wonderful embroidery, tie dye, leatherwork and pottery. Artisans sell the crafts from bhungas, cylindrical mud huts with straw roofs. In addition to these handicrafts, you may come across rogan paintings, which artists create by block printing or hand painting boiled oil and vegetable dyes onto fabric.
Once you've experienced Rann of Kutch and Rann Utsav, you may wish to experience another Indian festival or visit in summer.
Feature images © Rann of Kutch Clicksaransh/Shutterstock; Rann of Kutch Anup Deodhar/Shutterstock; Rann of Kutch mridulablog/Shutterstock; Rann of Kutch Govindasamy Agoramoorthy/Shutterstock