For food lovers, a trip to India is the stuff of bucket list fantasy. The Subcontinent is nothing short of culinary heaven—and is home to a number of glittering, world-class restaurants that tempt diners from far and wide. But the best restaurants in India aren't just the most formal or high-end. From casual street food slingers and roadside dhabas to trendy cafes and family-run eateries, India's most enticing kitchens can be found all over the map. Embark on a food lover's adventure across India, and get ready to discover a whole kaleidoscope of flavors.
1. 1135 AD, Jaipur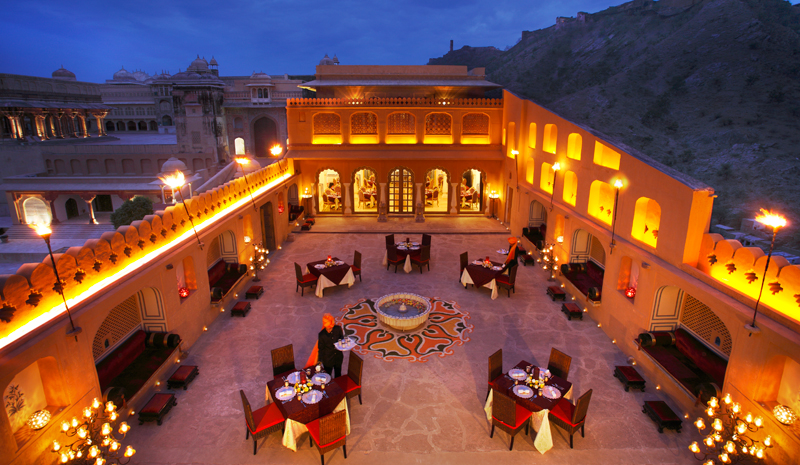 © 1135 AD
Named for the year that the ruling Rajput dynasty came to local prominence, 1135 AD offers an opulent introduction to the cuisine of Rajasthan, as well as splendid surroundings (located as it is within the Amber Fort). You can dine beneath crystal chandeliers and gilded ceilings, or be serenaded by musicians from a table on the open-air terrace. 
2. 1559 AD, Udaipur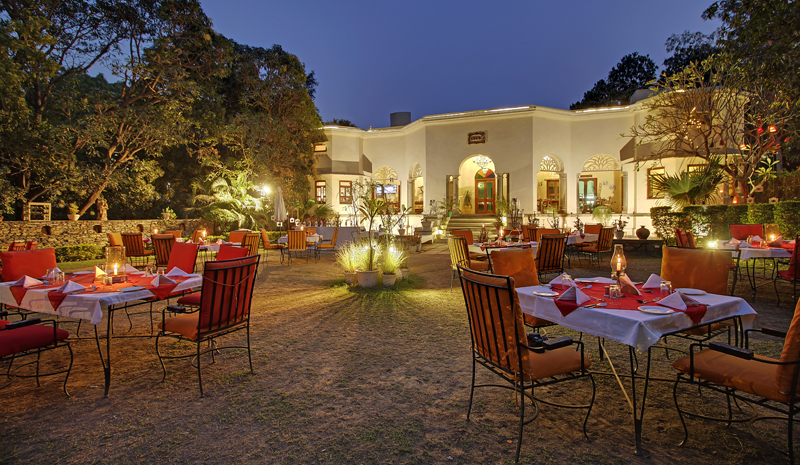 © 1559 AD
Another Rajasthani dining destination named in honour of an important date—in this case, 1559 was the year that Udaipur was founded by Maharana Udai Singhji—1559 AD overlooks the lovely waters of Lake Pichola. Follow diners in the know to its beautiful garden area, where you can sample from an eclectic menu of Indian, Continental, and Thai dishes.
3. 6 Ballygunge Place, Kolkata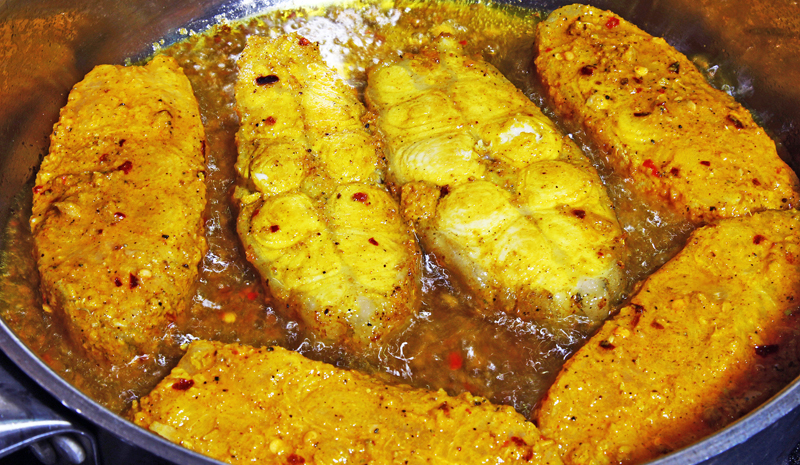 For an authentic tasting tour of the flavors of West Bengal, drop by 6 Ballygunge Place in Kolkata. From rohu fish simmered in mustard gravy to coconut-laced cholar dal, from spicy prawn curry to enchorer dalna (a seasonal curry that features green jackfruit), the restaurant serves up bold and beautifully traditional plates.
4. Aish, Hyderabad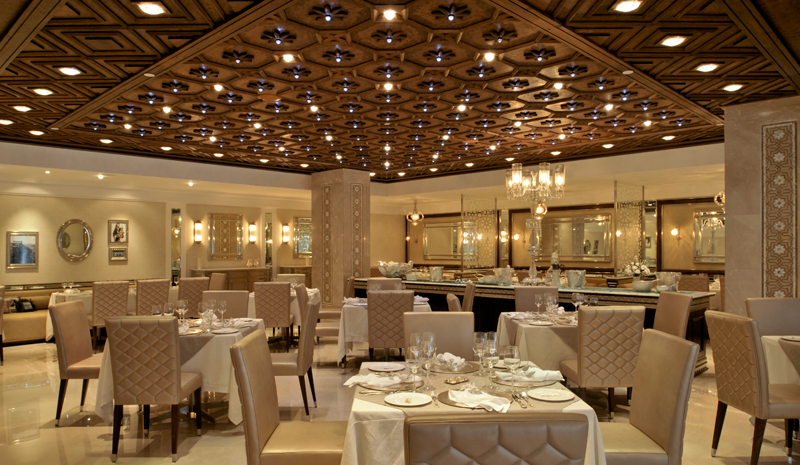 © The Park Hotel
The Nizams were the ruling dynasty that oversaw Hyderabad for two centuries, all the way up until Indian independence. Aish, housed within the city's elegant Park Hotel, at once pays tribute to that long legacy and borrows more than a pinch of its regal pomp. Under an elegant carved ceiling, diners can discover the menu of classic Hyderabadi fare.
5. Agashiye, Ahmedabad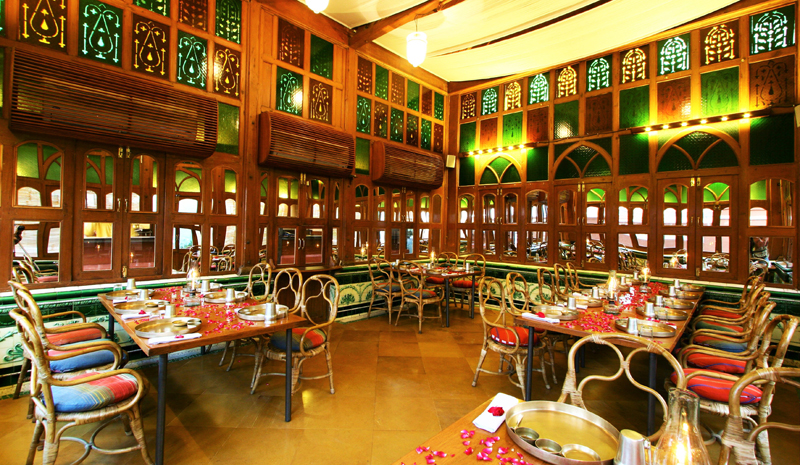 © House of MG
India has always been an ideal destination for adventurous vegetarians, and Agashiye shows off the versatility of the country's vegetable-led cookery. A thali is the best way to sample widely, and return visits are recommended, as the menu changes daily. Located across two sprawling terraces within a local heritage hotel, Agashiye also serves up plenty of style.
6. Ambrai, Udaipur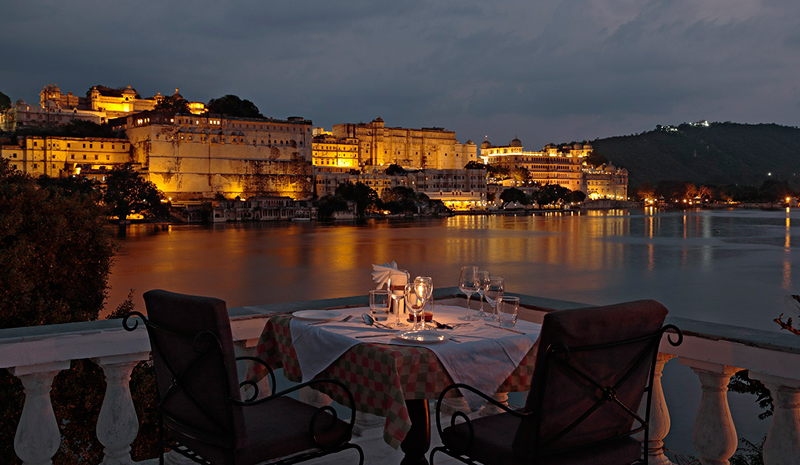 © Hotel Amet Haveli
Though you'll be able to drink in views of the Jag Mandir, Lake Palace, City Palace, and other top-tier Udaipur attractions from your al fresco table, Ambrai's delectable cookery can still compete with the exceptional scenery. Housed in the Hotel Amet Haveli, the restaurant excels at fiery laal maas curry and kebab platters as well as non-Indian dishes.
7. Amethyst, Chennai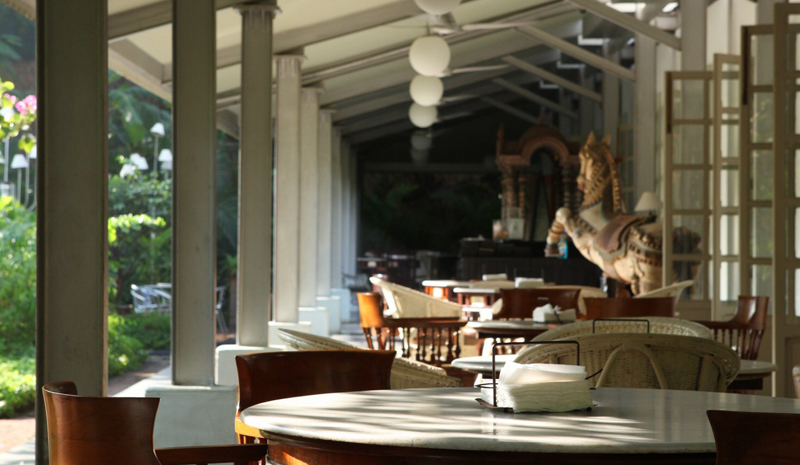 © Amethyst
It calls buzzing Chennai home, but Amethyst still manages to feel like a dreamy, oasis retreat. Housed in a restored warehouse, complete with lush gardens and wraparound terraces, the café is a magnet for see-and-be-seen types. Explore the globetrotting menu, and go for a browse in the companion boutique.
8. Bademiya, Mumbai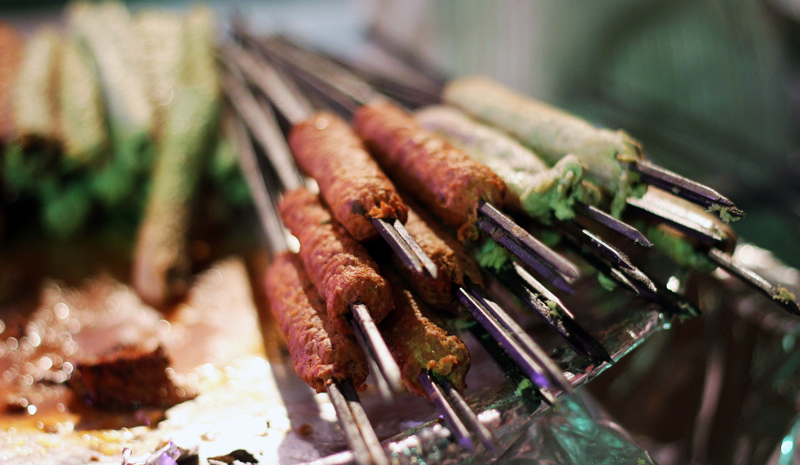 You certainly won't find crystal chandeliers or plush furnishings at Bademiya—but for what it lacks in ambiance, the humble eatery is still one of the best restaurants in India. Before it went brick-and-mortar, Bademiya was a street food outlet, and its legendary seekh kebabs are still worth crossing town for. 
9. Bawarchi, Hyderabad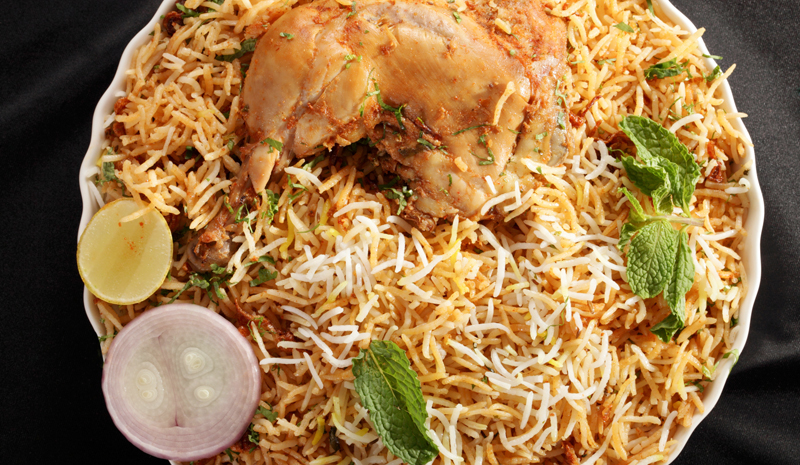 One of Hyderabad's greatest legacies is biryani: a fragrant dish of mingled rice, curried meat, fish, or vegetables, and plenty of spice. For some of the best examples of the city's beloved dish, it's worth venturing to the locals-approved Bawarchi, which serves five different versions of the classic.
10. Bharawan Da Dhaba, Amritsar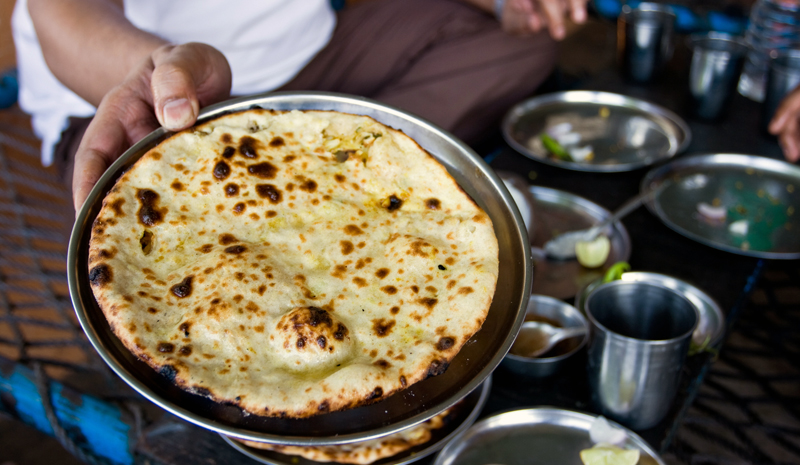 If the food at Bharawan Da Dhaba is delicious, you have its legacy to thank: founded all the way back in 1912, the restaurant has certainly had time to perfect its recipes. The atmosphere here is casual—dhabas are typically roadside eateries that serve up food to passing motorists—but the vegetarian fare is some of the best in Amritsar.
11. Black Sheep Bistro, Goa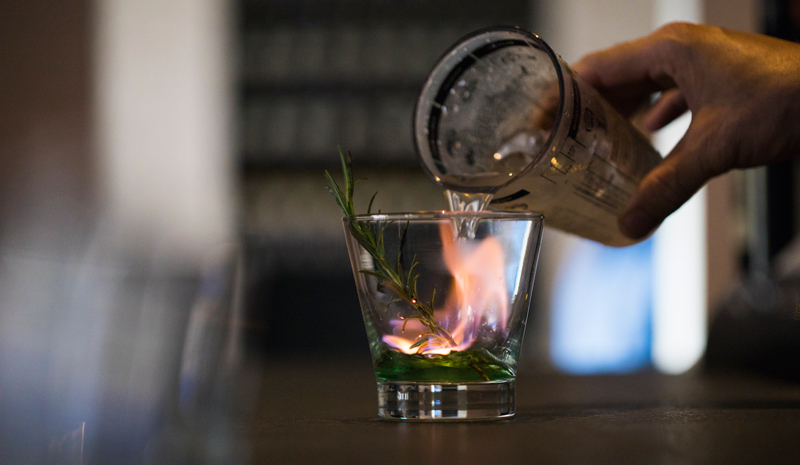 © Black Sheep Bistro
Wander the pretty streets of Panjim and, if luck is on your side, you'll stumble upon the exceptional Black Sheep Bistro. A highlight amongst Goa's new crop of high-style eateries, the restaurant is a destination for its adventurous Indian-meets-Western menu, as well as its impressive cocktail list.
12. Britannia & Company, Mumbai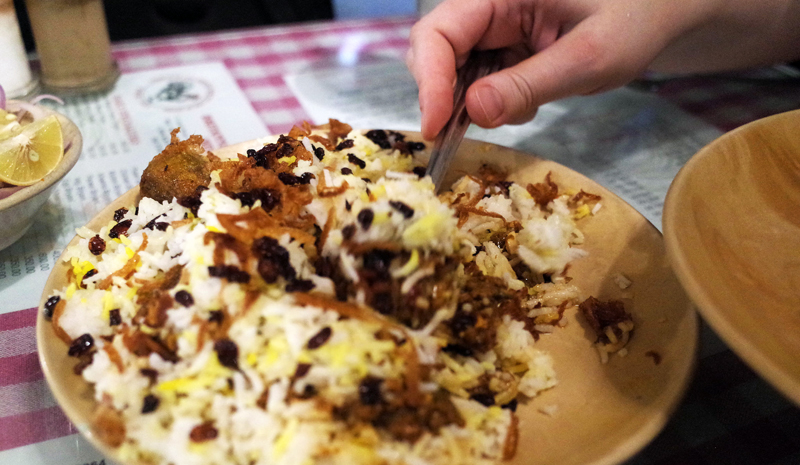 Many Londoners will have encountered Mumbai's Irani café culture during a meal at Dishoom. But for a taste of the original, it's hard to do better than the storied Britannia & Company. Founded in 1923, the restaurant's menu includes a range of classic Parsi dishes, including berry pulav and mutton dhansak.
13. Bukhara, Delhi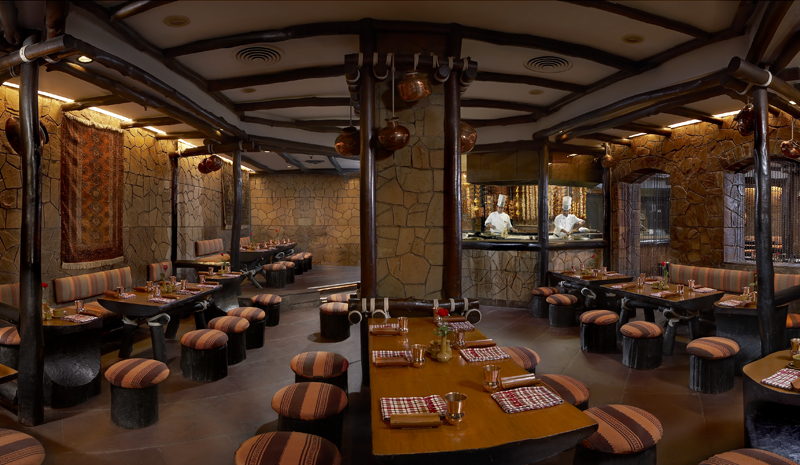 © ITC Hotels
Not just one of the best restaurants in India, but officially ranked amongst Asia's finest eateries, legendary Bukhara has been an essential dining destination for over 35 years. Located within the ITC Maurya, the restaurant's exquisite tandoori fare and elegant service have made it an icon of Indian hospitality. 
14. Caffé Palladio, Jaipur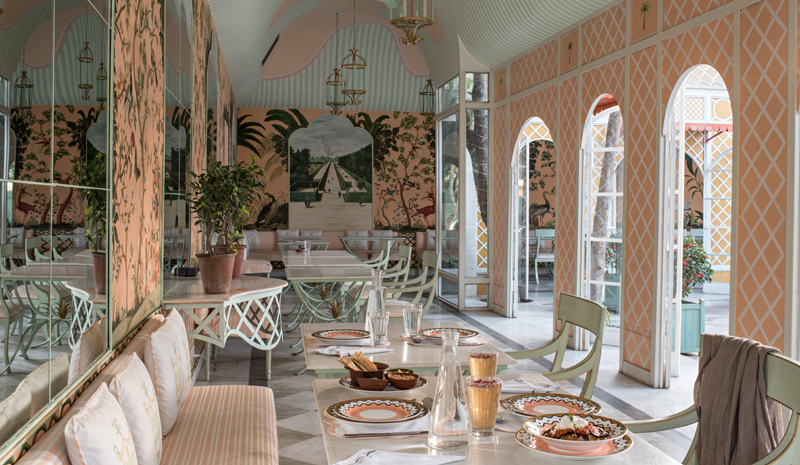 © Caffé Palladio
It may sound surprising that, for a taste of marvellously prepared Sicilian fare, one need only venture to Jaipur. But the stunning Caffé Palladio really has perfected its pasta alla norma. Luxuriate in the exquisite Mediterranean flavors as you while away the afternoon on the restaurant's shade-dappled, orange blossom-scented terrace.
15. Crystal Restaurant, Amritsar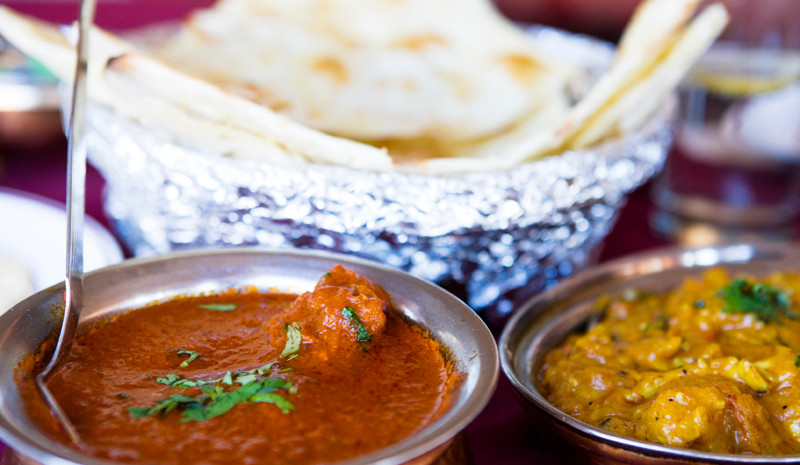 Just steps from the Maharaja Ranjit Singh Museum, visitors will discover the beguiling flavors of Crystal Restaurant. Lauded as one of Amritsar's best eateries, it serves up a tempting array of North Indian classics, including the house speciality of murg tawa frontier.
16. The Embassy, Delhi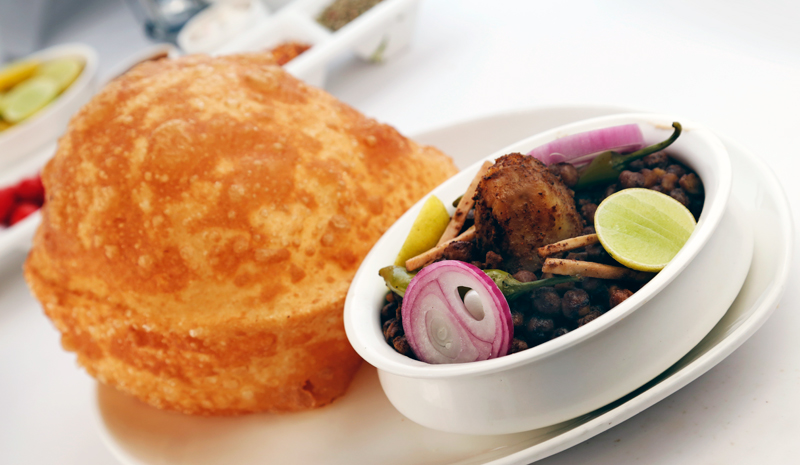 © The Embassy
Situated in Delhi's elegant Connaught Place, The Embassy has offered diners a rarefied atmosphere since opening its doors in 1948. Today, the timeless restaurant still attracts crowds in search of giant samosas and the comforts of nostalgia.
17. The Fatty Bao, Bangalore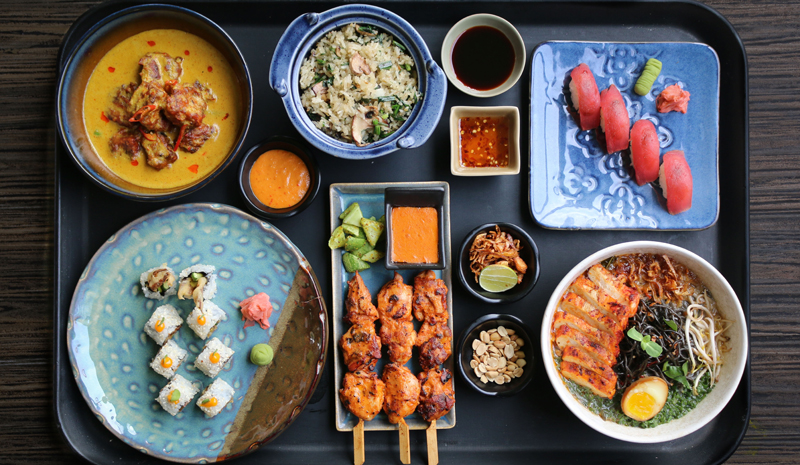 © Kunal Chandra
At Bangalore's trendy Fatty Bao, the baos are, unsurprisingly, a highlight. From classic char siu (barbecue park) and roast duck to fried aubergine and spicy fried fish, the restaurant's pillowy buns are fabulously moreish. Once you've eaten your fill, cocktails on the roof bar await.
18. Ginger House, Cochin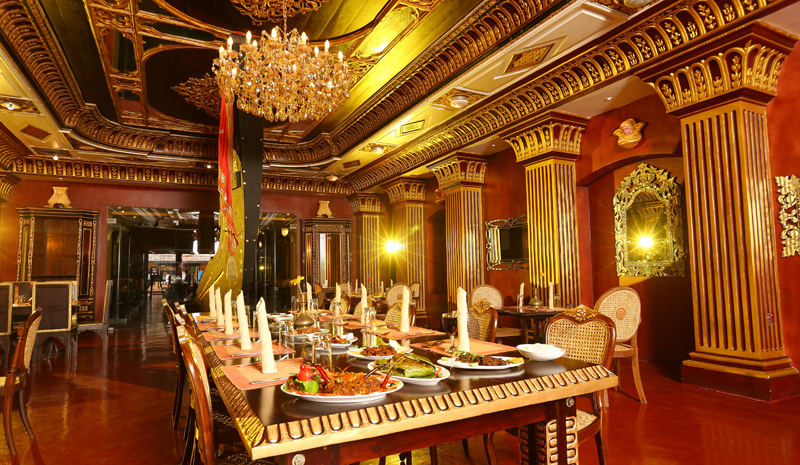 © Ginger House
In Cochin's historic Jew Town district, the waterfront Ginger House bills itself as a "museum restaurant." What that means: prior to dining, you'll be able to browse the antiques and sculptures that fill the companion Heritage Arts showroom, including a traditional carved wooden snake boat.
19. Hanwant Mahal, Jodhpur
© Hanwant Mahal
Regal Hanwant Mahal goes heavy on the glamour. Housed in what was once a hunting palace used by the local Raja, the destination-worthy restaurant is located just steps from the Umaid Bhawan Palace. The cuisine, like the setting, comes with a lavish royal pedigree.
20. Hotel Saravana Bhavan, Chennai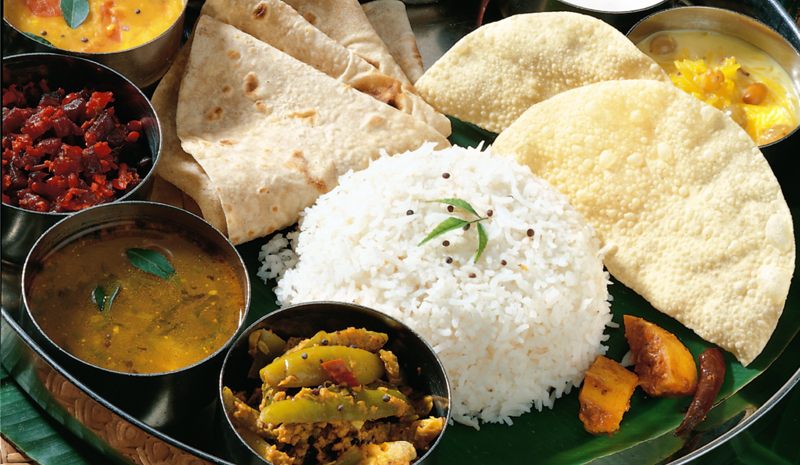 © Hotel Saravana Bhavan
Vegetarians, rejoice: you'd be hard-pressed to find more satisfying meat-free fare than what's prepared at Hotel Saravana Bhavan. Though the restaurant was founded in Chennai in 1981, it now has locations in dozens of countries around the world. Still, the original—and its menu of dosas and idli—is worthy of a pilgrimage. 
21. Indian Accent, Delhi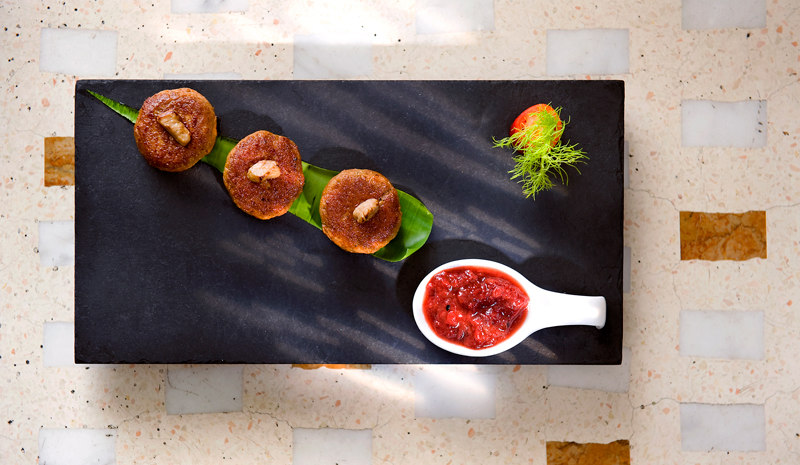 © Indian Accent
Award-winning fine-dining restaurant Indian Accent at The Lodhi is nothing short of a gastronomic powerhouse. Chef Manish Mehrotra is behind the menu of "inventive Indian" dishes, which mingle haute cuisine flourishes with flavours hailing from across the Subcontinent.
22. Indigo, Mumbai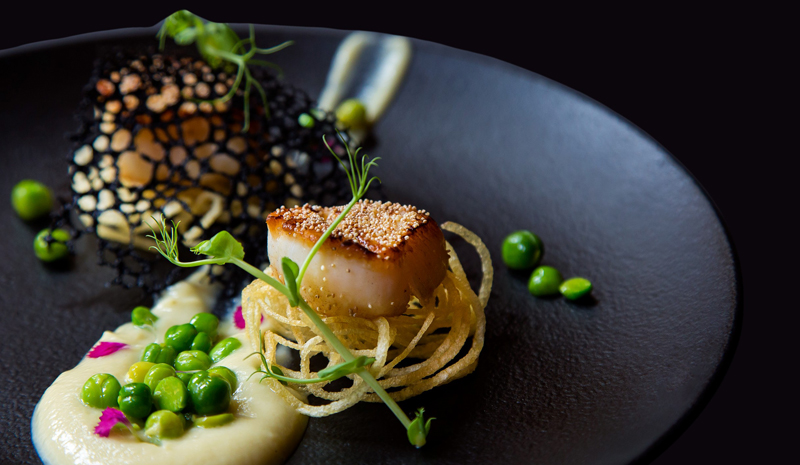 © Indigo
A near neighbour of the Gateway of India—and housed within a gorgeously restored colonial bungalow—Indigo is replete with old world charm. A favorite haunt of Mumbaikars since opening in 1999, the fine dining destination has a wide-ranging culinary ethos; specialities of the house range from lobster risotto to Shiraz-braised Jodhpuri goat shanks.
23. Indique, Jodhpur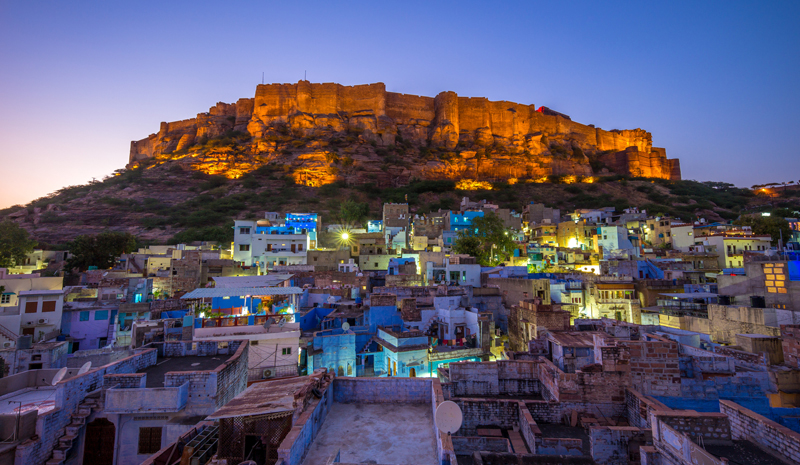 Pitched on the rooftop of the Pal Haveli—a heritage hotel in the heart of historic Jodhpur—the exquisite Indique offers a flickering, candlelit ambiance and stunning views of the golden-lit Mehrangarh Fort. Between admiring glances, sample the generous thalis, kebabs, and other North Indian specialities. 
24. Kewpie's, Kolkata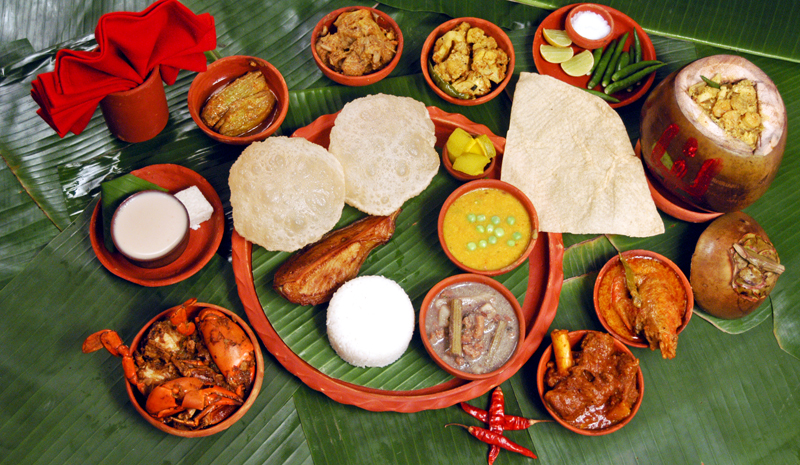 © Kewpies
Pungent with mustard, richly spiced, and heavy on the seafood, the food of Bengal has a culinary identity all of its own. Few other restaurants have mastered authentic Bengali flavors quite like the homey, family-run Kewpie's. Taste widely when you order a laden thali, served atop a banana leaf. 
25. Kyber at Fort, Mumbai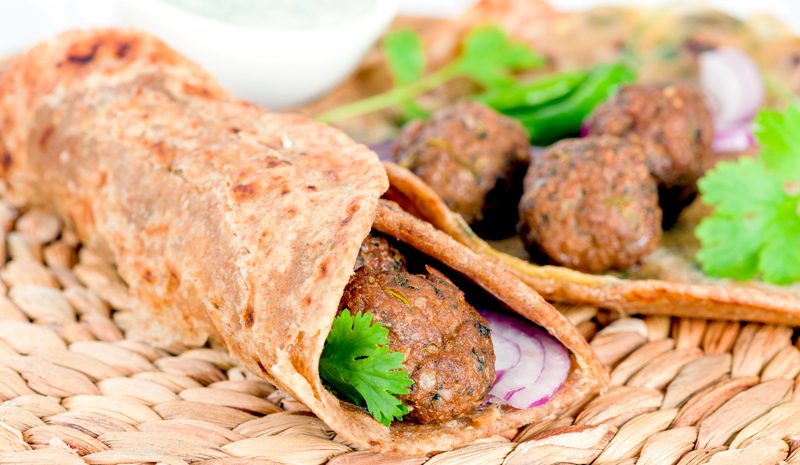 Something of an establishment in Mumbai's trendy Fort area, Khyber's menus are not for the meat-shy. Its interiors are a cool blend of chic and rustic, with intricately carved doorways opening out to jewel-coloured Punjabi murals. Our suggestion is the house special: a leg of slow-braised, butter-soft lamb that slides effortlessly off the bone. 
26. Kulcha Land, Amritsar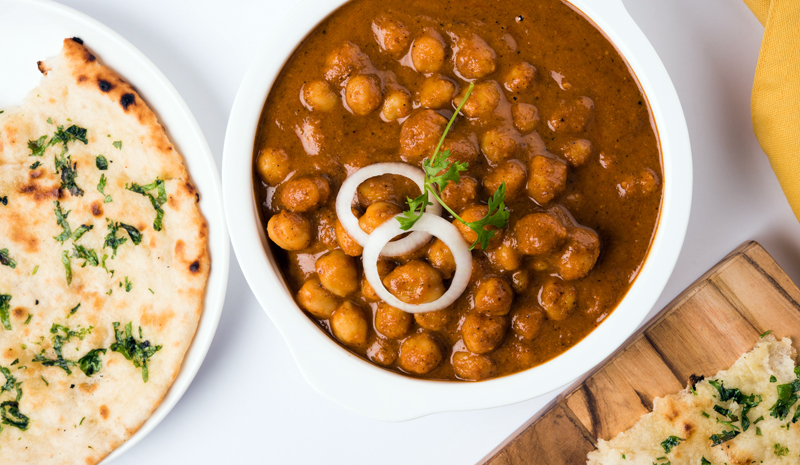 If you're visiting Amritsar, don't leave before you've tried kulcha. A staple of Punjabi cuisine, this delectable flatbread is cooked in the tandoor, slicked with butter, and often served as an accompaniment to fragrant chole (curried chickpeas). Head to Kulcha Land to find some of the best in town.
27. La Plage, Goa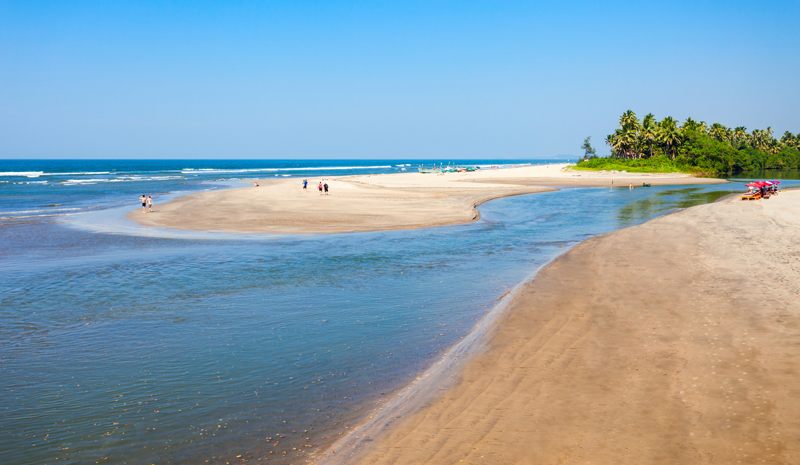 Located right on buzzing Ashwem Beach (in fact, outdoor tables will even allow you to dig your toes into the sand), the aptly named La Plage remains one of Goa's must-visit addresses. Join guests indulging in the French-driven cuisine at this fun and funky eatery (though note that it's closed between May and November).
28. Le Cirque, Delhi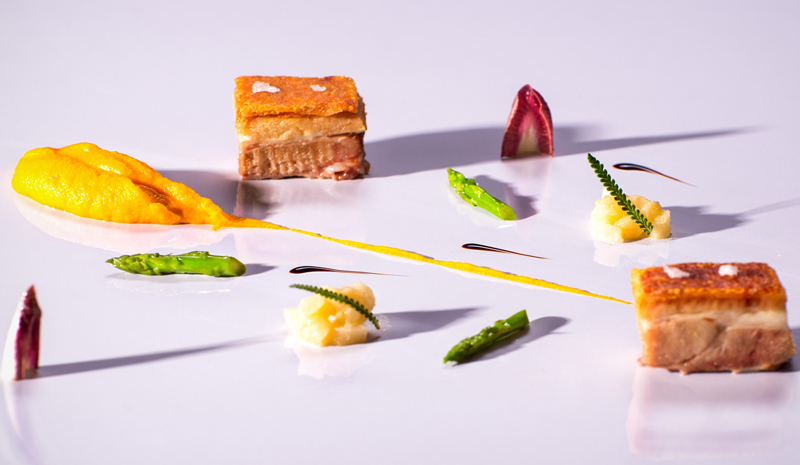 © The Leela
Among the best restaurants in India, the elegant Le Cirque—one of several dining options within the five-star Leela Palace New Delhi—is where the rich and famous come to slurp truffle-laced fettuccine and indulge in decadent French fare. Don't leave before you've explored the New York transplant's walk-in wine cellar. 
29. Lodi — The Garden Restaurant, Delhi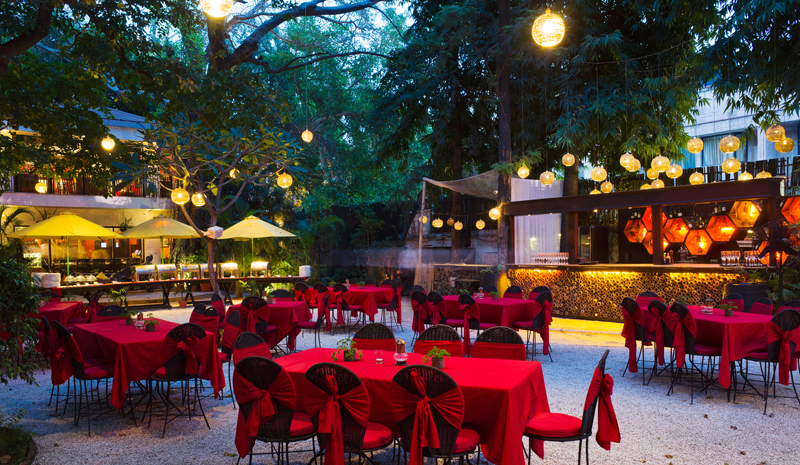 © Sewara
Few other al fresco locations can compete with Lodi — The Garden Restaurant. It helps that the restaurant—illuminated by cheery lanterns strung through the trees—is located within one of India's loveliest green spaces. Sample from 16 different varieties of wine on tap, and nibble the eclectic, Continental dishes. 
30. Malabar Junction, Cochin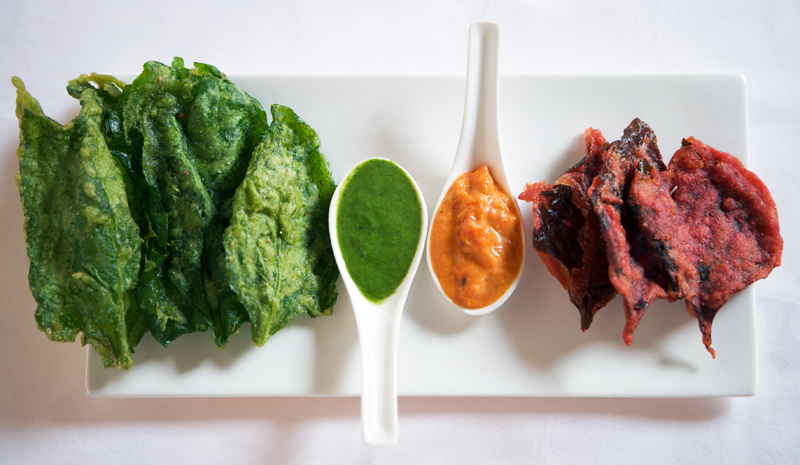 © The Malabar House
Ranked among the best restaurants in Kerala, the Malabar House's Malabar Junction offers a heady fusion of South Asian flavours and Mediterranean influences. Think: tandoori-roasted chicken risotto, sea bass marinated with South Indian spices, and a Malabar burger topped with green pepper and chilli-tomato sauces.
31. Masala Library, Mumbai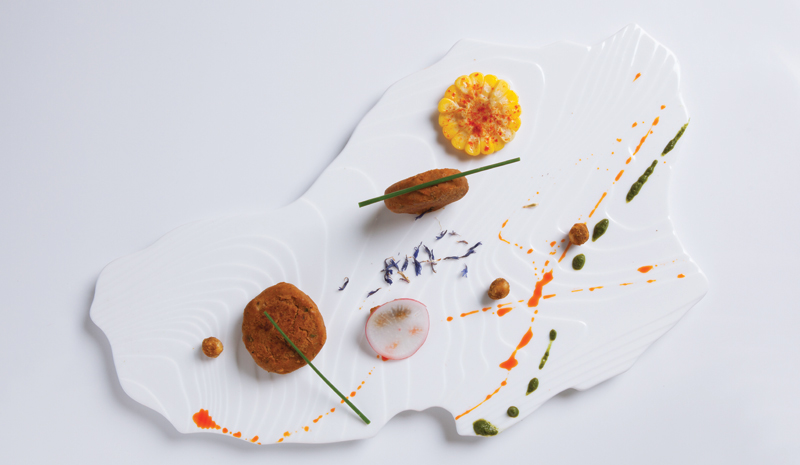 © Masala Library
First opened in 2014, the Mumbai location of Masala Library is overseen by the esteemed chef Jiggs Kalra. His mission? To apply of-the-minute molecular gastronomy techniques to Indian flavors. The experiment pays off: ambitious, bold, and ever-evolving, Masala Library has more than earned its position amongst the best restaurants in India.
32. Masque, Mumbai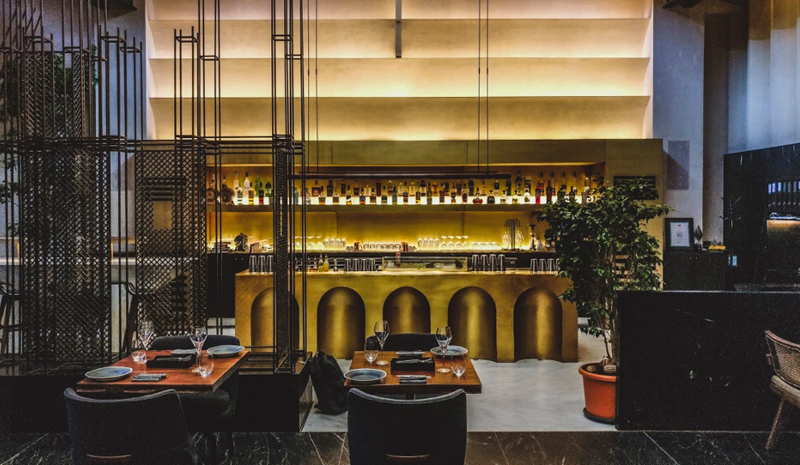 © Masque
Previously described by GQ as "Mumbai's sexiest restaurant," as well as its most ambitious, Masque is clearly the stuff of destination dining. Its set menu of locally foraged fare shows it's au fait with contemporary global food trends—hardly surprising, given its head chef has trained in restaurants ranging from Noma to Alinea.
33. Mavalli Tiffin Rooms, Bangalore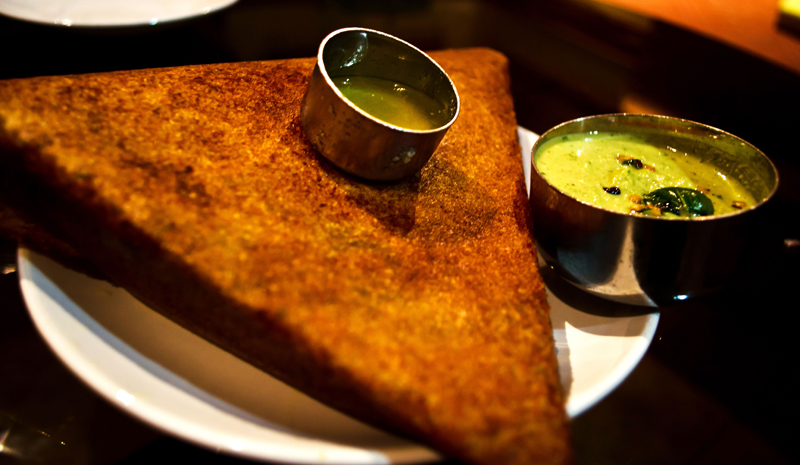 © Mavalli Tiffin Rooms
Founded in 1924, Mavalli Tiffin Rooms is nothing short of a Bangalore icon (even though its locations now stretch as far afield as Dubai). Still, it's worth visiting MTR for its enticing South Indian treats, from steamed rava idlis to classic masala dosas—all washed down with a local filter coffee. 
34. Monkey Bar, Kolkata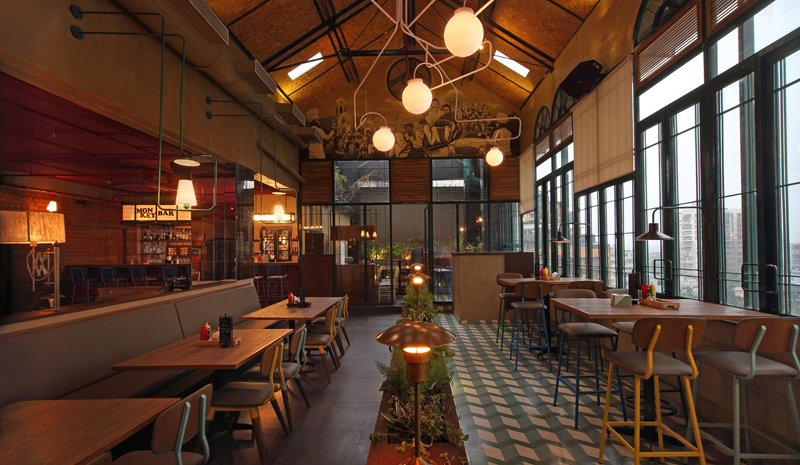 © Sanjay Ramchandran
Monkey Bar—or MoBar, as locals may be inclined to call it—takes the British gastropub concept but infuses it with an Indian twist. Instead of chips, locals snack on Bombay vada pav and spicy paneer bhurji buns. And while beers are on offer, it's the cocktails that are one of Monkey Bar's strongest suits. 
35. Niros, Jaipur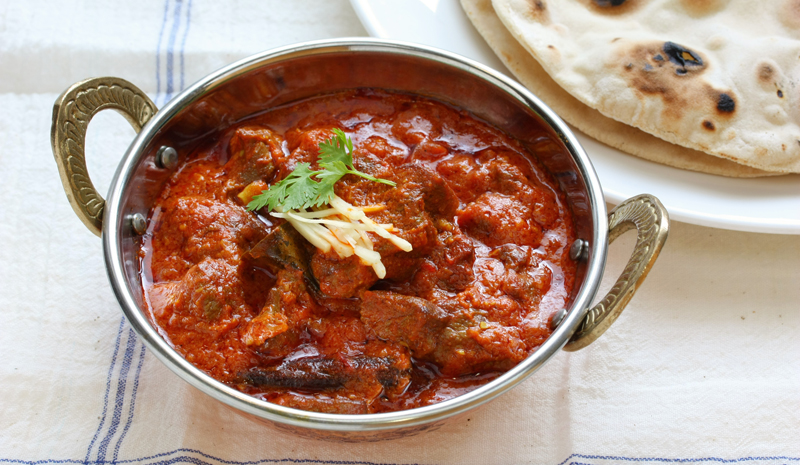 Jaipur may be a regal city, but not all of its eateries are prohibitively high-end. Relaxed, beloved Niros—a local institution that's been on the scene since 1949—has a unique claim to fame: it was the first restaurant to serve Chinese food in town. Order from its East Asian menu, but don't forget its North Indian specialities, too.
36. Nizam's, Kolkata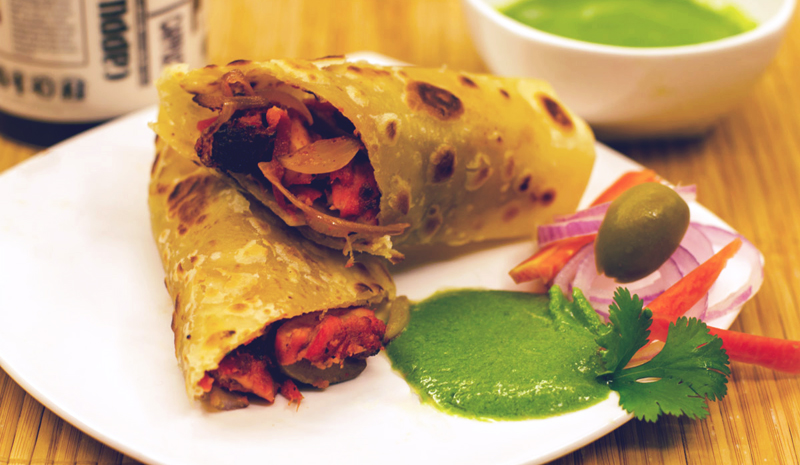 © Vivekpat30/Wikimedia Commons
One of Kolkata's classic restaurants, Nizam's doesn't just serve delicious food—it also claims to have invented the kathi roll, of which there are more than a dozen iterations on the menu. Rolls aside, be sure to sample other house specialties, from biryani to mutton curry.
37. Peter Cat, Kolkata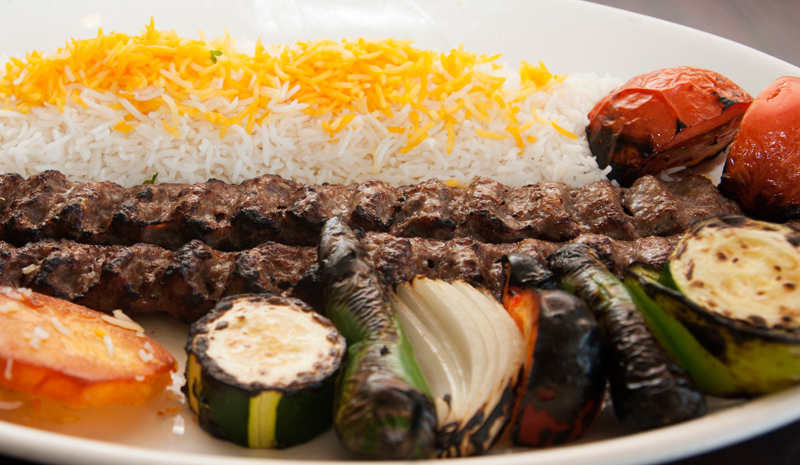 The queues outside the ever-popular Peter Cat are no accident: the cosy little Kolkata favorite is famous for its fragrant take on chelo kebabs, which are made of minced meat and served with buttered rice, Persian herbs, grilled vegetables and crowned with an egg. 
38. The Raintree, Chennai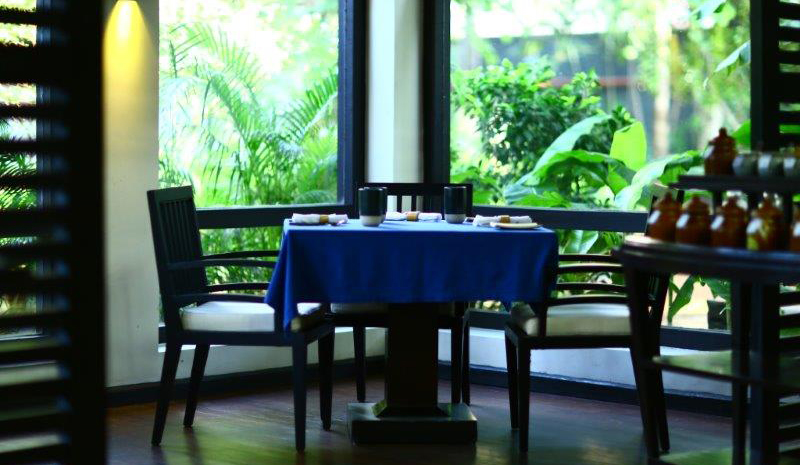 © Taj Hotels
A handsome restaurant within the Taj Connemara, The Raintree serves authentic Chettinad fare in an attractive setting. From flickering oil lamps and colourful murals to open-air seating and lush greenery, this transportative venue captures all the magic of South India.
39. Royal Repast, Udaipur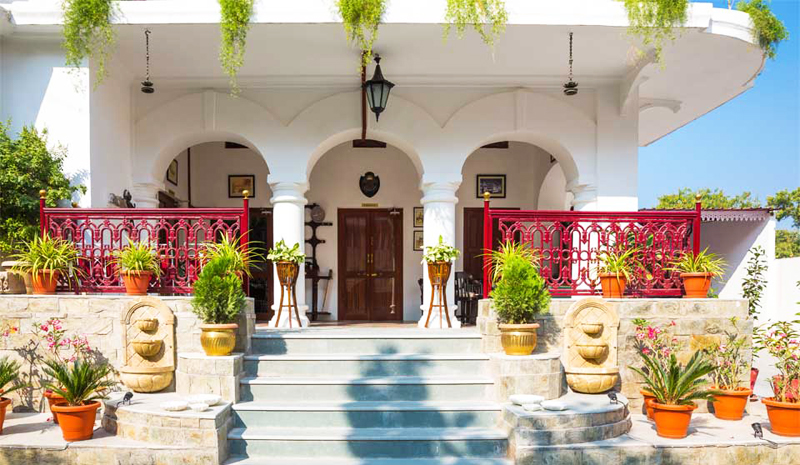 © Royal Repast
The Bedla family—who've held an influential position within Udaipur society for centuries—are behind the exquisite Royal Repast. An elegant restaurant outfitted with regal accoutrements, it provides the perfect introduction to the region's traditional Mewari cuisine (which originated in royal circles).
40. Sana-di-ge, Delhi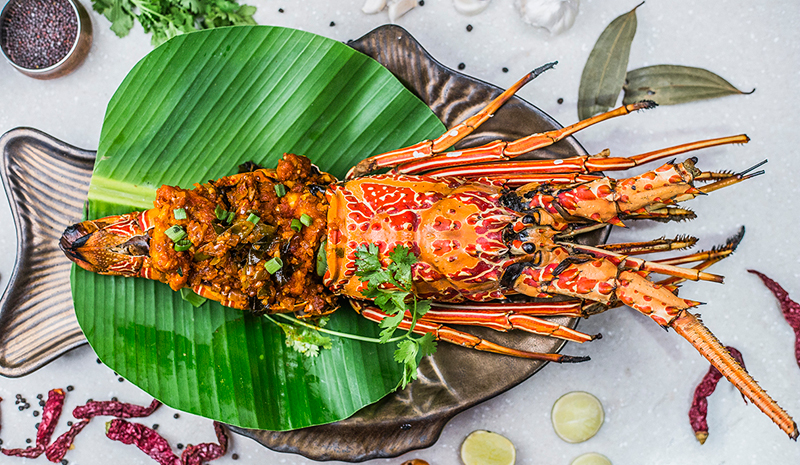 © Sana-di-ge
Named for the traditional brass lamps that are lit during auspicious occasions, Sana-di-ge is a must for seafood lovers. From the waterways of Kerala and beaches of Goa to the Maharashtrian coast, the restaurant's menu showcases the finest flavors to be found along the Arabian Sea.
41. Sheesh Mahal at the Leela, Udaipur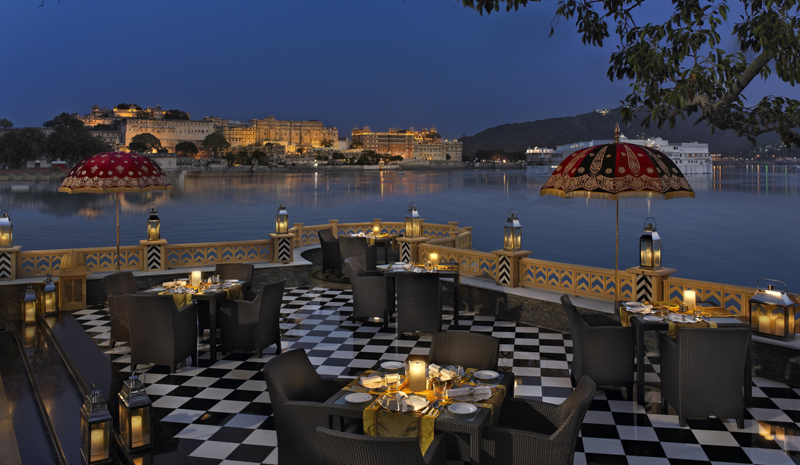 © The Leela
Some of the finest views of the "Venice of the East" can be had from the lovely Sheesh Mahal: The Leela Udaipur's bi-level, open-air dining destination, and one of the best restaurants in India besides. Watch the stars come out over Lake Pichola from your terrace table as you savour classic dishes like okra curry and black dal.
42. SodaBottleOpenerWala, Bangalore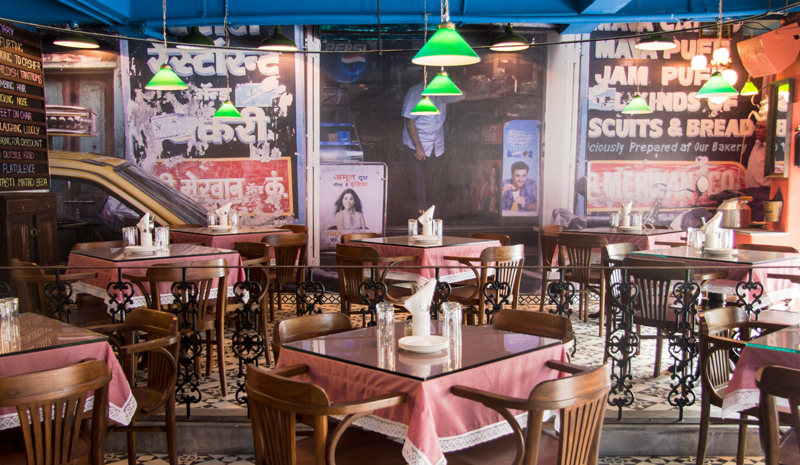 © SodaBottleOpenerWala
With an electric atmosphere and a playful name, SodaBottleOpenerWala—or SBOW, for short—takes inspiration from Bombay's beloved Irani cafes, but infuses the concept with a design-driven, modern edge. If you've enjoyed a late night on the town, its hearty weekend breakfasts are a worthy way to wake up.
43. The Table, Mumbai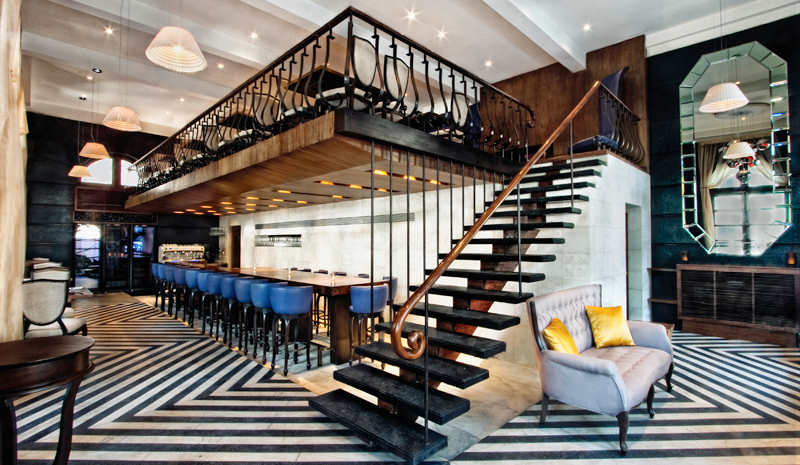 © The Table
What makes The Table one of the best restaurants in India? Since 2011, it's served up a menu of inventive, globetrotting fare, from pillowy sweet potato agnolotti with crème fraiche to Vietnamese pork ribs with fish sauce caramel. Its local credo, and interest in seasonality, also make it a standout—as does its eye-catching interior design.
44. Thalassa, Goa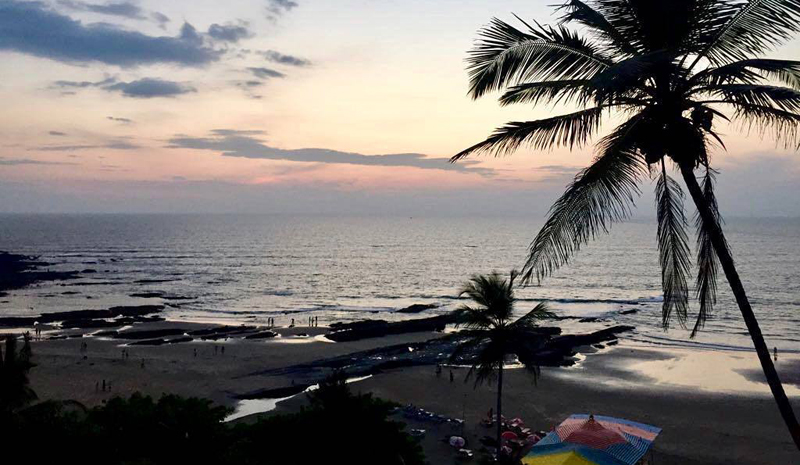 © Thalassa
Breezy, beautiful Thalassa—one of Goa's most popular seasonal eateries—offers spectacular views of the Arabian Sea, a see-and-be-seen ambiance, and an exceptional menu of Greek taverna-style dishes. Drink in the sea breezes, savour the souvlaki, and toast your endeavours with a glass or two of Champagne.
45. Toast & Tonic, Bangalore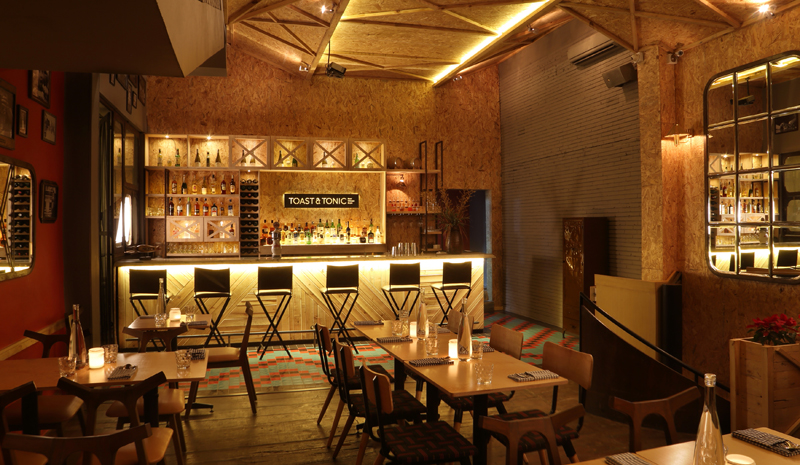 © Sanjay Ramchandran
"East Village style," goes Toast & Tonic's tagline. It's true that a New York brand of cool pervades this space. Think: an industrial ceiling made from exposed particle board, an ambitious cocktail programme, and on-trend cooking that skates from poke bowls to pork belly and back again.
46. Trishna, Mumbai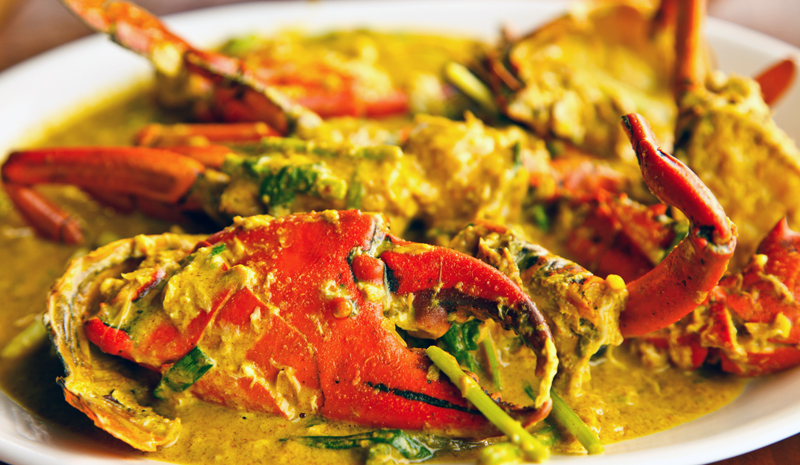 With fifty years of history behind it, Trishna isn't just one of Mumbai's most enduring favourites—it's also one of the best seafood restaurants in India. From butter-drenched crab to coastal prawn curries, the freshness and flavour of its maritime cooking is hard to beat.
47. Villa Maya, Trivandrum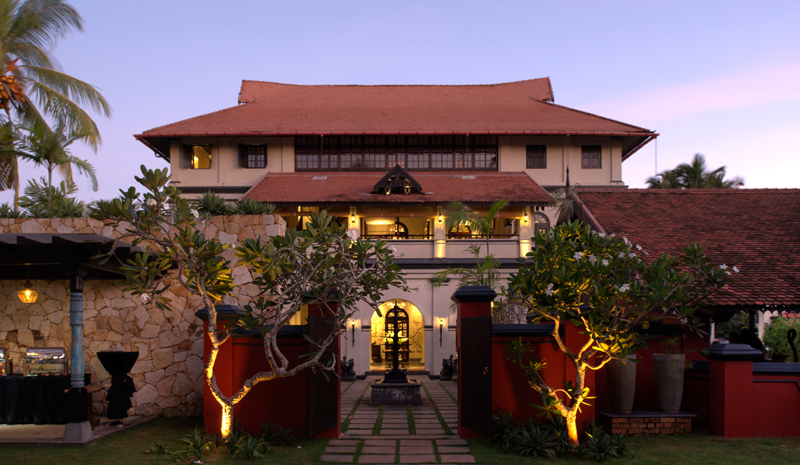 © Villa Maya
Sprawled across a restored, 18th century Dutch mansion and its companion gardens, the Villa Maya offers diners spectacular scenery as well as imaginative, spice-laden fare (inspired by Trivandrum's location on historic spice trading routes). Whether seated inside or out, make yourself comfortable—you'll want to linger in its magical ambiance for hours.
48. Villa Shanti, Pondicherry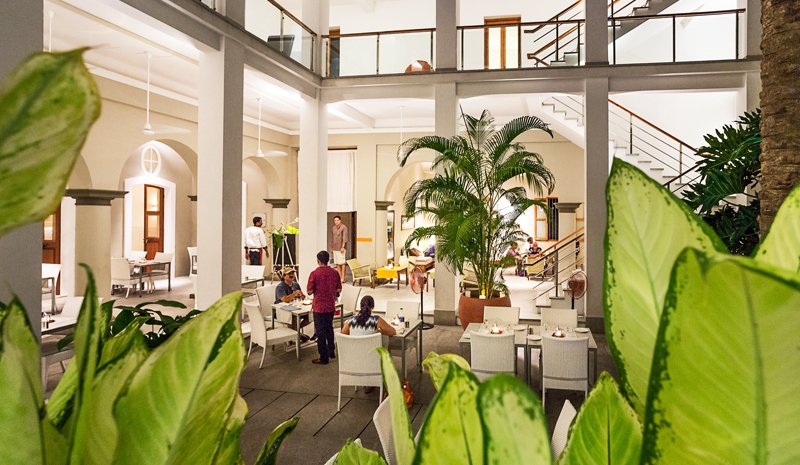 © Villa Shanti
In the heart of Pondicherry's scenic Old Town, you'll discover Villa Shanti: a stylish boutique hotel with its own destination-worthy restaurant. On sultry days, dine within the cool interior, but when Pondicherry's sunshine tempts, you can ensconce yourself amidst the vertical garden on the terrace.
49. Wasabi by Morimoto, Mumbai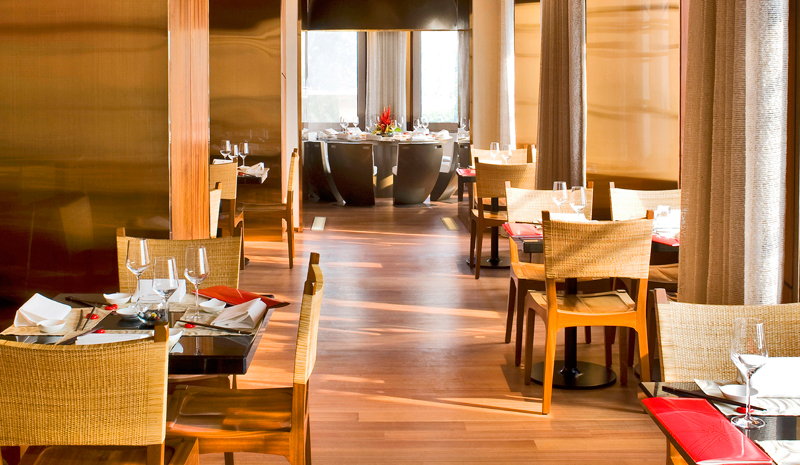 © Taj Hotels
Consistently featured in Asia's 50 Best Restaurants, Wasabi by Morimoto is a glittering fine dining destination adored by Japanese food aficionados. The restaurant's omakase menu offers a superlative, one-of-a-kind culinary experience (especially when accompanied by a glass of Japanese whisky).
50. The Water Front, Hyderabad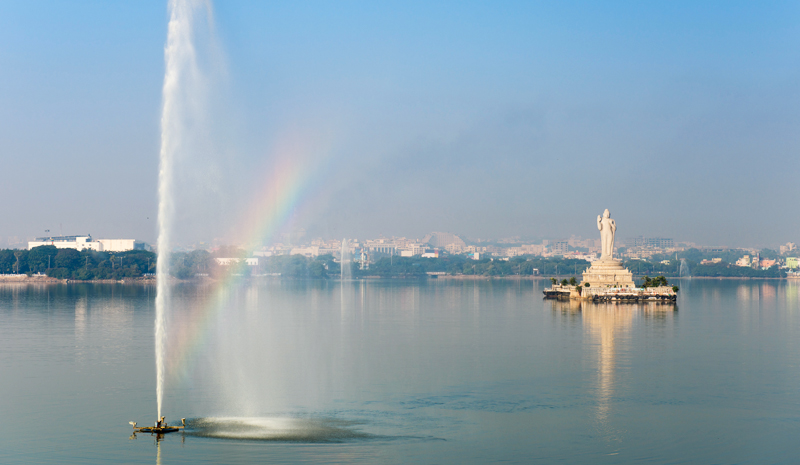 As its name might imply, much of The Water Front's charm is in its views: the restaurant is poised overlooking the splendid Hussain Sagar, a heart-shaped lake in the middle of Hyderabad. Alongside the panoramic views, diners can also pick from the restaurant's equally tempting Indian, Continental, and Chinese menus.